Double vision
DVD Review: Magnificent Obsession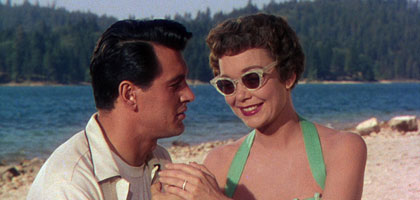 Directors John M. Stahl and Douglas Sirk both filmed the same bestselling tearjerker. Tim Lucas spots the difference
Magnificent Obsession
Douglas Sirk; USA 1954; Criterion; Aspect Ratio 2.0:1; Features: audio commentary by Thomas Doherty, video tributes by Allison Anders and Kathryn Bigelow, trailer, 1935 version directed by John M. Stahl, feature-length interview film 'From UFA to Hollywood: Douglas Sirk Remembers' by Eckhart Schmidt, booklet with new essay by Geoffrey O'Brien
Leave it to Criterion to manufacture an absorbing two-disc set from a couple of lesser auteur films based on the same creaky bestseller and documentation addressing some of the principal director's other, better movies.
Both John M. Stahl's 1935 version and Douglas Sirk's later 1954 film of Magnificent Obsession were based on a popular 1929 novel by former pastor Lloyd C. Douglas (who later penned The Robe). In this story, Bob Merrick, a self-absorbed millionaire playboy, is saved after a drunken boating accident by a resuscitation device that is therefore not available when needed by Bridgetown's most beloved family doctor at the moment of his fatal coronary. After recovering, Merrick falls in love with the doctor's widow, Helen, who resents him hatefully for the damage he's done to her life. A mutual acquaintance, a successful artist named Randolph, introduces Merrick to the late doctor's secretly philanthropic ways - a 'magnificent obsession' with doing good in exchange for purely karmic dividends, an approach to living that he credits as originating with Christ. Merrick's persistent attempts to bed the widow result in an accident that blinds her, and he dedicates himself to becoming a doctor so that he may restore her vision and hit the jackpot of her love in a weepy homestretch. Understandably, when Universal-International contract director Douglas Sirk was presented with a copy by producer Ross Hunter, he found the novel not only badly written but "the most confused book you can imagine". Nevertheless, filming it would change his life and ensure his continued cult recognition for generations to come.
Sirk - a former UFA director whose most recent Universal-International assignment had been Taza, Son of Cochise (with Rock Hudson in redface as the Apache chief's heir) - worked from a script only marginally adjusted from that of an earlier version directed for Universal in 1935 by John M. Stahl and starring an almost matronly Irene Dunne opposite a 12-years-younger Robert Taylor, who wore conspicuously more eye makeup than she. (As far-fetched as Merrick's career change to save his beloved might sound, Taylor had good reason to believe it - his own father had done the same in a successful bid to restore his invalid wife's ability to walk.) Featured here on a second disc, Stahl's earlier version works better in some ways (its presentation of the blinding accident is more shocking) but it makes the fatal mistake of leavening the solemn story with too much incidental jocularity - setting off especial bad-taste sirens when Merrick continues to chase Helen's skirt even after discovering that she's the woman whose husband died so he might live.
In Sirk's soapier hands, the story reclaims its solemnity and gains in religious mystery, with Otto Kruger's Randolph (played as sincerely but less subtly by Ralph Morgan in the original) evoking suspicions that God Himself may walk among this cast of characters with interventionist intent. The director, contempt in cheek, presents the story as a church of chintz, redolent in sickly cream colours and violet reds - while relocating it to a fir-lined lakeside spot (California's Lake Arrowhead, posing as Bridgetown) which recalls the setting of Stahl's great 1945 melodrama Leave Her to Heaven. This time the principals are played by a prim and palpably talcumed Jane Wyman, and Rock Hudson in a masculine, clean-cut, redemptive role that defined his romantic yet wholesome screen persona. Sirk's remake proved a major hit and became the first of his trademark melodramas for Universal-International, followed by the superior All That Heaven Allows, Written on the Wind and Imitation of Life.
While this set allows one to compare what happened when two capable film-makers worked from very similar scripts, it also encourages study of how Universal's 'house style' evolved over two decades into the equally distinctive style of Universal-International. Both versions are emotionally untrue - Sirk's overly romanticised, Stahl's overly flippant - but as seriously misguided as Stahl's version is, it's nevertheless more handsomely produced, less static, and features a down-the-list cast - Charles Butterworth, Arthur Treacher and an especially fine Sara Haden - whom the eye doesn't gloss over, as it does with Gregg Palmer and other Universal-International bit players. Furthermore, when Bob 'shows' Paris to blind Helen in the 1935 version, Universal's art department pulls out all the stops with a magnificent forced perspective backdrop of the Seine with a bridge carrying an animated chain of miniature cars. By contrast, Sirk's Universal-International crew seem unable to produce an exterior backdrop that doesn't scream 'wet paint'.
Criterion's 2.0:1 presentation of Sirk's version isn't as pretty as its earlier All That Heaven Allows and Written on the Wind. This is partly due to Russell Metty's contrary use of Technicolor: we get deep menstrual reds, chalky blues, felt greens and tweedy greys, but mostly as spots of colour on a largely monochromatic canvas; judging by the skin tones, the transfer may have also muted the original Technicolor to more realistic levels. The 1935 black-and-white version is beautifully detailed.