Freudian soaps
DVD review: In Treatment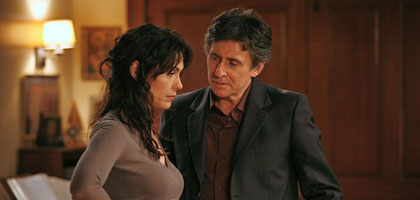 In Treatment makes gripping drama out of the conversations of a therapist and his patients. Tim Lucas analyses its success
In Treatment - The Complete First Season
Rodrigo García, Paris Barclay et al; USA 2008; HBO Video; Aspect Ratio 1.78:1
Because psychiatry in film and television is now commonplace, one forgets what a startling innovation Alfred Hitchcock's Spellbound was considered to be on its release in 1945, for daring to explore the process of psychoanalysis, then still mysterious to the general public, and to depict in visual terms the dark dreams and traumatic memories of those in therapy. Nowadays, decades after John Huston's proto-psychedelic Freud and Theodore J. Flicker's ingeniously satiric The President's Analyst, not to mention Bergman's psychological studies, Woody Allen's comedies and countless Italian thrillers showing the subjective twists of the psychosexual mind, the psychiatrist's office and couch are nearly as central to contemporary entertainment (look no further than The Sopranos) as the handball court has become to exposition between handsome heroes and their overweight best friends. There is something about the setting itself that appeals to the voyeur in us, and not only is it cost-effective cinema - an absorbing mystery spun from a single set, a limited cast and the art of conversation - but one of the last bastions of screen acting, a place where directorial flourishes and rapid-fire editing are unlikely to intrude.
This nine-disc set collects the first 43 half-hour episodes of the HBO series In Treatment, a Mark Wahlberg-produced remake of the award-winning 2005 Israeli series BeTipul. Gabriel Byrne (replacing Assi Dayan as Re'uven Dagan) is Dr Paul Weston, a middle-aged psychotherapist who meets with a different patient each Monday through Thursday in his cosy home office, concluding every Friday with his own therapy session with professional mentor Dr Gina Moll (Emmy Award-winner Dianne Wiest). The shared concern of most episodes is the increasing difficulty Paul experiences - in the midst of a midlife crisis and the discovery of his wife's infidelity - in observing his own professional boundaries.
One patient, Laura (Melissa George), an attractive doctor of almost 30, admits to having been in love with Paul for the past year, a feeling he would reciprocate were it ethical to do so, or if she did not have a history of repeated, destructive sexual intrigues with father figures. Paul's refusal to acknowledge his emotions propels Laura into the bed of another patient, Alex (Blair Underwood), an arrogant military pilot who lives in programmed denial of his inner turmoil in the wake of a bombing mission that claimed the lives of many innocent Middle Eastern children, a mirror image of Paul's own po-faced professional discipline that eventually boils over into a physical confrontation. Bravura work by Underwood (and later, Glynn Turman as his father) makes Alex's the most assertive of the story arcs, but the most heartbreaking of the patients is Sophie (the gifted Mia Wasikowska, soon starring in Alice in Wonderland for Tim Burton), a teenage gymnast whose devotion to her absentee father has created wedges between her and her highly strung mother and prompted her to seek a semblance of paternal love in jailbait sex with her high-school coach. Jake and Amy (Josh Charles and Embeth Davidtz), a working-class American and a high-class Brit, are an incompatible married couple on the brink of divorce.
In his closing sessions with Gina, Paul fulminates in candid sidebars about his patients, the ways in which his professional ethics prevent him from really helping or consoling them, the deteriorating state of his own marriage, and eventually the emotional fallout that comes with the erotic transference issues of Laura's therapy and the death and possible suicide of another patient. Byrne's central performance principally exists as a calm, contemplative mirror to the others, thus not the sort of acting that attracts attention or accolades, but close study proves him to be the glue that holds the show together and the viewer together with the show.
The series closely follows the model of the Israeli series (two seasons of which are now available from Amazon.com on DVD), but offers enough cultural and character contrasts to make the viewing of both rewarding. The HBO model gets off to an uncertain start with its pilot episode (visibly shot some time prior to the show's pick-up), but is thereafter consistently absorbing. What differentiates it from previous studies of psychiatry in drama is its delicate attention to how Paul's cerebral intercourse with patients inevitably affects his personal life despite, and sometimes because of, his refusal to invade theirs. Later episodes question whether Paul's suppressed attraction to Laura precipitated the problems in his marriage, which eventually cause him to sleep on the very couch where he counsels her; how effectively any therapist can advise his patients' interpersonal relationships with only their distorted perceptions of the people in their lives to guide him; and whether bringing a patient closer to understanding their emotions and thought process is always in their best interests.
Considering how well this series lends itself to in-depth discussion, the lack of supplementary materials is a great disappointment. The presentation is otherwise first-rate, and the 5.1 audio cleverly deployed to remind us, at key moments, that Paul is working out of his suburban home, with heavy footsteps overhead sometimes scrambling to answer telephones. It's a constant reminder of the barriers between doctor and patient that mustn't be broken, and how tenuous they often are.