Film review: Mid-August Lunch
Italy 2008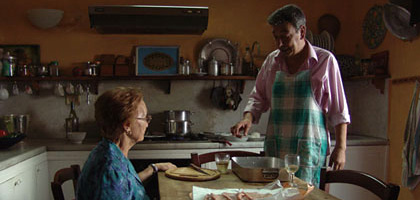 Reviewed by Guido Bonsaver
Synopsis
Our synopses give away the plot in full, including surprise twists.
Rome, the present. Gianni is an unemployed, middle-aged man who lives with his mother in an old building in Trastevere, a working-class district in the city centre. He spends his time doing the shopping and patiently looking after his gentle but demanding mother. In the middle of the summer season, when most locals are away on holiday, the administrator of the building forces Gianni to give temporary hospitality to his own mother in return for the waiver of unpaid bills. The following day the administrator turns up with not only his mother, but his mother's sister too, and promptly leaves to take his lover on holiday. The same day, Gianni's family doctor asks a similar favour of him.
For the following two days, Gianni cooks and looks after all four old women. At first their different personalities and idiosyncrasies create problems. Gianni's mother doesn't want to share meals with the others; the administrator's mother first flees the house and then gets drunk and tries to seduce Gianni; the doctor's mother constantly refuses to follow her prescribed diet and gorges on whatever she can find in the kitchen. Eventually the four women become good friends and give Gianni some money so that they can stay together longer.
Review
Imagine offering the following storyline to a film producer: depressed middle-aged man looks after his mother and three other old women in a deserted city in the middle of summer. Nothing much happens. He cooks for them. Gomorrah director Matteo Garrone is the daring producer who believed in Mid-August Lunch, the feature debut of his frequent co-scriptwriter/assistant director Gianni Di Gregorio. Their new collaboration was a gamble that has paid off with a number of awards at major film festivals including Venice and London.
The plot is directly inspired by Di Gregorio's own experience of looking after his widowed mother during her last years. Indeed, the whole production has a homemade quality to it, from the interiors (Di Gregorio's own flat) to the cast, which is made up entirely of non-professionals among whom we find the director himself and a couple of old friends. The preference for shooting in natural light makes for a rather sombre atmosphere, which might at first appear strange if not technically poor, but which in fact reproduces well the funereal darkness of Italian houses at the height of summer, shutters closed to keep out the torrid heat.
Given all this, some Italian critics have, not surprisingly, resurrected the ever-recurring mantra: a return to neorealism. This is a yardstick and a curse that allows for patents of nobility as much as accusations of being old-fashioned - both of which are of very little use here. What is original about Mid-August Lunch is its gentle fusion of a lyrical approach towards the quiet desperation of the protagonists' lives and a documentary feel (handheld camera, very limited soundtrack) that brings an element of rawness to the screen.
The best example of this - and possibly the best moment of the film - comes in the opening sequence, which begins with a mixture of close and medium shots of Gianni (Di Gregorio) reading Dumas' The Three Musketeers to his mother (Valeria De Franciscis), who is lying in bed next to him. Her face is emaciated and her hands and arms wrinkled, yet she constantly interrupts to find out more about d'Artagnan's looks, coquettishly deciding that he's not her type because he has a hooked nose. It is a quietly ironic and at the same time traumatic scene in which we are made to experience the reality of physical decay cohabiting with a mind that feels and speaks like a teenager's.
This is the delicate balance on which the entire film rests. There is no room for cheap sentimentality or sudden accelerations of the narrative. Gianni's existential stalemate is even more pathetic: his relative youth should allow for hope, but he seems unable to move out of this life of humble submission to his mother's demands. His suave gentleness is no redeeming grace - he is a hypochondriac, stuck in poverty and ready to stoop to different forms of humiliation simply to get to the next day. The achievement and the limitation of this film lie in the director's refusal to turn any character into an audience-grabbing personality. There are no punchlines, no melodramatic or absurd situations - only a half-depressed man and four old ladies merrily postponing the date of their death.
For a country such as today's Italy, dominated by the politics of wealth and appearance embodied by Prime Minister Silvio Berlusconi, a film such as this is almost revolutionary. It is an ode to the mundane and to our mortality: a convincing feat of minimalist cinema.
Credits
Director

Gianni Di Gregorio

Produced by

Matteo Garrone

Screenplay

Gianni Di Gregorio

Story

Gianni Di Gregorio
Simone Riccardini

Director of Photography

Gian Enrico Bianchi

Editor

Marco Spoletini

Art Director

Susanna Cascella

Music

Ratchev & Carratello