DVD review: Woodstock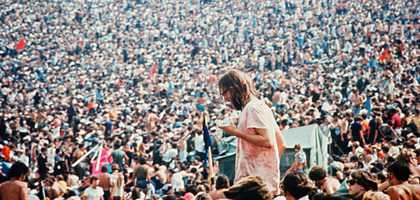 Woodstock 3 Days of Peace & Music - The Director's Cut
Michael Wadleigh; USA 1970; Warner Home Video/Region 2; Certificate 15; 225 minutes; Aspect Ratio 16:9; Features: extra performance footage, interviews, booklet
In its many years as a home-video product, Michael Wadleigh's epic documentary about the musical and cultural phenomenon that was the Woodstock Music & Art Fair held in Bethel, New York, in August 1969 - shot in 16mm and first issued theatrically in 70mm - has suffered all the slings and arrows of a slowly morphing medium. On early VHS, the initially standard analog tape image was not only grossly distorted and overly grainy but cropped to shear away two-thirds of its pictorial content; the film was also released on the shortlived CED disc format with the appropriate portions letterboxed but only to a partial ratio, cropping the periphery and greatly compromising the film's overall impression. In 1994, Wadleigh was invited to restore his originally submitted cut, which added 44 minutes of footage including previously scrapped appearances by Janis Joplin, Jefferson Airplane and Canned Heat as well as two further Jimi Hendrix performances. Woodstock came to DVD in 1997 in this 'Director's Cut', which has since become standard, but in the dozen years since, this first-and-only DVD presentation (sourced from an analog laser-disc master) has lost much of its lustre. In short, not until now, with the release of Warner's new 40th-anniversary set (also available on Blu-ray), has Woodstock finally come home in a form accurately reproducing the theatrical experience, if one's entertainment system is up to delivering what's encoded there.
Obviously, the bigger one's monitor the better, but the grain has been carefully reduced, and the fuller range of colours available to digital remastering finally nails the exact hue of violet that results when blue stagelight collides with the tawny skin of Joan Baez. The 5.1 audio has been completely remastered from the original mix tapes and is newly fascinating in its surround distribution and detail (we can now clearly hear Richie Havens' sandaled foot pounding the plywood stage in rhythm as the camera tips down to show it). A comparison between systems built around a 100w and 200w subwoofer shows increased detail in certain bass performances, with Santana's David Brown gaining particular definition with the added wattage. Again, all of the film's theatrical sonic details are in evidence, including the special equipment buzz that rises when the Who fall silent and when Sly Stone's fringe-flapping slows to a frame-by-frame search for a precisely iconic image.
The film itself, which deservedly won 1971's best documentary Oscar, remains one of cinema's great time capsules and one of its most imaginative showcases of film editing, thanks to a team spearheaded by Thelma Schoonmaker and Martin Scorsese.
One of the reasons Woodstock lends itself so well to repeat viewing is that Schoonmaker and co decided against a more truthful chronological report of the festival, instead using performance selections (which have strong folk roots and intentionally favour topical content like Vietnam, the draft and marijuana over 'hits') to explore the consciousness of its audience and times. The audience for the festival, estimated at more than 300,000, made it the second largest city in New York State, and the staggering parade of draft-age humanity consequently makes Country Joe McDonald's 'I-Feel-Like-I'm-Fixin'-to-Die Rag' (brilliantly repositioned after John Sebastian's bittersweet 'Younger Generation') and Jimi Hendrix's bombardiering take on 'The Star Spangled Banner' as moving as anything to be found in narrative cinema. Also, the editing is not afraid to play with the performances via flamboyant frame mirroring, freeze frames, blackouts and multi-angle perspectives widening the 1.33:1 image to 2.20:1.
Though many of the performances are classic, what most stands out about the film as time passes is the character of its people - idealistic, humorous, sometimes misguided, but at least they're searching - and the irony that the only ones who followed John Sebastian's suggestion that "everybody pick up a little garbage on your way out" were wearing casts or leaning on crutches.
While the extras on Warner's standard release are limited to a brief commercial visit to the Woodstock Museum at Bethel Woods, they proliferate in the '40th Anniversary Ultimate Collector's Edition' sets to the extent of a fringed slipcase, three-day ticket replicas and other junk. Far more compelling incentives are an hour's worth of interview material with Wadleigh, Scorsese, Schoonmaker and others, and two hours of additional performance footage, mostly previously unreleased. Thirty minutes are accounted for by an interminable Grateful Dead performance of 'Turn on Your Lovelight' ironically so dark it nearly qualifies as radio, but the balance - including several acts, such as Creedence Clearwater Revival, not otherwise represented in the feature - make this content essential. Additional footage of the Who rewrites a Woodstock myth, showing someone returning to a stagehand the guitar Pete Townshend apparently threw into the crowd at the close of their rousing set. Further complicating the lives of collectors are two warring editions exclusive to Amazon.com and Target stores in the US which include approximately 20 minutes of unique material each, including different additional performances.