DVD review: Messiah of Evil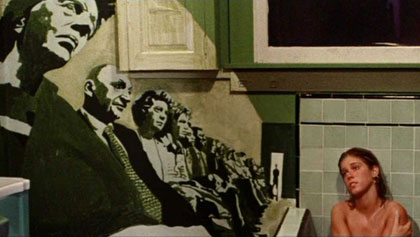 Tim Lucas welcomes the impeccably restored return of 1970s horror masterpiece 'Messiah of Evil'
Messiah of Evil: The Second Coming; Willard Huyck;

USA

1973; Code Red

DVD

/Region 0; Aspect Ratio 2.35:1; Features: audio commentary by writer-director Huyck and writer-producer Gloria Katz, moderated by Lee Christian, making-of featurette, audio interviews with actress Joy Bang and art director Joan Mocine, short films by Katz and Huyck
In his 1977 book The Vampire Cinema, critic David Pirie concluded his elegant treatise by declaring Willard Huyck's Messiah of Evil to be "a brilliant movie which exceeds every other Gothic horror film since the war in terms of narrative ingenuity," and deemed its commercial burial "the most depressing thing that could happen to the vampire cinema." In retrospect it hardly matters that it's not a vampire film at all; Pirie's SOS alerted many North American genre buffs (including Robin Wood) to the film's existence just in time for its 1978 reissue as Return of the Living Dead, and a cult film was born. It was also lost for many years, in the sense that when it did eventually resurface on home video as Messiah of Evil, the original Techniscope framing was cut in half, a devastating blow against some of the most elegant cinematography and uncannily unnerving art direction ever afforded an American horror film, courtesy of the team (Jack Fisk and Joan Mocine) who subsequently reteamed on Terrence Malick's Badlands. The film's principal creators, Willard Huyck and Gloria Katz, went on to write American Graffiti and the first two Indiana Jones sequels, but here they created something more unique, a macabre tone poem whose woozy narrative harks back to H.P. Lovecraft and Val Lewton, while its boldly contrived Technicolor visuals point the way to Dario Argento's stylistic masterpiece Suspiria.
Filmed in the Los Angeles environs circa 1971, the film stars Marianna Hill (Medium Cool) as Arletty (yes, a Les Enfants du Paradis reference), the daughter of missing artist Joseph Long, who has left behind sketchbooks that turn into journals documenting a steep decline into madness, hallucinations and self-mutilation. Arletty's search takes her to the seaside town of Point Dune and into contact with Thom (Michael Greer), a dapper young man who travels with two sexy but otherwise unlike companions (Anitra Ford and Joy Bang), who show up at her father's studio uninvited. The studio, a masterpiece of set design by Mocine, is painted with photorealistic murals of people from a slightly older era, sitting on benches around the bathtub or standing and gawking at the bed suspended from the ceiling. In two memorable set pieces, Thom's companions, jealous of Arletty, pay for their spiteful independence by falling victim to an outbreak of nocturnal cannibalism among the locals. Bang's demise in a movie theatre (where the marquee reads "_Kiss Tomorrow Goodbye_") was inspired by the jungle gym scene in Hitchcock's The Birds, and its finale in front of a white movie screen must have played especially well to cinema audiences. Meanwhile, Arletty makes sense of what's happening by reading her father's scrawls about something that happened in Point Dune a hundred years ago, and is about to happen again, signalled by a blood-red haze around the moon.
There is much about Messiah of Evil (originally titled The Second Coming) that would not work at all were narrative ingenuity truly its ace in the hole: the hero and heroine are so passive they're barely conscious (after much cat-and-mouse play, they pass up the opportunity to have sex because they're both too tired); the liveliest characters are killed off first; and the framing device tips us off right away that Arletty will survive whatever the story throws at her. Nevertheless, the film brilliantly captures a lightning essence of horror that no other ever bothered to bottle: the horror of neon by night, of 24-hour gas stations and grocery stores, of muzak that sounds as if it's played by long-dead musicians, of streets lined with now extinct franchises (W.T. Grant, Florsheim Shoes), looking no different in 1971 than they did in the 1940s - in short, the horror one finds in Edward Hopper paintings. Huyck and cinematographer Stephen Katz (the producer's brother) also explore the peculiar discomfort caused when actors look straight into the camera, or when objects face the camera directly and flatten out to two dimensions. A vague gesture towards logic is attempted with a third-act reference to how Point Dune was founded by a Dark Stranger, but the story is best taken as a dream stocked with the kinds of characters David Lynch would kill for, including a blind art dealer and an albino African-American who bites the heads off beach rats while listening to "Wagner" (mispronounced in the American way). The supporting cast features character actors Elisha Cook Jr, Royal Dano and film-school friends Walter Hill and B.W.L. Norton.
For the past 30 years, this film - one of the genre's few real masterpieces of scope photography - has only been available for viewing in badly cropped and faded copies. "*Code Red*" has beautifully restored the film (from, I'm told, one of only two surviving 35mm prints) to a convincing semblance of its original Technicolor potency, with a rich mono track. It counts as one of the most important genre film restorations of the digital age. The audio commentary by Huyck and Katz is entertaining and surprisingly frank, mentioning the crew's use of methamphetamine to get through the shoot (even mentioning who provided it) and how they had to steal the film back from Technicolor after losing financial control of the picture to finish the editing on the sly. Huyck also makes the curious assertion that, while working as a reader for American International, he rewrote the script of Witchfinder General, though his recollection that it featured Boris Karloff suggests Curse of the Crimson Altar as the more likely property. Also present are two B&W film-school efforts from the mid-1960s: Katz's The Bride Stripped Bare (eight minutes) and Huyck's Down These Mean Streets (13 minutes), which surprisingly suggest Katz as the more promising director.
See also
Still casting a spell: Tim Lucas reviews Michael Reeves' The She Beast (DVD, June 2009)
A case for treatment: Tim Lucas reviews Bret Wood's Pyschopathia Sexualis (DVD, August 2007)
Many happy returns: Tim Lucas reviews Hammer's 1976 Bette Davis horror The Anniversary (DVD, January 2007)