The Golden Bowl
UK/France/USA 2000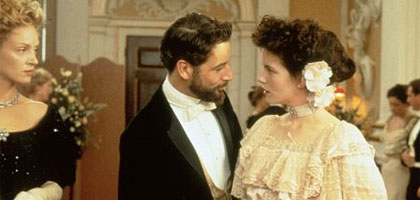 Reviewed by Ginette Vincendeau
Synopsis
Our synopses give away the plot in full, including surprise twists.
Italy, 1903. Impoverished Italian prince Amerigo is to marry American heiress Maggie Verver, a schoolfriend of his mistress Charlotte whom he must now abandon. Charlotte comes to London for the wedding and, unbeknown to Maggie, convinces Amerigo to accompany her to buy a present for his new bride. They find a golden bowl but Amerigo pronounces it flawed and rejects it.
A few years later, Amerigo and Maggie have a baby boy, and alternate between their house in Italy and the English country home of Maggie's father Adam Verver, a rich industrialist and art collector who plans to open a museum in the US. Verver marries Charlotte. Amerigo and Charlotte resume their affair, to the horror of London society, and provoke guilt in Fanny, a family friend who engineered Amerigo's marriage to Maggie despite knowing about his previous affair with Charlotte. Meanwhile Charlotte is jealous of the bond between her husband and Maggie. Amerigo and Charlotte spend a weekend together in Gloucestershire, arousing Maggie's suspicions. When she coincidentally buys the same golden bowl for her father, she finds out about the affair and confronts Amerigo who swears his love for her. She secretly engineers for her father to take Charlotte away. He agrees and takes her back to the US with his art collection.
Review
The Golden Bowl is the latest in a line of heritage productions by director James Ivory, screenwriter Ruth Prawer Jhabvala and producer Ismail Merchant. It also belongs to the growing canon of Henry James adaptations, including The Europeans (1979) and The Wings of a Dove. No doubt it will be judged by literary-minded critics in terms of its 'faithfulness' to the book. Not having read the novel, my own line of enquiry was simpler: how good a movie is it?
Heritage cinema is frequently used by film critics as a term of abuse, which is odd since the genre displays intrinsically cinematic qualities: spectacular mise en scène, painstakingly researched decors and objects, wonderful performances by stellar casts. From this perspective, The Golden Bowl scores highly, if not all the time. With lush locations ranging from an Italian palazzo to a great English country house, the film is visually exquisite; as in the early 'cinema of attractions', each new setting induces wonder, not just at its beauty but also at its scale and grandeur. Moreover such display is not there for the sake of it - it plays an active part in the narrative. Dealing with the consequences of Charlotte's affair with Amerigo, an impoverished Italian nobleman who marries Maggie, daughter of rich American industrialist Verver, this is a story about the way emotions are bound to, and driven by, property and wealth. Amerigo's crumbling palazzo is the narrative mainspring, since he marries Maggie to preserve it. At the end, Verver takes his art treasures, including Charlotte, back to America.
It is thus appropriate to the genre that the key object in the story - the golden bowl, a piece of antique crystal - should be the driving metaphor. As Maggie says when she finds out about Amerigo and Charlotte's affair, "I want happiness without a hole in it, a bowl without a crack." As well as weaving an intricate thread between objects and feelings, the film makes connections between mise en scène and narrative, representation and reality. It opens with a stylised vignette involving Amerigo's 16th-century ancestors, a tale of jealousy which acts as a mise en abyme for the rest of the story. It ends with flickering black-and-white archive footage of early 20th-century America. The Golden Bowl thus encases its characters' fate within a double trajectory: that of the march of time and that of technologies of representation. Throughout, key narrative moments are told through self-conscious references to art: Verver woos Charlotte by showing her his Raphael drawings, her affair is revealed to London society at a fancy-dress ball and Amerigo's renovation of his castle parallels his growing attachment to Maggie. The revelation of the adulterous liaison is linked to the golden bowl, but the clinching evidence is a photograph of Charlotte and Amerigo in fancy dress ("Are you comfortable?" the photographer asked them, "Then I shall expose!"). There are slides, tableaux vivants, ballets, films within the film, a hall of mirrors.
And yet despite the sophistication of its spectacle, The Golden Bowl fails to be fully satisfying. The story drags at several points, notably in the initial exposition and then towards the end. And while the ambiguities of the relationships between Amerigo and Charlotte and between Maggie and her father are cleverly conveyed, the Verver-Charlotte dynamic feels underwritten. Even more strikingly, the friendship between the two women remains shadowy.
Performances are a mixture of the wonderful and the weak. Uma Thurman and Nick Nolte are typically brilliant (though there is not enough of Nolte's Verver, and Thurman, while perfect as the imperious Charlotte of the first part, is less credible as the forsaken mistress at the end). Kate Beckinsale as Maggie is fine in a thankless part. The problem is Jeremy Northam, underwhelming as the aristocratic Latin lover with a dodgy Italian accent. Surely, you're left thinking, Italy has actors as well as palazzi. Northam's weak performance unbalances the film as it becomes increasingly difficult to see why he should be the object of such passions. These reservations however do not invalidate the overall accomplishment of the film. Like its eponymous artefact, The Golden Bowl is flawed - yet it remains an object of great beauty and elegance.
Credits
Director

James Ivory

Producer

Ismail Merchant

Screenplay

Ruth Prawer Jhabvala
Based on the novel by
Henry James

Director of Photography

Tony Pierce-Roberts

Editor

John David Allen

Production Design

Andrew Sanders

Music

Richard Robbins

™ Golden Bowl Productions Ltd.

Production Companies

Merchant Ivory Productions and TF1 International present in association with
Miramax Films a Merchant Ivory film

Executive Producers

Paul Bradley
Richard Hawley

Italian Associate Producer

Fabrizio Mosca

Production Co-ordinators

Anna Hall
Penelope Perry
Italy:
Barbara Ruggeri

Production Managers

Sarah Bradshaw
Italy:
Marcantonio Borghese

Key Location Manager

Christian McWilliams

Location Manager

J.J. Hook

Assistant Directors

Christopher Granier Deferre
Adrian Toynton
Paula Turnbull
Emma Horton
Anya Gripari
Italy:
Filippo Fassetta

Script Supervisors

Beverly Winston
Italy:
Giorgia Onofri

Casting

Celestia Fox
Italy:
Shaila Rubin

2nd Camera Operator

Colin Corby

Steadicam Operator

Peter Cavaciuti

Digital Effects

Digital Film, London

Art Directors

Lucy Richardson
Italy:
Gianni Giovagnoni

Set Decorators

Anna Pinnock
Italy:
Cinzia Sleiter

Draughtsman

Martin Foley

Costume Designer

John Bright

Wardrobe

Supervisor:
Janet Tebrooke
Mistress:
Laura May
Master:
Dan Grace

Make-up

Designer:
Amanda Knight
Artist:
Trefor Proud

Researcher/Make-up & Hair Co-ordinator

Elizabeth Lewis

Hair Designer

Carol Hemming

Hairdresser

Zoe Tahir

Title Design

Frameline

Optical Effects Producer

Susi Roper

Opticals

Peerless Camera Company

Solo Piano

Simon Chamberlain

Solo Cello

Philip De Groote

Solo Saxophone

Phil Todd

Conductor

Harry Rabinowitz

Leader

Marcia Crayford

Orchestral Arrangements

Geoffrey Alexander

Recordist

Kirsty Whalley

Soundtrack

"Moonstruck"; "Sarabande" from "Pour le piano"; "Wall Street Rag"

Choreography

Karole Armitage

Sound Mixers

David Stephenson
Italy:
Gilberto Martinelli

Re-recording Mixers

Robin O'Donoghue
Richard Street
Dominic Lester

Recordist

Nigel Bennett

Supervising Sound Editor

Nigel Mills

Dialogue Editor

Nina Hartstone

ADR Editor

Phillip Alton

Foley Editors

Peter Holt
Martin Cantwell
Cast
Kate Beckinsale
Maggie Verver

James Fox

Colonel Bob Assingham

Anjelica Huston

Fanny Assingham

Nick Nolte

Adam Verver

Jeremy Northam

Prince Amerigo

Madeleine Potter

Lady Castledean

Uma Thurman

Charlotte Stant

Nicholas Day

Lord Castledean

Peter Eyre

Jarvis, shopkeeper

Nickolas Grace

lecturer

Robin Hart

Mr Blint

Daniel Byam Shaw

Principino at five years

Francesco Giuffrida

duke's younger son

Marta Paola Richeldi

the duchess

Rossano Rubicondi

duke's older son

Mattia Sbragia

the duke

Billy Monger

Principino

Pauline Rainer

nursemaid

Susan Gutfreund

vivacious guest

Arturo Venegas

Italian ambassador

Raymond Green

photographer

Anthony Bevan

butler

Neville Phillips

man talking to Castledean

Paul Bradley

executioner

Lucy Freeman

Lucy Moncreif

Phillip Tabor

William Davenport

Catherine Aldrich

Isabel de Pelet
Richard MacRory

Caroline Burnaby-Atkins

guest at Fawnss
The ballet

Piers Gielgud

Pasha

Antonia Franceschi

1st queen

Philip Willingham

slave

William Dignon

little prince

Ray Souza

Leanne Codrington
Amy Bailey
Michaela Burgess
Simon Humphry
Michela Meazza
Stephen Hughes
Tippi Maravala
dancers

Certificate

tbc

Distributor

Buena Vista International (UK)

tbc feet

tbc minutes

Dolby Digital

In Colour
Prints by
Technicolor UK

2.35:1 [Panavision]