Water Drops On Burning Rocks
France/Japan 1999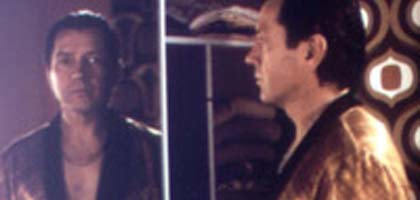 Reviewed by Richard Falcon
Synopsis
Our synopses give away the plot in full, including surprise twists.
The Federal Republic of Germany, the 70s. Fifty-year-old insurance salesman Léopold Blum (Bernard Giraudeau) invites 19-year-old student Franz Meister (Malik Zidi) to his apartment and learns of his unsatisfactory sexual relationship with his girlfriend Anna (Ludivine Sagnier). Franz agrees to sleep with Léopold, who enacts an erotic dream of the student's by appearing in the bedroom doorway wearing a raincoat.
Six months later. Franz is now living with Léopold as his chattel. The lovers row about domestic details, but the sex keeps them together. During one of Léopold's business trips, Anna arrives and finds Franz depressed. She has had an offer of marriage but still loves Franz and is determined to win him back. They sleep together. Anna is enthused by Franz's new-found sexual confidence; Franz, though, is reluctant to leave. Léopold arrives and shows a sexual interest in Anna. Léopold's ex-lover Véra (Anna Thomson), who visited while he was away, then turns up. Léopold, Anna and Véra have sex; sidelined by Léopold and Anna, Véra joins Franz in the living room where she tells him she had a sex change to maintain Léopold's interest. Franz swallows poison and phones his mother. When Léopold and Anna discover his body, Léopold takes control. Leaving Franz's corpse in the living room, he continues having sex with Véra and Anna.
Review
François Ozon's third feature is a treat for devotees of European film culture. In adapting for the cinema a play written in the mid 60s (but never staged) by Rainer Werner Fassbinder, Ozon conjures a complex film experience out of what would have been relatively thin - if typically provocative - theatrical material. The reasons why Fassbinder never directed the play are a matter of speculation; perhaps he considered this first work an apprentice exercise - the claustrophobically perverse sexual-power dynamic between young student Franz and older sophisticate Léopold finds echoes in the relationship between the two gay protagonists of Fox and his Friends (1975) and the lesbian couple in The Bitter Tears of Petra von Kant (1972).
Having already established his credentials as a pasticheur in Sitcom (1998), Ozon here adopts some of the most obvious stylistic traits of mid-period Fassbinder. There is the claustrophobic single-interior location (Léopold's flat) and the use of overt theatricality for specifically cinematic aims (Ozon even employs captions to introduce each act). The one exterior shot, repeated throughout the movie, isolates the characters - first Franz and Léopold, then Franz and his girlfriend Anna, then Franz and Léopold's ex-lover Véra - from each other within the apartment's window frames; and when the prowling camera rests, it entraps the characters within a constricting mise en scène similar to that in Fassbinder's Douglas Sirk-inspired melodramas. The result is quite an achievement, a startling homage that reflects Ozon's preoccupation with the black humour of potentially menacing power games, visible in his chilling 1997 film Regarde la mer, as it does Fassbinder's conviction that, in the words of one of his film's titles, love is colder than death.
The play, whose first three acts Ozon is remarkably faithful to, turns on a series of reversals. The unhappy Franz - subtly and confidently played by Malik Zidi - is first seduced by the charming Léopold (the older man even takes time to wash the drinks glasses before taking Franz to bed). By the end of the second act, it is Franz who is cleaning the glasses, looking after the flat as Léopold's live-in lover. A recurring Fassbinder pattern, in which a passive victim internalises his oppression and in turn oppresses others, looks set to establish itself when Anna arrives, wanting to rescue Franz. By the third act, though, Franz is still the victim; as Anna reciprocates the sexual interest Léopold takes in her, Franz's meagre raison d'être is the domestic tasks he performs for Léopold. Unlike Franz Biberkopf, the hero of Fox, this Franz isn't a working-class rent boy used by a middle-class gay sophisticate, but a student, while Léopold is an insurance salesman, driven by the need to earn a living. The power relations between them are initially ambiguous - Franz, for instance, chooses to succumb to Léopold in the first act. But by the end, in the land of blind desire, Léopold is king and Franz as doomed as Gregor Samsa in Kafka's Metamorphosis.
But Franz is not the only victim: Véra, who appears, like Marlene in Petra von Kant, in Fassbinder's original as a wholly subjugated and thinly sketched character, is here given a tragic backstory, taken by Ozon from Fassbinder's In a Year with 13 Moons (1978) - she underwent a sex change, Véra tells Franz, to maintain the fickle Léopold's interest. As Véra moves into focus in the final act, so too does the difference between Ozon and Fassbinder. In performance terms, Ozon's film is polished, where Fassbinder's would have been rawer, reflecting perhaps the borderline sado-masochistic relationship between the director and his cast. Here Ozon's close-ups allow us to enjoy the subtleties of Bernard Giraudeau's performance as Léopold, in some senses an embodiment of the archetypal old French roué (the character in the play is 35, not 50). Ozon uses popular music, not to illustrate bathetically the longings of the characters as Fassbinder might have, but to manipulate audience mood - there is a sudden joyous outburst as the characters start boogying to 70s Euro pop song 'Tanze Samba mit mir' by Tony Holiday before, in a moment of pure farce, Léopold claps his hands and ushers Anna and Véra into the bedroom for sex. If Ozon is necessarily self-conscious in his cross-cultural foray - ending the film with the title track 'Traüme' from Françoise Hardy's only German-language album, having Franz quote a Heine poem in German, and starting the film with a series of retro postcards of Germany - he at least proves he is far more than a tourist in Fassbinder's peculiar, and fast receding, 70s Federal Republic.
Credits
Director

François Ozon

Producers

Olivier Delbosc
Marc Missonnier

Screenplay

François Ozon

Adaptation/Dialogue

François Ozon
Based on the play Tropfen auf heisse Steine by Rainer Werner Fassbinder

Director of Photography

Jeanne Lapoirie

Editors

Laurence Bawedin
Claudine Bouché

Production Designer

Arnaud de Moléron

French theatrical title

Gouttes d'eau sur pierres brûlantes