Film review: Father of My Children
Germany-France 2009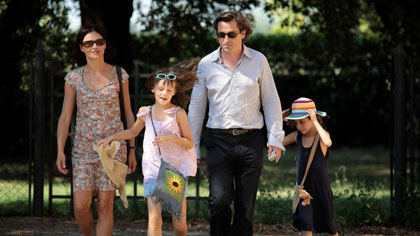 Reviewed by Ryan Gilbey
Synopsis
Our synopses give away the plot in full, including surprise twists.
Paris, the present. Grégoire Canvel is a film producer with a full slate of projects and a chaotic but contented family life with his wife Sylvia and their three daughters, including teenager Clémence. His company, Moon Films, is in dire financial trouble and he's facing bankruptcy. Despite this, he busies himself solving problems on his various productions, averting a strike on a Swedish set and consoling the cuckolded leading man on a historical drama. Work is affecting his domestic life – during a family holiday in Italy, Sylvia threatens to go home if Grégoire doesn't turn off his phone. Back in Paris, Grégoire learns that he's €4 million in debt. He confesses to Sylvia that he can't manage any more. The next day, he shoots himself.
Sylvia decides to try to complete Grégoire's remaining projects. She visits the set of the Swedish film, which has gone over budget, but her attempts to secure additional financing are unsuccessful. In a café, Clémence overhears gossip suggesting that her father had a secret child. At home, she discovers letters confirming that Grégoire fathered a son, Moune, before she was born. Sylvia confirms this. Clémence visits Moune's mother, who says that Moune is with his wife and child, and advises Clémence not to make contact yet. The accountant announces that liquidation for Moon Films is inevitable. Sylvia and her daughters gather a few small mementos from the office before the liquidator arrives, then leave Paris for good.
Review
A mere 'spoiler alert' seems insufficient warning to give before any discussion of Father of My Children, Mia Hansen-Løve's brisk film about Grégoire Canvel, a Parisian film producer struggling to keep his production company afloat. The rupture that occurs at the picture's midway point may not quite be a narrative non sequitur to rank with the shower scene in Psycho, but it nonetheless leaves the audience bereft.
What's striking about the film's second half is that, for all the onscreen grief, the snappy pace varies not a jot from the preceding 50 minutes. The shots remain short, the editing unfussy; cataclysmic revelations come and go in the blink of an eye; little in the framing or on the soundtrack differentiates particularly between the heartbreaking and the mundane. The message couldn't be clearer: life goes on. Grégoire says as much when he mentions that a crew member committed suicide a week earlier. "Why didn't you tell me?" asks his wife, Sylvia. "These things happen," he replies with a shrug. The film bears him out.
Hansen-Løve's second feature – and here comes that spoiler – is loosely inspired by the death of Humbert Balsan, the producer and keen promoter of Arab film-making who hanged himself in 2005. Balsan was the original producer on Hansen-Løve's 2007 debut All Is Forgiven; like that picture, Father of My Children is partly concerned with how families reconvene after a schism or tragedy. Another connection to the earlier film is the interest in the father/daughter relationship – the later parts of All Is Forgiven focused on a girl reunited with her father after 11 years; here, Grégoire's death leads his teenage daughter Clémence to make discoveries about him. Hansen-Løve resorts again to offscreen biological ties: in All Is Forgiven, two sisters played the same character at different ages; this time, Alice de Lencquesaing, who takes the part of Clémence, is the real-life daughter of Louis-Do de Lencquesaing, who plays Grégoire.
So persuasive and dynamic is de Lencquesaing père, as any great producer would need to be, that panic sets in among the audience when he finally admits to Sylvia that he's going under. The suicide scene is characteristic of Hansen-Løve's undemonstrative style. The act is sudden, unheralded by music (the score throughout is refreshingly stark), and literally over in a shot. In muting the warning signs, or allowing them to be absorbed into the bustle of life, Hansen-Løve secures for her film its slow-burning emotional impact. Hindsight puts a different slant on events: the police who apprehend Grégoire for speeding tell him he is "out of points"; Grégoire's history lesson to his children, in which he mentions France's King Philip IV seizing the assets of the Knights Templar, chimes with the prospect of having his own assets frozen; a typically brief scene in which he consoles a distraught actor hints at the isolation of the producer's role as supporter and motivator.
While Hansen-Løve (who has also acted in films by her partner Olivier Assayas) has brought her industry experience to bear in the plausibly fractured portrait of Grégoire's working life, she concludes that his condition is not restricted to harassed professionals for whom 24-hour days are unworkably short. The point is well made when Sylvia and the children leave Paris at the end of the film. A graveside farewell appears to be in the offing; Clémence is banking on it. But it isn't to be. "Honey, we don't have the time," says Sylvia. Of course they don't. Life goes on.
See also
Jonathan Romney introduces Father of My Children and interviews Mia Hansen-Løve in the March 2010 issue of Sight & Sound
The weight of the world: the DVD release of Béla Tarr (and producer Humbert Balsan's) The Man from London reviewed by Michael Brooke (January 2009)
Late August, Early September reviewed by Chris Darke (September 1999)
Credits
A film by

Mia Hansen-Løve

Produced by

Philippe Martin
David Thion

Written by

Mia Hansen-Løve

Director of Photography

Pascal Auffray

Editor

Marion Monnier

Art Director

Mathieu Menut

Original Music

Christian García