Out of the shadows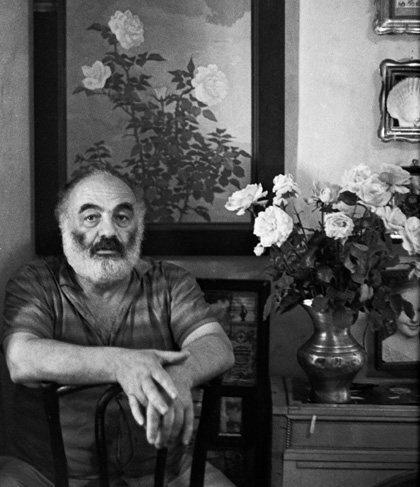 Sergei Parajanov was imprisoned by the Soviets and his films were suppressed, but his magical vision and his bold championing of folk tradition endure long after the fall of the USSR. Ian Christie celebrates a unique film-maker
Cinema has few martyrs today – perhaps fortunately. Although there are Chinese and Iranian film-makers who may be silenced by their overbearing governments, most censorship is no more than economic. But in the Russian Soviet era, film-making could be a life-threatening occupation, and no one exemplified this better than Sergei Parajanov, whose imprisonment and persecution attracted worldwide concern throughout the 1970s and early 80s. A retrospective of this beleaguered director's work is an invitation to revisit that bizarre period which ended barely 20 years ago, when making – and getting to see – deviant products of the Soviet Union's 'most important art' was like taking part in a real-life spy story.
According to the rules of the game, there were films you could ask to see, but not show abroad. On one occasion in Moscow, when negotiating for films to show in Britain, I was advised by my interpreter to be sure to ask for a certain 'banned' work during lunch with a deputy minister. He might feel embarrassed to refuse it in public, and if he said yes, then we could quote this in later wrangling. By the late 1980s, as the first wave of Gorbachev's glasnost swept across the jaded bureaucracy of the USSR, things were becoming easier. Film-makers such as Elem Klimov and the previously unknown Alexander Askoldov, whose banned 1967 film The Commissar was triumphantly resurrected, became standard-bearers for the new reforms. And in 1988, just two years before his death, Parajanov was able for the first time to travel abroad, to be acclaimed as a hero at the Rotterdam Film Festival.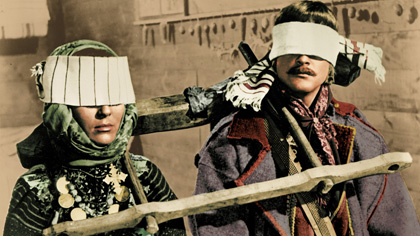 Shadows of Our Forgotten Ancestors
Unlike most of the film-makers being discovered during this heady period, Parajanov was far from unknown. Indeed as far back as 1964, it was his Shadows of Our Forgotten Ancestors (Teni zabutych predkiv) that helped launch the idea of a 'Soviet new wave', following on the heels of Tarkovsky's explosive debut Ivan's Childhood (1962) – the film that inspired Parajanov to change course after a string of conventional early works. But while Tarkovsky breathed new life into the conventional genre of World War II heroism, punctuating his young hero's last days with dreams and dark premonitions, Parajanov filmed his village Romeo and Juliet in the remote Carpathian region of Ukraine, filling it with folkloric music, dance and costume, as well as savage retribution. Shadows of Our Forgotten Ancestors harked back to themes that had long been taboo in Soviet cinema – the survival of ancient tradition and the continuing power of magic in peasant life – and reawakened the spectre of nationalism within the Soviet empire that Stalin (who, like Parajanov, was born in Georgia) had ruthlessly suppressed.
Whatever their differences of subject, both Tarkovsky and Parajanov signalled a new visual expressivity in Soviet film. For foreign audiences this chimed with the belated discovery of Eisenstein's exuberant first film Strike, made in 1925 but not widely seen until the late 1950s, and the delayed release of his last, Ivan the Terrible Part II, with its startling colour feast sequences. The 'thaw' in Soviet culture under Khrushchev seemed to promise new freedoms, until a series of trials and bannings announced a crackdown by his successors. Tarkovsky's evocation of the medieval Russian artist Andrei Rublev was an early casualty, finished in 1966 but not released until 1971. And Parajanov's The Colour of Pomegranates (Sayat Nova) – about another cultural hero from the distant past, in this case an 18th-century Armenian troubadour – was withheld for a decade after its completion in 1969.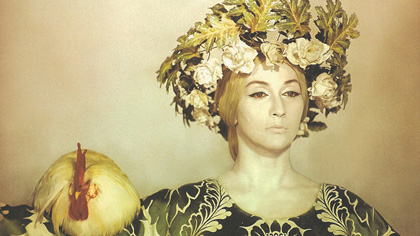 The Colour of Pomegranates
During this period, the scandal as well as the myth of Parajanov grew. His arrest and imprisonment in 1973, on a cocktail of charges that were reported to include homosexuality, pornography, art trafficking, currency speculation and "incitement to suicide", led to protests by many leading French and Italian film-makers, and high-level representations to the Soviet government. There was understandable confusion among those drawn to his defence. Was he Ukrainian, Georgian or Armenian? Was he truly a gay martyr, or the victim of Soviet slander? And how much had The Colour of Pomegranates, when it finally gained release in 1982, suffered from censorship and 'adaptation'? The issue of Parajanov's nationality, or ethnicity, was certainly confusing for outsiders, since he was born in Tiblisi, but had started his career in Ukraine, making Shadows in an obscure Ukrainian dialect, while Pomegranates was in Armenian. His name also appeared in many different versions, further confused by German and French transliteration conventions. Parajanov would later declare ironically: "I am an Armenian, born in Tiblisi, incarcerated in a Russian prison for being a Ukrainian nationalist."
Born in 1924 to Armenian parents, he had indeed grown up in Soviet Georgia, before studying at film school in Moscow under the Ukrainian Igor Savchenko, who was responsible for one of the most joyous early Soviet musicals, Accordion (1934). It may have been this connection that led Parajanov to start work at the largest of the regional studios, in Kiev, named after another troublesome artist from an earlier generation: Alexander Dovzhenko. And if there was any obvious precursor to Parajanov, it is probably this odd man out among the founders of Soviet cinema, whose feeling for landscape and the poetic blurring of past and present, as in Zvenigora (1928) and Earth (1930), set him apart from the more overtly propagandistic pioneers Pudovkin, Eisenstein and Vertov.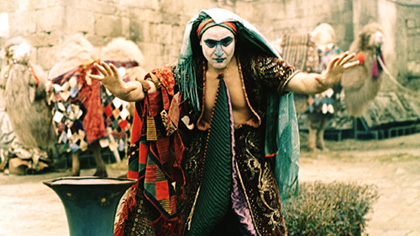 The Legend of Suram Fortress
To complicate matters, Parajanov would go on to make two further full-length films: The Legend of Suram Fortress (Legenda Suramskoi kreposti, 1984) in Georgia, and Ashik Kerib (1988) in Azerbaijan. Since the collapse of the Soviet Union, the 'nationalities' issue that Stalin and his successors tried to suppress has returned in all its force and complexity – as the world saw on the borders of Georgia in 2008. Armenians have made the strongest cultural claim to Parajanov – and in their favour, The Colour of Pomegranates is probably his most highly regarded film, even though it continues to be known in a version that was edited – and titled – by the Soviet veteran Sergei Yutkevich, once part of the post-revolutionary avant garde. As it happened, I met Yutkevich during the 1980s, and after watching a somewhat obscure Georgian film with him, asked why he had intervened in Parajanov's film. The answer, disarmingly, was that while he admired it, he also thought it unreleasable and wanted to help it be seen.
There is undoubtedly much more to the tangled story of Parajanov's troubles, which continued even after he was freed in 1977, but what matters most is to acknowledge the sheer originality of The Colour of Pomegranates. In place of the swirling camera and folklore of Shadows of Our Forgotten Ancestors, Parajanov found a new style based on the tableau, with the poet Arutian, later to be crowned 'king of song' ('Sayat Nova'), seen in a series of stylised, flamboyant chapters that chronicle his life. Much remains obscure, but the film's intense, painterly palette and startling, surreal images – such as clothing that comes to life in a dance of human desires, or a roof covered with books flapping in the wind – seem to be its main thrust. This is a film about the senses and their celebration through image, word and music, even if it is also a paean to Armenian national culture. Though the style is very different, the parallel with Tarkovsky's Andrei Rublev is undeniable. Supporters in the 1980s were also quick to link Parajanov with Pasolini and Kenneth Anger, while Steven Dillon has pointed to the boy-angel who closes both The Colour of Pomegranates and – no doubt as a homage – Derek Jarman's Caravaggio (1986).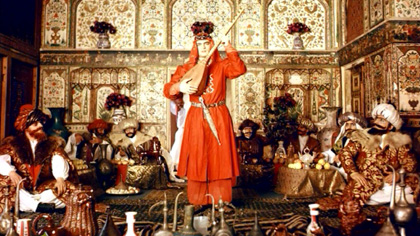 When a new film was announced in 1985, many wondered if Parajanov could still work his magic after 15 years away from his craft, and a further, briefer prison sentence. Yet The Legend of the Suram Fortress was Parajanov's gift to his birth country: a typically fantastic and nationalistic Georgian folk tale about the search for a hero to defend the homeland, it culminates in the grisly image of a tower built from human flesh and blood, which alone will protect it from attack. Eisenstein had contemplated a film about irrigating the Soviet Far East, with a historical frame about the Mongol leader Timur, or Tamburlaine, and his 'human tower'; and in some ways Parajanov could be seen as realising the mythopoeic side of Eisenstein. His last film, made in Azerbaijan, actually marked a return to an earlier project – a plan to film Mikhail Lermontov's dark epic poem The Demon. Instead, Parajanov opted for one of the poet's Caucasian tales: Ashik Kerib, about a poor wedding singer, or ashik, who has to prove himself in order to marry a rich man's daughter. By now the tableau style had become a norm, and initial reviews reflected a mixture of respect and disappointment. Full of humour and colourful Azeri costume and music, Ashik Kerib is certainly lighter in tone than Suram Fortress, reflecting a return to the Arabian Nights world of The Colour of Pomegranates.
In his later years, and since his death, Parajanov's talent has been in constant danger of being over- or understated. His fascination with bric-à-brac and kitsch was perhaps a reaction against the spurious simplicity of socialist realism, but it left him open to allegations of hucksterism and naivety. Each of his mature films can be read in terms of a rising tide of Ukrainian and Transcaucasian nationalism, yet his own mixed roots and experience gave him a broader view of 'folk' culture. Perhaps the best clue to his creative identity lies in his admiration for the primitive painter Niko Pirosmani (a Georgian equivalent to Henri Rousseau), about whom he made a short film in 1985: Arabesques on the Pirosmani Theme (Arabeski na temu Pirosmani). Like Pirosmani, who died in poverty, Parajanov made art prodigiously, naively, magically.
A season of Sergei Parajanov's films runs at BFI Southbank, London from 1-17 March, and at the Arnolfini, Bristol from 2-23 April. For further information see www.paradjanov-festival.co.uk
See also
Cinema at the crossroads: James Bell on Kazakhstan's Eurasia film festival (January 2006)