Obituaries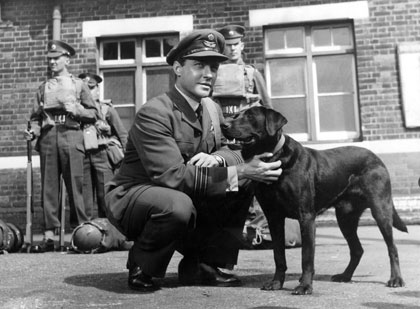 January to December 2009
Sight & Sound's comprehensive survey of the actors, directors, writers, producers and technicians who died during the course of 2009, compiled by Bob Mastrangelo.
Above: Richard Todd in Dam Busters
See also remembrances of:
Betsy Blair
Nika Bohinc and Alexis A. Tioseco
Kathleen Byron
Jack Cardiff
David Carradine
John Hughes
Maurice Jarre
Troy Kennedy Martin
Patrick McGoohan
Keith Waterhouse
Robin Wood
Muraki Yoshiro
Ivan Zulueta
Late 2008
Alain Renoir, son of Jean Renoir who served as an assistant cameraman on La Bête humaine and La Règle du jeu before becoming a professor of English at UC Berkeley.
Arthur A. Ross, screenwriter on Creature from the Black Lagoon, The Great Race and Brubaker.
Actors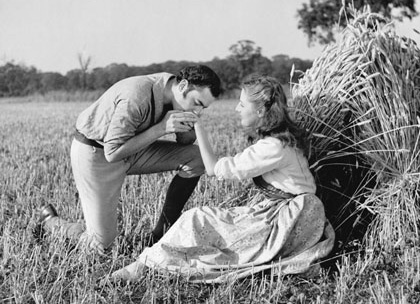 Terence Alexander (pictured in Comin' Tho' the Rye), character actor generally seen as charming, upper-crust types (The League of Gentlemen; The Day of the Jackal).
Wayne Allwine, sound-effects editor for Disney who became the voice of Mickey Mouse from Mickey's Christmas Carol onwards.
Bea Arthur, star of television and Broadway seen occasionally in films, usually in scene-stealing parts (Lovers and Other Strangers; Mame).
Val Avery, supporting player with a knack for playing gruff, often menacing characters (Faces; The Anderson Tapes).
Ray Barrett, Australian leading actor frequently seen in tough-guy roles in films (Don's Party; The Chant of Jimmie Blacksmith) and television (The Troubleshooters).
Gene Barry, debonair star of movies, television and Broadway who had his best big-screen roles in the 1950s (The War of the Worlds; Thunder Road).
Yasmine Belmadi, rising French actor (Les Corps ouverts; Adieu Gary).
John Bentley, star of British B pictures (Calling Paul Temple; Confession) who also had a long career on television.
Betsy Blair, blacklist survivor who played Ernest Borgnine's wallflower love interest in Marty and subsequently found work in Europe.
Pamela Blake (aka Adele Pearce), leading lady of serials, oaters, mysteries and other B pictures of the 1930s and '40s (Wyoming Outlaw; Chick Carter, Detective).
Anne-Marie Blanc, one of Switzerland's most celebrated screen actresses (Gilberte de Courgenay; Marie-Louise).
Jane Bryan, ingénue of the late 1930s who supported some of the biggest stars at Warner Bros. (The Old Maid; We Are Not Alone).
Kathleen Byron, who was the mad, lustful Sister Ruth in Black Narcissus and the stoic, long-suffering Susan in The Small Back Room.
Gianna Maria Canale, Italian beauty seen in exotic roles, often in the films of her husband Riccardo Freda (I Vampiri; Hercules).
Philip Carey, tall, rugged second lead (Gun Fury; Mister Roberts) who found better roles on television.
David Carradine, cult star of television (Kung Fu) and film (Death Race 2000; Bound for Glory) who made a comeback in Tarantino's Kill Bill movies.
Marilyn Chambers, detergent model whose performance in Behind the Green Door turned her into one of the biggest stars of the porn industry.
Sydney Chaplin, son of Charlie Chaplin and occasional screen actor (Limelight; Land of the Pharaohs) who achieved notoriety on the stage.
Frank 'Junior' Coghlan, child and teen actor of the 1920s and '30s who was popular as Billy Batson in the serial Adventures of Captain Marvel.
Dorothy Coonan, chorus girl for Busby Berkeley who played one of the leads in William Wellman's Wild Boys of the Road, then married Wellman and retired.
Maxine Cooper, known by film noir fans for her portrayal of Mike Hammer's secretary Velda in Kiss Me Deadly.
Virginia Davis, who played the title role in Disney's part-live-action, part-animated Alice in Cartoonland shorts of the mid-1920s.
Dom DeLuise, rotund, scene-stealing funny man who was a perfect foil for Mel Brooks and Burt Reynolds.
Farrah Fawcett, television star and 1970s sex symbol periodically seen in films.
Susanna Foster, who starred in the 1943 remake of Phantom of the Opera and several B musicals before leaving films for a singing career.
Henry Gibson, who was the resident poet on television's Rowan & Martin's Laugh-In, then a versatile character actor in films (The Long Goodbye; Nashville).
Marie Glory, French actress whose most prominent roles came during the transition from silent films to talkies (L'Herbier's L'Argent; Fescourt's Monte Cristo).
Monte Hale, singing cowboy star of Republic Westerns in the 1940s and early '50s.
Pat Hingle, character actor equally believable as lawmen, gangsters, factory workers or oil tycoons (Splendor in the Grass; The Grifters).
Mary Howard, starlet of the late 1930s and early '40s (Abe Lincoln in Illinois; Swamp Water).
Lou Jacobi, heavy-set, moustachioed, balding comic actor occasionally seen in dramatic parts (The Diary of Anne Frank; Irma la Douce).
Jang Jin-young, South Korean actress who emerged in the early 2000s (Sorum; Singles).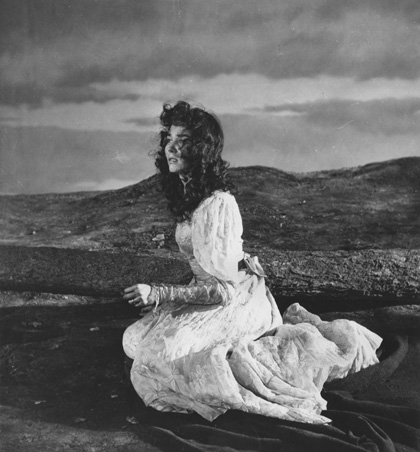 Jennifer Jones (pictured in Gone to Earth), Hollywood star whose career was famously guided by her husband David O. Selznick.
Brenda Joyce, who lustfully pursued George Brent in Clarence Brown's disaster epic The Rains Came, then succeeded Maureen O'Sullivan as Jane in the Tarzan movies.
Edward Judd, star of science-fiction classics The Day the Earth Caught Fire and First Men in the Moon.
Feroz Khan, Bollywood actor and director known for his action roles (Dharmatma; Qurbani).
José Luis López Vázquez, popular Spanish star of more than 200 films, including many collaborations with both Carlos Saura and Luis García Berlanga.
Karl Malden, one of Hollywood's most distinctive character actors, who consistently excelled at playing angst-ridden everymen.
Zena Marshall, who was the seductive, villainous secretary Miss Taro in Dr. No.
Jean Martin, who played the ruthless Colonel Mathieu in The Battle of Algiers and an anti-de Gaulle conspirator in The Day of the Jackal.
Patrick McGoohan, iconic television spy of Danger Man and The Prisoner who later played sinister roles in Hollywood (Escape from Alcatraz; Braveheart).
Hugh Millais, whose best roles were for Altman: the hitman hunting Warren Beatty in McCabe & Mrs. Miller, and the lecherous Marcel in Images, forever groping Susannah York.
Minamida Yôko, Japanese supporting actress and occasional lead (Mizoguchi's Chikamatsu monogatari; Season of the Sun).
Zakes Mokae, South African actor who fought apartheid in his theatrical collaborations with Athol Fugard and in several notable film performances (Cry Freedom; A Dry White Season).
Ricardo Montalban, debonair star whose career broke barriers for Latinos in Hollywood.
Morishige Hisaya, Japanese actor known for his versatility and his films with Toyoda Shirô (Marital Relations; A Cat, Shozo and Two Women).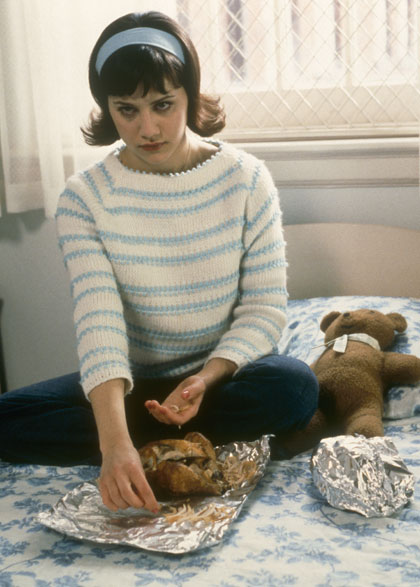 Brittany Murphy (pictured in Girl, Interrupted), young actress who first made an impression in the mid-1990s (Clueless; 8 Mile).
Leela Naidu, leading Bollywood actress of the early 1960s (Anuradha) who also starred in the first Merchant-Ivory production, The Householder.
Paul Naschy (aka Jacinto Molina), the king of Spanish horror who was known for playing classic monster roles, including numerous turns as the werewolf Waldemar Daninsky.
Shesha Palihakkara, Sri Lankan actor, dancer and producer who starred in Lester James Peries' groundbreaking film Rekava.
Lou Perryman (aka Lou Perry), supporting actor who played leads in the Texas-based indie films of Eagle Pennell (The Whole Shootin' Match; Last Night at the Alamo).
Harve Presnell, baritone of Hollywood and Broadway musicals who later re-emerged as a character actor (The Unsinkable Molly Brown; Fargo).
Edmund Purdom, British actor who briefly had Hollywood's attention in the mid-1950s before finding work in Italy (The Student Prince; The Egyptian).
John Quade, rough-looking character actor who played bikers, henchmen and other villains, frequently for Clint Eastwood (The Outlaw Josey Wales; Every Which Way But Loose).
Robert Quarry, star of 1970s horror films (Count Yorga, Vampire; Madhouse).
Jane Randolph, leading lady of the 1940s best remembered in Tourneur's Cat People as a woman terrorised by an unseen panther while swimming.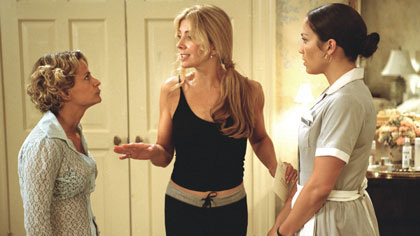 Natasha Richardson (pictured in Maid in Manhattan), acting dynasty scion with a distinguished career in films, television and the stage.
Beverly Roberts, who co-starred with Bogart in Two Against the World and Karloff in West of Shanghai.
Jean-Paul Roussillon, French supporting screen actor (The Girl from Paris; A Christmas Tale).
Jan Rubes, Czech-born Canadian actor and opera singer who was the Amish patriarch in Peter Weir's Witness and a sinister psychiatrist in Arthur Penn's Dead of Winter.
Olga San Juan, actress-singer-dancer known as the 'Puerto Rican Pepperpot' and seen in Hollywood musicals of the 1940s (Blue Skies; Variety Girl).
Rosanna Schiaffino, Italian actress seen in leading roles in the late 1950s and '60s (Rosi's La Sfida; Lattuada's La Mandragola).
Shih Kien (aka Shek Kin), prolific actor of Hong Kong cinema who frequently played villainous roles, most famously opposite Bruce Lee in Enter the Dragon.
Ron Silver, actor known for intense, self-assured characterisations (Enemies: A Love Story; Reversal of Fortune).
Arnold Stang, who was a gas station attendant doing battle with Jonathan Winters in It's a Mad Mad Mad Mad World, and Frank Sinatra's buddy Sparrow in The Man with the Golden Arm.
Marianne Stone, character actress, often in small parts, who was among the most prolific performers in British cinema.
Gale Storm, B-movie actress (It Happened on Fifth Avenue; The Underworld Story) who became an early star of television with the sitcom My Little Margie.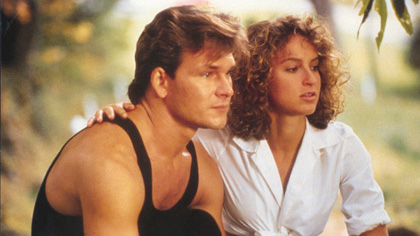 Patrick Swayze (pictured in Dirty Dancing), gracefully athletic actor-dancer who found screen stardom in the late 1980s.
Vyacheslav Tikhonov, Russian actor known for his leading role in Sergei Bondarchuk's epic screen version of War and Peace.
Charles 'Bud' Tingwell, popular Australian film and television actor who also regularly worked in England (Margaret Rutherford's Miss Marple films; Paul Cox's Innocence).
Richard Todd (pictured at top), leading star of British cinema whose performances frequently drew upon his experiences on the front line in World War II.
David Tree, promising actor of the late 1930s who retired from the screen after losing a hand in the war (Pygmalion; Major Barbara).
Dana Vávrová, actress and sometime director who frequently worked with her husband Joseph Vilsmaier (Herbstmilch; Stalingrad).
Karl-Michael Vogler, German actor who featured in international films (The Blue Max; Patton).
Coy Watson Jr, child actor in silent films whose frequent appearances in Mack Sennett shorts of the 1910s earned him the nickname 'The Keystone Kid'.
James Whitmore, workhorse character actor whose half-century career spanned from The Asphalt Jungle and Kiss Me Kate to Give 'em Hell, Harry! and The Shawshank Redemption.
Collin Wilcox, who was best known for playing the white woman who falsely accuses a black man of rape in To Kill a Mockingbird.
Joseph Wiseman, Canadian actor adept at playing sinister villains, including a hysterical, murderous hood in Detective Story and the title character in Dr. No.
Edward Woodward, forceful, intelligent but underutilised star of television (Callan; The Equalizer) and film (The Wicker Man; Breaker Morant).
Oleg Yankovsky, Russian screen star known internationally for his work with Tarkovsky (Mirror; Nostalgia).
Zbigniew Zapasiewicz, Polish actor often seen in the films of Krzysztof Zanussi (Life as a Fatal Sexually Transmitted Disease; Persona non grata).
Damouré Zika, Nigerien healer who appeared in numerous films for Jean Rouch (Le Jaguar; Petit à Petit) and was Rouch's trusted collaborator for half a century.
Animation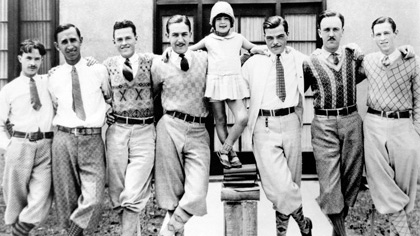 Roy E. Disney (above, second left), Disney Co. executive and Walt's nephew whose forceful advocacy for quality animation guided the studio's renaissance from the late 1980s onwards.
Robert Dranko, layout artist, art director and designer with UPA, notably on the Mr. Magoo cartoons.
Heinz Edelmann, illustrator and graphic designer who was art director on the Beatles' animated film Yellow Submarine.
Giulio Gianini, Italian animator noted for his long collaboration with Emanuele Luzzati (The Thieving Magpie; Pulcinella).
Kanada Yoshinori, Japanese animator who worked with Miyazaki (Princess Mononoke) and Rintaro (Metropolis).
Cinematographers
Jack Cardiff, master of colour cinematography who was a key collaborator of Powell and Pressburger, and went on to direct.
Mieczyslaw Jahoda, who shot some classic Polish films of the 1950s and '60s (Knights of the Teutonic Order; The Saragossa Manuscript).
Richard Moore, technical innovator who co-founded Panavision before becoming a cinematographer (Corman's The Wild Angels; Mark Rydell's The Reivers).
Peter Newbrook, distinguished camera operator (The Bridge on the River Kwai) and second-unit cameraman (Lawrence of Arabia) who was later a full cinematographer and producer.
Composers
Maurice Jarre, prolific composer and a giant in his field, best known for his scores for David Lean.
Ali Akbar Khan, renowned sarod player who composed some film scores (Ritwik Ghatak's Ajantrik; Satyajit Ray's Devi).
Erland von Koch, composer on half a dozen early Bergman films, from Crisis to Prison.
Angela Morley (aka Wally Stott), composer (The Slipper and the Rose; Watership Down) who also worked as an arranger for John Williams.
Directors
Yasmin Ahmad, emerging Malaysian film-maker with a willingness to tackle controversial subject-matter (Sepet; Muallaf).
Ken Annakin, journeyman director who handled seemingly every genre during his long career (The Longest Day; Those Magnificent Men in Their Flying Machines).
Péter Bacsó, Hungarian film-maker of the New Wave generation known for his political satires (The Witness; Oh, Bloody Life).
Zvonimir Berkovic, noted figure in Croatian cinema, both as director (Rondo) and screenwriter (H-8).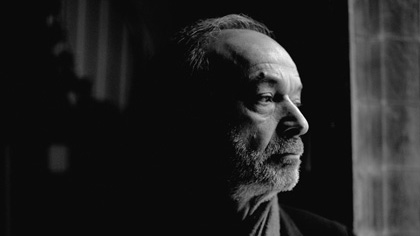 Claude Berri (pictured), distinguished French director, producer, writer and actor who scored his biggest international successes with Jean de Florette and Manon des sources.
Bhandit Rittakol, Thai film-maker of both popular comedies and social and political dramas (the Boonchu series; The Moonhunter).
Gilles Carle, leading Quebec film-maker (The True Nature of Bernadette; Les Plouffe).
Anselmo Duarte, Brazilian actor and film-maker whose most famous work, O Pagador de Promessas, won the Palme d'Or in 1962.
Ivan Dykhovichny, Russian film-maker who achieved some prominence in the 1980s and '90s (The Black Monk; Moscow Parade).
Luciano Emmer, Italian director acclaimed for his documentaries on artists (Picasso) and his features of the 1950s and early '60s (Sunday in August; Woman in the Window).
Hasebe Yasuharu, director for the Nikkatsu studio who specialised in stylised yakuza and 'violent pink' films (the Stray Cat Rock series; Assault! Jack the Ripper).
Ho Meng-hua, Hong Kong director who handled various genres for the Shaw Brothers in the 1960s and '70s (The Lady Hermit; The Mighty Peking Man).
John Hughes, writer-director-producer whose films on teen angst helped to define a generation in the 1980s.
Mikheil Kalatozishvili, Russia-based Georgian film-maker who recently received international recognition for Wild Field.
Allan King, celebrated Canadian documentary film-maker who was associated with cinéma vérité (Warrendale; A Married Couple).
Arnold Laven, director-producer for film (Without Warning!; The Monster That Challenged the World) and television (The Rifleman).
Sid Laverents, who was the grand auteur of the American amateur film movement (Multiple SIDosis; The Sid Saga).
Prakash Mehra, Bollywood film-maker who launched Amitabh Bachchan into stardom with the blockbuster Zanjeer.
Zeki Okten, Turkish film-maker who directed two films from screenplays by an imprisoned Yilmaz Güney (The Enemy; The Herd).
Jorge Preloran, Argentine director seen as a pioneer in ethnographic film-making (Imaginero; Luther Metke at 94).
Halit Refig, who was among the leading Turkish film-makers to emerge in the 1960s (Birds of Exile; Tired Warrior).
Saitô Kôichi, whose most celebrated films frequently dealt with modern alienation, particularly among young people (The Rendezvous; Tsugaru Folksong).
Shakti Samanta, veteran Indian director known for working in both Hindi and Bengali (Aradhana; Amanush).
Salvatore Samperi, Italian director who was noted for his erotic comedies (Grazie, zia; Malizia).
Tapan Sinha, versatile Indian film-maker with a career spanning more than 40 years (Kabuliwala; Ek Doctor Ki Maut).
Ray Dennis Steckler (aka Cash Flagg), whose no-budget films earned him a cult following (The Incredibly Strange Creatures Who Stopped Living and Became Mixed-Up Zombies!!?; Rat Pfink a Boo Boo).
Chick Strand, California-based artist who blended ethnographic and experimental film-making traditions and co-founded the Canyon Cinema collective.
Paul Wendkos, who directed some notable features (The Burglar; Gidget), but was busier with television work.
Gösta Werner, long-time Swedish director and film historian who was best known for his short films of the 1940s (Midvinterblot; Tåget).
Yu Hyun-mok, one of the key South Korean directors of the post-war period, whose film The Aimless Bullet is considered a landmark work.
Howard Zieff, director of Hollywood comedies (Hearts of the West; Private Benjamin).
Iván Zulueta, cult director of Arrebato who went on to work in television and design posters for Almodóvar.
Producers/studio executives
Mort Abrahams, producer on the first two Planet of the Apes films, and on productions for Ely Landau's American Film Theatre.
Steven Bach, United Artists executive who authored the book Final Cut, a classic insider's account about the making of Heaven's Gate.
Robert S. Baker, producer and occasional director who partnered with Monty Berman on films (Blood of the Vampire; The Hellfire Club) and television (The Saint).
Jacques Bar, veteran French producer (Fellini's I Vitelloni; Clément's Les Félins).
Wouter Barendrecht, producer and champion of international, independent cinema, especially Asian film, through his company Fortissimo Films.
Hercules Bellville, who worked in film for more than 40 years as a producer, second-unit director and close associate of Jeremy Thomas, Roman Polanski et al.
Simon Channing Williams, producer of all Mike Leigh's films for the past 20 years.
Vivian A. Cox, British producer on some notable films of the 1950s (Hamer's Father Brown; Glenville's The Prisoner).
Robert Haggiag, producer and distributor whose company Dear Film financed numerous international productions in the 1940s, '50s and '60s.
Daniel Melnick, producer and studio executive with MGM and Columbia who backed such films as Straw Dogs, Network, All That Jazz and Kramer vs. Kramer.
Mizunoe Takiko, Japanese actress since the 1930s who became a significant producer in the post-war period (Crazed Fruit; Branded to Kill).
Clive Parsons, independent producer who had a durable partnership with Davina Belling (Gregory's Girl; Britannia Hospital).
Peter Rogers, co-creator and long-serving producer of the Carry On comedies.
Charles H. Schneer, long-time producing partner of stop-motion wizard Ray Harryhausen (The 7th Voyage of Sinbad; Jason and the Argonauts).
Ned Tanen, senior executive at Universal and Paramount known for championing youth-oriented fare like American Graffiti, Jaws, Animal House and E.T..
Harry Alan Towers (aka Peter Welbeck), prolific producer-writer of low-budget international productions, from horror and exploitation fare to mysteries and literary adaptations.
Set and costume designers
Awazu Kiyoshi, Japanese graphic designer who contributed to films variously as a poster artist, title designer and production designer (Woman in the Dunes; Kwaidan; Double Suicide).
Marcella De Marchis, former wife of Roberto Rossellini and costume designer on several of his films (Augustine of Hippo; The Age of the Medici).
Dorothea Holt Redmond, production illustrator who began her lengthy career working for Selznick in the late 1930s and made important contributions to Hitchcock's films.
Muraki Yoshirô, production designer whose close collaboration with Kurosawa spanned almost 20 films.
Hugh Scaife, set decorator who received Oscar nominations for his work on The Spy Who Loved Me, The Elephant Man and A Passage to India.
Gianni Silvestri, Italian art director (The Last Emperor) and production designer (Stealing Beauty) noted for his work with Bertolucci.
Screenwriters
Abrar Alvi, leading screenwriter and one-off director of Hindi cinema known for his work with Guru Dutt (Pyaasa; Sahib Bibi Aur Ghulam).
Robert Anderson, whose screenplays included The Nun's Story, The Sand Pebbles and adaptations of his own plays, notably Tea and Sympathy.
Horton Foote, dramatist and screenwriter who chronicled the rural south of America (To Kill a Mockingbird; Tender Mercies).
Larry Gelbart, writer-producer who left his mark on television (M*A*S*H), Broadway (A Funny Thing Happened on the Way to the Forum) and film (The Wrong Box; Tootsie).
Alan Hackney, satirical novelist (Private's Progress) and screenwriter (I'm All Right Jack; You Must Be Joking!).
Millard Kaufman, screenwriter most active in the 1950s who also helped to create Mr. Magoo (Bad Day at Black Rock; Raintree County).
Frances Kavanaugh, scriptwriter of 1940s B Westerns who wrote vehicles for such stars of the genre as Tom Keene, Eddie Dean and Ken Maynard.
Troy Kennedy Martin, writer, primarily for television (Z Cars), whose films include the original version of The Italian Job and the Clint Eastwood actioner Kelly's Heroes.
Hugh Leonard, writer for stage, television and sometimes film (Interlude; Da).
John Mortimer, barrister, author and Rumpole creator, whose film scripts include Bunny Lake Is Missing and Tea with Mussolini.
Dan O'Bannon, influential screenwriter of Alien and Total Recall who also directed The Return of the Living Dead.
Tullio Pinelli, screenwriter on most of Fellini's films of the 1950s and '60s who also frequently wrote for Pietro Germi and Mario Monicelli.
Trevor D. Rhone, who co-wrote the groundbreaking Jamaican film The Harder They Come.
Budd Schulberg, screenwriter (On the Waterfront; A Face in the Crowd) and novelist (What Makes Sammy Run?) whose role in the Hollywood blacklist remains controversial.
Ronald Tavel, who contributed to Warhol's films as a writer and occasional performer and co-director (Kitchen; Chelsea Girls).
Keith Waterhouse, influential novelist and screenwriter of Billy Liar whose other film credits include Whistle Down the Wind and A Kind of Loving.
Miscellaneous
Army Archerd, long-time showbiz columnist or Variety and the doyen of Hollywood reporters.
Nika Bohinc and Alexis A. Tioseco, critics who were rising figures on the international film scene.
Robert Broughton, photographic effects artist on numerous live-action and animated films for Disney for more than 40 years.
Sam Cohn, who was one of the top talent agents for film and Broadway in the 1970s and '80s.
Teddy Darvas, film editor who apprenticed under the Kordas and David Lean before going on to strike out on his own (Heavens Above!; The Railway Children).
Robert E. Hopkins, optical engineer who played a critical role in the advancement of 70mm widescreen cinema through his work on the Todd-AO lens for Oklahoma!.
Tullio Kezich, biographer of Fellini, screenwriter of Olmi's The Legend of the Holy Drinker, and a film critic who covered the Venice Film Festival for more than 60 years.
Howard Smit, make-up artist who worked on The Wizard of Oz, Gunga Din, House by the River and The Birds.
David Williams, exhibitor credited as a major figure in the Australian film renaissance of the 1970s and '80s.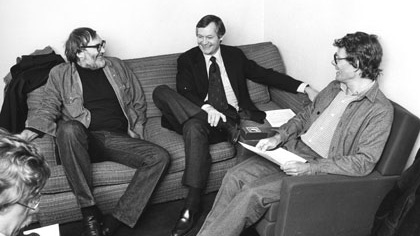 Ken Wlaschin (above left, with Roger Corman and Derek Malcolm), programme director for the National Film Theatre, director of the London Film Festival and experienced film historian.
Robin Wood, influential film critic noted for his groundbreaking studies of Hitchcock, Hawks, Bergman et al.
Vivienne Walker Zavitz, veteran hair stylist in England and the US (Olivier's Hamlet; Mankiewicz's Cleopatra).
Obituaries January-December 2008 (web exclusive, February 2009)