DVD review: Ride with the Devil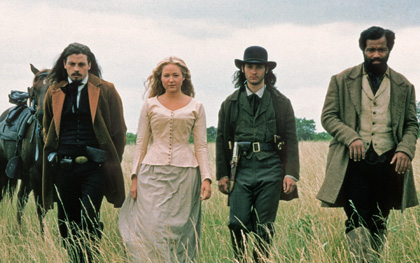 Ang Lee's film about the American Civil War is an understated, undervalued classic, writes Graham Fuller
Ride with the Devil
Ang Lee; US 1999; Criterion/Region 1; 148 minutes; Aspect Ratio 2.35:1; Features: two audio commentaries, video interview with Jeffrey Wright, booklet featuring essays by Godfrey Cheshire and Edward E. Leslie
Poorly distributed and publicised on release in the US and the UK in 1999, Ang Lee's Ride with the Devil sank without trace. Universal demonstrated no faith in an episodic American Civil War saga that eschewed stars, disdained conventional notions of heroism and had a drawn-out miniaturist third act devoid of familiar gratifications. Despite its outbursts of explosive violence and flirtation with the epic, it was not an easy sell. Stephen Holden of the New York Times allowed that it was "visually stunning and historically provocative" while asserting that it was "even cooler in tone" than Lee's The Ice Storm and "dramatically flat". 'Cool', though, can sometimes be preferable to 'heated' and flat is another word for even: arguably, the lack of emotionalism in the film's relationships works greatly to its advantage.
The commercial failure of Ride with the Devil may have been partly down to moviegoers' reluctance to suffer through the miseries and quandaries of the Civil War – a fate that also met, albeit to a lesser extent, Anthony Minghella's Cold Mountain (2003), which boasted an illustrious cast and an accessible tragic romance. Evocative in its depiction of the battered South travelled by Jude Law's wounded deserter, Cold Mountain is a literate piece of mainstream film-making. It is ordinary, though, compared with Ride with the Devil, which – reissued on DVD as a director's cut by Criterion with 13 minutes restored to the original – is the most mature film made about the effect the war had on shaping American society.
Faithfully adapted from Daniel Woodrell's spare novel Woe to Live On by Lee's writer-producer partner James Schamus, Ride with the Devil depicts the travails of a group of Bushwhackers, the long-haired pro-Confederate irregulars who, extending a conflict that had begun in 1854, fought in the Missouri border war against Jayhawkers, abolitionist guerrilla fighters from Kansas, which had joined the Union as a free state in 1861. The culmination of their activities is their participation in the massacre of 183 boys and men by Quantrill's Raiders in Lawrence, Kansas, in 1863 – the extended early climax of Lee's film, to which he has restored a number of fact-based vignettes.
The teenage protagonist, Jake Roedel (Tobey Maguire), son of a German immigrant, enlists with his friend Jack Bull Chiles (Skeet Ulrich) when the latter's secessionist father is murdered by Jayhawkers, and they ride from skirmish to skirmish with the aristocratic George Clyde (Simon Baker) and his freed slave Daniel Holt (Jeffrey Wright). Jake's antagonist is a sometime member of their coterie, the strutting psychopath Pitt Mackeson (Jonathan Rhys Meyers), but it is a captured Union neighbour (Mark Ruffalo) who repays Jake's favour of having him released by murdering Jake's father offscreen. It is the revelation of this that Lee and Schamus choose to show; indeed, it is through a series of quiet reveals – another is the sound of a newborn crying – that they advance the story, rather than through what Lee describes as "forcing" the action. Jake's reaction to his father's death is muted but it sharpens his growing antipathy towards violence. He admits eventually to having killed 15 men, but his pivotal moment in the story is his sparing of two Lawrence civilians, as Godfrey Cheshire notes in an essay accompanying the Criterion release.
Unable to fight during winter because snow shows horse tracks, Jake, Jack Bull, Clyde and Holt dig a shelter on the land of a sympathetic homesteader. Schamus invented a scene in which the men dine with this man, whose antipathy towards the democratically populated Lawrence schoolhouse, emblematic of what Schamus describes as the globalising effect on the Southern hierarchical order of Yankee imperialism and its liberal-capitalist ethos, explains why the Bushwhackers sought to purge the town.
It's while the men are wintering that their loyalties shift. Jack Bull romances the homesteader's widowed daughter-in-law, Sue Lee Shelley (played by the singer Jewel), and when he plants a boot on Jake's chest it becomes clear that there's a sexual rivalry between them, although Jake is unaware of his feelings for Sue Lee or Jack Bull. (After Lee mentions on the audio commentary that there is a gay subtext to Jake and Jack Bull's friendship, Schamus remarks, not too seriously, on them having a Brokeback Mountain moment in the woods.) During Jack Bull and Sue Lee's trysts, Jake, who has hitherto disrespected Holt, reads captured homebound Union letters to him. Their growing bond replaces that between Holt and Clyde, who abandons the others on the pretence of finding a doctor when Jack Bull is fatally shot. By the time Jake and Holt return after the Lawrence Massacre to the homestead where they left Sue Lee, the reserve between the two men has evaporated. And she, now a mother, is ready to take Jake as her husband. A new order based on racial and sexual equalities has been established – a blueprint for the nation post-war. Thus Ride with the Devil roots the political in the personal in the most unobtrusive way.
One of the scenes Lee has restored is a bitter encounter Jake and Jack Bull have with a self-pitying young Confederate soldier who has lost a leg and is hiding in his mother's barn. The studio had resisted the incident, and others like it, as not being germane, but its power to appal is self-evident. Its inclusion, Lee says with satisfaction, enables the film to take "a deeper breath".
See also
Ballad of the Wild Boys: John Hillcoat and Nick Cave discuss The Proposition with Nick Roddick (March 2006)
Cold Mountain reviewed by Edward Buscombe (February 2004)
Hulk reviewed by Rob White (Film of the Month, August 2003)
Ride with the Devil reviewed by Peter Matthews (Film of the Month, December 1999)
Wild Wild West reviewed by Andrew O'Hehir (September 1999)