Film review: Greenberg
USA 2009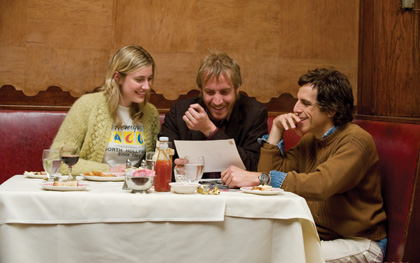 Reviewed by Nicolas Rapold
Synopsis
Our synopses give away the plot in full, including surprise twists.
Los Angeles, the present. Roger Greenberg – former member of an up-and-coming band, part-time carpenter, depressive – has come from New York for a rest-stay, house-sitting for his brother. Florence, his brother's personal assistant, checks in now and again on the dog. Bored while supposedly building a doghouse, Greenberg asks her out and they go for drinks. He goes home with her afterwards and makes a move on her, but it comes to nothing.
At a party with his older friends, Greenberg feels out of place. He has dinner with an ex-bandmate, who is still unhappy with him for scuttling the band's contract. Greenberg's brother's dog becomes ill, necessitating visits to the vet. Greenberg has dinner with Ivan, another former bandmate. He invites Florence, whom he is now dating, to his birthday dinner, but when she arrives he calls an ex-girlfriend and has a tantrum over singing waiters. He later has an embarrassing lunch with a (married) ex-girlfriend, whom he asks out on a date. Greenberg and Florence grow a little closer and sleep together, though his discontent annoys her.
Florence reveals that she is having an abortion (arising from a prior relationship). Greenberg takes her to the doctor (with Ivan's help) and does his best to be sensitive. Later he demands that Ivan tell him what other people say about him. Crashing his niece's house party, he does drugs, makes a fool of himself, and leaves a rambling phone message for Florence.
The next morning he impulsively joins his niece and her friend as they drive to the airport for a trip to Australia, then jumps out at the last minute in panic. He retrieves Florence from the hospital and takes her home. She listens to his message.
Review
Ben Stiller?s New York narcissist rides out a nervous breakdown in the California sun in Noah Baumbach?s knotty character study. Nicolas Rapold admires its toxic spectacle
Where would screenwriters be without the great self-absorbed? Noah Baumbach's Roger Greenberg joins a long line of narcissists whose discomfort with actual introspection and the world at large have proved powerful engines to character study. (The last-name title evokes a case study – or, given Greenberg's letter-writing, Herzog.) Played by neurotic caveman-mug Ben Stiller – a kind of Dorian Gray for Gen-Xers (anyone remember Reality Bites?) – the 40-year-old New Yorker rides out the aftershocks of a nervous breakdown at his brother's LA spread. Greenberg is a great spectacle of toxic emotional stasis, a kind of Frownland (2007) for arrested-development fables.
Stiller stars alongside Greta Gerwig, postgraduate refugee of Baghead and Hannah Takes the Stairs (whose ilk Frownland so cuttingly sent up and corrected). With a shiftless affect that comes across more as semi-stoned, Gerwig plays Flo, passive personal assistant to Greenberg's bossy brother, who's vacationing in Vietnam with the family. Greenberg occupies himself with pursuing Flo, puttering about carless in the Hollywood Hills wilderness and embarrassing himself with friends and acquaintances from a past cratered by his breaking up his about-to-make-it-big band. He's in some ways a combination of the characters played by Jack Black and Nicole Kidman in Baumbach's dismissed Margot at the Wedding (2007), which Greenberg improves upon.
Considering Greenberg proclaims he is busy trying to do nothing, the film can feel dauntingly dense because of Baumbach's tight, almost jaggedly insightful writing, not to mention our antihero's own existential claustrophobia. Cinematographer Harris Savides may let the California sun in (after some opening haze) but Greenberg seems to carry around something darker in his oblivious conversations: with a former bandmate (Mark Duplass) who's still peeved, with a married ex-girlfriend (Jennifer Jason Leigh) whom he asks out on a date, or with Flo, whose own quarter-life travails perhaps make her more patient with this older wrecked boyfriend.
Greenberg resettles into comfortable rapport with ex-bandmate Ivan (Rhys Ifans), once damaged and now domesticated but touchingly, if warily, spending time with his old friend. But everyone else he pushes to the limit, even Flo, who despite Gerwig's maddening faux-naturalism probably bears greater complexity than most of Baumbach's back catalogue of problematic woman characters. But the film-maker mostly lets Greenberg experience the consequences of his behaviour, till the discrepancy between his inner state and the outer world becomes more tragic than comic.
The set piece in that regard must be (again, oddly, as in Frownland) a grotesque party scene that sees Greenberg flailing among 20-year-olds who could care less – but it's just as revealing about Baumbach's own skewed view. His clique narcissism, which we forgive for its frequent intelligence, is nonetheless total: the director of the 1995 postgrad classic Kicking and Screaming is strikingly cynical about this later vintage of comfortably-off white kids; Greenberg's niece and friends seem to fall in with Baumbach's dopes and poseurs rather than any inner circle.
"Where does experience go?" Greenberg asks, in one of several unfiltered moments that yield raw, disarmingly plaintive observations from a pitiful place. Not truly pitiful, since Greenberg rarely seems at a loss for subsistence, and Baumbach makes nods to upper-class entitlement, even in the rapid-fire demanding phone manner of Greenberg's brother. But Greenberg's question hangs in the air, and encapsulates the fundamental feelings of disconnect that Baumbach's film picks at so insistently.
See also
The Squid and the Whale reviewed by Edward Lawrenson (March 2006)
Indiewood/The Frat Pack: Henry K. Miller maps a prolific American generation of comedians and wry auteurs (March 2008)
Lesser spotted fish and other stories: Wes Anderson interviewed by Kevin Conroy Scott (March 2005)
Family album: Jonathan Romney on Wes Anderson's The Royal Tenenbaums (March 2002)
Keeping the Faith reviewed by Philip Kemp (October 2000)
Credits
Directed by

Noah Baumbach

Produced by

Scott Rudin
Jennifer Jason Leigh

Screenplay

Noah Baumbach

Story

Jennifer Jason Leigh
Noah Baumbach

Director of Photography

Harris Savides

Film Editor

Tim Streeto

Production Designer

Ford Wheeler

Music

James Murphy