Arlington Road
USA/UK 1998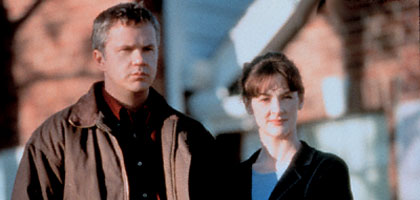 Reviewed by Ken Hollings
Synopsis
Our synopses give away the plot in full, including surprise twists.
History professor Michael Faraday lives with his son Grant in a suburban street near Washington DC. Their new neighbours from St Louis are Oliver Lang, his wife Cheryl and their three children. Following an accident Michael rushes Lang's son to hospital, and the two households become friends. While Grant is slow to accept Michael's new girlfriend Brooke, Michael's university course on urban terrorism reawakens painful memories of his FBI-agent wife's death. Odd lies lead Michael to suspect Lang is connected to a bomb attack in St Louis, but no one believes him. He suspects Lang is planning a similar outrage in DC. Even when he reveals Lang tried to bomb a government office before, Lang shames Michael, accusing him of invading his privacy.
After witnessing Lang visiting the Liberty Delivery Service, Brooke is suddenly killed in a car crash. Michael uncovers evidence linking Lang to the St Louis bombing but is prevented from using it when Lang kidnaps Grant. Lang admits to murdering Brooke and discloses his new target: the FBI's DC headquarters. Michael intercepts a Liberty Delivery Service van, believing it contains both Grant and the explosives. Having pursued the van into the FBI's underground garage, Michael realises too late he is carrying the bomb in his own car and is killed in the explosion. The media describes Michael as a terrorist. The Langs wonder where their next home will be.
Review
Reverberations from the Oklahoma and World Trade Center bombings continue to run slow and deep in the US. Following The Siege and The X Files movie, this is at least the third major US release to feature the FBI losing a prime piece of real estate to terrorists. From its opening sequence, in which Lang's young son Brady staggers down the middle of the street unaware his hand has been mutilated, Arlington Road establishes itself as a psychological thriller more concerned with questions of perception than motivation. "We don't know why he did this," history professor Michael Faraday says of the lone bomber thought to be responsible for killing 63 people in St Louis, "and we'll never know. And still we feel safe because we know his name." Michael's argument is not with the facts but their interpretation: "We wanted one name and we wanted it fast." This neatly lays the ground for the film's final irony, concerning the identity of who it is that blows up the FBI's Washington headquarters, killing 184 people.
As the liberal academic Faraday, Jeff Bridges gives a finely graded portrayal of a decent man struggling to conceal feelings of resentment against the establishment. Ultimately his struggle blinds him to how much he resembles the terrorist Lang. From the moment a hospital orderly mistakenly assumes Faraday to be Brady's father, the sinister parallels and similarities begin to multiply. Faraday and Lang both feel betrayed by their government and share the same belief in family values. A perfect match for Faraday's closeted liberalism, Lang articulates right-wing notions of self-reliance with candour. Claiming to be a structural engineer, he refers earnestly to "the buildings I leave behind". But it's Faraday whose workroom is plastered with anti-federal, white-supremacist posters while Lang's study is neatly hung with framed prints of Thomas Jefferson's Montecello, New York's Woolworth Building and the St Louis Arch. Even Lang's real name, Michael Fenimore, echoes Faraday's.
After Faraday's son is kidnapped, the film takes on an increasingly hallucinatory quality. Scenes end in slow fades to deep black. A 70s disco party at which Lang reveals that Brooke has been murdered is bathed in subterranean greens and blues. White light bleaches out a harsh close-up on Faraday's sweating face as he begins to comprehend his entrapment.
During the final chase, Bobby Bukowski's deliberately erratic photography suggests an ever-more skewed sense of perspective.
The editing contrasts asphalt-level shots of road surfaces with detailed crane shots of the Washington Mall, tidily laid out as if part of some architectural model or designer's plan. Long-term David Lynch collaborator Angelo Badalamenti, whose moody score gives the film's earlier scenes of neighbourly peace and good order an edge, supplies a pummelling, bass-heavy charge to the final descent into the FBI's underground car park. Perhaps the most unsettling aspect of Arlington Road, however, is not the sight of smoke rising over the Capitol, nor even the media's distorted speculations concerning the final bomber's 'motive', but that Lang's reasons for acting as he does remain as mysterious as ever.
Credits
Screenplay

Ehren Kruger

Director of Photography

Bobby Bukowski

Editor

Conrad Buff

Production Designer

Thérèse DePrez

Music

Angelo Badalamenti

©Lakeshore Entertainment Corp.

Production Companies

PolyGram Filmed Entertainment presents in association with Lakeshore Entertainment
a Gorai/Samuelson production

Executive Producers

Tom Rosenberg
Sigurjon Sighvatsson
Ted Tannebaum

Co-executive Producers

Judd Malkin
Ed Ross

Producers

Peter Samuelson
Tom Gorai
Marc Samuelson

Co-producers

Jean Higgins
Richard S. Wright

Associate Producers

Ellen Dux
James Mcquaide

Production Supervisor

Tamara Allen

Unit Production Manager

Jean Higgins Tyson

Location Managers

Susan Elkins
Washington DC Unit:
Peggy Pridemore

Post-production Co-ordinator

Carmen Abramian

2nd Unit Director

Vince Deadrick Jr

Assistant Directors

Jerry Grandey
William Paul Clark
Darrell Woodard
Pilar Savone
Kathleen 'Bo' Bobak
Courtney Wolfe
Brian O'Kelley
Washington DC:
Alison C. Rosa
Miles Perman
2nd Unit:
Darrell Woodard

Script Supervisors

Patricia A. Fullerton
2nd Unit:
Cynthia Felde

Casting

Ellen Chenoweth
Location:
Liz Keigley
Sari E. Keigley
LA Associate:
Marla Garlin
NY Associate:
Rudy Zuckerman
Voice:
Leigh French

2nd Unit Director of Photography

Scott Smith

Aerial Director of Photography

Washington DC:
Brian Heller

Camera Operators

Jim McConkey
Washington DC:
William Coleman

Steadicam Operator

Jim McConkey

Special Visual Effects

Fantasy Film Effects
Visual Effects Supervisor:
Gene Warren Jr
Visual Effects Producer:
Leslie Huntley
Miniature Photography:
Christopher Warren
Gene Warren
John Huneck
Pyrotechnics Supervisor:
Joseph Viskocil
Model Shop Supervisor:
Gary Rhodaback
Optical Supervisor:
Betzy Bromberg
Optical Camera:
David Tucker
Rotoscope:
Bret Mixon
Digital Supervisor:
Tim Molinder
Digital Artist:
Kieran Carew

Special Effects

Co-ordinator:
Randy Moore
Foreman:
Margaret Johnson
Men:
David Johnson
John Lynch

Graphics Designer

Jonn Cherico

Art Director

David Stein

Set Decorator

Barbara Haberecht

Storyboard Artist

Keenan Rew

Costume Designer

Jennifer Barrett-Pellington

Costume Supervisor

Kathy Kiatta

Key Make-up Artists

Bob Harper
Washington DC:
Joseph P. Hurt

Special Effects Make-up

Facades FX Makeup Lab
Phil Nichols
Melissa Nichols
George W. Simpson

Key Hairstylists

Sally Harper
Washington DC:
Judy Bickerton

Main Title Sequence Design/Production

Imaginary Forces
Kyle Cooper

Title/Opticals

Cinema Research Corporation

Additional Music

Tomandandy
Phil Marshall

Orchestrations

Angelo Badalamenti
Andy Barrett

Music Supervisor

Liza Richardson

Music Co-ordinator

Deroche Music Inc

Music Editor

Mark Jan Wlodarkiewicz

Scoring Engineer

Tim Jacquette

Scoring Mixer

Michael Semanick

Scoring Recordist

Bob Levy

Soundtrack

"Neon Reprise" by Simon Shackleton, Howard Saunders, performed by Lunatic Calm; "Amistad Armadillo" by Miriam Cutler; "Get Down Tonight" by Harry Wayne Casey, Richard Finch, performed by K.C. & the Sunshine Band; "Do the Country Cha-Cha-Cha"; "The Big Lie"; "Alien's Goodies"

Sound Design

Randy Thom

Production Sound Mixer

Pud Cusack

Re-recording Mixers

Michael Semanick
Randy Thom

Re-recordist

Ronald G. Rolimas

Mix Technician

Kent Sparling

Supervising Sound Editor

Phil Benson

Dialogue Editors

Dianna Stirpe
Claire Sanfilippo

Sound Effects Editors

Teresa Eckton
Stephen Kearney

ADR

Mixer:
Matthew Beville

Foley

Artists:
Dennie Thorpe
Jana Vance
Recordist:
Frank 'Pepe' Merel
Mixer:
Tony Eckert
Editor:
Claus Lynge

Technical Adviser

Philip Chojnacki

Stunt Co-ordinator

Vince Deadrick Jr

Cast

Jeff Bridges

Michael Faraday

Tim Robbins

Oliver Lang

Joan Cusack

Cheryl Lang

Hope Davis

Brooke Wolf

Robert Gossett

FBI Agent Whit Carver

Mason Gamble

Brady Lang

Spencer Treat Clark

Grant Faraday

Stanley Anderson

Dr Archer Scobee

Vivianne Vives

nurse

Lee Stringer

orderly

Darryl Cox

troopmaster

Loyd Catlett

delivery man

Sid Hillman

phone technician

Auden Thornton

Hannah Lang

Mary Ashleigh Green

Daphne Lang

Jennie Tooley

ponytail girl

Grant Garrison

Kemp, student

Naya Castinado

O'Neill, student

Laura Poe

Leah Faraday

Chris Dahlberg

Buckley, FBI

Gabriel Folse

Merks, FBI

Hunter Burkes

Hutch Parsons

Diane Peterson

Ma Parsons

Josh Ridgway

Parsons, aged 18

Hans Stroble

Parsons, aged 16

Michelle Du Bois

Parsons girl

Steve Ottesen

TV reporter 2

Harris MacKenzie

TV reporter 3

John Hussey

accident detective

Charles Sanders

camp official

Todd Terry

2nd camp official

Gina Santori

party girl student

Denver Williams

Willie Dirden
FBI guards

Paul Pender

Charlie Webb
FBI van agents

William Washington

FBI agent 3

Cindy Hom

TV reporter 4

Dave Allen Clark

TV reporter 5

Ken Manelis

Charles Bell, reporter

Deborah Swanson

bomb site reporter

Homer Jon Young

student

Robin Simpson

Doug Francis
pilots

Certificate

15

Distributor

PolyGram Filmed Entertainment

10.578 feet

117 minutes 32 seconds

Dolby stereo

Colour by
DeLuxe

Anamorphic [Panavision]