Payback
USA 1998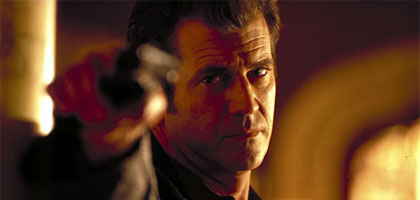 Reviewed by Nick Roddick
Synopsis
Our synopses give away the plot in full, including surprise twists.
Criminals Porter and Resnick rob some Chinese gangsters; Porter's wife Lynn drives the getaway car. But Lynn and Resnick betray and shoot Porter, leaving him for dead. They take off with the $140,00 proceeds. However, Porter survives and decides to get back his share of the money and take revenge on Resnick. His first stop is Lynn, whom he tries to cure of her heroin addiction. But she overdoses on a hidden stash. Porter tracks down the heroin's supplier, Stegman. While confronting Stegman, he attracts the attention of two corrupt cops, Hicks and Leary, who decide to keep tabs on Porter and take the money if he finds it. Porter links up with ex-girlfriend Rosie, a callgirl who works for the same syndicate - "the Outfit" - which Resnick used the money to buy into.
Rosie tells Porter where to find Resnick, which he does, demanding his share of the money. Resnick enlists the help of Outfit boss Carter and alerts the Chinese gangs to Porter's whereabouts through his dominatrix Pearl. Porter is rescued from the Chinese by Hicks and Leary. He eliminates Resnick and Carter, and kidnaps the son of Outfit boss Bronson. Pursued by the Chinese and watched by Hicks and Leary, Porter closes in on his $70,000 against steadily increasing odds.
Review
"Unattractive rehash of Point Blank with much more gratuitous violence." So reads the tenth edition of Halliwell's Film Guide entry on The Outfit, John Flynn's 1973 movie adapted from the novel The Hunter, which had also inspired John's Boorman's 1967 film. Frankly, Payback deserves the same one-line dismissal, even given the talents involved and the handful of gracenotes that make it sporadically watchable. Like its two predecessors, it abandons the novel's title for one which stresses the story's elemental side but without aspiring to any of the metaphyscial trappings that elevate Boorman's movie.
Accompanied by a voiceover that rivals Nick Nolte's in The Thin Red Line for world-weariness, Mel Gibson strides through the bleached-out colours of the all-purpose US city (actually Chicago), meting out his own brand of justice in a series of locations - seedy pool halls, ornate gangster hotels - which belong more to film noir than to reality. If the same could be said of Gibson's character and the handling of the action by director Brian Helgeland, Payback would be a much better film. Both star and director seem to be more interested in playing off perceptions of Gibson's on-screen persona than in actually telling the story, which lurches along from one violent set piece to the next. "No More Mr Nice Guy" is the promotional tag for the film, and Gibson rams the point home in the early scenes, stealing money from a beggar, cigarettes from a waitress and the wherewithal to begin his vendetta from an anonymous passer-by whose pocket he picks.
But that is only the beginning, as Gibson's Porter whacks, slices and drills holes in anyone coming between him and his money, while the Outfit and its thugs reciprocate with a series of even more unpleasant acts (one involves a large hammer and two of Gibson's toes). But while Helgeland helped to write the book as far as post-modernist film noir is concerned (he co-scripted L.A. Confidential with Curtis Hanson), he keeps falling off the log when it comes to balancing violent action with ironic lightness of touch. Even Sergio Leone (scarcely the most understated of directors) did a less heavy-handed job with Henry Fonda's fall from grace in Once Upon a Time in the West (1968).
All that's left is: a series of occasionally witty one-liners; over-the-top performances by Brian De Palma regular Gregg Henry as a sexually hung-up psychopath and Ally McBeal's Lucy Alexis Liu as his leather-clad dominatrix; a string of character actors either underused (Bill Duke, Deborah Kara Unger) or simply uncredited (James Coburn as an entertainingly epicene mob boss who winces when a cohort spills some of Porter's blood on his suit); some Chinese gangsters midway between the racism of Cimino's Year of the Dragon and the knockabout of Laurel & Hardy; and the running gag of Porter trying to make the Outfit understand that he is only after his share of the loot: $70,000, not the whole $140,000 that Resnick paid them. Imagine Gibson's resigned rolling of the eyes - one of the actor's trademark tics - as yet another hood says "$140,000", add in a lot of heavy-handed gore and you pretty much have Payback. Everyone - including Gibson - deserves better.
Credits
Producer

Bruce Davey

Screenplay

Brian Helgeland
Terry Hayes
Based on novel The Hunter by
Richard Stark
[Donald E. Westlake]

Director of Photography

Ericson Core

Editor

Kevin Stitt

Production Designer

Richard Hoover

Music

Chris Boardman

©Warner Bros.

Production Companies

Paramount Pictures presents an Icon production

Executive Producer

Stephen McEveety

Production Co-ordinator

Gregg Edler

Production Manager

New York:
Pamela Thur

Unit Production Manager

Jim Lemley

Location Manager

Andrew L. Ullman

2cd Unit Director

Mic Rodgers

Assistant Directors

Mark Cotone
Laura Nisbet
Chicago:
Jayson Merrill
Franklyn Gottbetter
2nd Unit:
Forrest L. Futrell
Jennifer D'Angelo Kircher

Script Supervisors

P.R. Tooke
Chicago:
Sioux Richards-McLane

Casting

Marion Dougherty
Additional:
Jane Alderman Casting
Associate:
Douglas Wright

Camera Operators

Mark O'Kane
Malcolm M. Brown

Steadicam Operator

Mark O'Kane

Digital Effects

P.O.P. Film

Special Effects

Supervisor:
Bob Stoker
Technicians:
Blair L. Foord
Mario Vanillo
Chicago Technicians:
Frank Krenmuller
Mike Ahasay

Art Directors

Troy Sizemore
Chicago:
Caty Maxey

Set Designers

Adam Scher
Gina B. Cranham

Set Decorators

Sandy Struth
Chicago:
Daniel B. Clancy

Costume Designer

Ha Nguyen

Costume Supervisor

Kimberly Guenther

Make-up

The Beauty Bucket
Julie Hewett
Medusah
Mindy Hall
Jennifer Bell

Special Prosthetics

Matthew W. Mungle

Titles/Opticals

Pacific Title/Mirage

Musicians

Guitar Solos:
John Goux
Sophistifunk Band:
Greg Bissonette
Mendel Baylitz
Luis Conte
Steve Forman
Neal Stubenhaus

Orchestrations

Chris Boardman
William Ross

Executive in Charge of Music for Icon Productions

David Culiner

Music Editors

Supervisors:
Jim Harrison
Michael T. Ryan
Additional:
Jeanette Surga

Scoring Mixers

Frank Wolf
Tom Vicari
John Richards

Soundtrack

"Anniversary Song" by Al Jolson, Saul Chaplin, performed by Chris Boardman; "It's a Man's Man's Man's World" by James Brown, Betty Newsome, performed by James Brown; "Sway" by Pablo Beltrán, Norman Gimbel, performed by Dean Martin; "Smoke Gets in Your Eyes" by Otto Harbach, Jerome Kern, performed by Vic Damone; "Ain't That a Kick in the Head" by James Van Heusen, Sammy Cahn, performed by Dean Martin; "Voodoo Child (Slight Return)" by/performed by Jimi Hendrix; "The Thrill Is Gone" by Rick Darnell, Roy Hawkins, performed by B.B. King; "Luck Be a Lady" by Frank Loesser, performed by Michael Civisca; "You're Nobody Till Somebody Loves You" by James Cavanaugh, Russ Morgan, Larry Stock, performed by Dean Martin; "If I Had My Life to Live Over" by Moe Jaffe, Henry Tobias, Larry Vincent, performed by Lou Rawls

Sound Design

Fury & Grace Digital

Sound Supervisors

Jon Johnson
Bruce Stubblefield

Production Sound Mixer

Geoffrey Lucius Patterson

Narration Mixer

Dean Drabin

Re-recording Mixers

Chris Carpenter
Rick Kline
Bill W. Benton

Recordists

Tim Webb
Bill Meadows

Re-recording Stage Engineer

Dave Bergstrom

Sound Editors

Michael Chandler
Ben Wilkins
Miguel Rivera
Keith Bilderbeck
John K. Adams

Dialogue Editors

Robert Troy
Trip Brock
Beth Bergeron
Stephanie Flack
Bobbi Banks
Solange Schwalbe

ADR

Group Co-ordinator:
Burton Sharp
Recordist:
Carolyn Sauer
Mixer:
Wheldon Brown

Foley

Artists:
Ed Steidele
Dominique Decaudain
Mixer:
Kyle Rochlin

Stunt Co-ordinator

Mic Rodgers

Animal Handlers

Birds and Animals Unlimited

Helicopter Pilot

Al Cerullo

Film Extract

The Devil's Advocate
(1997)

Cast

Mel Gibson

Porter

Gregg Henry

Val Resnick

Maria Bello

Rosie

David Paymer

Stegman

Bill Duke

Detective Hicks

Deborah Kara Unger

Lynn Porter

John Glover

Phil

William Devane

Mr Carter

Lucy Alexis Liu

Pearl

Jack Conley

Detective Leary

Kris Kristofferson

Bronson

Mark Alfa

Johnny's friend 2

Kwame Amoaku

radioman

Justin Ashforth

Michael, the bartender

Len Bajenski

Fairfax bodyguard 1

Kate Buddeke

counter girl

Price Carson

Bronson's heavy 1

Roddy Chiong

Chow's thug 2

Art Cohan

Bronson's heavy 2

Andrew Cooper

whipping boy

James Deuter

tailor

Doc Duhame

fatboy

David Dunard

doctor

Nathan Effron

Johnny's friend

Tom Equin

razor clean 1

Brian Heinberg

bartender 2

Alex Henteloff

Varrick's manager

Jeff Imada

Chow's bodyguard

Michael Ingram

Chow's thug 1

Robert Kim

Chow's courier

Robert Kurcz

Oakwood arms manager

Turk Muller

black suit

Chet Nichols

Oakwood arms tough 1

George O'Mara

driver

Yasen Peyankov

panhandler

Ed Pfeifer

Ed Johnson

Katrina Phillips

teller

Freddy Rodriguez

punk messenger

Michael Skewes

Fairfax bodyguard 2

Alex Skuby

Oakwood arms tough 2

Trevor St. John

Johnny Bronson

Lee Stepp

bar patron

Daniel Patrick Sullivan

razor clean 2

Tedd Taskey

waiter

Manu Tupou

pawnbroker

Marc Vann

Gray
[uncredited]

James Coburn

Justin Fairfax

Certificate

18

Distributor

Warner Bros Distributors (UK)

9,099 feet

101 minutes 6 seconds
(7 seconds cut)

Dolby digital

Colour by
DeLuxe

Super 35 [1:2.35]