Aaron Sorkin: billionaires are easy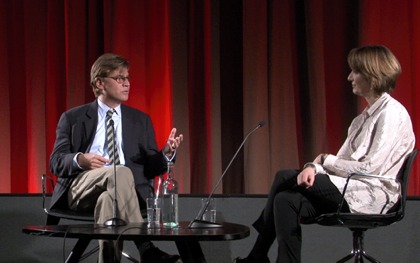 Aaron Sorkin and Bryony Hanson on stage after a screening of The Social Network at BFI Southbank
---
BFI Southbank, London, UK
20 January 2011
Sender: Joe Fraser
---
A sample of recent and upcoming seasons at BFI Southbank (Hawks, Truffaut, Roeg, Capra, Ozu) suggests a certain affinity with the notion of the auteur. It was refreshing then to gather in NFT1 to enjoy an event centred on that lesser-spotted species, the screenwriter. And not just any screenwriter; fresh with the glow of acclamation from Hollywood's foreign press that same week, Aaron Sorkin was in town to follow a screening of The Social Network with an audience Q&A.
Compering the event, Briony Hanson from The Script Factory introduced him as a "rock star among writers". While groupies doubtless remain for his TV work, this was an occasion to celebrate his latest, David Fincher-directed, Oscar-nominated and Golden Globe-winning screenplay.
If we're to believe Sorkin – and awards season must make it tempting to mythologise these kinds of anecdotes – the writing of the script and the film's following development was phenomenally smooth. Random House contacted Sony, who asked him to adapt a screenplay from a book about the founding of Facebook which hadn't yet been finished. Or even started. From a 14-page book proposal for Ben Mezrich's The Accidental Billionaires he quickly penned the first 20 pages, showed them to producer Scott Rudin, and got the go-ahead to complete the draft. The full script was green-lit within hours. The next day it was couriered to their first and only choice of director, David Fincher. Later that same day Sorkin received an email: "Sorkin, Fincher. I'm directing The Social Network. Can I come over?"
Aware that the film's impact would be lost if history ran away from them during production, Fincher insisted they make it immediately. In the event, the film was released exactly three months ahead of the day Time magazine named Mark Zuckerberg as person of the year.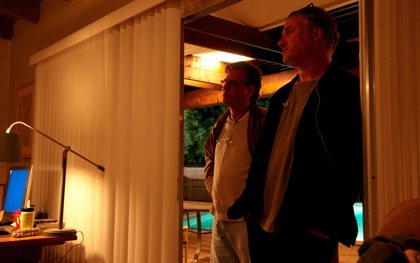 Sorkin (left) and director David Fincher on the set of The Social Network
Sorkin tells this story with the relish of someone in thrall to the buzz of Hollywood, when the decision makers and power brokers make it feel like a billionaire's playground of reification. This should hardly be surprising: it's the face of the industry that's a natural counterpart to the heady thrills of Washington corridors as imagined in The West Wing. Scripting the story of Zuckerberg, his cohorts and their self-generated, world-changing power must have been irresistible.
It was fascinating to hear Sorkin describe his research, particularly the process of conducting interviews with people close to the story. He pointed to his knowledge of details like the brand of beer Zuckerberg was drinking on a Tuesday night in late 2003 as evidence of the intimate proximity of their unnamed sources. Those anonymity clauses might raise questions of reliability, but Sorkin says that it was the only way to elicit any contribution to ultimately unflattering portraits of various millionaires who'd already demonstrated a proclivity to sue. In any case, it's no deductive stretch to follow his lead when he names only two people, Eduardo Savarin and Mark Zuckerberg, as being notable for their reticence.
Asked how his portrayal might have differed had he met Zuckerberg, Sorkin entered into a discussion of how he constructed the character and the relation a writer should have to an anti-hero protagonist. In the terms of this digression, there were echoes of Zadie Smith's acute criticism of the film at the time of its release. Sorkin implied that beneath the superficial modern flourishes of shifting chronology and triple perspective lay the figures of classical drama.
He characterises Zuckerberg as anti-hero turned fallen hero, and it's easy to identify Savarin as the heroic antagonist, the Winklevoss twins as a comic chorus and Sean Parker as the wise, flawed seer. Watching the film again reinforces the latter case, with Justin Timberlake getting to deliver a litany of prophetic epigrams: "Private behaviour is a relic of a time gone by"; "We lived in farms, then we lived in cities, and now we're gonna live on the internet!"; "One million dollars isn't cool. You know what's cool? A billion dollars"; "Drop the 'the'. Just 'Facebook'. It's cleaner."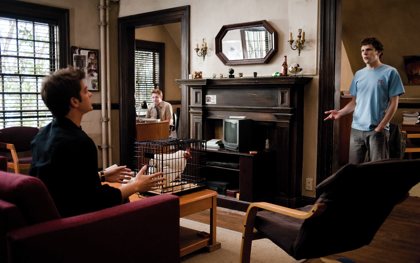 Sorkin's self-conscious use of these traditional dynamics adds weight to Smith's critique. Her argument is constructed on the foundation that The Social Network is "…a movie about 2.0 people made by 1.0 people", and she finds the psychology at the film's core maddeningly outdated. She rebukes Hollywood for believing that behind every mogul lies an idée fixe. At the Q&A Sorkin happened to repeat the very archetype Smith drew on to illustrate the tendency: "If you'll forgive the invidious comparison with one of the greatest movies ever made, Erica is Mark's Rosebud."
Yet Sorkin makes a convincing case for the emotional engine of the story being that straightforward. We hear how one of the most heavily evidenced sequences in the film is the setting up of 'Facemash'. Zuckerberg did break up with Erica that night (real person; fake name, the author is at pains to clarify) and his notorious blog posts that ran parallel to a drunken whirlwind of programming are used almost verbatim as the film's early voiceover. They act as a solid demonstration that it was a revenge stunt. To paraphrase Sorkin, Mark wanted to get back at Erica, all the women at Harvard, and all the women in the world.
On the face of it, that neat, melodramatic extrapolation seems at odds with Smith's appeal for a psychology more faithful to the age and to the man. An hour in the screenwriter's company, though, made it clear that their readings of Mark Zuckerberg are not too dissimilar. Sorkin's aim was not to reduce Zuckerberg to more accessible wants like wealth and women. Where these more hackneyed impulses are referred to, it was the writer's intention that they be underpinned by a greater, simpler truth. Both Sorkin and Smith see the creation of 'Facemash' and Facebook as responses to rejection and bids for inclusion. As glib and simple as it sounds, it's an interpretation that says the youngest billionaire in the world is who he is and does what he does for one reason. He just wants to be liked.
Aaron Sorkin's Q&A can be watched on BFI Live.
See also
The Social Network competition: win one of ten copies on DVD or Blu-ray (closes 15 March 2011)
The films of 2010 led by The Social Network (December 2010)
Movie-Con III: Paul O'Callaghan on the movie-fan convention at the BFI Southbank (August 2010)
Zodiac reviewed by Graham Fuller (June 2007)
Mother courage: Linda Ruth Williams on Jodie Foster in Panic Room (May 2002)
So good it hurts: Amy Taubin on Fight Club (November 1999)