Me and Joseph Brodsky: Andrey Khrzahanovsky on Room and a Half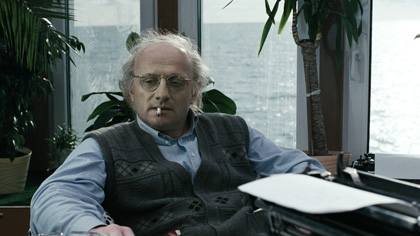 Grigoriy Dityatkovskiy as Joseph Brodsky in Room and a Half
Soviet exile Joseph Brodsky was never allowed back to his motherland, except in the mind's eye of his writing. Master animator Andrey Khrzhanovsky tells Nick Bradshaw how he conjured the aged poet's imagined voyage home again
"Of course, we all shared one toilet, one bathroom, and one kitchen. But the kitchen was fairly spacious, the toilet very decent and cozy. As for the bathroom, Russian hygienic habits are such that eleven people would seldom overlap when either taking a bath or doing their basic laundry. The latter hung in the two corridors that connected the rooms to the kitchen, and one knew the underwear of one's neighbors by heart…"


– Joseph Brodsky, 'In a Room and a Half'
Before it exiled him in 1964 for 'social parasitism' (Judge: "Who recognises you as a poet? Who enrolled you in the ranks of poets?"), the Soviet state lodged Joseph Brodsky and his parents for the first 24 years of his life in the confines of a single room of a sub-divided, once-prestigious Leningrad apartment block.
As the future American poet laureate and Nobel prize-winner later described in his thumbnail memoir 'In a Room and a Half' (published in his 1986 collection of essays Less Than One), he attempted to privatise his corner of the family abode with a makeshift barricade of bookshelves and teetering suitcases, behind which "the gamin felt safe, and a Marianne could bare more than just her breast."
Brodsky's father was a photographer, and 'In a Room and a Half' is structured as a series of 45 written 'photographs' by which Brodsky attempts to rebuild that nest from half a world's and half a lifetime's remove. (The Soviet bureaucracy never let Brodsky's parents travel to see him.) Children, the essay reflects, are always in a desperate hurry to leave their nest. "And one day a man realises that the nest is gone. The people who gave him life are dead. He realises that the only real thing in his life was that nest."
Now – in the hands of Brodsky's peer Andrey Khrzhanovsky, the great Russian animator – the photographic nest has become an animated journey back in time. Structured as a sort of fantasised sequel to Brodsky's essay and life, Room and a Half puts the aged writer in reverential mood on a boat back to St Petersburg to revisit his youthful memories and haunts.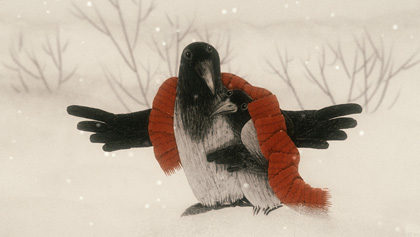 Much of the film takes the form of Fellini-esque live-action recreations of Brodsky's old life: two young actors play Brodsky as he weathers the siege of Leningrad, dishonours Stalin at school, squires a succession of girls in his curtained half-room and eulogises the freedoms inherent in imported Tarzan movies at the height of the Khrushchev Thaw. But just as the film elides poetry, fantasy and reality, Khrzhanovsky throws in all manner of animated flights of fancy, from shadow-theatre Bolsheviks to a moving recipe book, Magritte-esque levitating musical instruments, ice-skating crows, flying Pegasuses and sundry Brodsky-surrogate cats. (The film's animal motifs and folkloric treatment of memory bring to mind Yuri Norstein's masterpiece Tale of Tales.)
Khrzhanovsky also mixes up the film stocks, including faux-documentary 16mm footage and real clips of Brodsky, for evocative effect, and jots a record of modern-day St Petersburg almost in passing. It's an animated movie in the fullest sense, and as generous and entrancing a portrait of the artist's soul as you could get. Even the Soviet judge might recognise the answers to his questions in it.
NB: What was your kinship with Brodsky?
AK: When I read 'In a Room and a Half' I realised that it was about me and for me. We lived at the same time in the same country in the same environment. We shared this understanding of a communal flat, this 'room and a half'. We were both the only sons of parents who were no longer so young. We had the same friends, the same interests. Unfortunately I never quite managed to meet him personally. There was a time when he invited me to his house via some friends, but I didn't take the opportunity, alas.
But I was in love with his poetry and his paintings, his drawings. He was a great painter, just as Pushkin was. And of course I loved his literature – it's clear that he was the first and best poet of his era. I read a lot of his poetry, even before they began to print it in Russia – which they only did after the USSR collapsed. People used to copy and distribute his poems by hand; I recently found some copies in my own handwriting from half a century ago.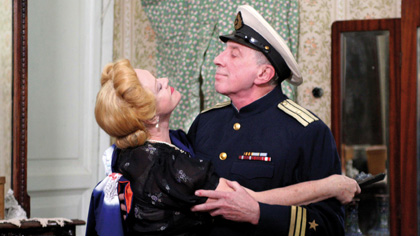 Some of the phrases spoken by Brodsky's parents in the film I've actually taken from my memory, things I remember my parents saying. And I've given him some of my phrases. I don't want to be any more specific than that, to point out what is whose, did it happen or not, because it would spoil the secret. Our film is a mystification; it's our imagination.
But I can tell you that one of the lines in the film is something I heard from a girlfriend of Brodsky. He says to her, "One day they will make a film about us," and she asks, "Who will play me?" And he says: "Gina Lollobrigida!"
Interestingly, I met Lollobrigida in Moscow and asked if she would like to appear in the film. She agreed, and I even wrote an episode where she'd play a part, but unfortunately the budget didn't allow it. For that one scene I think she would have cost as much as the whole film.
At one point in the film you have the young Brodsky declare that yours was the last generation to care about cultural values.
I think he was right, unfortunately. That close environment that we lived in made communication between people easier; real life was in the kitchen of those communal flats, because you'd gather intelligence and talk about cultural matters. Nowadays everybody's just thinking about money. I do miss those times for that reason.
There's even a joke on this topic. One person asks another, "What's five times five?" And the other asks back: "Are we buying or selling?"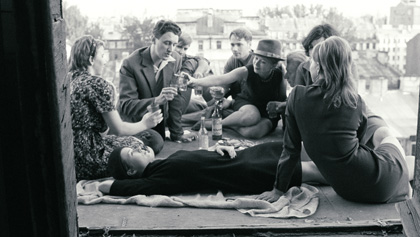 What was your experience of the Soviet era? Did you struggle to work?
Of course, we experienced censorship, even in animation. For making The Glass Harmonica I had to spend two years in the army. But at the same time the government did give us money for film-making, and at one studio there'd be 40 films made in a year, as opposed to the two or three films made nowadays. The government had to give all the directors work; the problem was that when a film was ready, it might not be allowed on the screen.
Russian animation has always been one of the best in the world. It still has the potential to be; the problem is that the amount of money that the government gives for making all the films in Russia equals the budget for one minute of Shrek. That's the main obstacle, really.
Have you seen Tale of Tales?
I was coming to that next. I found 'Room and a Half' strikingly reminiscent of that, in terms of its treatment of Russia, childhood and memory.
Many critics see a parallel with Tarkovsky's Mirror. But I think every film which is based on memories has a similar foundation.
Your film also shows a mastery of all sorts of styles of animation. Even the archive footage of Brodsky himself is so well integrated that it feels as though you're doing a job of animation with it. Was it easy to find, fun to play with?
It was huge work. Some of the footage was actually filmed by us, but presented as if it were documentary. The biggest complement though is when my professional colleagues, looking at the actual documentary footage, ask: "How did you film it?"
I originally made a short film about Brodsky which was just called A Cat and a Half – a combination of animation, documentary, photography and fiction. The two films together took me almost ten years to make.
[At this point Khrzhanovsky, who has pulled out a large pack of colouring pens, begins to sketch a cartoon of a long-haired man with flared trousers. The interpreter and I watch it develop.]
Your question?
You have Brodsky refer to himself as 'Joseph Catman', and dream of himself as a cat. Were you and he both cat fans?
Yes, and When I was in New York, I saw the last cat Brodsky owned. His name was Mississippi, and Brodsky was often asked, "How did you choose the name?" And he'd say, "It is important for me to have many Ss" – because in Russian the sound 'S' is associated with a cat as well. And he'd be asked in return, "Why didn't you call it USSR?" – which in Russian was actually 'SSSR'. And he'd say, "Well, the 'R' is an obstacle here."
Brodsky would often just draw a cat in lieu of his autograph.
He shares that with Chris Marker, then?
Ah! I didn't know that. I know that Whistler signed his name with a dragonfly.
Sophie Mayer reviews 'Room and a Half' in the June 2010 issue of Sight & Sound
See also
Out of the shadows: Ian Christie on Sergei Parajanov (March 2010)
Animation: timeline from trick effects to CGI (August 2006)
Castles in the sky: Andrew Osmond on Hayao Miyazaki and Howl's Moving Castle (October 2005)
Why Fellini? Philip Kemp on il maestro's ambivalent relationship with realism (August 2004)
A clown with wrinkles: Guido Bonsaver defends late Fellini (August 2004)
The Innovators 1930-1940: The thin black line: Harvey Deneroff on the pioneering Fleischer studio (June 1999)