Cannes 2006: American Decadence And Other Tales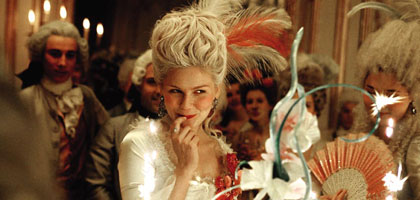 Ken Loach proved the man of the hour, Pedro Almodóvar was hard done by, Alejandro González Iñárritu experienced his first big stumble, and Depardieu outclassed them all. Cannes 2006 had something for everyone. By Nick James
Cannes ought to have been the summit of current cinema. Following on from last year's solid list, this year's programme seemed to ooze arthouse class and shimmer with upstart promise. Almodóvar was on hand to extend his arch of glorious melodramas, Kaurismäki would run a nicotine finger down the serrated edge of doomed romantic comedy, and one more Bruno Dumont conceit might breach the bias against bigmouths. Sofia Coppola would seduce us again with moody rock music, this time for an 18th-century costume epic with breezy Kirsten Dunst flashing her tiny teeth as the queen of France, Richard Linklater would forego the mature romance of Before Sunset for the Green teen politics of Fast Food Nation and the narco-patter paranoia of A Scanner Darkly, and Richard Donnie Darko Kelly would bamboozle us all with a gargantuan epic of pop culture. That it wasn't quite like that should not surprise us greatly. Cannes often delivers less than its optimistic constituency would wish for. But this year's festival seemed more to dash hopes for the future than enhance existing reputations.
It began with a double travel-brochure opening for Paris: The Da Vinci Code out of competition and the portmanteau film Paris, je t'aime in Un Certain Regard. One victim of Ron Howard's hogwash blockbuster is history. The familiar mystery story of Tom Hanks' signology expert wrongly accused of murder is unpretending hokum, but whenever the film morphs to the CGI past it pretends accuracy. At one point Sir Leigh Teabing (Sir Ian McKellen) inveighs against forgetting the past while blaming the Catholic Church for the destruction of the Templars, when the real destroyer was King Philip IV of France. But then that would have spoilt the conceit that the French kings were related to Jesus Christ and... oh dear. To disentangle this guff is pointless, but there is hope that so creaky an adaptation (with oak-stiff Hanks and beech-blank Audrey Tautou) may expose the book's inanity. Still, it was deflating to hear it rumoured that grandmaster of trash Ron Howard has got his hands on the US remake rights to Michael Haneke's Hidden. What next, Sunny Games?
In the 1960s or 1970s a portmanteau film based on the districts of Paris might have inspired moody nouvelle vague poetics, though even then Claude Lelouch would probably have got his da-ba-da-ba-dabs on it. It's the Lelouch touch (without the man himself) that wins out in the 18 star-driven segments of Paris, je t'aime, though many try to find controversy in the theme of romance. Best for me was a deft portrait of two aged but peppery Americans arranging their divorce, with Ben Gazzara and Gena Rowlands in tart and twinkling form negotiating a fine-honed script directed by Gérard Depardieu and Frédéric Auburtin. Adroit too was Walter Salles and Daniela Thomas' sketch of a day in the life of a young Latino mother who works as a nanny but must leave her own baby with a childminder. More on the Lelouch side was Tom Tykwer's pairing of Natalie Portman with unsighted actor Melchior Beslon, Sylvain Chomet's teeth-grinding mime comedy and Alfonso Cuarón's trick of having aged Nick Nolte seem to be wooing young Ludivine Sagnier when he's actually up to something else. It seems like fun was had by all, but the rewards are too bland - unless, that is, you're from the tourist office.
There were, however, enough common themes elsewhere to keep chroniclers of our times close to their notebooks - though it was perhaps unfortunate that the first to coagulate was the link between butchery and excrement: meat is merde, perhaps. Hungarian director György Pálfi's Taxidermia postured its repulsion as if Gaspar Noé should sleep uneasy, but its burlesque of pig-fucking, food-gorging, reflex vomiting and self-degutting proved mild next to the truly gruelling meat-factory scenes of Fast Food Nation. Richard Linklater's fictional reworking of ideas and statistics from the factual book gave us a signature quote from Bruce Willis as a cynical meat supplier for a burger company that has discovered there's an unacceptably high level of faecal matter in its product: "Each of us has to eat a little shit every day." A composite tale of Mexican illegals being smuggled in to work at meat factories, of local teen workers (including Avril Lavigne) being radicalised by eco-information, and of a lone executive (Greg Kinnear) trying to find out where the shit has started to fly from, Fast Food Nation suffers from awkward lurches of tone, too many talky scenes, underdramatised real-life tragedy and intrusive star cameos (from the likes of Willis and Ethan Hawke), but it still comes off as a vivid lesson in where fast food comes from and what it's doing to us. Indeed you could say the film answered the Aboriginal question in Rolf De Heer's Ten Canoes: "What will happen if he cooks my turd?"
Surveillance was a motif that loosely connected many works. Competition films with that theme included Scottish director Andrea Arnold's feature debut Red Road, Aki Kaurismäki's Lights in the Dusk (Laitakaupungin Valot), Israel Adrián Caetano's Crónica de una fuga and Lucas Belvaux's The Right of the Weakest (La Raison du Plus faible). Add Linklater's Un Certain Regard contribution A Scanner Darkly and you could call it a majority vote.
A coruscating psychological drama about sexual revenge, Red Road features superb television regular Kate Dickie as a CCTV operator watching over Glasgow who discovers that the man who killed her family has been released from prison. She starts to follow him obsessively, at first on screen and then in person. If its mechanically redemptive ending softened its punch, Red Road none the less deserved its Jury prize. Kaurismäki summed up Lights in the Dusk, the third segment of his 'loser trilogy', perhaps inadvertently when he semi-jested: "It is the film of a sentimental old man." Koskinen is a security guard despised by his CCTV-watching colleagues. His only sympathetic ear is grill-van owner Aila, until he meets Mirja, the femme fatale who leads him to ruin. Everything is predetermined in a perfect downbeat setting that makes its own poetry, with exquisitely doleful music taking the place of dialogue, but somehow it doesn't build a critical mass of emotion.
Possibly the worst film in Cannes was Belvaux's superannuated heist movie The Right of the Weakest, in which laid-off steel workers meet up with an ex-con and plan to rob their former employer. Implausibility, cuteness and ham acting abound as cliché meets cliché going in the opposite direction, while watching policemen fall asleep on the job. Crónica de una fuga was a hot tip after a buyer frenzy but proved a grimy melodramatic drama-documentary detailing the daily lives in custody and under torture of male youths who would have been among the Argentine disappeared of the 1980s had they not escaped the tight surveillance of Buenos Aires' notorious Sere Mansion.
The who-is-watching-whom scenario reached its most bizarre incarnation, however, in A Scanner Darkly (based on the Philip K. Dick story), where undercover cop Bob Arctor (Keanu Reeves) watches himself as he spies on his friends. Made in the same 'animated reality' style as Linklater's Waking Life, this star-driven piece (Woody Harrelson, Robert Downey Jr and Winona Ryder) excited mainly through its flip dialogue. A typical stoner line from Harrelson: "What if they came in through the door or the bathroom window, as in the notorious Beatles song?" A Scanner Darkly leads us to conclude that it's not so much that Big Brother is watching us but that we are watching ourselves, perhaps a perfect metaphor for the self-censorship so rife in the media.
Falling stars
Linklater's films at least showed a seriousness of purpose and a desire to connect with a world outside his own, qualities conspicuously lacking in the two most awaited American films, Richard Kelly's Southland Tales and Sofia Coppola's Marie Antoinette. Kelly's bloated epic offered us the full panoply of contemporary pop culture hung on the frame of a Kiss Me Deadly-style conspiracy-theory plot in which Wallace Shawn's James Bond villain wrestles with Californian cartoon Marxist-Leninists (nothing like the Marxist-Leninists in Nanni Moretti's deadly-dull Il caimano) for control of a post-nuclear US known now as Southland through the capture of superstar Boxer Santaros (Dwayne 'The Rock' Johnson). Conspicuously uninterested in its labyrinthine plot, fascinated by its celebrity-culture cast (Sarah Michelle Gellar, Justin Timberlake et al), unaccountably fixated on the look of bad 1980s television sci-fi, inelegant in its shooting and editing, but revelling in the mess of its conception, Southland Tales is singularly the most decadent film I have ever seen. Decadent because it cannot find any point of view outside what it depicts. Its own observations are as banal as those of its spoof current-affairs debate programme conducted by porn stars. The film's chief motif is the idea of 'chugging cock', and certainly you gag on its grandiosity, though you sometimes suspect this is what a Hollywood epic might look like if Godard made one. Some of the Americans, including Amy Taubin, liked it, but for me it was pop culture eating itself.
By contrast Marie Antoinette strives to be as winsome and delightful as a porcelain collection.
It tracks the progress of the teenage princess of Austria (Kirsten Dunst) as she is conducted into the strictly controlled courtly life of Versailles and is prevailed upon to force issue of a child from her hunting-crazy, sex-ignorant husband (Jason Schwartzman). In frustrated virginity she turns to elaborate dresses and shoes and vast cities of patisserie without gaining weight. Once she's had her affair with a Swedish count, gone bucolic in her own cottage, goaded the prince to fulfilment - and the fan boys in the audience have seen Dunst near-naked with gartered white stockings - the film peters out. Dunst doesn't have the chops to carry scene after scene of courtly giggling with such meagre dialogue, and the long trudge to a never-explained French Revolution is a jading experience, though alleviated by music from the likes of the Gang of Four and Siouxsie and the Banshees. The film's one coup is its exquisite visual beauty, which carefully matches the colour palettes of 18th-century painting. But it's a long way short of Barry Lyndon, and seems closer to a celebration than a critique of celebrity culture.
Ball games
Summer Palace might have been an alternative title for Coppola's film, but it belongs to Lou Ye (who made Suzhou River). This highly sexed epic about the Tiananmen Square generation in China is a sort of Unbearable Lightness of Beijing. Few films have better captured the arbitrariness of student decision-making, the live-for-the-moment excitement of a break from navel-gazing that fuels many sudden political movements. In Hao Lei, who plays Yu Hong - a village beauty who arrives in Beijing to study and gets caught up in a whirlwind of shagging and politics - the director has found an actress of startling intensity, well matched by Guo Xiaodong as her enigmatic love object. As the tough 1990s hit, the lives of Summer Palace's four main characters zoom off to different locations and the momentum begins to fade until a tragic Berlin climax forces the film back into focus.
It's lack of a climax that structures John Cameron Mitchell's sex comedy Shortbus (his follow-up to Hedwig and the Angry Inch). It opens with a perfect image of itself - a man contorting to suck himself off. In a parallel scene an Asian woman goes to athletic lengths with her husband to reach orgasm, only to fake it. The contorting man is Jamie (PJ Deboy), the long-settled partner of James (Paul Dawson). The couple visit their sex therapist Sofia (Sook-Yin Lee) - the Asian woman herself - to discuss whether they should take other lovers, and find her confessing her lack. All repair to Shortbus, a Brooklyn salon with facilities for multiple sex, and a glorious flow of innuendo, slapstick, cabaret and eroticism ensues. When I ran into the cast on the rue d'Antibes it felt natural that they should be talking about Benny Hill.
My favourite film of the festival was Pedro Almodóvar's Volver. For its sheer grace and elegance alone, it deserved more than the Best Actress award given to Penélope Cruz (at her very best with a padded butt), Carmen Maura and the rest of the female cast. But since it was covered in detail last month, I'll move on to another favourite, Nuri Bilge Ceylan's Climates (Iklimler). Ceylan had won the Grand Prix in 2003 with Uzak and here has steeled himself to act for the first time, persuading his young wife Ebru to join him. Since this is a deeply melancholy portrait of a self-obsessed middle-aged photographer (Ceylan's original trade) who breaks up with his lover only to re-woo her, there's a temptation to see it as autobiography. But Ceylan makes his lover pretty unsympathetic, and Ebru shows that she expects casual cruelty from him in a breathtaking nightmare scene when she falls asleep on the beach. Ceylan's skill with composition, mood and dark humour has never been better and his use of Hi-Def is exhilirating, but the tension of both acting and directing comes through, making the film slightly less than its near-perfect predecessor, which I suppose is praising it with faint damning.
On the negative side, one wonders what it is that people continue to see in Bruno Dumont - to the point of awarding Flandres this year's Grand Prix. As a director he doesn't seem to know more than a couple of ways to compose shots or direct action, and least of all does he understand the "American register" he keeps claiming he's aiming for. Flandres is a war film of sorts. Dumont knows that it's the farm boys who always get called up, but his farm boys are the sullen creatures of La Vie de Jésus, remaking that film more crudely with an opportunistic desert-war interlude. They fuck at home like animals; they die abroad like animals - and that much may be true. But Dumont's war scenes are crassly lifted from his favourite US films - a bit of Full Metal Jacket here, a bit of The Deer Hunter there - and his boys inhabit a no-man's land between symbolism and anthropology. No one has tried to train them to fight except maybe with a Sony Xbox. Their fear seems utterly histrionic.
With so many big names fielding disappointments, it was left to quieter talents to refresh cinema. Malian director Abderrahmane Sissako's The Court ( Bamako), a mock trial of the World Bank set in his father's courtyard, was like nothing I've ever seen - as visually elegant as its polemics are powerful. And not much could be in greater contrast to that than the wizardry of Douglas Gordon and Philippe Parreno's dazzling act of portraiture Zidane, un portrait du 21ème siècle, in which cinematographer Darius Khondji uses 17 synchronised cameras to follow Real Madrid's soccer genius Zinédine Zidane for one whole match. We see his every scowl, spit and cough, watch him dragging his toe in a characteristic gesture before charging off on a mazy run. Music and sound design are expertly manipulated, the editing is superb, and Zidane's thoughts appear in subtitles as human missiles fly and tumble in the foreground. It's a thrilling work of art that deserves some sort of big-screen distribution in the UK.
But in the end you have to hand it to Ken Loach. Ignored by Brit tipsters, he deservedly triumphed with The Wind That Shakes The Barley, and Sight & Sound sends him our best congratulations. My only regret is that nothing was won by my figure of the festival, Gérard Depardieu. Not only had he co-directed the best short in Paris, je t'aime, but he also gave a quietly devastating performance in a small, sentimental and, yes, corny film, Xavier Giannoli's The Singer (Quand j'étais chanteur). He plays a crooner of terrible sentimental songs, not the worst of which is 'Save the Last Dance for Me'.