The Innovators 1990-2000: Charisma Express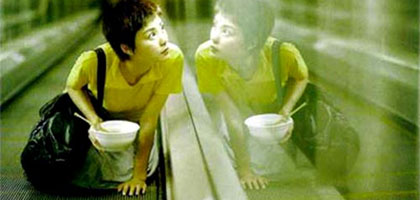 The Chinese diaspora has supplied many of the best film-makers of the 1990s, but none had more impact than Wong Kar-Wai, Tony Rayns reports.
For the first time since 1994, when he interrupted the post-production of Ashes of Time to make Chungking Express, Wong Kar-Wai is currently making two films at once. This isn't from choice, of course; it's a result of the collision between his own aleatory approach to production and the financing crisis which has hit the Hong Kong film industry.
The first film (it has no English working title) was supposed to be another quickie to be shot and cut in short order for completion in the summer of 1999. Just as the low-budget Chungking Express (which went from start of shooting to premiere in just three months) was designed to offset the overspends on the lengthy and expensive Ashes of Time, so this new film was intended to help Wong's company through its cash-flow problems in the wake of the costly Happy Together. It stars Maggie Cheung and Tony Leung as people who meet when they discover that their respective spouses are having an affair. The original plan apparently was to divide the film between scenes in the 60s and scenes in the 90s, but Wong has found himself too much seduced by the adventure of imagining pre-modern Hong Kong to give equal time to the present-day part of the schema. Too much seduced, also, to keep the project within its original parameters - which is why it isn't yet finished.
Meanwhile contractual obligations have forced Wong to start work on the second film, 2046, which is being shot in various East Asian cities including Bangkok and Tokyo. The title refers to the fiftieth year after the handover of Hong Kong (you'll recall that Deng Xiaoping promised the territory 50 more years of capitalism), but the film is not planned as a political satire. It has three strands of storyline, each distantly inspired by the plot of a 19th-century opera, all centred on relations (sexual and otherwise) between humans and androids. The film stars Tony Leung, Faye Wong and Thai singer Thongchai Macintyre among others - but not, as some press rumours have had it, Bj&ouaml;rk.
It would be rash to speculate how either film will end up looking, sounding and moving (that's a mistake Wong himself never makes, even when he's shooting), but it's already obvious that both projects offer ample scope for his patented approach to solipsistic characters trying to break out of their traps - not to mention period and future settings of the kind likely to provoke interesting ideas from his closest collaborators, designer/editor William Chang and cinematographer Chris Doyle. The films are being made, however, at a time when it has become important to Wong to reinvent himself. A few months ago, after showing me some haunting and evocative rushes from the Maggie-and-Tony film, he commented wryly: "Too many other directors are -doing' Wong Kar-Wai these days, so I have to do something different."
It isn't just the recent proliferation of Wong Kar-Wai wannabes that is pushing him in new directions. Wong was one of the first film-makers in Hong Kong to establish his own independent production company, realising that he could retain full control of his work - and make films in his own idiosyncratic way, following a process of trial and error - by becoming his own producer. (His company is called Jet Tone in English, Zedong - as in Mao Zedong - in Chinese.) He keeps Jet Tone going mainly by pre-selling his projects in those markets where his name and those of his stars are bankable. But the East Asian market for Hong Kong films has all but disappeared in the last three years; the gravy train doesn't stop here any more. Wong has sustained Jet Tone's cash flow by making two extraordinary extended commercials (one for the Japanese fashion designer Takeo Kikuchi, the other for Motorola) and by publishing a series of fine-art collectibles: a visual diary of the making of Happy Together, folios of poster designs.
It's still a little easier for Wong to pre-sell unmade projects than it is for most of his contemporaries in the Hong Kong film industry, simply because his audience is different from (and distinctly more loyal than) Tsui Hark's or Johnnie To's. But it's nothing like as easy as it was five years ago. Nowadays foreign investors demand something more than a title, a genre, a director and a list of stars; they want to read scripts. And Wong, of course, is not in the habit of writing scripts in advance of shooting. His solution has been to start writing fairly detailed outlines of the projects he wants to make - while retaining the option of deviating from them during production when better ideas come up. And systematising his ideas into detailed outlines is beginning to change the way he thinks about his work.
Wong's film career has already encompassed two fairly remarkable U-turns. Trained as a graphic designer, he spent two years working as a production assistant on serial dramas at the ruthlessly ratings-minded television station TVB. He moved into the film industry as a writer in 1982, initially contributing ideas and gags in the script department of Cinema City, another by-word for unrestrained commercial calculation. But Wong slowly gravitated towards more sustained writing, culminating in scripts for a gangster trilogy written for his director friend Patrick Tam. Tam filmed only the final part of the trilogy (Final Victory/Zuihou Shengli, 1987); the first part later became the basis for Wong's own directorial debut (As Tears Go By/Wangjiao Kamen, 1988) - the only occasion to date when he has followed a pre-written script.
As Tears Go By was a spirited and well-acted first feature, rather obviously indebted to Mean Streets for its plot outline and three central characters but lent a sheen of originality by Andrew Lau's energetic handheld camerawork with its stop-motion action climaxes. The film earned Wong an invitation to the Directors' Fortnight in Cannes, where reviewers ignorant of Hong Kong cinema found it shockingly violent. But the Wong Kar-Wai now known to the rest of the world surfaced more clearly in his second feature Days of Being Wild/A Fei Zhengzhuan (1990) in which he erased every bad habit he had learned during his decade in the television and film industries by turning his back on both conventional scripting and genre film-making.
Days offers a languorous and stylised vision of a wealthy young playboy sowing chaos and confusion in the lives of those around him in 60s Hong Kong and Manila. A Fei Zhengzhuan means -The Truth about A Fei', -A Fei' being the generic nickname for a youthful tearaway. The title was used for Rebel without a Cause on its release in Hong Kong and Taiwan, which means it conjures up memories of James Dean for at least one generation of Chinese viewers. But the Leslie Cheung character at the centre of Days of Being Wild is less a rebel than a misfit, a serial seducer too egotistic to give or receive real affection, emotionally blighted by the absence of his parents who abandoned him when they moved to the Philippines. Like Wong and William Chang themselves, the character is a Shanghainese boy brought up in Cantonese Hong Kong; as such he must represent the dislocation they felt as kids in the 60s. The key thing about the character, though, is his not-so-latent death wish, provocatively blurred with his longing for his missing mother.
Using precisely six characters (plus some very carefully chosen props and locations and incongruously Latino music tracks) to evoke old Hong Kong, the film gradually resolves itself into a meditation on the chasm between youthful burn-out and youthful survival, the supporting characters orbiting the protagonist coming to represent the various ways forward actually taken by most young Hong Kong residents of the period. Wong originally planned the film as a diptych; the second part would have shown the same supporting characters six years on, now in orbit around another Hong Kong archetype, the chancer/gambler played by Tony Leung glimpsed in the mysterious coda.
This mix of oblique/imaginary autobiography, Hong Kong social commentary, inspired rereadings of pop culture and explorations of the ground between loneliness, existential solitude and solipsism set the pattern for all Wong's subsequent films. The same could be said of the use of ultra-charismatic stars in what are essentially character roles, the preference for the visual over the verbal and the sparing but potent use of voiceovers to illuminate the gaps between thought and deed. None of the many Wong Kar-Wai imitators and wannabes has come close to matching this density of reference and effect; most pick up only on the tics and tropes of style, missing all the resonances.
At some level Ashes of Time/Dongxie Xidu (1994) is clearly the missing Part Two of Days of Being Wild - except that it's set in the margins of a famous novel by Jin Yong and displaced from 1966 Hong Kong to a remote desert in some heavily mythologised past. The film remains Wong's magnum opus, an epically imagined panorama of "turmoil in the hearts of men", to quote the opening caption. This time Leslie Cheung plays Ouyang Feng, the first of Wong's agents for hired killers, dispassionately plying his trade from an isolated inn; thanks to drinking Oblivion Wine he cannot remember the emotional trauma that led him there or why he has reason to feel no pity for others. The assorted customers, killers and victims who come his way represent another constellation of bad life choices, a gallery of divided selves and obsessives, all of them rejecting intimacy to avoid being rejected themselves. In this context the action scenes (choreographed by Sammo Hung and shown in stop motion like the fights in As Tears Go By) serve mainly to introduce a Leone-esque aspect of genre commentary into the proceedings.
Chungking Express/Chongqing Senlin (1994) and Fallen Angels/Duoluo Tianshi (1995) form another diptych, both films juxtaposing twin stories of urban lives and would-be loves. Both tales in Chungking Express concern cops on the beat, both of them smarting from having been dumped by their girlfriends. The first is a rookie (played by Taiwanese-Japanese singer Kaneshiro Takeshi) who is too hung up with his musings on the existential implications of expiry dates to notice that the enigmatic older woman he meets in a bar is a murderous drug-runner. The second (Tony Leung) is a homebody too much in love with the idea of escape to notice that the girl-next-door has the mother of all crushes on him. The film's spontaneity and quirky humour reflect both the speed with which it was conceived and executed and Wong's enthusiastic reading of the Japanese novelist Murakami Haruki.
The darker Fallen Angels interweaves its two stories, one a moody blend of
frustrated sex and excessive violence, the other a tragic farce or farcical tragedy about two hopeless obsessives. The resulting emotional swings make the film hard to take in on first viewing; this, more than any other of Wong's films, is the one which sets the line of demarcation between those who just don't get it and those who find the effect wildly exhilarating and inspiring. Everyone notices the film's kinship with Chungking Express, which is anyway underlined by a series of playful references back to the earlier film, but what its admirers relish most is its parallel identity as the urban twin of Ashes of Time - complete with another emotionally etiolated agent for hitmen, another protagonist who cannot remember his former lovers and another terrifying vengeful abandoned wife.
Wong's Cannes prize-winner Happy Together/Chunguang Zhaxie (1997) brought his passion for Manuel Puig and other Latin American novelists into frame with his desire to take a more detached view of Hong Kong identity in the year of the territory's reversion to China's sovereignty. From Puig comes the Argentinian setting and the unembarrassed focus on a gay man trying to rebound from a destructive affair; from the more domestic agenda comes the grand metaphor of living apart together, a cipher for both personal relationships and the larger commonalities and differences between China, Taiwan and Hong Kong. It's well known that what was planned as a two-month shoot eventually stretched to five; it's less well known that a generous sampling of the unused footage (including Shirley Kwan's performance as another lonely émigré in Buenos Aires, missing from the film as released) will be seen in the forthcoming Buenos Aires Zero Degree, a meta-film assembled from Wong's rushes by video artist Kwan Pun-Leung.
Since Wong's creative evolution is still very much in progress, it's premature to try to sum up his achievements. The rushes from the first of his current films reveal a vision of 60s Hong Kong very different from that of Days of Being Wild: this time the look and behaviour of the protagonists seem drawn from melodramas of the period, while the streets they inhabit are crowded with in-character extras. Does this represent the beginning of some kind of filmic -exchange' with the Taiwanese director Tsai Ming-Liang, whose dystopian millennium film The Hole/Dong (1998) has its stunted, plague-threatened protagonists escaping into dreams of musicals from the 50s? Or is it merely that Wong's determination to reinvent himself is pushing him to explore areas beyond his own prior experience?
One thing is already clear, and it serves to define Wong's importance as an innovator. Although he draws on many and disparate sources in his films, he is never a postmodernist bricoleur. His work deals with primary emotions, not secondary echoes of emotions; he cares about feelings, not cultural gestures. Consider the sequence in Fallen Angels in which the crazed He Qiwu (Kaneshiro Takeshi) uses a camcorder to record images of his father, who is trying to get some sleep. The sequence lasts all of three minutes and speaks volumes about father-son relationships, parental expectations and disappointments, filial rebellion and love, and emotional inarticulacy; does any other sequence in contemporary cinema get as close to these issues so succinctly? Wong Kar-Wai isn't the future of cinema. But he does point one way forward, no mistake.