Quality Street
Film of the Month: Angela's Ashes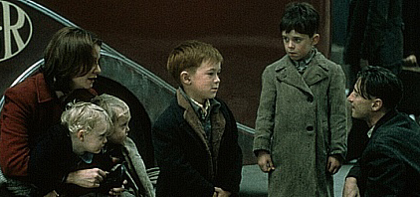 Angela's Ashes, Alan Parker's latest, looks great and is beautifully crafted, but it also shows up the differences of adapting a very literary work for the screen, argues Nick Roddick.
The television documentary A Turnip-Head's Guide to British Cinema which Alan Parker made in 1986 has achieved a certain notoriety in British critical circles, mainly for its jibes at those critics whose agenda he felt to be more intellectual (or, as he would have it, pretentious) than artistic. Since critics don't like being criticised, it won him few friends. What made the attack interesting, though, was that Parker knew about this stuff: it's hard to imagine Ridley Scott or Adrian Lyne, the other two members of the triumvirate of British commercials directors who established a Hollywood foothold in the 70s, caring what the academic journal Screen said about them.
Parker has always been more sensitive to British criticism than he lets on, and his choice of projects has always been more driven by that illusory mainstream notion of 'quality' than that of the other two, resulting in some dead ends (The Road to Wellville) but some equally surprising renewals (The Commitments). His latest film Angela's Ashes is certainly not a dead end, nor is it really a renewal, but it has 'quality' stamped all over it, from its subject matter (a Pulitzer Prize-winning quasi-autobiography by Limerick-raised novelist Frank McCourt), to the cinematography by regular Parker collaborator Michael Seresin (who also shot Parker's Bugsy Malone, Midnight Express, Fame, Shoot the Moon, Birdy, Angel Heart and Come See the Paradise). Seresin's damp, green-tinged images come close to creating the cinematic equivalent of the very Irish idea of a 'soft day' (one on which it never stops raining) - particularly apt given Limerick's reputation as the wettest place on an already rain-sodden island.
It is easy to see what appealed to Parker about Angela's Ashes: another Irish group movie, albeit on a bigger and more serious scale than The Commitments; a portrayal of the struggle against poverty in keeping with the social conscience which, however it may be dramatised, has always infused his films; and, above all, the chance to work with kids. This last area is the only one in which the balance of the film tips away from McCourt's book, where the focus is far more on narrator Frank's family. At a guess, I'd say up to a quarter of Angela's Ashes the film takes place in Leamy's National School, which provides the movie with its most enjoyable scenes. Parker has lost none of his skill at directing children and none of his eye for making a selection from the performers placed in front of him by his casting directors. But the reason the school scenes work best also points to the problems involved in turning McCourt's novel into a film: they have a cinematic structure. Co-screenwriter of several Jane Campion films and veteran adapter of novels Laura Jones (who did the first draft) and Parker himself (who claims to have followed "her template" in producing his version) never quite find a way to make the other three-quarters of the film equally cinematic.
It is not a question of fidelity: Angela's Ashes is amazingly faithful to its source material. It is a question of the difference between literary and cinematic storytelling. A fantastic amount happens in McCourt's book. He moves from Brooklyn to Limerick and back again. He loses three brothers and a sister. His father leaves home. He grows up. But it is not a narrative in the cinematic sense. And above all, it is 'told' by McCourt with an ironic tone which, if not inimitable, is definitely more literary than cinematic. Take the second paragraph of the book, repeated at the start of the film. "When I look back on my childhood I wonder how I managed to survive at all. It was, of course, a miserable childhood: the happy childhood is hardly worth your while. Worse than the ordinary miserable childhood is the miserable Irish childhood, and worse yet is the miserable Irish Catholic childhood."
These sentences encapsulate McCourt's approach: a hint of sentimental nostalgia wrapped in a solid shell of irony. And, as the words are spoken in the cinema, the audience laughs. McCourt uses the same technique to narrate the death of his twin brothers. Five paragraphs describe how the family band together after Oliver dies, and how their Dad says his Eugene is lucky to have his two big brothers to help him get over his twin's death.
Then comes a bombshell of a three-word paragraph: "He died anyway." Its message is tragic, but its delivery is essentially comic in structure, like the punchline to a joke. The words also appear in the film (in voiceover of course), but by then we have already seen Eugene's lifeless head on the pillow, and the effect is quite different: the information has already been conveyed, the punchline-structure loses its drama, and the irony vanishes.
It is a small but telling problem, which takes much of the impact away from this otherwise admirable and extremely beautiful film. The performances of the kids - especially Joe Breen, Ciarán Owens (younger brother of Eamonn, who was Neil Jordan's butcher boy) and Michael Legge as Frank at various ages - are all excellent. And Robert Carlyle and Emily Watson as Dad and Mam are solid screen presences despite the fact that they generally have little to do but react. But the delicate balancing act between Frank's love of his father and hatred of his drinking, and between his adoration of his mother and despair at the way she caves in to circumstances, does not entirely survive the transition from book to film. The remarkable thing, though, is that the sense of exhilaration - which leads McCourt to conclude that "looking back on it all, I see what could have been, but am grateful for all that it was" - has survived, despite the depressing subject matter and the relentlessness of the hand fate deals Frank.