The World Is Not Enough
UK/USA 1999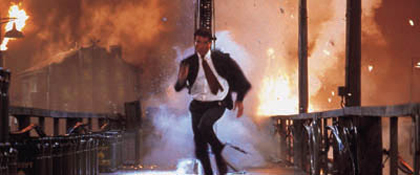 Reviewed by Jos Arroyo
Synopsis
Our synopses give away the plot in full, including surprise twists.
Superspy James Bond retrieves a suitcase of money for oil magnate Sir Robert King in Bilbao and returns it to him at MI6 headquarters in London. A remote-controlled booby trap hidden in King's lapel pin explodes, killing King. At King's funeral in Scotland, Bond meets the deceased's daughter Elektra, who was once kidnapped by Renard, a terrorist. Renard has a bullet lodged in his skull that's slowly killing him, but which renders him impervious to pain. Bond's boss M sends Bond to the Caucasus to protect Elektra and discover who killed King. After escaping an attack while skiing, Elektra and Bond visit a local casino run by Valentin Zukovsky, a Russian mafioso, and then make love. Soon after, Bond is led to an atomic-test facility in Kazakhstan.
There Bond meets scientist Christmas Jones and discovers Renard stealing an atomic missile, but Bond is unable to stop him. Bond follows Renard to Istanbul and discovers the missile has been inserted into Elektra's pipeline. Realising it's not atomic, Bond and Christmas let it explode so the culprit might think them dead. Bond discovers Renard and Elektra are lovers, working together; she is the real mastermind and her father's murderer. Her targets are rival pipelines. They have kidnapped M and intend to kill her. Bond kills Elektra, saves M, and with Christmas follows Renard to a submarine where they finally defeat him.
Review
Inherent in the notion of a film sequel is the lure of an intensified repetition of previous pleasures. After close to four decades of changing socio-sexual mores, competition from satires and rip-offs such as the Austin Powers and Matt Helm films, and the obvious difficulty of engaging the public with five different incarnations of an iconic character, the very existence of The World Is Not Enough, the nineteenth official Bond movie, is proof that Bond's makers have mostly been delivering the goods.
James Bond is the icon other icons look up to. When Arnold Schwarzenegger thought his cyborg turn needed uplift, he merged Bond with his Terminator persona for True Lies. Singer Robbie Williams says he wants to be Bond in the new millennium, as does openly gay actor Rupert Everett. Yet although Bond obviously represents an enduring masculine ideal, on the evidence of The World Is Not Enough the film-makers don't seem to understand why this might be so, and seem to feel licensed to kill off what made Bond iconic.
Bond films are formula film-making, and the production machinery behind them is so extensive and expert the movies are almost director-proof. The World Is Not Enough duly follows the traditional blueprint with nifty gadgets and cars, beautiful and available women and a couple of superb set pieces (the pre-credit sequence and the skiing scene). However, an equally important part of the Bond formula is cartoonish style, a light tone and two-dimensional characterisation. Many of us like it that way - we care more about what Bond wears and drives than what he feels.
The makers of The World Is Not Enough, of whom director Michael Apted should be singled out for blame, have attempted to depict all-too fleshy characters who desire, lack and feel. It's what is valued in a Ken Loach film, but it acts as an explosive and unsettling expulsion from the fantasies Bond films invite us to. One can't name a patricidal character Elektra and then expect the audience not to giggle at the film's attempts to psychologise her; one can't have Denise Richards play a nuclear physicist and make any claims to conventional believability. Robert Carlyle striving to imbue a character with truth and depth is almost always a good thing, but when that character is a Bond villain who wants to conquer the world, one has to ask what the director was thinking of. Worst of all they've done the same to Bond, not understanding that deep feelings don't go easily with nonchalance, suavity, elegance or cool, much less with killing people as a profession.
Intending to turn Bond and his world into what they can't be, these attempts to create emotional depth reveal an underlying contempt for what the Bond movies actually are. They imply realism is not just one mode among many but the superior, most culturally worthy and difficult mode. By that logic, of course, to make Bond films better is to make them more -realistic', like Apted's Nell, presumably. Thank God for action, production values and the second unit. They're what make The World Is Not Enough still worth watching.
Credits
Director

Michael Apted

Producers

Michael G. Wilson
Barbara Broccoli

Screenplay

Neal Purvis
Robert Wade
Bruce Feirstein

Story

Neal Purvis
Robert Wade

Director of Photography

Adrian Biddle

Editor

Jim Clark

Production Designer

Peter Lamont

Music

David Arnold

©Danjaq LLC and United Artists Corporation

Production Company

Albert R. Broccoli's Eon Productions Limited presents

Line Producer

Anthony Waye

Associate Producer

Nigel Goldsack

Production Executive

David Pope

Production Supervisors

Philip Kohler
Janine Modder
Hugh Harlow

Production Co-ordinators

Eléna Zokas
Paige Wingrove
Bi Benton
Patricia Reid-Douglas
Joyce Turner
Anna Cassina

Unit Managers

Iris Rose
Location:
Alex Sutherland
Gilles Castera
Trevor Ingman

Location Production Managers

Terry Bamber
John Bernard
Tim Lewis
Ali Akdeniz
Yousaf Bokhari
Carlos Taillefer

Location Managers

Richard Sharkey
Russell Lodge
Javier Balaguer
David Boardman
Salva Yague
Simon Marsden
Joanna Beckett
Liz Roberts
Bahadir Atay

Post-production Supervisors

Michael Solinger
Jatinderpal Chohan

2nd Unit Director

Vic Armstrong

Additional Unit Director

Arthur Wooster

Assistant Directors

Gerry Gavigan
Terry Madden
Paul Taylor
Mark Layton
Keith Young
Geoff Dibben
Additional:
Julia Waye
Jésus Delgado
Kieron Phipps
Simon Emanuel
Elliott Meddings
Christopher Brosnan
Carlos Fidel
John West
Manuel López Cañizares
Inma Cabrero
Marco Aguilar

Script Supervisors

Nikki Clapp
2nd Unit:
Sharon Mansfield

Casting

Debbie McWilliams
US:
Linda Lowy
John Brace
Additional:
Kate Dowd
Risa Kes

Additional Photography

Robin Vidgeon
Martin Kenzie
John Palmer

2nd Unit Photography

Jonathan Taylor

Miniature Photography

Paul Wilson

Additional Unit Photography

Arthur Wooster

Underwater Photography

Tim Wooster
Additional:
Mike Valentine
Pete Romano

Camera Operators

David Worley
Peter Field
Gary Spratling
Martin Hume
Mike Frift
Aerial:
John Marzano
Simon Werry
Dave Arnold
Ski:
Jean-Pierre Bassin
Dan Ferrer

Visual Effects Supervisor

Mara Bryan

Visual Effects Editor

Andrew Macritchie

Visual Effects Producer

Sharon Lark

Visual Effects Cameraman

Stefan Lange

Visual Effects

Cinesite (Europe) Ltd
Digital Effects Producer:
Alex Bicknell
Compositor Supervisor:
John Lockwood
Co-ordinator:
Clare Norman
Paint Artists:
Keith Devlin
Alex Smith
2D Lead Compositors:
Lisa Moore
David Williams
2D Compositors:
Chris Gibbons
David Man
3D Animation:
Sheila Dunn
Hayden Jones
Digital Imaging:
John Benn
Pete Williams
Roland Watson

Visual Effects

The Moving Picture Company
Head of Production:
Michael Elson
Senior Producer:
James Lamb
Line Producer:
Kristin Emblem
Software Development:
Jonathan Stroud
Senior Compositors:
Tom Wood
Ed Hawkins
Paul Conway
Compositors:
Simon Terry
Gavin Digby
Gregory Salter
Jelena Stojanovic
Animation Supervisor:
Nigel Hardwidge
Animators:
Chas Jarrett
Richard Morris
Jake Mengers

Visual Effects

Magic Camera Company
Supervisor:
Angus Cameron
Producer:
Angie Wills
Film Controller:
Andrew Jeffery
Film Scanner:
John Grant
2D Artists:
Helen Ball
Robin Huffer
Ed Plant
Chris Harding
Sean Danischevsky
Richard Little
3D Supervisor:
Gary Coulter
3D Animation:
Iain Anderson
Caroline Garrett
Royston Wilcox

Special Effects

Supervisor:
Chris Corbould
Floor Supervisors:
Steve Hamilton
Andy Williams
Senior Technicians:
Ian Biggs
Richard Brown
Paul Clancy
Pascal DeClerq
Grégoire Delage
Dave Eltham
David Eves
Darrell Guyon
John Holmes
Dave Knowles
Steven Lewis
Stephen Lloyd
James Machin
Peter Notley
Steve Onions
Andy Smith
Richard Todd
John Vanderpool
Brian Warner
Leslie Wheeler
Tim Willis

Wire Effects Supervisor

Steve Crawley

Workshop Supervisors

Nick Finlayson
Paul Knowles
Roy Quinn

Model Unit

Co-ordinator:
Rohese Richardson
Effects Floor Supervisor:
Digby Milner
Workshop Supervisor:
Nigel Brackley
Senior Technicians:
Paul Stephenson
Peter Aston
Jolyon Bambridge
Nigel Blake
Terry Bridle
William Dawson
Don Joce
Barry McQueary
Gregory Morgan
Nigel Nixon
Brian Smithies
Richard Thompson
Paul Whybrow
Technicians/Engineers:
Anthony Phelan
Matthew Harlow
Marcus Richardson
Peter Seymour-Howell
Sculptors:
Fred Evans
Bryn Court
John Blakeley
Modellers:
James Barr
Mark Beverton
Jason Chalmers
Sander Ellers
Kevin Gilmartin
Chris Hayes
Supervising Model Construction:
Steven Brown
Keith Dyett
Charlie Muspratt
Graham Pearce
Peter Wells
Art Director Supervisor:
Michael Lamont
Art Director:
Mike Boone
Dive Supervisor:
Gavin McKinney

Action Boats Supervising Modeller

Peter Bohanna

Miniatures

John Richardson

Graphic Designer

Carol Kupisz

Videographics

Useful Companies

Supervising Art Director

Neil Lamont

Art Directors

Andrew Ackland-Snow
Steve Lawrence
Fred Hole
Simon Lamont
Mark Harris
Jim Morahan

Set Decorators

Simon Wakefield
Additional:
Richard Roberts
Sharon Cartwright

Draughtspersons

Stephen Bream
Peter Dorme
James Hambidge
Patsy Johnson
Steve Morahan
Mike Bishop

Storyboard Artists

Martin Asbury
Temple Clark
John Greaves

Concept Illustrators

Dominic Lavery
Robert Cowper

Chief Sculptor

Pierre Bohanna

Costume Designer

Lindy Hemming

Wardrobe Supervisor

John Scott

Wardrobe Masters

Dan Grace
Colin Wilson
David Croucher

Wardrobe Mistresses

Jane Petrie
Helen Mattocks

Make-up Supervisor

Linda De Vetta

Make-up

Jane Royle
2nd Unit:
Rebecca Lafford

Make-up/Hair

3rd Unit:
Barry Richardson

Hairdressing Supervisor

Colin Jamison

Hairdresser

Jan Jamison

2nd Unit Hair

Hilary Haines

Main Title Design

Daniel Kleinman

Main Titles

Spectre Vision
Producer:
David Botterell
Digital Effects:
Smoke & Mirrors

Opticals

General Screen Enterprises

The James Bond Theme

Monty Norman

Orchestrations/Conductor

Nicholas Dodd

Music Editors

Dina Eaton
Associate:
Dominic Gibbs

Programming

Steve Hilton

Score Recordist/Mixer

Geoff Foster

Soundtrack

"The World Is Not Enough" by David Arnold, Don Black, performed by Garbage

Sound Mixers

Chris Munro
2nd Unit:
Ian Munro

Sound Re-recording Mixers

John Hayward
Graham Hartstone
Richard Pryke
Michael Carter

Supervising Sound Editor

Martin Evans

Dialogue Editor

John Cochrane

Effects Editors

Peter Bond
Andy Kennedy

ADR

Editor:
John Ireland

Foley

Walkers:
Pauline Griffiths
Ruth Sullivan
Mixer:
Ed Colyer
Editor:
Peter Holt

Ski Photography Consultant

Stefan Zürcher

Aerial Co-ordinator

Marc Wolff

Marine Co-ordinators

Chris Livett
Chas Newens

Dive Co-ordinator

Dave Shaw

Dive Supervisor

Peter McClue

Balloon Co-ordinator

Caroline Coward

Action Vehicle Co-ordinator

Darren Litten

Stunt Co-ordinator

Simon Crane

Stunt Supervisor

Sean McCabe

Armourers

Charles Bodycomb
Paul Stentiford
Marc Cauvy
Felix Sepúlveda

Weapons

Baptys

Helicopter Pilots

Francis Coz
Bernard Seguy
Jean-Yves Le Caijne
Camera:
David Arkell

Sunseeker Pilot/Driver

Jamie Baker

Aircraft Pilots

Eric Nicholas
Jeff Ronzevalle
Mark Vella Tomlin
Joseph Aquilina

Flying-Cam Pilot

Emmanuel Previnaire

Balloon Pilots

Simon Askey
Sue Cardin
Alan Jones

Powered Parachute Pilots

Tim LeBlanc
Julian Spencer
Allan Hewitt
John Rix
Pete McLaughlin

Cast

Pierce Brosnan
James Bond, 007

Sophie Marceau

Elektra

Robert Carlyle

Renard

Denise Richards

Christmas Jones

Robbie Coltrane

Valentin Zukovsky

Desmond Llewelyn

Q

Maria Grazia Cucinotta

cigar girl

Samantha Bond

Moneypenny

Michael Kitchen

Tanner

Colin Salmon

Robinson

Serena Scott Thomas

Dr Molly Warmflash

Ulrich Thomsen

Davidov

Goldie

Bull

John Seru

Gabor

Claude-Oliver Rudolph

Colonel Akakievich

Judi Dench

M

John Cleese

R

Patrick Malahide

Lachaise

Omid Djalili

foreman

Jeff Nuttall

Doctor Arkov

Diran Meghreblian

Coptic priest

John Albasiny

helicopter pilot

Patrick Romer

pilot

Jimmy Roussounis

pipeline technician

Justus von Dohnányi

Captain Nikoli

Hassani Shapi

doctor

Carl McCrystal

Trukhin

Martyn Lewis

newscaster

Kouroush Asad

Russian radio operator

Daisy Beaumont

Nina

Nina Muschallik

Verushka

Daz Crawford

casino thug

Peter Mehtab

casino dealer

Certificate

12

Distributor

United International Pictures (UK) Ltd

11,522 feet

128 minutes 1 second

Digital DTS sound/SDDS/Dolby digital surround EX

Colour by
DeLuxe

Anamorphic [Panavision]