The Matrix
USA/Australia 1999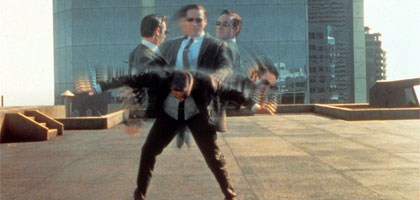 Reviewed by Philip Strick
Synopsis
Our synopses give away the plot in full, including surprise twists.
Menial office worker Thomas Anderson operates by night as computer hacker Neo. Warnings from unknown girl Trinity fail to prevent his detention by law-enforcement agent Smith, who demands Neo help capture notorious subversive Morpheus. Refusing to co-operate, Neo is released. Trinity takes him to meet Morpheus, leader of the struggle against the Matrix, an artificial intelligence that controls the world. Morpheus explains that the planet's long-derelict citizens are trapped in the illusion of 1999 (really the distant past) until converted into food and energy to power the Matrix itself.
Joining Morpheus' team, Neo endures an agonising awakening process. Although his body is on a life-support system, a mental projection of his digital self roams the Matrix's simulation of the everyday. He can also be programmed with phenomenal skills. Morpheus is convinced they have found in Neo the fabled leader, The One, who can rescue the planet. Betrayed by fellow crew-member Cypher, Morpheus is captured by Smith, desperate to prise from him the location of Zion, the last stronghold of humanity. Rushing to the rescue, Neo and Trinity battle enormous odds to save him. As Matrix forces close in, Smith traps Neo and shoots him down. But when Trinity declares her love to Neo's body his digital self is miraculously resurrected. He blows Smith apart and returns to his body just in time to thwart the Matrix invaders. Embracing Trinity and accepting his role as The One, he prepares to revitalise a dormant world.
Review
The Wachowski Brothers wrote and sold the script for The Matrix before they made their first film, the mesmerising crime thriller Bound. They have since reported that between comic-book conception (a spin-off from their work at Marvel on the Hellraiser stories) and production go-ahead, "the script that nobody understands" underwent considerable fine-tuning, thanks to studio insistence on explanatory dialogue. Even so, for a breathlessly vertiginous first quarter The Matrix scorns offering any rationale behind its attention-grabbing assaults and chases, leaving only its peevish spokesperson to mutter legitimate protests on our behalf ("This is insane! Why is it happening to me? What did I do?") until reasonably concluding he must be half-asleep. At which point, naturally, he falls into the grasp of Morpheus.
The Wachowskis are good at names, as they demonstrated with the title and main trio of Bound: Corky (buoyant), Violet (clinging) and Caesar (dictatorial). Conjuring up a flock of evocations - Cypher, Tank, Switch, Apoc, Mouse - for The Matrix, they invest the film's gradually uncovered crusade with a rich blend of messianic implications blatantly signalled by warrior priestess Trinity. Her unifying presence links - and exchanges - the powers of Morpheus the dream-master with those of the long-sought saviour Neo (note the anagram) who is at once the New Man (as in, by useful coincidence, Neo-Tokyo, subsumed by Akira) and the neophyte disciple.
More squarely, the film is an ironic rereading of Logan's Run (1976), with a nod to Soylent Green (1973) and more than a dash of Zardoz (1973). The Wachowskis unveil a seedy utopia where mankind is preserved, protected and endlessly recycled by its own mega-computer. The alternative to this artificial stasis is, as usual, well beyond the wit of mortal proles. Necessarily, The Matrix ends much where it started, its newborn visionary poised - like Logan or 2001's Starchild or THX 1138's hero or even like Luke Skywalker (prime exponent of the "Why me?" syndrome) - on the brink of literally unimaginable new benefits. Away from the meddlesome tyranny of the machine, the superhero will be in charge. There's always One.
The prospect is less than reassuring and the Wachowskis don't hide their misgivings. Played by Keanu Reeves with a certain gloomy helplessness, Neo gives a good impression of being incapable of original thought (he is, after all, as programmed as any Matrix slave) and little sign of inspiring social reform. But two voices speak loudly and persuasively on behalf of the Matrix: the traitorous terrorist Cypher celebrates it for colourful comforts unmatched by the drab post-apocalyptic real world; and the fearsome man-in-black humanoid Agent Smith (not quite Winston Smith, but the Wachowskis, recognising an affinity, have mischievously appended a Room 101) spells out its evolutionary task by dismissing humans as "a plague - and we are the cure". The same dispassionate logic was prologue to The Terminator and more recently at the core of Virus.
But if the Wachowskis claim no originality of message, they are startling innovators of method. As with Bound, the film is a feast of unexpected fidgets and perspectives, punctuated by trademark overhead shots and teasing detail and detour, such as the squeal of washed windows as Neo is reprimanded by his boss, or the White Rabbit subtext culminating in a glimpse of Night of the Lepus (1972) on a television. Just as in Bound, telephones play a vital role, while the fetishistic use of shades and black leather tells yet another story, encompassing Smith's chipped lens and Neo's triumphal final outfit. Primarily, The Matrix is a wonderland of tricks and stunts, light years from Kansas, combining computerised slow-motion with the extravagant choreography of martial-arts movies to create a broadside of astonishing images. As Neo turns cartwheels, blazing away behind wildly exploding decor, it seems clear that the Wachowskis have discovered a gleeful utopia of their own.
Credits
Producer

Joel Silver

Screenplay

The Wachowski Brothers

Director of Photography

Bill Pope

Editor

Zach Staenberg

Production Designer

Owen Paterson

Music/Music Conductor/ Orchestrations

Don Davis

© Warner Bros. (US/Canada/Bahamas/ Bermuda)

©Village Roadshow (BVI) Limited (all other territories)

Production Companies

Warner Bros. present in association with Village Roadshow Pictures/Groucho II
Film Partnership a Silver Pictures production

Executive Producers

Barrie M. Osborne
Andrew Mason
Andy Wachowski
Larry Wachowski
Erwin Stoff
Bruce Berman

Co-producer

Dan Cracchiolo

Associate Producers

Richard Mirisch
Carol Hughes

Production Co-ordinators

Megan Worthy
2nd Unit:
Jane Griffin
Julia Peters

Unit Production Manager

Carol Hughes

Unit Managers

Will Matthews
2nd Unit:
Simon Lucas

Locations Managers

Peter Lawless
2nd Unit:
Robin Clifton

2nd Unit Director

Bruce Hunt

Assistant Directors

Colin Fletcher
James McTeigue
Noni Roy
Tom Read
Paul Sullivan
2nd Unit:
Toby Pease
Jeremy Sedley

Script Supervisors

Victoria Sullivan
2nd Unit:
Gillian Steine

Casting

Mali Finn
Shauna Wolifson
Australia:
Mullinars Casting

Timelapse Cinematography

Simon Carroll Archive

2nd Unit Director of Photography

Ross Emery

Camera Operators

David Williamson
Robert Agganis
Underwater:
Roger Buckingham

Steadicam Operator

Robert Agganis

Wescam Operator

Phil Pastuhov

Visual Effects

Supervisor:
John Gaeta
Producer:
Matt Ferro
Editor:
Kate Crossley

2D/3D Conceptual Designer

Sergei Chadiloff

Visual Effects

Manex Visual Effects, LLC
Associate Visual Effects Supervisor:
Janek Sirrs
Visual Effects Producer:
Alisoun F. Lamb
Digital Effects Producer:
Diana Giorgiutti
Digital Effects Supervisor:
Rodney Iwashina
Technology Supervisor:
Kim Libreri
Digital Line Producer:
Jeremy Beadell
Line Producer:
Paul Taglianetti
Lead Colour/Lighting TD:
Rudy Poat
Lead Shade Writer:
Steve Demers
Lead Tec Supervisor:
Ivo Kos
Compositor/Painter:
Amanda Evans
CG Designer/Animator:
Grant Niesner
FX Animator:
Al Arthur
3D Texture Painter:
Brent Hartshorn
Texture Painter:
Devorah Petty
2D Paint/Roto:
Jeff Allen
2D/3D Paint:
Jay Johnson
Conceptual Art:
Steve Burg
Matte Painting:
Charles Darby
Editors:
Roy Berkowitz
Anthony Mark
Brian Porter
Film Recorder:
Greg Shimp
Character Animators:
Matt Farell
Jamie Pilgrim
John Lee
Andrew Schneider
Michael Ffish Hemschoot
Animators/Modellers:
Daniel Klem
Sean White
Enrique Vila
Technical Supervisors:
John Volny
Joseph Littlejohn
Lewis Siegel
Jason Wardle
Gil Baron
Michael McNeill
Sophia S. Longoria
John A. Tissavary
Compositors:
Barney Robson
John P. Nugent
Mary Leitz
Laura Hanigan
Daniel P. Rosen

Visual Effects

Bullet Time
R&D/Technical Supervisor:
George Borshukov
Character Animator:
Gerard Benjamin Pierre
Technical Consultant:
Mark Weingartner
2D Animator:
Art David
Animator:
Daniel Sunwoo
Compositors:
John F. Sasaki
J.D. Cowles
Thomas Proctor

Visual Effects

DFilm Services
Executive Producer:
Peter Doyle
Digital Effects Supervisor:
Jon Thum
Digital Effects Producer:
Alaric McAusland
Computer Animation Supervisor:
Sally Goldberg
Animation Supervisor:
Ian McGuffie
Editorial Supervisor:
Jane MacGuire
Technology Manager:
Paul Ryan
Production Co-ordinator:
Rebecca Fox
Digital Composite Supervisors:
Tim Crosbie
Mark Nettleton
Digital Compositors:
Stephen Lunn
David Hodson
Rotoscope Artists:
Elizabeth Carlon
Vanessa White
CGI Lead Animators:
Dominic Parker
Daniele Colajacomo
CGI Animators:
Justin Martin
Rangi Sutton

Visual Effects

Animal Logic Film
Visual Effects Supervisor:
Lynne Cartwright
CGI Artist/Colourist:
David Dulac
Programmer:
Justen Marshall
CGI Designer:
Jane Milledge
CGI Artists:
Lindsay Fleay
Andrew Quinn
Ben Gunsberger
Inferno Artists:
Kirsty Millar
John Breslin
Robin Cave
Krista Jordan
Compositors:
Charlie Armstrong
Grant Everett
Maryanne Lauric
Producer:
Zareh Nalbandian
I/O Supervisor:
Naomi Hatchman
Screen Graphics:
Thomas Kayser

Additional Visual Effects

Amalgamated Pixels

Special Effects Supervisors

Steve Courtley
Brian Cox

Special Effects Co-ordinator

Robina Osbourne

Special Effects

Rodney Burke
Monty Fieguth
David Pride
Arthur Spink Jr
Dave Young
Arran Gordon
Richard Alexander
Brian Belcher
Nick Beryk
Jeffrey Briggs
Darren De Costa
Paul Fenn
Lloyd Finnemore
Ray Fowler
Bernard Golenko
David Goldie
Paul Gorrie
Pauline Grebert
Leo Henry
David James
Jim Leng
Judy Mae Lewis
Shane Murphy
John Neal
Brigid Oulsnam
Peter Owens
Daniel Patmore
Garry Philips
Pieter Plooy
Recce Robinson
Lou Stefanel
Edwin Treasure
Thomas Van Koeverden
Walter Van Veenandaal
Kerry Williams
Sophie Dick
2nd Unit:
Kimble Hilder
Patrick Carmiggelt

Miniatures/Models Supervisor

Tom Davies

Graphics

Karen Harborow

Screen Graphics Co-ordinator

Adam McCulloch

Conceptual Designer

Geofrey Darrow

Art Directors

Hugh Bateup
Michelle McGahey

Set Designers

Sarah Light
Jacinta Leong
Godric Cole
Judith Harvey
Andrew Powell
Deborah Riley

Set Decorators

Tim Ferrier
Lisa 'Blitz' Brennan
Marta McElroy

Illustrator

Phil Shearer

Scenic Artist

Peter Collias

Storyboard Artists

Steve Skroce
Tani Kunitake
Collin Grant
Warren Manser

Costume Designer

Kym Barrett

Costume Supervisor

Lyn Askew

2nd Unit Wardrobe

Fiona Nicholls

Make-up

Key Artist:
Nikki Gooley
2nd Unit Artist:
Kathy Courtney

Hairdresser

Cheryl Williams

Make-up Special Effects Design/Creation

Bob McCarron

Senior Make-up Special Effects Artist

Wendy Sainsbury

Make-up Special Effects Artists

Rick Connelly
Sonja Smuk
Elka Wardega

Animatronic Prosthetics

Make-up Effects Group Studio
Paul Katte
Nick Nicolaou

Animatronics Designer

Trevor Tighe

Titles Designed by

Greenberg/Schluter

Titles/Opticals

Pacific Title/Mirage

Music Editors

Lori Eschler Frystak
Zigmund Gron

Music Score Recordist

Armin Steiner

Music Score Mixer

Larry Mah

Soundtrack

"Dissolved Girl" by Robert Del Naja, Grantley Marshall, Andrew Vowles, Sara Jay, Matt Schwartz, performed by Massive Attack; "Dragula (Hot Rod Herman Mix)" by Rob Zombie, Scott Humphrey, performed by Rob Zombie; "Mindfields" by Liam Howlett, performed by Prodigy; "Leave You Far Behind (Lunatics Roller Coaster Mix)" by Simon Shackleton, Howard Saunders, performed by Lunatic Calm; "Clubbed to Death (Kurayamino Mix)" by Rob Dougan, performed by Rob D; "Prime Audio Soup" by Jack Dangers, C. Dodd, performed by Meat Beat Manifesto; "Begin the Run" from the Film "Night of the Lepus" by Jimmie Haskell; "Minor Swing" by Django Reinhardt, Stéphane Grappelli, performed by Django Reinhardt; "I'm Beginning to See the Light" by Duke Ellington, Don George, Johnny Hodges, Harry James, performed by Duke Ellington; "Spybreak!" by Alex Gifford, performed by Propellerheads; "Wake Up" by Zack De La Rocha, Brad Wilk, Tim Commerford, Tom Morello, performed by Rage Against the Machine; "Rock Is Dead" by Marilyn Manson, Twiggy Ramirez, Madonna Wayne Gacy, performed by Marilyn Manson

Sound Design

Dane A. Davis

Sound Recordist

David Lee

Re-recording Mixers

John Reitz
Gregg Rudloff
David Campbell

Supervising Sound Editor

Dane A. Davis

Dialogue Editors

Charles Ritter
Susan Dudeck

Sound Effects Editors

Julia Evershade
Eric Lindemann
David Grimaldi

ADR

Mixer:
Tom O'Connell

Foley

Artists:
John Roesch
Hilda Hodges
Mixers:
Mary Jo Lang
Carolyn Tapp
Supervising Editor:
Thom Brennan
Editor:
Valerie Davidson

Aerial Co-ordinator

Terry Lee

Stunt Co-ordinator

Glenn Boswell

Kung Fu Choreographer

Yuen Woo-Ping

Hong Kong Kung Fu Co-ordinator

Carol Kim

Key Armourer

John Bowring

Helicopter Pilots

Picture:
Greg Duncombe
Camera:
Gary Ticehurst

Film Extract

Night of the Lepus
(1972)

Cast

Keanu Reeves

Thomas Anderson, 'Neo'

Laurence Fishburne

Morpheus

Carrie-Anne Moss

Trinity

Hugo Weaving

Agent Smith

Joe Pantoliano

Cypher

Gloria Foster

Oracle

Marcus Chong

Tank

Julian Arahanga

Apoc

Matt Doran

Mouse

Belinda McClory

Switch

Anthony Ray Parker

Dozer

Paul Goddard

Agent Brown

Robert Taylor

Agent Jones

David Aston

Rhineheart

Marc Gray

Choi

Ada Nicodemou

Dujour

Deni Gordon

priestess

Rowan Witt

spoon boy

Elenor Witt

Tamara Brown
Janaya Pender
Adryn White
Natalie Tjen
potentials

Bill Young

lieutenant

David O'Connor

FedEx man

Jeremy Ball

businessman

Fiona Johnson

woman in red

Harry Lawrence

old man

Steve Dodd

blind man

Luke Quinton

security guard

Lawrence Woodward

guard

Michael Butcher

cop who captures Neo

Bernie Ledger

big cop

Robert Simper

Chris Scott
cops

Nigel Harbach

parking cop

Martin Grelis

helicopter pilot

Certificate

15

Distributor

Warner Bros Distributors (UK)

12,240 feet

136 minutes
(15 feet 7 frames cut)

Dolby digital/Digital dts sound/SDDS

Colour by
Atlab Australia

Prints by

Technicolor

Super35 [2.35:1]