10 Things I Hate about You
USA 1999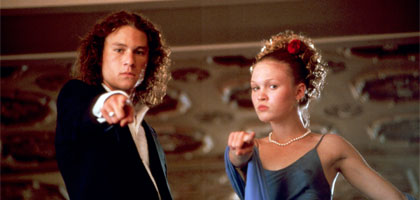 Reviewed by Peter Matthews
Synopsis
Our synopses give away the plot in full, including surprise twists.
Padua, a Seattle suburb. New high-school student Cameron is smitten with fellow student Bianca, but her father Walter will only let her date once her shrewish sister Kat starts dating. Cameron resolves to find a boyfriend for Kat and settles on sullen Patrick Verona. Joey Donner agrees to bankroll the romance because he wants Bianca for himself. Kat repels Patrick's advances but Bianca relays information about Kat's taste for him.
Eventually Kat agrees to go with Patrick to a party so Cameron can take Bianca. At the party, Bianca ignores Cameron and goes after Joey. A drunken Kat is rescued by Patrick. Touched, she asks him to kiss her. When he declines, she's mortified. Disillusioned with Joey, Bianca asks Cameron to drive her home and kisses him. Patrick guiltily pockets $300 to escort Kat to the prom. Kat reveals to Bianca that she lost her virginity to Joey, who then ditched her. At the dance, Joey argues with Cameron and Kat overhears Joey talking about the cash paid to Patrick. She leaves hurt and angry. But later in English class, Kat recites a sonnet telling Patrick she can't help loving him. Both sisters end up with their true loves.
Review
In a scene from experienced TV director Gil Junger's 10 Things I Hate about You, an English teacher informs a class that Shakespeare is, "a dead white guy who knows his shit," before assigning his pupils the task of translating a Shakespearean sonnet into contemporary vernacular, resulting in the heartfelt bit of doggerel which gives the movie its title. Real-life mall rats are duly cautioned that what looks to be a standard teen flick is actually a Boring Old Classic in drag. Even worse, this bubblegum The Taming of the Shrew is meant to be good for you, though the screenwriters are smart enough to keep their stabs at youthful edification subliminal. Now and then, a flowery phrase from the original ("I burn, I pine, I perish") surfaces inscrutably amid such homelier locutions as, "remove head from sphincter, then drive." It's doubtful whether this 'reading is cool' subtext will trigger the intended response since in every other respect the movie has the artistic integrity of a Pop Tart. But if Shakespeare can be brought to the post-literate masses only by such clandestine means, The Taming of the Shrew is a logical choice. One of the weakest of the comedies, it gives stage and screen adapters plenty of elbow room to exploit the knockabout potential of the running war between termagant Kate and her bullying pacifier Petruchio. Junger strains to pump up the cartoon aggression with a paintball fight and an archery lesson where a teacher predictably gets it in the butt, yet somehow the requisite hard edge never develops.
10 Things clearly wouldn't have been made without the lucrative example of Clueless, itself based on Jane Austen's Emma. But that film showed more flair in mapping the social niceties of Regency England on to Beverly Hills. The revisionists here are hamstrung by a premise that doesn't ring true even in Shakespeare: the despotic paternal law which prohibits Bianca from dating until her elder sister does. Their solution is to concoct a soggy backstory about their father never being the same since his wife deserted him. This expedient prompts a round of conciliatory hugs at fade-out, as does Kat's climactic shocker that her misanthropy is due to a callous defloration. But the toughest nut to crack remains the antediluvian stance towards the heroine, compelled to eat crow in the play's notorious last scene. No prizes for guessing that Shakespeare's Ur-bitch becomes here a feisty advocate of girl power. Yet a measure of the Bard's conservatism seeps through insofar as this feminist loose cannon is ultimately restored to the value system represented by her high-school prom. Given the core constituency for the movie, its makers plainly recognise on which side their bread is buttered.
Credits
Producer

Andrew Lazar

Screenplay

Karen McCullah Lutz
Kirsten Smith

Director of Photography

Mark Irwin

Editor

O. Nicholas Brown

Production Designer

Carol Winstead Wood

Music

Richard Gibbs

©Touchstone Pictures

Production Companies

Touchstone Pictures presents a Mad Chance/Jaret Entertainment production

Executive Producers

Jeffrey Chernov
Seth Jaret

Co-producer

Jody Hedien

Associate Producer

Greg Silverman

Production Co-ordinator

Denise Heinrich

Unit Production Manager

Ross Fanger

Location Managers

Joseph Daniel Dusek Jr
Peter Allen

Assistant Directors

K.C. Colwell
Darin Rivetti
Sally Sue Beisel

Script Supervisor

Nancy Karlin

Casting

Marcia Ross
Donna Morong
Gail Goldberg
Associates:
Julie Friedman
Lisa Rochette
Location:
Heidi Walker
ADR Voice:
Barbara Harris

Camera Operators

Robin Buerki
Helicopter:
Steve Koster

Steadicam Operator

Robin Buerki

Special Effects Co-ordinator

William Casey Pritchett

Additional Editor

Skip Collector

Art Director

Gilbert Wong

Set Decorator

Charles M. Graffeo

Scenic Artist

Steven E. Eyrse

Costume Designer

Kimberly A. Tillman

Costume Supervisor

Alexandria Forster

Key Make-up Artist

Mel Berns

Key Hair Stylist

Pauletta Lewis-Irwin

Main Titles Design/Production

The Picture Mill

Opticals

Buena Vista Imaging

Orchestrations

Kevin Kliesch
Richard Gibbs

Executive Music Producer

Ralph Sall

Executive in Charge of Music, Walt Disney Motion Pictures Group

Kathy Nelson

Music Editors

Shannon Erbe
Nick South

Score Recordist/Mixer

Robert Fernandez

Music Programmer

Alfonso E. Chavez

Soundtrack

"One Week (Remix)" by Ed Robertson, performed by Barenaked Ladies; "Bad Reputation" by Joan Jett, Kenny Laguna, Ritchie Cordell, Marty Kupersmith, performed by Joan Jett; "All My Life (Ignorants Remix)" by Rory Bennett, Joel Hailey, performed by K-Ci & JoJo; "Calypso" by Janet English, Damien Whitty, Mark Maher, performed by Spiderbait; "Get Em Outa Here" by Steve Summers, Sprung Monkey, performed by Sprung Monkey; "Sexy Boy" by Nicholas Godin, Jean Benoît Dunckel, performed by Air; "Soar" by Ralph Sall, performed by ATM; "C'Mon" by Greg McKenna, Kay Hanley, Scott Riebling, Michael Eisenstein, Stacy Jones, performed by Letters to Cleo; "Co-Pilot" by Greg McKenna, Scott Riebling, Kay Hanley, Michael Eisenstein, performed by Letters to Cleo; "Rondo Vivace, Piano Concerto #1" by Frédéric Chopin; "Dazz" by Ray Ransom, Edward Irons, Reginald Hargis, performed by Brick; "Word Up" by Larry Blackmon, Tomi Jenkins, performed by Cameo; "Atomic Dog" by George Clinton Jr, Garry M. Shider, David L. Spradley, performed by George Clinton; "Push It" by Herbie Azor, performed by Salt 'N' Pepa; "Just Be Good to Me" by Terry Lewis, James Harris III, performed by The SOS Band; "Hypnotize" by Sean 'Puffy' Combs, Notorious B.I.G., Deric Angelettie, Ron Lawrence, Randy Badazz, Andy Armer, performed by The Notorious B.I.G., contains interpolations from the composition "La Di Da Di" by Ricky Walters, Douglas L. Davis; "Saturday Night" by Marti Sharron, Danny Sembello, Rodney Jerkins, performed by Ta-Gana; "Hold Me Now" by Alannah Currie, Joseph Leeway, Thomas Bailey, performed by The Thompson Twins; "Cruel to Be Kind" by Ian Robert Gomm, Nick Drain Lowe, performed by Letters to Cleo; "War" by Peter Svensson, Nina Persson, performed by The Cardigans; "Can't Get Enough of You Baby" by Denny Randell, Sandy Linzer, performed by The Colourfield; "Wings of a Dove" by Carl Smyth, Graham McPherson, performed by Madness; "The Weakness in Me" by/performed by Joan Armatrading; "New World" by/performed by Leroy; "Can't Take My Eyes Off You" by Bob Crewe, Bob Gaudio; "FNT" by Dan Wilson, Jacob Slichter, performed by Semisonic; "Your Winter" by Ken Block, Andrew Copeland, Ryan Newell, Jeff Beres, Mark Trojanowski, performed by Sister Hazel; "I Know" containing a sample of "Shout" by Michael Holton, Miré Molnar, Brian Mashburn, Ronald Isley, Rudolph Isley, O'Kelley Isley, performed by Save Ferris; "Can't Stop" by Brian Mashburn, performed by Save Ferris; "Even Angels Fall" by Tom Whitlock, Jessica Riddle, Kim Bullard, Penny Framstead, performed by Jessica Riddle; "I Want You to Want Me" by Rick Nelson, performed by Letters to Cleo

Choreographers

Marguerite Derricks
Associate:
Michelle Elkin

Production Sound

James Bayard Carey

Re-recording Mixers

Terry Porter
Mel Metcalfe
Dean A. Zupancic

Sound Editors

David Kern
Nils Jensen
Nancy MacLeod

Dialogue Editor

Albert Gasser

Supervising Sound Effects

Donald J. Malouf

ADR

Supervisor:
Thomas G. Whiting
Recordist:
Jeannette Browning
Mixer:
Doc Kane

Foley

Co-ordinator:
Rich Green
Walkers:
Gregg Barbanell
Laura Macias
Mixer:
Scott Weber
Dubbing Recordists
Judy Nord
Jeannette Cremarosa

Stunt Co-ordinator

Ben Scott

Helicopter Pilot

Craig Hosking

Cast

Julia Stiles

Katarina 'Kat' Stratford

Heath Ledger

Patrick Verona

Joseph Gordon-Levitt

Cameron James

Larisa Oleynik

Bianca Stratford

Larry Miller

Walter Stratford

Andrew Keegan

Joey Donner

David Krumholtz

Michael Eckman

Susan May Pratt

Mandella

Gabrielle Union

Chastity

Daryl 'Chill' Mitchell

Mr Morgan

Allison Janney

Ms Perky

David Leisure

Mr Chapin

Greg Jackson

Scurvy

Kyle Cease

Bogey Lowenstein

Terence Heuston

Derek

Cameron Fraser

Trevor

Eric Reidman

audio visual guy

Quinn Maixner

beautiful jock

Demegio Kimbrough

Todd Butler
coffee kids

Dennis Mosley

Cohort

Bianca Kajlich

coffee girl

Nick Vukelic

drugged-out loser

Benjamin Laurance

wimpy loser

Aidan Kennedy

laughing loser

Jelani Quinn

crying loser

Jesse Dyer

screaming loser

Aaron Therol

detention student

Carlos LaCamara

bartender

Heather Taylor

drunken girl

Joshua Thorpe

jock

J.R. Johnson

MBY guy at party

Wendy Gottlieb

Heather

Brian Hood

Clem

Travis Miller

Cowboy

Ari Karczag

kissing guy

Laura Kenny

Judith

Alice Evans

perky girl

Jesper Inglis

Buckaroo bartender

Nick Brown

biker

Monique Powell

Brian Mashburn
Save Ferris singers

Kay Hanley

Michael Eisenstein
Letter to Cleo singers

Certificate

12

Distributor

Buena Vista International (UK)

8,775 feet

97 minutes 31 seconds
BBFC cuts of 2 feet 1 frame

Dolby digital/SDDS/Digital DTS sound

In Colour
Prints by
Technicolor