Rushes: Cinema At The Crossroads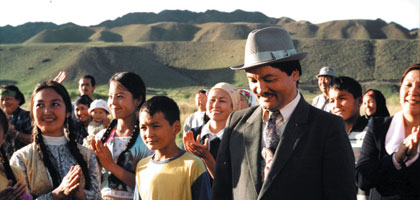 Not even a stroppy Theo Angelopoulos can mar Kazakhstan's Eurasia film festival. Report by James Bell
The open expanse of Kazakhstan, spanning a vast area between Russia, China and the Caspian Sea, is larger than all of western Europe put together, and yet it is a country that rarely registers on the western cultural or travelling trail. Central Asia is a region that doesn't seem to have a defined identity in popular western consciousness: it's a bit post-Soviet, a bit Asian, a bit European. So it was fitting that questions of national and cultural identity dominated at the second Eurasia International Film Festival, held in Kazakhstan's largest city Almaty at the end of September.
The first Eurasia festival, a much smaller, non-competitive event, took place in 1998. Attended by local film-makers and a handful of international academics and festival programmers with a special interest in Central Asia, the fondly recalled event was significant for bringing international enthusiasts for Central Asian films together with the region's then (as now) generally unknown film-makers, but it had little impact on even the local media. This second event was a more high-profile occasion, with wide coverage in the national press, and a considerable number of glamorous foreign guests, including Catherine Deneuve, Ornella Muti and, most popular of all, Jean-Claude Van Damme. There was also an international competition in which films ranging from Jacques Audiard's The Beat That My Heart Skipped to Aleksandr Sokurov's The Sun were judged by an international jury headed by Theo Angelopoulos and including Franka Potente, Siddiq Barmak and Krzysztof Zanussi.
The programming, organised by prominent Kazakh critic and programmer Gulnara Abikeyeva, presented a variety of locally made cinema, much of which tackled thorny issues of how a growing country can retain, or forge, its own identity. Running alongside the main international competition and retrospectives of Emir Kusturica and Kim Ki-Deok, were two selections of Kazakh films: 'Kazakh Panorama' featured some of the key films made in the past few years; and the intriguing sidebar 'Illicit Kazakh Cinema of Soviet Times' showcased a number of pre-glasnost films banned by the authorities on account of their allegedly anti-Soviet content. The reasons for blacklisting some of the latter films were often farcical: The Blue Route, a 1968 film about a student geologist who visits a remote region for training, was banned because its lead actor was deemed too sexy and liable to distract women from the task of being good communists. Even the regarded Kazakh director Mazhit Begalin had his film Tracks Lead Beyond the Horizon banned, apparently for imitating the French new wave.
The films I saw in the 'Kazakh Panorama' were impressive: Schizo, the debut feature from Guka Omarova (and one of the few Kazakh films to have received some international distribution in recent years), about a teenager who drifts into petty crime and illegal boxing; and Satybaldy Narymbetov's Leila's Prayer, about a young girl living in the Semey region in the north of Kazakhstan, where the Soviet regime carried out 467 nuclear tests at a devastating cost to the local environment. The film contrasts Leila's zest and spirit with allusions to the testing, which are only made explicit towards the end of the film, when director Satybaldy Narymbetov intercuts archive documentary footage of the explosions and their after effects on the landscape and animals. Other films screened in the panorama included Nariman Turebayev's Little Men and Steppe Express, also directed by Narymbetov.
In truth, though, seeing many of these films was difficult for people who don't speak Russian or Kazakh. A majority of them screened without English subtitles. I had to have an interpreter sitting next to me whispering a simultaneous translation, which proved distracting for those around us (remarkably nobody complained).
Besides the inadequate subtitling, some screenings started late or were switched with no prior warning. But such teething problems were trivial when set against the event's real achievements. That was not the opinion of Angelopoulos, however, who angered many by using his closing-ceremony speech to publicly list what he perceived as the festival's many faults in what can only be described as an unnecessarily churlish strop.
The top prizes in the international competition went to films made outside Central Asia, with Kira Muratova's funny and exuberant The Tuner named best film and its two leads sharing the best actress prize. Sokurov took best director for The Sun. But the Kyrgyz comedy Saratan did share the special-jury prize with Tbilisi-Tbilisi by Georgian director Levan Zakaretchvili. The debut feature by Ernest Abdyshaparov, Saratan is a humorous portrait of village life presented as a microcosm of the nation, with its non-professional cast representing various archetypes. The Kazakh entry in the competition was The Hunter, directed by Serik Aprimov (director of The Last Stop, see sidebar). An allegory about the tensions between the traditional and the new in Kazakh society, and making striking use of the country's vast steppes, the film concerns a young boy who is brought up by his stepmother and a nomadic hunter; on reaching adulthood, he leaves for the city, but returns to find the hunter has died and he must take his place. There were also screenings of new shorts by young Central Asian film-makers, with the focus on a different country each day. The Kazakh selection boasted many promising films.
The festival also discussed how Kazakhstan can attract foreign productions and co-production money. Foreign investors were duly courted with flights chartered to take them to meetings with president Nursultan Nazarbayev in the capital Astana and helicopter trips over the steppes to highlight potential locations. Opinion was varied among the investors and producers I spoke with, and enthusiasm was tempered by concerns at the lack of infrastructure. Co-production initiatives by adventurous foreign producers seemed the most likely outcome.
Nevertheless, the festival opened in lavish, Hollywood style, with a red-carpeted screening of The Nomad - a $30 million US-Kazakh production shot just outside Almaty with an international cast and crew, but which also employed a large number of local people. A historical epic, set in 18th-century Kazakhstan, The Nomad has since been bought by Harvey Weinstein after he was shown a rough cut at last year's Cannes. Weinstein has invested more money in the film, demanding more battle scenes and development of the central love story, and delaying its international release until later in 2006. Interestingly, the Kazakh government also invested money in it, and considers it so politically important that The Nomad will be released in Kazakhstan in its unmodified form prior to the international release. It's easy to see why the government is so enthusiastic about the film: it's a patriotic retelling of Kazakhstan's history, well crafted to influence contemporary issues of national identity. It is loosely based on the story of king Abylai Khan (played by the distinctly non-Kazakh and very Mexican actor Kuno Becker) and his successful struggle to unify several warring tribes of Kazakh nomads against the threat of foreign invasion. The Kazakh dialogue, locations and subject matter aside, there's little to distinguish it from so many other historical epics. And it seemed far from popular among the young locals I spoke with, some of whom felt it would only promote an image of Kazakhstan as a backward country of yurts, steppes and nomads. Many of these young Kazakhs appealed for representative stories about modern, urban life.
Such issues were also raised in a round-table discussion I attended. On the theme of 'national identification in cinema in the era of globalisation', it raised interesting questions about what a nationally specific cinema entails. Some argued that it is all very well for local film-makers to make modest, contemplative films about local issues, but that while these films may play to audiences at international festivals, they are not what local audiences want to see. The Korean and Russian film industries, where blockbusters and art-house films exist side by side, were cited as alternative role models.
Given its success this year, there is chance that the festival will now become an annual event. Whether the easy-to-swallow, Hollywood-backed The Nomad will help ease Kazakh cinema into the view of international audiences remains to be seen, but the Eurasia festival highlighted the riches on offer to those willing to seek them out.