Climb Every Mountain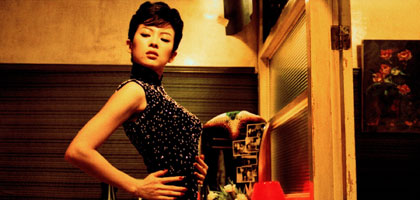 Nick James introduces Sight & Sound's films of the year. Read how the critics voted
About 20 minutes into Ang Lee's Brokeback Mountain, after much studied, even-paced mooching about by the be-Stetsoned stars Jake Gyllenhaal and Heath Ledger, I remember thinking, "this is all very well but if something doesn't happen soon I'm going to get very bored". Something does happen, but, in the way of Lee's films, it's more the quiet accretion of meaning and mood that sweeps you away than the quick fumble of belts and zippers in a tent.
I mention this because Brokeback Mountain came out top when Sight & Sound asked 30 or so of our key anglophone contributors to list the five "most remarkable or intriguing" films seen by them in 2005 (it was, by the way, one of my own five choices). If an early bout of fidgets had taken me out of the cinema I would have missed our film of the year. Which goes to show, of course, how subjective these lists are: it depends on what you missed as much as what you saw. They represent an extraordinarily varied selection of films, for no less than 72 titles were chosen. This would suggest that either it was a particularly good year, or a year of collective competence, or that the tastes of reviewers and critics are diverging more than ever before.
Most contributors back the first view. "It was a very good year, in the sense of there being more than five exceptional films; a top 12 would have been easier," said Amy Taubin. As if to prove her right, we couldn't whittle our notional top ten down below the 14 listed here. "2005 is a terrific vintage," said B. Ruby Rich. "Finally, the cinematic world is awakening from the state of shock and denial [of] a post-9/11 universe. It's also beginning to shake off some of the confusions of the medium's mutations and get back to basics."
Looking at our top 14, you get a sense of 'proper' film-making. Brokeback Mountain is about as classical a film as you could imagine being made currently. A History of Violence, which Mark Kermode described as "nimbly negotiating the turns between light and dark, love and violence", is probably David Cronenberg's most conventional work. Speaking about Wong Kar-Wai's gorgeous 2046, Graham Fuller said: "The more it tried to project into the future, the more it seemed to call up the past... returning to the very heart of pre-noir Paramount artifice and the ultimately exotic mythic state dreamed up by Josef von Sternberg in the 1930s." Of The Holy Girl, Rich said: "It looks at the cusp of girlhood in a way we haven't seen in years, if ever, and turns sexual attention inside out." But she comments, too, on its "old-fashioned setting".
In addition, there are such surprises as African master Ousmane Sembène's feminist disquisition Moolaadé, Apichatpong Weerasethakul's truly unique Tropical Malady, Gregg Araki's astounding comeback Mysterious Skin, and that curious arthouse hit ("stylish, intriguing and ultimately thrilling", in Liese Spencer's words) The Consequences of Love. Also, you might not expect to find Neil Marshall's British horror film The Descent riding high in a Sight & Sound poll, but there it is - a reflection, I think, as much of the broadening age range of our contributors as of its originality.
There are some equally mystifying exclusions. We were fairly elastic in our criteria, allowing any new film viewed in 2005. So, many titles that will not be released in the UK until early next year appear. And yet near-unanimous festival acclaim for such films as Michael Haneke's Hidden, Cristi Puiu's The Death of Mr Lazarescu and the Dardenne brothers' The Child has not translated into votes. Perhaps we'll see them on next year's list. For myself, I am sorry the Werner Herzog vote was split between Grizzly Man and The Wild Blue Yonder - just keeping him out in his renaissance year; I wish The Beat That My Heart Skipped was nearer the top; and I regret the absence of Lucile Hadzihalilovic's stunning debut Innocence.
Sight & Sound's films of the year
| | |
| --- | --- |
| 1 | Brokeback Mountain (Ang Lee) |
| =2 | A History of Violence (David Cronenberg) |
| | The Holy Girl (Lucretia Martel) |
| =4 | 2046 (Wong Kar Wai) |
| | Mysterious Skin (Gregg Araki) |
| =6 | The Consequences of Love (Paolo Sorrentino) |
| | The Descent (Neil Marshall) |
| | Moolaadé (Ousmane Sembene) |
| | Tropical Malady (Apichatpong Weerasethakul) |
| =10 | The Beat That My Heart Skipped (Jaques Audiard) |
| | Head-On (Fatih Akin) |
| | Howl's Moving Castle (Hayao Miyazaki) |
| | Last Days (Gus Van Sant) |
| | The Sun (Aleksandr Sokurov) |