Cannes 2006: Uncertain Regard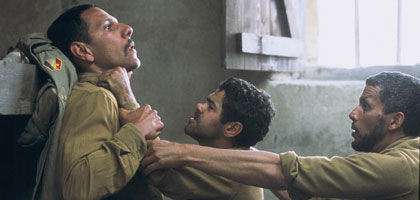 Geoff Andrew looks at the Europeans
In recent editions of Cannes the home-grown contingent has included quite a few disappointments, reflecting, many argue, a decline in French cinema. And certainly some titles this year were hardly cause for great celebration. Among the exceptions was Nicole Garcia's 'Selon Charlie', which met with a lukewarm reception but was more rewarding than her earlier 'Place Vendôme' or 'L'Adversaire'. The film suffers from an overly fragmented narrative, flitting between seven men connected to a conference in Caen, but offers some sharp insights into how we deal (or not) with life's accumulating disappointments. More consistently gripping was Denis Dercourt's 'The Page Turner' ('La Tourneuse de pages'), a cool revenge drama centred on a beautifully ambiguous performance by Déborah François as a young woman who finds herself in the employ of a concert pianist who years ago ruined her musical career.
But the best French film for me was Rachid Bouchareb's 'Days of Glory' ('Indigènes').
A determinedly linear chronicle of the experiences of a crew of North Africans drafted into the French army during World War II, it echoes countless war movies in every respect save that it draws attention to the many injustices suffered by those all-too-often forgotten soldiers. Superbly acted by the likes of Jamel Debbouze, Roschdy Zem and Sami Bouajila (who shared the Best Actor prize), it uses deft characterisation to ensure that its critique of colonialist exploitation never becomes simplistic.
Paolo Sorrentino's 'The Friend of the Family' ('L'amico di famiglia') deploys a virtuoso visual style for a detached yet fairly sympathetic study of a profoundly unsympathetic man. Here the protagonist is an ugly, smelly, avaricious and lecherous loanshark who finds himself falling for the beauty-queen daughter of a couple of his victims. Cue too many shots of nubile young women in various states of undress, perhaps the film's only major failing other than its attempts to work too many ideas into one movie. Touching on ethics, aesthetics and eroticism, Sorrentino counterpoints dense dialogue and eye-catching but often enigmatic imagery; consequently it's sometimes a little hard to follow the plot. Still, the film's ambition, energy and intelligence are apparent throughout.
The same applies to Guillermo del Toro's 'Pan's Labyrinth' ('El Laberinto del Fauno'), which sees the Mexican stylist revisiting the blend of historical 'reality' and metaphorical fantasy that made 'Devil's Backbone' so rewarding. Here the young heroine's flights of imagination as she takes refuge from the cruelties perpetrated by her sadistic Franco-ist stepfather as he metes out punishment to republican guerrillas have less obvious direct relevance to post-civil war society than in the earlier film. Still, del Toro's skill in creating an unsettling gothic atmosphere is everywhere evident, while Sergi López is wonderfully watchable as the villainous Falangist.
A similar preference for finding new ways of telling stories was present in three non-European films. Paz Encina's 'Paraguayan Hammock' ('Hamaca Paraguaya') is the first feature from that country, and a brave one at that. The minimalist style - an elderly country couple, musing in Beckett-like dialogue on whether their son will return from the
war, are shown in lengthy scenes filmed with a static camera - turns the film into a timeless litany on the unending cycle of hope and despair, war and peace, light and darkness. Clearly the formal austerity is unlikely to please many, whereas Rolf De Heer's 'Ten Canoes', a playful foray into the meandering delights of traditional Aboriginal storytelling, should have enough mischievous wit and easygoing warmth to win over all but the most diehard genre addicts.
A visually lyrical exploration of the byways of tribal lore and mores, in which stories within ancestral stories demonstrate the perils of adulterous desire, the movie uses both voiceover narration and the characters to interrogate, redirect and reinvent the narrative.
It was Malian director Abderrahmane Sissako, however, who stole the show with 'The Court' (' Bamako'), essentially a courtroom drama with Africa as the plaintiff and the World Bank, the IMF and other international bodies as the defendants. Attorneys and witnesses speak at the trial, which is held in the courtyard of a house whose inhabitants mostly continue to go about their business mindless of the debate. The result is an impassioned, persuasive and powerful critique of the world's still largely shameful treatment of Africa. Amazingly, though, 'The Court' never feels preachy but rather manages to be both politically relevant and cinematically poetic.