Sherrybaby
USA 2006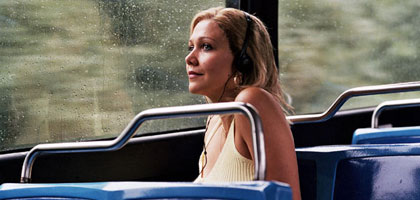 Reviewed by Hannah Patterson
Synopsis
Our synopses give away the plot in full, including surprise twists.
Sherry Swanson, a 23-year-old former heroin addict, is released after three years in prison for robbery. During her time inside, her brother Bobby and his wife Lynnette have been looking after her daughter Alexis. Sherry settles into a halfway house. Parole officer Hernandez is initially reluctant to give her a pass to stay in New Jersey with Bobby for a night, but eventually relents. Sherry meets Andy, who runs the halfway house, and they have sex in the basement. Bobby picks up Sherry and takes her to his house, where she's reunited with Alexis.
Sherry meets her job counsellor and gives him a blowjob so that he will put her forward for a position working with children. Finding it hard to stay clean, she attends a meeting. An ex-addict, Dean, gives her a lift home; he remembers her from when she stripped in a club as a 16-year-old. Unable to speak to Alexis, Sherry hitchhikes to Bobby's overnight. She tells him she doesn't want to go back to the halfway house. During a family meal, at which her father is also present, she becomes emotional. Bobby checks her into a motel. Sherry calls Dean, who comes over, and they have sex.
At her next parole visit, Hernandez warns Sherry he could send her back to prison for two years if she violates her parole; he also tells her that she has a job with a charity youth programme. Sherry plays with the children at her new job. She buys alcohol and visits Dean. Hernandez covertly tails her. The family have a party for Alexis' birthday but neglect to tell Sherry it's being held at her father's house. She tracks them down, and Bobby witnesses their father groping her breasts. Upset, Sherry leaves and scores drugs. Dean takes care of her. Hernandez visits the motel and tells her that after the weekend she's going to rehab. Sherry takes Alexis out for the first time on her own. They drive through Delaware, on their way to Florida. An altercation between Sherry and a woman in the roadside toilets frightens Alexis. Sherry drives back to her brother's and asks him for help bringing up her daughter.
Review
Director Laurie Collyer based Sherrybaby, her first fiction feature, on the life of a childhood friend who developed a drug addiction and went to prison at the same time she herself was graduating. Her re-imagining of her friend's world reeks of authenticity, due, undoubtedly, to her first-hand knowledge of her subject-matter and helped by her experience as a documentary director working on the multi-award-winning Nuyorican Dream, about an impoverished Puerto Rican family in New York. Yet Collyer's ace in the hole is the skill of lead actress Maggie Gyllenhaal, whose extraordinarily vital performance powers the film, and is reason above all to see it.
The eponymous Sherry is a woman leaving prison with the express intent of becoming a good mother to the child she abandoned three years earlier to her brother, and who will do anything to achieve that goal. She's tough - having spent years in a hostile institution overcoming heroin addiction - but also extremely vulnerable, with a great deal at stake. She wants to go straight but thinks nothing of giving a blowjob to get the job she wants. For Sherry to be both believable and sympathetic, she has to embody a complex range of apparently contradictory emotions and desires. If there's any contemporary actress capable of such a task, it's Gyllenhaal, as Collyer rightly recognised. Since garnering attention as the masochistic Lee in Secretary she's proved she's a risk-taker prepared to immerse herself in a role. There's something about her physicality, her fizzing energy, that demands attention; less measured than Scarlett Johansson, with the infectious charm and plucky spirit of Kirsten Dunst. As Sherry, she's by turns endearing, irritating, frustrating, loveable, naive and downright embarrassing (in particular when she sings emotionally at a family dinner, scaring even her own daughter).
The reason for her unusual mix of childishness and maturity is explained through her relationship with her father. There are hints early on of childhood abuse. She's jealous when he pays more attention to her five-year-old daughter than he does to her, and too desperate for his approval. And then he fondles her breasts as she cries for comfort, and we get a flash of insight into her behaviour - the drug-taking, the stripping, the promiscuity, the need for male attention and the easy trading of sexual favours. It's a small, telling moment, which conveys a wealth of information.
Collyer's script is replete with this kind of simple, subtle detail, and her decision to shoot with a small crew and minimal equipment successfully focuses all our attention in on the characters' interactions. On occasion the supports feel as if they're drifting towards caricature: the ineffectual brother caught between the demands of wife and sister; the aggrieved sister-in-law annoyed that Sherry's reclaiming her daughter. But then they redeem themselves. Having seen his father touch Sherry, Bobby acknowledges her difficult past, leaving unsaid his own apology for not preventing it; Lynnette, despite her jealousy, offers to do Sherry's make-up in a conciliatory gesture. Each act hints at the possibility of overcoming adversity with the help of other people, which is Sherry's ultimate lesson.
Credits
Directed by

Laurie Collyer

Produced by

Marc Turtletaub
Lemore Syvan

Written by

Laurie Collyer

Director of Photography

Russell Lee Fine

Edited by

Curtiss Clayton
Joe Landauer

Production Designer

Stephen Beatrice

Original Music by/ Original Score Produced by

Jack Livesey