Cannes 2008: A royal rumpus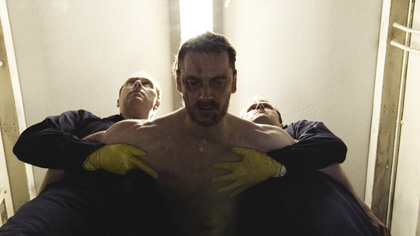 With a triumphant return for Terence Davies and remarkable debuts from Steve McQueen and Duane Hopkins, Cannes 2008 revealed a British cinema on exhilarating form. It makes a welcome change from previous years, says Nick James
For the umpteenth time the Sex Pistols' 'God Save the Queen' plays over archive TV footage of Maradona running to score "The Goal of the Century", his famous second goal in the 1986 World Cup quarter-final. He jinks past exhausted English defenders as if they were giraffes on an ice rink. This is the documentary Maradona by Kusturica,a deeply anti-British film - or at least deeply anti-British imperialist. Crude animations show the Argentine footballer conquering Thatcher, Blair, the Queen, the Duke of Edinburgh and others with his dazzling skills. Emir Kusturica's voiceover suggests that when the ball flew in, the Earth could have shifted its axis because millions jumped for joy at the same time.
Leaving aside the politics of the Falklands/Malvinas and Yugoslavia, let's just say that Maradona and Kusturica have their reasons for disliking the Brits. At past Cannes festivals, one might easily have agreed with them. Insular, deal-crazy and often xenophobic, the British in Cannes flock together. Most national contingents on the Croisette stick with their own, but Britons who earn their keep and kudos from the film industry are particularly clubby. They occupy and dominate several salient locations at hotel bars, impromptu beach clubs and in hired villas. Sight & Sound's contributors do not dodge the hospitality, shoulder thumps and occasional piss-take on offer in these places, but they do duck the ruling rhetoric. For there is usually only one agenda for the British in Cannes - self-congratulation.
Behaving as if they owned the place was one of the least attractive traits of the caricature Soho wideboy producers of the 1990s. They, of all people, should have known their place was several steps behind the Americans they were sucking up to and the French who were their hosts. But in 2008 things are happily transformed, so much so that some self-congratulation might even be justified. Instead of the flop romcoms and hopeless gangster films that were loudly boosted in the markets (having failed to be selected by the festival) of the dying 20th century, the British films being vaunted this year are all from genuine artistic talents - and were selected by Cannes. What's more, their producers and executives seem a more thoughtful breed than their forebears. And if it's a welcome anomaly that Steve McQueen's Hunger, Terence Davies' Of Time and the City, Duane Hopkins' Better Things and Thomas Clay's Soi Cowboy have talent, promise and quality to spare, then the warm reception given to most of them by French and American critics is almost unprecedented.
Terence Davies' long overdue return to film-making was the sentimental triumph of the festival. Of Time and the City, which was selected for a special screening,is Davies' eulogy to his original home city Liverpool, an archive-footage based poetic documentary in the mould of Humphrey Jennings. It matches soaring music to poignant images of Liverpool's past and present. A monologue voiced by the man himself, with his inimitable darkling breathy delivery, utters poetry quotations, passionate insights and camp upsweeps. Being of a generation less than a decade younger than Davies and myself raised as a working-class Catholic, it was hard for me to resist the powerful allure of nostalgia while watching his typically heartbreaking pairings of song and imagery. Critical cool was barely maintained through many piercing moments: for aching sadness there was the playing of Peggy Lee's 'The Folks who Live on the Hill' over images of isolated former slum dwellers looking wistfully from the windows and balconies of crude high-rises; for amusement, the moment Davies mocks the Beatles with his own dismissive "yeah, yeah, yeah" and plays 'Elizabethan Serenade' over 60s dolly birds dancing at the Cavern. Most startling was another swipe at the British royals: at "Betty and Phil and a thousand flunkies" who Davies felt had squandered far too much booty on their 1947 marriage when wartime rationing was still in force. This film will make many British over 40 feel like Liverpudlians. And judging from the rave reviews, the rest of the world seems ready for its own Mersey epiphany.
"Of all the artists working in film and video, he is the one who knows how long to hold a shot" - this was French director Olivier Assayas on the subject of Steve McQueen's Hunger, which opened Cannes' Un Certain Regard section. McQueen has a powerful reputation as a gallery video artist but Hunger is his first drama feature film. Given that it describes the world of the 1981 IRA hunger strikers and their guards, one might expect a film in the common register of British poetic realism. Hunger, however, takes a more audacious approach to its stark subject matter. Initial focus falls on one of the guards, whose bloodied knuckles need constant soaking. His solo fag breaks are rendered in elegiac long shots of his tense figure sheltering from falling snow. Once we switch to the IRA prisoners who refuse the uniform of criminals and go "on the blanket", we find that the infamous shit-covered walls have artistic patterns and textures that somehow make them more unnerving. Relatively little in the way of dialogue informs these scenes of dogged community and brutal exchange until the focus moves to Bobby Sands. Then Hunger makes a radical break from its own path, introducing a terrific juicy dialogue between Sands and parish priest Dominic Moran that lasts for 17 minutes or so. As written (by playwright Enda Walsh) and performed (by Michael Fassbender as Sands and Liam Cunningham as the priest), it's a scene so sparky and pithy that you hardly notice its duration. After that the film moves up another exhilarating gear.
The careful placing of different viewpoints here should upset both sides of the sectarian divide. Shock and surprise are handled with mastery. McQueen, on this evidence, has phenomenal auteur potential to enhance his reputation as an gallery-based artist.
That Thomas Clay moved from the UK to Thailand in the wake of his debut The Great Ecstasy of Robert Carmichael seems reasonable given how derisively the film was dismissed in most quarters (not least Sight & Sound). It's hardly a surprise, either, that he has now taken on the mildly provocative subject of Thailand's sex trade for his follow-up. One pull quote from Clay in the press book for Soi Cowboy- "Antonioni remains an enduring inspiration, both as a film-maker and a world citizen" - led many critics to sharpen their knives. But Soi Cowboy, though frustratingly derivative, did not follow through its threat to educate us in things we already know. Instead it shows a developing talent learning his chops. The story follows in quotidian detail the life of a young but fat European with his tiny Thai 'lover'. With its grainy black-and-white footage, Soi Cowboy's first half shows the almost mute behaviour between the two in their apartment and on a tourist trip. In this section any number of world directors might ask for their soul back - Moodysson, Fassbinder, Dumont, Tarr, Jarmusch, Weerasethakul. One could go on, especially in the colour-saturated second half, where Wong Kar-Wai and David Lynch borrowings enliven a slow-burn existential gangster outcome concerning our Thai heroine's brother. Hotch-potch it is, but Clay is probably a film-maker to watch.
I saw Duane Hopkins' Better Thingsa month or so before Cannes and was excited by its technical and stylistic approaches to typical problems of British realism. It was strange to discover later that Hopkins' strategy for avoiding the Ken Loach keep-it-real kitchen-sink tendency was not dissimilar to Steve McQueen's. Hopkins succeeds in unravelling relationships between a vividly realised collection of repressed, locked-down and fearful characters, both young and old, living in the rural boredom of the Cotswolds. It's a work of great beauty and few words that's so sharply edited that every startling flourish of an idea hits with full impact. You get the long, contemplative shots familiar in what we might now call the international film-festival style, but usually absent from British cinema. But we also get the benefit of a synthetic approach to sound and image that feels consummate. Both Hopkins and McQueen are creating a fresh strangeness in British cinema. If there's a surviving and visible influence on them it is the Alan Clarke of Elephant and Made in Britain.
One can make the case, then, that in 2008 Britain for once collectively made a better show in Cannes than most other nations. If so we can only add the caveat that national cinema, despite Terry Davies' pleas that you have to make films about what you know rather than imitations of Hollywood, is nonetheless a weakening form - because of the need for co-production monies. And if the new, shiny Brits put on a classier show, it was still possible to find elements of the old bad kind in Cannes. There were a few boorish Brit loudmouths in the American Pavilion watching the European Champions League final between Manchester United and Chelsea, nearly ruining it for the otherwise decent crowd. So when Van der Saar saved the vital penalty to win the final for United, my song was "God save McQueen... and Liverpool's queen. We mean it, maaan."