The Edge of Love
UK 2007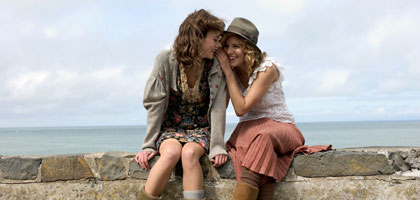 Reviewed by Kate Stables
Synopsis
Our synopses give away the plot in full, including surprise twists.
London, 1941. Young nightclub singer Vera Phillips entertains Londoners in the Tube during the Blitz. She runs into her childhood sweetheart, poet Dylan Thomas, in a pub - Thomas is writing propaganda films. Thomas' party-loving wife Caitlin arrives in London, and the three become inseparable. Army captain William Killick sees Vera sing, and asks her out. Caitlin and Dylan are evicted, and Vera invites them to share her flat. Dylan assures Caitlin he's not infatuated with Vera. William and Vera are caught in the Café de Paris air raid, and she falls in love with him. The threesome becomes an uneasy foursome. William marries Vera, since he is being posted abroad. Dylan is drawn to Vera, who rebuffs him kindly. While William fights in Thessaly, Vera gives birth to son Rowatt. The Thomas family and Vera move to neighbouring cottages in New Quay. Dylan writes prolifically. Caitlin, enraged by Dylan's infidelities, has an affair with the local vet. Vera pays for her abortion. Lonely and worn down, Vera sleeps with Dylan. William returns shellshocked, and is furious that Vera has used all his money on the Thomas family. He accuses her of sleeping with Dylan. Enraged by careless anti-soldier talk by Dylan and his propaganda-unit colleagues in the pub, William drunkenly fires a Sten gun into the Thomases' cottage, and threatens them with a faulty grenade. Before his trial, Vera pleads with Dylan to spare William. Instead, in the hope of regaining Vera, Dylan tells the court that William tried to kill him. Vera has a showdown with Dylan, and declares that she loves William. William is acquitted, he and Vera are reunited, and Dylan and Caitlin leave New Quay.
Review
Like a latterday 'Garbo Talks!', The Edge of Love obviously aims to thrill its audience with the opening-scene revelation that 'Keira Sings!' Though John Maybury's glossy and faintly glib literary love story is four-cornered, covering the uneasy wartime ménage à quatre between Dylan and Caitlin Thomas and their friends Vera and William Killick, no one viewing Keira Knightley's Welsh chanteuse Vera breathily crooning to Londoners sheltering in the Tube will be in any doubt about who has the starring role. From the first intriguingly airbrushed headshot, Maybury gives Knightley the full-on screen-diva treatment, each song a welter of Von-Sternberg-style close-ups in which Knightley's glossy red mouth and doe eyes loom large. Sadly, despite purposeful echoes of Maybury's famous music promo in which that Piaf of pop Sinéad O'Connor emotes 'Nothing Compares 2 U', Knightley lacks the voice or the screen charisma to sustain this kind of scrutiny, and merely exudes a tinny, lipsticked glamour. Yet more importantly, this lavish visual concentration on Vera tips the film off-balance early on, and accentuates its periodically uncomfortable fit between Maybury's glamorous, image-driven approach, and screenwriter Sharman Macdonald's cosily over-stuffed, schematic drama of female rivalry and friendship.
Dramas about literary love tangles are traditionally torn between the biopic, the bottle and the bedroom, with largely unsatisfactory results (the boozy Beat bleatings of Heart Beat, 1980, or the plush Parisian soft porn of Henry & June, 1990). The Edge of Love, however, chooses to soft-pedal the sex and Scotch, and present its quartet as romping overgrown adolescents, catapulted into war, marriage and parenthood. While Matthew Rhys' slyly charming Dylan Thomas is the film's notional axis, childishly maintaining both his passion for Vera and his quarrelsome bond with Caitlin, the film also shoehorns in Vera's stop-go romance with Captain William Killick, and Vera and Caitlin's warm but unlikely friendship, resulting in a plethora of static, soul-baring scenes more reminiscent of Albert Square than wartime Fitzrovia. Like an implausibly arty soap, the film is consequently filled with clunky exchanges ("I sleep with other women because I'm a poet - and poets feed off life!") where various combinations of the foursome explain to each other, from gutters, baths or beds, how they feel about one another.
Curiously, for a film about overlooked muses and female friendship, it's the two male leads who prove most adept with this touchy-feely stuff, particularly Cillian Murphy's Killick, who moves sensitively from fearless lovestruck swain to shellshocked cuckold, and injects the film's drunken, gun-toting showdown with unexpected pathos. Rhys for his part deftly fleshes out Thomas as a seductive and supremely selfish man-child, with fruitily intoned gobbets of poetry thrown down among his dialogue like whisky chasers. Alongside them, a rather game and narratively short-changed Sienna Miller as Caitlin and the moonily girlish Knightley wrestle with lines such as "He thinks I'm put on the earth to nurture his talent," or "Heartache - that's what I see in a uniform" in hit-and-miss Irish and Welsh accents, and finish third and fourth respectively.
And where does Maybury finish? A long way from his bracingly avant-garde Jarmanesque shocker shorts of the 1980s, and some distance from the cruel brilliance of Love Is the Devil. The visual tricks and tropes (his trademark mirror shots and delicate camera distortions) that cleverly reflected Bacon's contorted canvases, or the psycho-horrors of The Jacket, are still in evidence, but look decorative rather than deep here, their only function to vary and emphasise the doubled, troubled nature of the couplings onscreen. As ever, he's a master of atmospheric period mise en scène, setting his cast to flirt in dingy stairwells, cramped bedsits and seedy pubs in Blitz-battered London (there's a marvellous, disorientating recreation of the bombing of the Café de Paris). Once these become the backdrop to Knightley's pleas for her soldier lover to "Come back to me," like a second serving of Atonement, the movie's mainstream mindset hardens, and some momentary magic is lost. And though Maybury has already served up the selfish artist in his unflinching portrait of Bacon, the film's concentration on the Killicks' romance among the air-raid rubble rather than the Thomases' turbulent and more artistically complex coupling, seems a missed opportunity, one which again unbalances the movie and distances us from its cat's-cradle of relationships.
By the time poetry, penury and self-indulgence have mired Dylan, Caitlin and Vera knee-deep in nappies and adultery in New Quay, and the betrayed Killick attempts to reduce the quartet to a duo by spraying the Thomases' cottage with bullets, it is uphill work to muster sympathy for any of the lovers - whether they've got their arms round the griefs of the ages or not.
Credits
Directed by

John Maybury

Produced by

Sarah Radclyffe
Rebekah Gilbertson

Written by

Sharman Macdonald

Idea by

Rebekah Gilbertson
Based on the book A Farm, Two Mansions and a Bungalow by David N. Thomas and Personal Sketch of Vava and Personal Sketch of Papa by Esther Killick

Director of Photography

Jonathan Freeman

Film Editor

Emma E. Hickox

Production Designer

Alan MacDonald

Music by/Score Produced by

Angelo Badalamenti