Film of the Month: Southern Discomfort
Couscous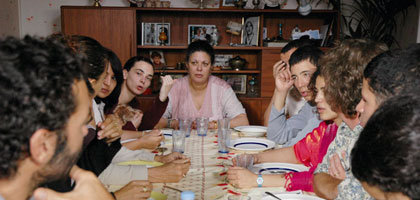 Abdellatif Kechiche's perfectly paced story of a North African family's struggle in coastal France is told with the wit and warmth of classical cinema, yet with a very modern take on identity. By Ginette Vincendeau
Couscous reaches the UK garlanded with prizes and accolades - four Venice festival awards, four Césars and the Prix Louis Delluc among them - and labelled a masterpiece by an ecstatic French press. It's director Abdellatif Kechiche's third feature, following his critically acclaimed 2004 film L'Esquive (Games of Love and Chance). Though the latter moved within the banlieue terrain of La Haine, it did not have the same international resonance as Mathieu Kassovitz's 1995 film, largely since much of its narrative and appeal depended on audience understanding of the registers of the French language. Couscous, which offers a more classically humanist and socially informed slice of life, is likely to travel better.
The film follows the fate of Slimane, a taciturn 60-year-old North African shipyard worker in Sète on France's Mediterranean coast. Learning of his dismissal by a management seeking a more 'flexible' workforce, he decides against all odds to open a couscous restaurant on a disused ship in the harbour, which he buys with part of his redundancy money.
If Slimane's project is the film's narrative backbone, much of its flesh is, metaphorically and literally, provided by the women gravitating around him: his ex-wife Souad, daughters, daughters-in-law, granddaughter, new partner Latifa and her daughter Rym (21-year-old Hafsia Herzi, whose electrifying performance was, quite rightly, rewarded with a César). These relationships are economically established in an early sequence that traces Slimane's journey to take some fresh fish to each in turn. In a series of bittersweet vignettes, his earnest weariness and silence are contrasted with the women's energy and gift of the gab, ranging from the charmingly garrulous (Rym) to the aggressive (Souad) to the distraught (Julia, the betrayed wife of his son Majid).
The original French title, La Graine et le Mulet - respectively the semolina and the fish in Souad's couscous - signals the centrality of cooking and eating in the film, which is structured around two set pieces: a Sunday lunch at Souad's and, concluding the film, the nail-biting dinner thrown by Slimane to convince reluctant city officials to support his restaurant. In a film that runs 150 minutes, these two sequences occupy a huge amount of screen time, and their relentless energy is both mesmerising and exhausting. Using semi-improvised dialogue, long takes and edgy close-ups, Kechiche draws out not only the warmth and love that cement the extended family, but also the palpable tensions constantly on the boil. In this respect he evokes the work of Maurice Pialat, as in the famous al fresco meal in Loulou (1980).
In capturing the essence of the everyday, Kechiche's work has also prompted comparisons with Jean Renoir and Claude Sautet. Beyond the film's intrinsic qualities, this points to another reason why Couscous has been so acclaimed in France. Against the familiar French divide between blockbuster comedies and auteur cinema - recently exacerbated by the runaway box-office success of films such as Les Bronzés 3 (2006) and Bienvenue chez les Ch'tis (Welcome to the Sticks, 2008) - Couscous heralds the possibility (or illusion) of a return to the era of classical cinema, when French film-makers could supposedly combine artistic ambition with popular success. An audience of 800,000 in France so far is impressive, if a long way behind the staggering 19 million who have seen Bienvenue chez les Ch'tis', yet far ahead of, for example, Jacques Rivette's 2007 Ne touchez pas la hache (Don't Touch the Axe), which attracted barely 30,000. For a film with no star and unglamorous settings, this is a remarkable achievement.
Kechiche's film engages squarely with what it means to be French today in a way that is realistic, provocative and conciliatory. In the tradition of the beur cinema of the 1980s, Couscous does not ignore racism - but neither does it use it as a structuring principle. The initial scenes in which Slimane is dismissed by the shipyard boss show him as a victim of advanced capitalism rather than racism, while the indigenous French fishermen are supportive. As Kechiche has said, "What is interesting about this movie is that it examines a milieu inhabited by people of various racial and cultural origins - Algerian, Tunisian, Spanish, Portuguese, French - but who are all economically disadvantaged." Pointedly, the opening scene shows Slimane's son Majid working on a tourist boat, introducing his destructive womanising while also documenting the fact that Sète's traditional industries - fishing and shipbuilding - are on the wane.
Kechiche pays tribute to those affected by this, "humble, selfless people whom no one really sees or appreciates… the construction workers and people who do menial labour for countless years to support their families and to enable their children to get ahead." The film is also a tribute for Kechiche's own father, who died while he was making L'Esquive (and whose friend, Habib Boufares, plays Slimane).
Couscous is very much about ethnic and cultural hybridity, embodied in Slimane and Souad's sprawling family, who are mostly of North African descent, but include indigenous French and even Russian members. Significantly, while they delight in North African food and music, this is not an Islamist family; the women do not wear the veil and are more culturally and economically integrated than the men. When Rym accompanies Slimane on his quest for authorisations for his restaurant, her confident handling of official language contrasts with Slimane's shy awkwardness.
The outcome of Couscous for Slimane and his children is both hopeful and tragic. Neither triumphalist nor miserabilist, the film recognises the social and cultural complexities of a second-generation North African family in France, even though it does not entirely avoid Manicheism or caricature. The French bourgeois officials (unlike the fishermen) are depicted as vulgar, pretentious or racist in a way that is both naïve and exaggerated - for instance restaurateurs at the gala dinner narrow their eyes and lower their voices to plot against Slimane's possible success, as if couscous restaurants were a novelty in France. And while the film celebrates women's dynamism in comparison with ineffectual men, it has problems constructing their identity outside traditional myths of femininity, such as in the way Souad and Latifa are pitted against each other as they vie for Slimane's affection, or in the film's inability to show Julia as anything other than a screaming fury. In particular, Rym's belly dance - her desperate bid to entertain the diners when the whole enterprise is threatened by the disappearance of the couscous - degenerates into crude worship of female fecundity with endless close-ups of her undulating tummy. Yet despite these lapses Couscous builds up a warm and fascinating mosaic of contemporary characters whose fate we very much care about.
Shooting a film on the Mediterranean coast calls forth a particular heritage in French cinema. Although Couscous takes place in the small port of Sète, as opposed to the more familiar Marseille or Provence, the warm climate, seascape, animated secondary characters and local accents cannot but remind spectators of the films of Marcel Pagnol, while the social slant alludes to the more recent work of Robert Guédiguian. Kechiche is clearly aware of these traditions, referencing Pagnol's 1930s Marseille trilogy (Marius, Fanny and César) with a wonderful group of North African older men who enliven the restaurant sequence, commenting drolly on Slimane's travails like a group of Pagnol's Greek chorus-like card players.
Sète was also the setting of Agnès Varda's first feature, La Pointe courte (1956), a New Wave precursor that took a neo-realist look at the harsh conditions suffered by the town's fishermen. More than 50 years later, Couscous similarly combines documentary realism with stylistic ambition in its recording the continued oppression of the poor. But Kechiche's film also documents the extraordinary changes in French society and culture in the intervening years. Sète may not be the most iconic city in French cinema, but it can now justly claim to have hosted two of its most original and provocative works.