David Lean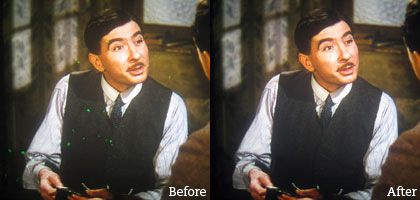 Restoration: 'This Happy Breed'
The restoring of David Lean's first ten films, including 1944's 'This Happy Breed', show how digital technology complements traditional processes, says the BFI's Sonia Genaitay
Restoration timeline
March 2006 to February 2007 Examination of source material; repair and cleaning; preliminary picture tests at Cineric, New York; digitisation of sound master positive and sound restoration.
February 2007 to July 2007 Grading and printing from original separation negatives; scanning of damaged sections; digital picture restoration; recording the digitally restored soundtrack onto film.
April 2007 to November 2007 Printing of separation protection masters; recombining onto one single negative; inserting digitally restored sections in the new colour negative.
November 2007 to January 2008 Mixing of the new sound and picture negatives; grading final prints.
Synopsis
David Lean had shared his director credit with Noël Coward on 'In Which We Serve' and such was Coward's pleasure at the results that he suggested his 'little darlings' might like to adapt his stage play 'This Happy Breed', the story of a London lower middle-class suburban family in the inter-war years from 1919 to 1939. The finely observed family feuds, both witty and moving, unfold against a panorama of public events ranging from the Victory Parade at the end of World War I to the General Strike of 1926 and the imminent outbreak of World War II. Beautifully acted by an ensemble cast, including Robert Newton, Celia Johnson and Stanley Holloway, and shot in Technicolor, the film was a huge contemporary hit and offers an intriguing vision of a vanished era.
The BFI, in partnership with Granada International and Studio Canal, has just completed an ambitious three-year £1 million programme to restore the first ten films directed by David Lean, from In Which We Serve (1942) to Hobson's Choice (1953). Generously funded by the David Lean Foundation, the project will ensure that these films will be preserved and screened in the best possible versions for years to come.
Fiona Maxwell, Director of Operations & Servicing at Granada International, said: "Working closely with the BFI and the David Lean Foundation on all aspects of the restoration of the Granada-owned David Lean classics has been a fruitful and valuable collaboration."
It's not surprising that Lean's estate guarantees the legacy of his films through restoration and preservation. His perfectionism and immaculate attention to technical detail are well known and he always insisted on working with the best possible craftsmen. The restoration project pays tribute to Lean and to those who have made his films virtual textbooks for aspiring film-makers.
For David Thomson, the ten films we restored constitute Lean's greatest achievement: "They are lively, stirring and an inspiration - they make you want to go out and make movies, they are so in love with the screen's power."
The colour of Clapham
This Happy Breed (1944) was one of two films Lean filmed on three-strip Technicolor (followed by Blithe Spirit in 1945) and the restoration, combining digital and photochemical techniques, was carried out at the BFI National Archive's Conservation Centre in Berkhamsted and at Cineric in New York. Cineric is a post-production facility which combines optical printing and photochemical restoration with innovative digital techniques.
The term Technicolor popularly evokes the spectacularly saturated colours and exotic settings of 1940s and 1950s Hollywood musicals. Those films benefited from the fourth version of a process first used in 1912. Earlier processes were restricted to two colours and were of varying success, but the release of Rouben Mamoulian's Becky Sharp in 1935 finally brought a viable full-colour spectrum to cinema screens.
This early Technicolor relied on a large, cumbersome camera which used filters and a gold-flecked prism to split red, green and blue light on to three separate black-and-white negatives, photographed simultaneously. The camera negatives were used to expose three black-and-white positive films with a special gelatine layer, called matrices. When developed and bleached, a hardened contour map of the image is left on each film, carrying the red, green or blue information. These were dipped in a dye bath complementary to the original colour record, here respectively cyan, magenta and yellow. Then the three matrices were placed on top of each other, under high pressure and in perfect alignment, onto a blank receiver film that carries the soundtrack. A slight movement in the camera or in the printer could result in a shift in registration, causing fringing and ruining the final effect.
Given Technicolor's association with vibrant colour, David Lean's decision to use it for This Happy Breed, a film about a lower-middle-class family in Clapham between the wars, may seem surprising. Yet a unique quality of three-strip Technicolor was its flexibility for rendering colours: saturation could be as low or high as desired - Lean proved that realism could accommodate Technicolor with more neutral tones and restrained use of saturated primaries. Joseph Losey, who used a subdued Technicolor palette in The Boy with Green Hair (1948), said he tried to "give back its colours to daily life, hidden until now."
Producer Anthony Havelock-Allan said of This Happy Breed: "We thought this was something which must be done in colour, because otherwise it is going to be a small and grey play about a small English family and it's going to look like a small film." As a result, Technicolor was used, but its potential was muted to suit the needs of realism. So conscious was Lean of the overall visual impression, he had the walls of the house sprayed with grey paint to emphasise its tired look.
This realism contrasts with Blithe Spirit (1945) - which we restored at the same time as This Happy Breed - the second and last three-strip Technicolor film Lean directed, where he used colour in a more saturated and emphatic way to bring out the supernatural qualities of the story.
The path to glory
Restoring a Technicolor film is an especially long and painstaking process as it involves working from three picture negatives instead of one. The main problem is usually registration, because at least one of the separation negatives will have slightly shrunk - a common phenomenon with material of that age. Luckily, this didn't badly affect This Happy Breed. However the original separation negatives were affected by mould, which can be prevalent in nitrate-based stock. The looser spores can be removed by hand cleaning with an alcohol-based solution, but mould thrives in organic matter and can embed itself deep into the film emulsion, leaving stubborn spots or tree-shaped forms that print when duplicated.
The mould affected the colour combination and appeared on the print as green sparkle. At this stage, it was also important to repair any broken perforations on the edges of the film and to reinforce weak splices between shots with special film tape to prevent breakage in the printer.
Following the emergence of cheaper and easier-to-use colour processes such as Kodak Eastmancolor, the Hollywood dye-transfer Technicolor plant closed in 1975, followed a few years later by the Italian and British factories. Eastmancolor's three-layer emulsion provided excellent colour reproduction at a lower cost - though modern prints of Technicolor films that rely on these 'dye-coupler' stocks have a more limited tonal range, making the exact reproduction of an original dye-printed film simply impossible. A restoration has to be a compromise of old and new.
Once the camera negatives were repaired and cleaned, we made an initial answer print to assess their screen quality and see how the mould and water damage printed through. The worst affected sections were selected to be digitally restored at Cineric. In all we chose 32 scenes to scan at 4k, the current highest resolution for scanning 35mm film. - a horizontal resolution of 4096 pixels per frame, compared to 720 pixels on a standard-definition television.
Mould spots were manually removed from the digital files frame by frame, but it was crucial that nothing else was removed - some defects were always there. Strict ethics of restoration were observed and each shot therefore was accompanied by a description of the area that needed cleaning up. The files were then laser-recorded back onto film stock.
Digital work was also needed on the opening and end titles. The separation negatives contained only the background image and the separate title rollshad not survived. In previous restorations, the composite titles had been duplicated from a surviving 1947 dye-transfer print held at the BFI National Archive. The problem with this method is that dirt and scratches get printed through. What's more, the opening titles in that print were missing some frames and the end credits finished abruptly. We decided to scan the text from the dye-transfer print and recombine it digitally with the original textless background.
The colour correction also required a lot of attention. The team analysed the look David Lean had wanted to achieve from the 1947 reissue print - understated warmth with occasional colourful details. Our first new print off the camera negatives was graded in a more traditional Technicolor style with very warm tones and saturated primaries. It looked lovely, but betrayed the original intentions of Ronald Neame, Lean's cinematographer, "to take the glory out of Technicolor." This useful lesson set a reference for colour corrections towards a colder colour palette.
We used a reverse application of the later Technicolor process to make new restored prints that included the digital sections. By using Kodak Eastmancolor stock in a standard 35mm camera and creating matrices from a single-colour negative, Technicolor could scrap the bulky three-strip camera. In using a reverse of this process, we copied the separation negatives to make our protection masters - black-and-white positive prints that contain the red, green and blue light in reverse, through their complementary colours, cyan, magenta and yellow. These protection masters were then copied onto a single-colour negative in three passes. By recombining the three strips, and inserting the digital sections, now on film, we obtained the source of the restored print. A lot of testing was done to ensure that the digital sections matched the rest of the film and maintained continuity.
The sound was restored ahead of the picture so we could check the synchronisation in early combined print tests. Unlike the picture, this was a full digital restoration, completed at our BFI laboratory in Berkhamsted. Sadly the original sound negative had decomposed, so we resorted to a nitrate sound master positive which was held at the BFI National Archive, just one generation down from the original negative and in good physical condition. The soundtrack was digitised and we used using Adobe Audition Software to manually remove the intrusive pops, clicks and crackle caused by dirt and scratches on the track. The reels were split up into different types of scene - dialogue, effects or music - and treated differently in order to remove noise with minimum impact on the original sound.
Background noise is a natural part of the studio atmosphere and therefore it is important not to 'over clean' the track. A particular problem with the sound in This Happy Breed was an intermittent background sizzling that caused dialogue to become muffled when conventional methods of noise reduction were used to remove it. We had to 'zoom in' on the track and filter the noise in between words. This process was the trickiest, most time-consuming part of the sound restoration.
Another unique sound aspect of is the exaggerated reverberation as the Gibbons family enters the empty house at the beginning of the film and leaves it at the end. It seems incongruous, but Lean was obviously intending to make a statement, perhaps reinforcing the characters' emptiness. Whatever the interpretation, this was a deliberate effect and no attempt was made to reduce it.
During the sound restoration we discovered a possible example of censorship. The film was passed by the then British Board of Film Censors without cuts, but in our sound source we noticed the print-through of a patch on the word 'bloody' when Frank Gibbons (Robert Newton) talks of 'bloody revolution'. With no original sound negative left to check, it is impossible to say whether this was a deliberate act or pure chance.
The fully restored track was then transferred onto digital tapes and recorded back onto film. 'Before' and 'after' uncompressed digital files are preserved in various formats at the BFI National Archive for future reference.
Though faithful to the original, the muted tones of 'realism' captured in our restored prints of This Happy Breed cannot reveal the 'unreality' implicit in film-making. Ronald Neame recalled the trouble he had persuading local residents to remove the tape from their windows during filming of scenes set in the pre-war period - the neighbours of the fictional Gibbons family were more concerned about shattered glass in bombing raids than filmic continuity. The incident is a telling reminder that this remarkable, very British film is not simply the story of "an ordinary family between the wars", but a production in progress while the war itself was raging.
To stay true to Lean's vision, the restoration team consulted Ronald Neame and were ever aware of the enormous contributions made by him and his equally gifted camera operator Guy Green. The resulting restoration not only preserves the film, but by creating digital files enables theatrical screenings on the Digital Screen Network, introducing these classics to new cinema-going audiences.
'This Happy Breed' screens as part of a major David Lean retrospective at BFI Southbank, London until 31 July 2008