Web Exclusive: East meets Western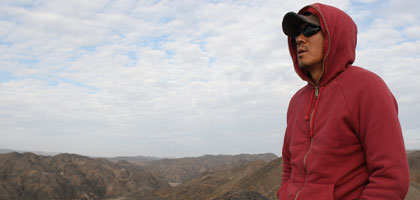 Sight & Sound talks to South Korean director Kim Jee-woon about his latest film, the sci-fi western The Good, The Bad, The Weird
South Korean director Kim Jee-woon's film career began in 1998 with the release of his first feature, The Quiet Family. His second feature, the comedy The Foul King (2000), was a box-office hit in Korea, but international recognition really arrived with A Tale of Two Sisters (2003), a ghost story that borrowed liberally from such films as The Innocents and The Others, but whose stylishness and control nonetheless marked Kim out as an original talent. Something of a genre-film magpie, Kim's next film, the revenge thriller A Bittersweet Life (2005),moved away from horror into a noir-ish world of hitmen, violence and sharp suits, and for many viewers was a greater achievement than his compatriot Park Chan-wook's hit Old Boy, with which it drew comparisons from many critics.
Kim's latest film, The Good, The Bad, The Weird,again sees him delve into genre film-making, this time into Leone-esque spaghetti Westerns, laced with doses of sci-fi and road movie. The film is set during the Japanese occupation of Manchuria in the 1930s, when the region was scattered with Koreans, Chinese and Russians. The story follows the eponymous three bandits as they evade soldiers and each other in search of a treasure map that promises riches buried in the desert. The film was the biggest hit at the Korean box office last year.
Why did you choose to make a homage to Sergio Leone's Westerns? Were they films you had enjoyed in your youth?
I enjoyed not only Leone's films but Italian Westerns from that period in general, such as Sergio Corbucci films and My Name is Nobody and even the Trinity series starring Terence Hill. I was also influenced by the violent action scenes in Sam Peckinpah's American Westerns. The plot and the combination of the characters were influenced by the early 1970s Korean action film Break the Chain, which I would also categorise as a sort of Western. All the films mentioned above were ones I watched in my childhood. It's not a simple homage to a specific film or a certain film-maker. I wanted to make a film that respected all the cinema that has thrilled me. The cool and cruel, heartless characters in Leone's Westerns are different from American Western characters who are refined and handsome gentlemen. I adored his extreme close-ups, breathtaking tension and dry scenery. I always yearned to make a film based on such elements.
Korea of course doesn't have the wide-open spaces of the American West, so how did you approach the idea of a 'Korean Western'? And why did you choose to set the film in Manchuria?
That's why it seemed impossible to make a Western unless I chose to make it in a sci-fi context. Then I found out at KOFA [The Korean Film Archive] that there were in fact action films made in Korea in the early 1970s called 'Manchurian Westerns'. Watching those films, I realised that I must have seen them in my childhood; it convinced me that a Korean Western was plausible, and that I could make it happen if the film were set in 1930s Manchuria. Though Manchuria was then under Japanese rule, it was actually a melting pot of all races and various cultures. The political dynamics included influences from Russia, China, Japan and Korea. Manchuria was very attractive cinematically in that it was this lawless world. All these factors helped my imagination. Such a postmodern space I thought would make critics look at this film not as simple homage to spaghetti Westerns, but as a Western version of Star Wars or Blade Runner.
You've taken on different genres in your features: horror in 'A Tale of Two Sisters', the thriller in ' A Bittersweet Life', and now a Western. What draws you to making genre films?
I was always curious as to what would happen when genre and my style collided. Film is a sort of puzzle-game-playing with the audience. I lure them to my films with genre-specific conventions, make them feel comfortable in the beginning and then give a twist to genre clichés or conventions at critical (or climactic) moments. At the same time, choosing a genre also meant choosing a theme for me. All drama is about the fears that we have through life, and each genre has a specific way - or 'grammar' if I can call that - of interpreting that specific fear. For instance, a horror film is about the fear of invisible things or beings, sci-fi is about the fear of the future, comedy is about the fear of being laughed at, action film is about the fear of violence, and for film noir it is light and darkness. Westerns can be about the fear that only the best survive in the end.
The climactic chase scenes across the desert reminded me of John Ford's 'Stagecoach' and has similarly dangerous stunts. Was that film an influence?
Along with Ben-Hur and Mad Max 2. I told my film crew to watch those films and told them repeatedly that our film should be much faster and much more exciting than them. The shooting of the chase scenes gives me chills even now, and I want to close my eyes when I think of the days we shot the scenes. I wanted to show every scene in live action and actually there is no CGI in the chase scene. In order to keep up with the incredible speed of the running horses, we built a 30-kilometre road [for cars to run on] and remodelled a car to take the camera equipment and crew. I wanted to make the camera itself run at the same speed as horses, which I hoped would make the audience really sense the speed. I wanted to make viewers' hearts beat so fast that they don't want to avert their eyes in case they can't follow the speed of the chase. Most of the stunts were performed by the actors themselves. Looking back, I now think it was a very reckless thing for them to do it themselves! The dangerous scenes were all done in live action. Maybe The Good, The Bad, The Weird will be recorded as the Korean film with the longest medical treatment list! There were so many injuries, we should have thanked the heavens for not having a big accident. On the DVD commentary of Mad Max 2, someone says: "Many stunt men have paid for realism." Looking at injured actors and stunt men on our shoot, we also talked the same way. We did pay for realism.
How closely did you work on the design of the sets with Cho Hwa-sung?
Though the film is a Western, there are many sets. We needed sets to make it look and feel different from other Westerns, and to explain the specific historical and geological characteristics of Manchuria. In an ordinary Italian Western, you see monotone space with wind and dust, collapsing wooden buildings and a dirt wall. To differentiate from that visual tone and to create the postmodern visual atmosphere of Manchuria, we used various colour tones and set pieces. We also based the costumes and other materials on details in actual photos of 1930s Manchuria. There was a simple magic to mixing and matching those items in an unbalanced way, and as a result we could create much more attractive and rich spaces and characters. For example, the tri-nation gang (the bandits) wear the winter uniform of the Manchurian army, the officer hats of the Russian army, while at the same time swaying Mongolian swords along with German guns. This seemingly unbalanced coordination came from the idea that they might have taken anything from anybody, and would have wanted to show off what they stole.
Some have said the film is built around the action set pieces, rather than the characters or story. How do you respond to that?
I'd rather take the comment as a sort of compliment, meaning the action scenes left a strong impression. The actors, the crew and myself agreed to make the action scenes the kind that have never been seen before in any Korean films. The scenes Hollywood action films shoot with up-to-the-minute, expensive equipment like flying cams, wire-cams, super cranes - men shot those scenes in our film. People replaced equipment. When a camera needed to fly, the cameraman flew with camera; when a camera needed to fall down directly from above, the cameraman fell down himself. Crews did the magic with their own bodies. It isn't as smooth as a Hollywood blockbuster, but that added biological realism to the scenes and I preferred that look.
Song Kang-ho, Lee Byung-hun and Jung Woo-sung each give excellent performances, with Song Kang-ho especially amusing as 'The Weird'. How was he to work with on this film?
Song Kang-ho is a great actor. Being the first director to work with him on three occasions makes me almost feel proud. He is a very creative actor and it's always surprising and great fun to make characters together. He has a similar way of thinking to me. We don't need to talk a lot when we build the character. On rehearsals, there is a moment when we share the certain feeling and then we exchange a smile and that's all. With Lee Byung-hun, we had built mutual trust through A Bittersweet Life. For a delicate and subtle performance, he's the best among Korean actors. For Jung Woo-sung, I made scenes focusing on dynamic action and movements. I personally think the chase scenes when he loads his rifle with a spin at full speed on horseback or runs against the Japanese army coming at him are marvellous. I'm sure he's the only actor who can do those things. The scenes are full of elegance and power only he can create.
Much has been written about the Korean film industry facing more difficult times after the boom years of recent times. What's your own view on the state of current Korean film-making?
There was a time when all Korean films were successful. At that time, there were films that should have not been produced and audiences began to move away from Korean films. The only way to get audiences back to see Korean films is to make good films.
Kim Jee-woon was talking to James Bell