The Reader
USA/Germany 2008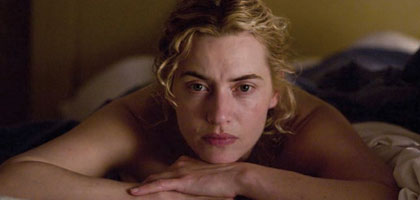 Reviewed by David Jays
Synopsis
Our synopses give away the plot in full, including surprise twists.
Berlin, 1995. Lawyer Michael Berg prepares to meet his daughter and reflects on an incident in his youth that has haunted his adult life. In 1958, aged 15, growing up in a provincial town, he had a brief but intense relationship with an older woman, Hanna Schmitz. She enjoyed having him read to her, but he didn't realise that she was illiterate. When this failing was about to be exposed, she disappeared without saying goodbye.
Michael studies law during the 1960s, as Germany attempts to assimilate its Nazi past. The students attend a trial of female concentration camp guards, responsible for numerous deaths including those of prisoners they refused to rescue from a burning building. Michael recognises Hanna, who alone takes responsibility for her actions. The other women claim that she wrote their mendacious report on the fire. Although Hanna could not have written it, she conceals her illiteracy and receives a lengthy prison sentence.
As an adult, the divorced Michael begins recording books and poetry and sending the tapes to Hanna in prison. She teaches herself to read. As an old woman, she and Michael meet again, but on the day of her planned release she is found hanged in her cell. Michael, who has never discussed this relationship with anyone, takes his daughter to Hanna's grave and starts to explain their story.
Review
After the "fine, pale, gaunt" women (as David Hare's published screenplay had it) of The Hours, it is a relief that Stephen Daldry's new female protagonist is so pragmatic. In The Hours, practical chores were confined to domestics, but here, Kate Winslet's Hanna first bustles forward with a bucket to swill away young Michael's vomit as scarlet fever strikes, and when he returns to her apartment to thank her, he finds her spitting on the iron and preparing to lug up the coal.
The pair begin an affair, but this isn't the ethical dilemma in The Reader. Based on Bernhard Schlink's novel, it turns on Michael's discovery, long after the relationship has ended, that Hanna served as a guard in a concentration camp. For ages, however, no one mentions the war. For adolescent Michael, the era only figures in the old stamps he pastes into his albums. The building opposite Hanna's apartment is a building site - Germany is being quietly reconstructed, plastering over the past. Michael's disapproving, chilly family exemplify the mood of cautious denial, as if Germans are shying away from a question that has yet to be asked. The commitment to forgetting is gradually replaced by a judicial impulse to force remembrance via the light wooden courtroom where Hanna is put on trial: clean lines for full disclosure.
We see a damaged country, all peeling paint and plaster. The film's palette is largely grey (as if the entire nation were trying to achieve a banked-down neutrality), with Hanna's small rose-curtained apartment providing a rare oasis of sensual colour. We don't seem to be encouraged to read the relationship as exploitative: the murky adult waters that Michael is not yet equipped to negotiate have little to do with sex, but with a delayed historical reckoning.
Much discussion of Schlink's 1995 novel centred around Hanna's illiteracy. In a visual medium, we register her exclusion differently: even when Michael yawns, "I can't even be bothered to read," Winslet recognises that he has a choice. Books allow an access to emotional experience, but how does illiteracy relate to amorality? Hanna's life is one of determined pragmatism, never looking beyond the immediate parameters of her work, whether on the trams or in a concentration camp. When she and Michael meet again many years later in a pallid prison canteen and he asks what she's learned, she only replies: "Well, I have learned, kid. I've learned to read."
Michael reads her the canon of western literature, from Latin to Tintin. A favourite text is The Odyssey, and the film is also in a sense a twisty journey towards a complicated idea of home. It takes in the most dramatic location, when Michael visits the camp where Hanna worked. Holocaust tourism has yet to emerge, so his footsteps echo in the deserted huts, by a pile of the victims' shoes.
One of the film's most striking choices is to cast largely German actors, and even the English stars speak with a German accent. David Kross, ebullient and expressive as the young Michael, becomes pallid and paunchy as he ages, until you see him grow into Ralph Fiennes, weak-chinned master of watery passions. Winslet is fleshy, dark-browed, regarding Michael with a complicated blend of distaste, longing and resignation. Her sense of the morality of the relationship isn't clear, though in the 1950s scenes she's always painstakingly cleaning and scrubbing, as if troubled by a stained conscience. Her recurring concern is emotional self-protection, feeling parcelled in the tightest gestures - a nod, a shake of the head.
Hanna is a far more troublingly complicit figure than the psycho-Nazi Fiennes portrayed in Schindler's List (1993). Bruno Ganz, playing Michael's law professor, also references a previous role, the flailing Hitler in 2004's Downfall. "The law is narrow," he says; Schlink himself is a law professor (born in 1944), but his fiction worries around the law's severe distinctions while longing for the clear-cut solutions it promises. As Hanna asks the court, "What would you have done?"
Daldry's film privileges feeling over action, even if this pulls against the story's argument. As part of this movement, Hare's screenplay accentuates Michael's refrigerated emotional life, and particularly his relationship with his daughter. It's a slightly pat choice; the book's protagonist stands alone at Hanna's grave, rather than using the visit, as here, to inaugurate a familial healing process: "It was the first and only time I stood there," is the book's final line; Schlink doesn't let the clouds disperse.
Credits
Directed by

Stephen Daldry

Produced by

Anthony Minghella
Sydney Pollack
Donna Gigliotti
Redmond Morris

Screenplay

David Hare
Based on the book The Reader (Der Vorleser) by Bernhard Schlink

Directors of Photography

Chris Menges
Roger Deakins

Edited by

Claire Simpson

Production Designer

Brigitte Broch

Music by/Score Orchestrated

and Conducted by

Nico Muhly