Rachel Getting Married
USA 2008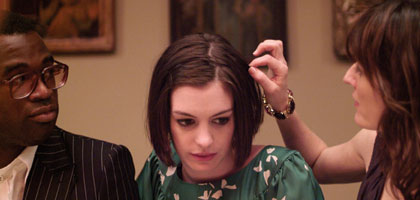 Reviewed by Philip Kemp
Synopsis
Our synopses give away the plot in full, including surprise twists.
Rural Connecticut, the present. Kym Buchman, a recovering junkie, is let out of rehab to attend the wedding of her older sister Rachel to Sidney, a young black music producer. Kym is met by her father Paul and stepmother Carol. At the house, a hive of activity and full of strangers, she reunites with Rachel but is piqued to find that not she but Rachel's best friend Emma is to be maid of honour. After attending a local 12-step addicts' meeting, Kym comes home and voices her resentment, forcing Emma to step down.
Kym enjoys a brief sexual encounter with the best man, Kieran, who also attended the addicts' meeting. Her mother Abby arrives; their reunion is tense. At the rehearsal dinner, in the presence of both families and all the guests, Kym makes a long, egocentric speech embarrassing everybody. It later emerges that at 16, left in charge of her young brother Ethan, she drove the car into a lake while high and Ethan was drowned. In town she encounters one of her fellow patients from hospital; he recalls her speaking about an uncle who sexually abused her and Rachel. There is no such uncle. Rachel, overhearing, storms off in fury.
Kym visits Abby and they get into a physical fight; Kym drives off wildly and crashes the car. She survives with bruises and is able to appear, slightly battered, at the wedding. The ceremony takes place without mishap in a marquee on the lawn. Afterwards, brushing off Paul's attempts to fix her up with an office job, Kym goes back into rehab.
Review
Showing up late and dishevelled for a 12-step addicts' meeting, Kym Buchman (Anne Hathaway) brings proceedings to a startled halt with a furious cry of "Cocksucker!" as she trips over chairs. It's at this moment that Hathaway buries, for good and all, any lingering memories of The Princess Diaries.
In some quarters, Jonathan Demme's new film has been hailed as a return to his early loose-limbed, freewheeling form, seemingly lost to us after the smug portentousness of Philadelphia (1993) and the remake anonymities of The Truth about Charlie (2002) and The Manchurian Candidate (2004). Others have damned it as overextended self-indulgence. The truth, as in the fable of the blind men and the elephant, is that it all depends which end of the beast you've got hold of. It's both.
For rather more than half its length, Rachel Getting Married tracks the repercussions when Kym, with her wounded eyes and look-at-me gothic neediness, is dropped into a household already chaotic with the preparations for her sister's wedding. Like a hostile catalyst, Kym brings out the hidden tensions and grievances in this seemingly warm, open family: her father Paul (Bill Irwin) starts revealing the control freak behind his liberal tolerance (a scene in which he competes with his prospective son-in-law over who can load the dishwasher faster is a comic highpoint), and the bride (Rosemarie DeWitt) vents her long-banked resentment at having been shoehorned into the role of 'the responsible one' who needed less attention. Debra Winger takes a small but telling part as the girls' divorced mother; even before she speaks, her air of armoured emotional withdrawal tells us exactly what her daughters have reacted to - or against.
Declan Quinn's camera prowls restlessly about the house and garden, often following Dardennes-like just behind Kym's shoulder, near point-of-view but holding off from total identification. Demme's filmography comprises as many documentaries as features, and he shoots Rachel documentary-style, with multiple handheld cameras and little or no rehearsal. It suits the mood: unpredictability stalks this section of the film, taunting us with intimations that Kym's self-hating sulkiness may explode, one way or another, into violence, and eventually it does.
But by this stage the other side of the film is increasingly showing through, as if the fabric of Kym's story is wearing thin. What Demme is heading towards, not because he can't think of anything else to do but because this is how he wants it to be, is a party - a multicultural, multi-ethnic, all-singing, all-dancing nuptial celebration. And that, for the last half-hour or so of the movie, is just what we get, courtesy of a cheery crowd of Demme's friends and relations. Here's his cousin, the Reverend Robert Castle (subject of Demme's 1991 documentary Cousin Bobby), officiating at the ceremony. Here's his old mentor Roger Corman taking a snapshot of the happy couple. Here's the singer Robyn Hitchcock (subject of another Demme doc, Storefront Hitchcock, 1997), entertaining the guests. You're surprised not to see ex-prez Jimmy Carter (Man from Plains, 2007) taking a turn on harmonica.
Besides these we get musicians of every stamp - jazz, classical, hip hop, Arabic, Caribbean, you name it. Everyone's having one hell of a good time, except possibly the audience. Oh, and the plot, which gets rather drowned out by all this hoopla. The wedding over, we just have time for a quick wind-up, a wan hint of redemption, and Kym's back off to rehab. Leaving us, as it were, no more than Demme-satisfied.
Credits
Directed by

Jonathan Demme

Produced by

Neda Armian
Jonathan Demme
Marc Platt

Written by

Jenny Lumet

Director of Photography

Declan Quinn

Edited by

Tim Squyres

Production Designer

Ford Wheeler

Original Score

Zafer Tawil
Donald Harrison Jr