Hello boys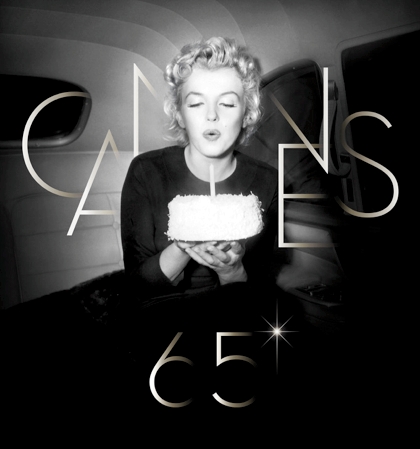 The Festival de Cannes's 2012 poster
Nick James is on the plane to a man's man's man's man's Cannes
---
Web exclusive, 15 May 2012
---
Welcome to the Sight & Sound Cannes 2012 rolling blog. I hope you enjoy it over the next two weeks. We've marshalled a fine bunch of alumni to contribute occasional personal reports from the Croisette and these will be appearing at the rate of at least one per day.
But what can our writers expect this year from what amounts effectively to five programmes – the Competition, Un Certain Regard, the Out-of-Competition and Special Screenings, the Director's Fortnight (Quinzaine des Réalisateurs) and the Critics' Week? Last year I was on the jury for the Critics' Week and saw such fine films as Snowtown, Take Shelter and Martha Marcy May Marlene – and that's traditionally the weakest strand. Looking down this year's programmes, my capacity to make sense of all that seems to be on offer is truly boggled, because it looks rich indeed – though it is also courting trouble.
In an editorial just before last year's Cannes I focused on what I called 'The Usual Suspects', the fact that such 'arthouse' stalwarts as Pedro Almodóvar, Nuri Bilge Ceylan, Luc and Jean-Pierre Dardennes, Aki Kaurismäki, Lars von Trier and Paolo Sorrentino formed a substantial part of the programme. A glance at this year's lineup might suggest that feeling will be compounded, with Michael Haneke, Abbas Kiarostami, Walter Salles and Ken Loach all present with exciting new prospects.
However a second glance lets you take in quite how broad is the spread of relatively recently established talent. Cristian Mungiu, Andrew Dominik, John Hillcoat, Jeff Nichols, Ulrich Seidl, Carlos Reygadas, Lee Daniels and Sergei Loznitsa all made their first impact in this century – and Hong Sangsoo and Wes Anderson only just before it – and that's just looking at the Competition lineup. So the first thing I'm hoping for is some sense of freshness and innovation rather than further refinement of established approaches.
You'll be reading more than guesswork about the films of these directors soon enough, but one thing you'll notice is that they're all men. Nearly every commentator remarked upon this when the Competition list was announced but the issue has now exploded with the publication in Le Monde of an article attacking the festival by Virginie Despentes (Baise-moi), Coline Serreau (Romuald et Juliette) and actress Fanny Cottençon (Conversations with My Gardener).
It adopts a sarcastic tone: "In 2011, probably due to a lack of vigilance, four women featured among the 20 nominees in competition. This year, gentlemen, you've come to your senses and we are overjoyed. The Cannes Film Festival will allow Wes, Jacques, Leos, David, Lee, Andrew, Matteo, Michael, John, Hong, Im, Abbas, Ken, Sergei, Cristian, Yousry, Jeff, Alain, Carlos, Walter, Ulrich and Thomas to show one more time that men like depth in women, but only in their cleavage."
Members of La Barbe, the feminist group behind the protest, are threatening to disrupt proceedings on the Croisette. I could ask what would Cannes be without its annual street-politics angle, but that would be to demean what is a serious complaint. Clearly Lucrecia Martel hasn't got anything ready to get Cannes off the hook.
So the pleasures of Cannes are likely to be masculine, unless one seeks out the three Un Certain Regard films by Catherine Corsini (Trois Mondes), Sylvie Verheyde (Confession of a Child of the Century) and Aida Begic (Djeca), the Special Screening of Candida Brady's Trashed, the two in Director's Fortnight (Noémie Lvovsky's Camille Rewinds and Yulene Olaizola's Fogo), and the Critics Week special screening of Alice Winocour's Augustine. Across five programmes of films it does seem a token representation. It will be interesting to see how the debate manifests itself while we sit in the dark and take it all in.
---
See also
Cannes Film Festival blog (May 2011)
Women on Film competition for female film writers (Spring-Summer 2011)
Baise-moi reviewed by Ginette Vincendeau (May 2002)