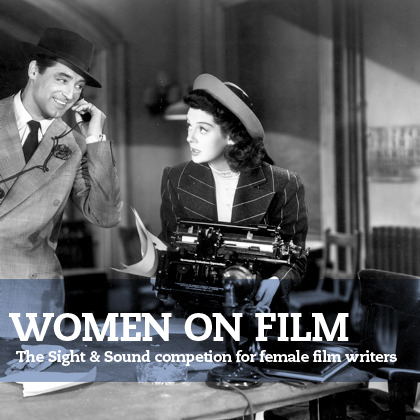 Rosalind Russell in His Girl Friday (1943)
---
THIS COMPETITION IS NOW CLOSED
» See our entrants' inspirations: Actors | Directors A-H | Directors K-W | Other crew, collaborators, and critics | Characters | Films
» See our critics' inspirations
» See the competition results
---
NEW VIEWS WANTED
"Now one thing never to be lost sight of in considering the cinema is that it exists to please women. Three out of every four of all cinema audiences are women."
— Iris Barry, Let's Go to the Pictures, 1926
"In short, men dominate the reviewing process of films primarily made by men featuring mostly males intended for a largely male audience. The under-employment of women film reviewers, actors, and filmmakers perpetuates the nearly seamless dialogue among men in U.S. cinema."
— Martha Lauzen, 'Thumbs Down: Representation of Women Film Critics in the Top 100 U.S. Daily Newspapers – A Study', 2007
The issue
Once upon a time the movies wore the mantle of progress, and promised to mirror the modern world. If our dominant cinema culture is nowadays true to life then our civilisation is in a sorry state indeed; over the 85 or so years since pioneering critic Iris Barry wrote her admonition, the representation of women at the movies has backslid woefully.
It's a truth somewhat well acknowledged that women are ill-served on screen, both in Hollywood and its allied cinemas. Actresses in their twenties are expected to play victims, trophies or other modes of male prop, then disappear until they're ready to play mothers or wives to male stars twice their age. There may be more female studio heads in Hollywood than ever, but the only audience reactions (or test-card scores) they seem to recognise are those of teenage boys. Half the movies now measured against the Bechdel Test do not feature two or more female characters who talk to each other about anything other than men.
Likewise, film directing continues to be a male-dominated vocation, particularly at the more commercial end of the spectrum. A study of the top 250 grossing films in the United States in 2010 found that women accounted for seven per cent of those films' directors, ten per cent of their screenwriters (83 per cent of them had no female writers), 24 per cent of their producers, 18 per cent of their editors and two per cent of their cinematographers; these figures were worse in every category than their 1998 equivalents. In the UK in 2009 (a banner year for female filmmaking), 17 per cent of films were written and/or directed by women.
The makeup of critics and journalists writing about film is similarly dismal. The Times' Kate Muir and Sunday Telegraph's Jenny McCartney are currently the lone women amongst ten or more staff critics on the British broadsheets. In the US, the above-quoted 2007 study from the Center for the Study of Women in Film & Television found men wrote 70 per cent of all counted film reviews and held 77 per cent of staff film-critic roles. Michael Kaminski has counted seven women authors on amazon.com's list of 50 'Movie History and Criticism' bestsellers.
From Iris Barry, Lotte Eisner, C.A. Lejeune and Dilys Powell to Penelope Houston (Sight & Sound's editor for 34 years), Penelope Gilliatt, Pauline Kael, Susan Sontag and Molly Haskell, women have constituted many of our keenest film critics; but cinema now seems to repel their voices. Why? And how can we change this?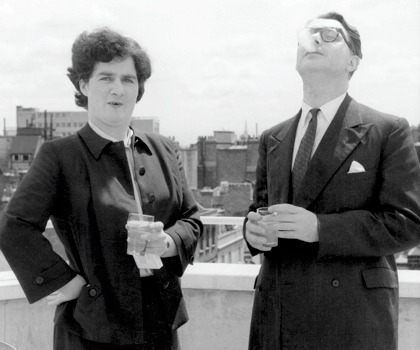 Penelope Houston, editor of Sight & Sound 1964-90
Here at Sight & Sound we do as poorly as most publications. Which is why we've decided to hold a competition and a conversation to confront the problem.
The contest
We're inviting women who are not already professional film journalists to write us a brief thumbnail description (circa 300 words) of a person in the world of film who is or has been an inspiration to them. The subject can be related to cinema in any way: an actor, screenwriter, costumier, lab technician or even subject of a movie. We're interested in your heroes, models and muses, but also in your critical acumen: your writing should be passionate and imaginative but also insightful and analytical.
To get started, we're running some suggestions by our own female writers, which you can read here. We'll also upload to an online 'wall of inspiration' all the entries we think are fit to print (let us know if for some reason you don't wish to appear here).
The best entry will win a year-long mentoring programme with one or more of our female journalists, plus a commission to write a longer feature for this website. Two runners up will win an annual subscription to Sight & Sound.
To enter, please email your entry to womenonfilm@bfi.org.uk by 10am, 3 May. Please include your name, address, phone number, email address and (for monitoring purposes) your age, your writing experience and your current profession/job/education status. You can download this form to use and either attach it or paste it into the body of your email.
A panel will judge the entries and we'll announce the results by mid May. Please see our terms and conditions at the bottom of the page.
The conversation
We've also commissioned some features from our writers about the past, present and future of women's film criticism, to which we'll be linking from this page as they appear.
---
» Read The ladies vanished: Hannah McGill wonders where all the women critics went – and why
» Read Women on film, online: Sophie Mayer follows the trail of female film critics into the digital realm
» See our critics' inspirations
---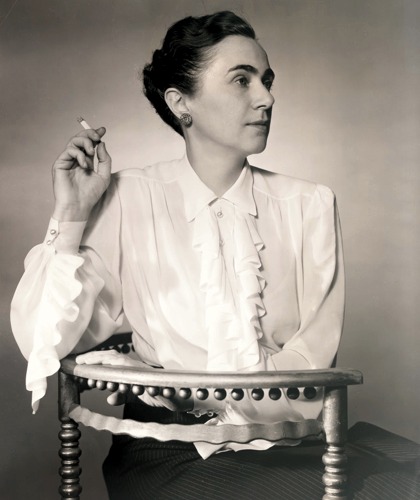 Iris Barry's life and work is the inspiration for this year's Flatpack Festival, running 23-27 March at venues around Birmingham. Our writers Hannah McGill and Francis Morgan will appear on a Flatpack panel discussion about film criticism today, The Cinema Exists to Please Women, at Eastside Projects on Saturday 26 March.
And you can continue the discussion with us on social media, both on Twitter (please use the hashtag #womenonfilm; we're @SightSoundmag) and at our Facebook page.
---
Correction (30 March 2011): This article originally claimed that the Times' Kate Muir was the lone female staff film critic on Britain's broadsheets. We have now added the Sunday Telegraph's Jenny McCartney to the honour roll.
---
See also
Everywhere girls?: Sophie Mayer sizes up the female perspectives in the 2009 Londono Film Festival (October 2009)
Who needs critics?: Nick James introduces our special issue on the future of criticism (October 2008)
Critics on critics: leading critics choose the works of criticism which have had the greatest impact on them (October 2008)
His & Hers reviewed by Samuel Wigley (April 2011)
The Women reviewed by Kate Stables (November 2008)
8 Women reviewed by Ginette Vincendeau (December 2002)
Further reading
Thumbs Down: The Representation of Women Film Critics in The Top 100 U.S. Daily Newspapers (Center for the Study of Women in Film & Television)
Is There a Real Woman in This Multiplex? (Manola Dargis, New York Times, 4 May 2008)
Why are there so few female film-makers? (Kira Cochrane, Guardian, 31 January 2010)
Birds Eye View (UK)
Women in Film & Television (UK)
Alliance of Women Film Journalists (USA)
Women Film Critics Circle (USA)
Indiewire's Women and Hollywood blog
Terms and conditions
Women on Film (the "competition") is an international competition open to those who identify as female ("you") subject to paragraph 2 below.
Employees or agencies of the BFI, its group organisations or their family members, or anyone else connected with the competition may not enter the competition.
By entering the competition you are accepting these terms and conditions.
To enter the competition, you must email your entry along with your name, age and phone number to womenonfilm@bfi.org.uk. If you have any questions about how to enter or in connection to the competition please email us at womenonfilm@bfi.org.uk with 'Question' in the subject line.
The closing date and time of the competition is 3 May. Entries received after that date and time will not be considered.
By submitting an entry to the competition, you give the BFI the right to use your name for the sole purpose of identifying you as the author of your entry and/or as winner of the competition.
Your entry must be your own work, must not be copied, and must not otherwise be obscene, defamatory or in breach of any applicable legislation or regulations. If we have reason to believe that your entry is not your own work or otherwise breaches this paragraph 7, then we may not consider it.

Picking the winners

A panel representing Sight & Sound will select the top three entries from all the competition entries.
The judge's decision of who the winner and runners up are will be made on or before 16 May. The judge's decision is final.

The prizes

The winner of the competition will receive a year-long mentoring programme with one of Sight & Sound's female journalists, plus a commission to write a feature for the magazine's website. Two runners up will win an annual subscription to Sight & Sound.
The winners and runners up will be notified by the BFI by email or phone on 16 May 2011.
Details of the winners, runners up and their entries will also be published on www.bfi.org.uk/sightandsound on or before 16 May 2011 (at the BFI's sole discretion) at a later date.

Further rules

Entries on behalf of another person will not be accepted and joint submissions are not allowed.
We take no responsibility for entries that are lost, delayed, misdirected, or incomplete or cannot be delivered or entered for any technical or other reason. Proof of delivery of the entry is not proof of receipt.
The winners may be required for promotional activity and photographs of the winner may appear online.
The promoter of the competition is the BFI whose address is 21 Stephen Street, London, W1T 1LN. Any complaints regarding this competition should be sent to this address.
Nothing in these terms and conditions shall exclude the liability of the BFI for death, personal injury fraud or fraudulent misrepresentation as a result of its negligence.
The BFI accepts no responsibility for any damage, loss, liabilities or disappointment incurred or suffered by you as a result of entering the competition or accepting any prize. The BFI further disclaims liability for any injury or damage to you or any other person's computer relating to or resulting from participation in or downloading any materials in connection with the competition.
The BFI reserves the right at any time and from time to time to modify or discontinue, temporarily or permanently, this competition with or without prior notice due to reasons outside its control (including, without limitation, in the case of anticipated, suspected or actual fraud). The decision of the BFI in all matters under its control is final and binding.