Great expectations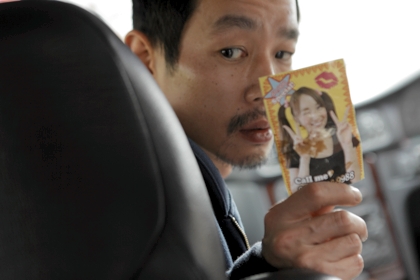 Abbas Kiarostami's Like Someone in Love
Cannes is where all the best directors are, says Geoff Andrew
---
Web exclusive, 16 May 2012
---
Cannes – undoubtedly, perhaps now more than ever, the greatest of all film festivals – always arouses high expectations among those heading for the Croisette; mercifully, it also very often fulfils them. That's mainly, of course, because it consistently appeals to the sales agents and producers of the latest films by the world's finest directors; how could a festival not excite an enormous amount of interest when it's the preferred launching pad for the likes of Michael Haneke, Abbas Kiarostami, Apichatpong Weerasethakul, David Cronenberg, Alain Resnais, Walter Salles, Ken Loach et al? And that's just this year!
So what am I especially looking forward to this time around? It's perhaps harder for me than for many Cannes attendees to answer that question because, a little atypically, I try to avoid discovering very much about a movie before I actually see it. Since I like to go into each press show with as open a mind as possible, very often the only things I know about a film in advance are its title, its director and – this is absolutely crucial, of course – its running time. But like most, I am swayed by my likes and dislikes regarding the work of certain established auteurs, so no one familiar with my tastes is likely to be surprised if I say that Haneke's Love and Kiarostami's Like Someone in Love are priorities for me.
But Cannes offers so much and it would be ridiculous if there were not other titles that have particularly piqued my interest. As a long-term fan of Hong Sangsoo, I'm keen to catch Another Country, though the fact that the press screening for that is squeezed between those for the Haneke and the Kiarostami means Sunday might end up providing an embarrassment of riches.
Of the other titles in the main competition, I'm greatly looking forward to You Ain't Seen Nothin' Yet! by Alain Resnais; not only does it come highly recommended by an eminent French critic who's seen it, but I adored Wild Grass when it premiered in Cannes a couple of years ago.
And then, of course, there's Cosmopolis. I've mostly been a big admirer of David Cronenberg's work from Crash onwards, and this has the added bonus of being an adaptation of a novel by Don DeLillo, an author whose books I respect but sadly can barely get through. However it turns out, Cronenberg will surely have made things easier for me this time around.
Out of competition? I'm extremely curious about Bernardo Bertolucci's return to directing with Me and You, inevitably eager to see White Elephant by the dependable Pablo Trapero, and very tempted by Le Grand Soir, courtesy of the dependably odd Benoît Delépine and Gustave Kervern. With new films like this to entice me, how on earth could I take time off to lose myself in classics like Hitchcock's BFI-restored The Ring or the long version of Leone's Once Upon a Time in America?
---
Fleeting pleasures:
Moonrise Kingdom »
See also
Restoration comedy: Abbas Kiarostami talks to Geoff Andrew about Certified Copy (September 2010)
Where the wild things grow: Adrian Martin on Wild Grass (June 2010)
Unexpected tenderness: Catherine Wheatley on Michael Haneke's The White Ribbon (December 2009)
Drive, he said: Geoff Andrew on Kiarostami's 10 (October 2002)