Hideous Kinky
UK/France 1998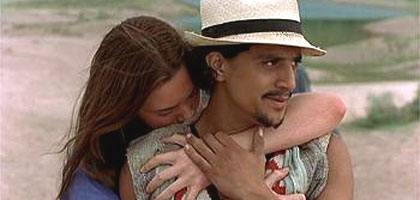 Reviewed by Philip Kemp
Synopsis
Our synopses give away the plot in full, including surprise twists.
1972. Julia, a young Englishwoman, is living in Marrakesh with her daughters Bea (age 8) and Lucy (age 6). Julia hopes to study Sufism but, with money from the girls' father arriving only rarely, she scrapes a living making dolls for sale. The girls meet Bilal, an acrobat, and he and Julia become lovers. Bea persuades Julia to let her attend school.
When Bilal loses his regular quarrying job, all four set off for Bilal's home village. They are welcomed, but Bilal, uneasy at the presence of his neglected wife, insists they leave again, and goes to Agadir to find work. Back in Marrakesh Julia and the girls meet a Frenchman, Jean-Louis Santoni, and his English friend Charlotte, who invite them to stay in their grand villa. A cheque arrives from London; Julia proposes to hitch to the Sufi college in Algiers but Bea chooses to stay with Charlotte and go to school.
In Algiers the Sufi's leader makes Julia realise she isn't ready to leave her old life. She and Lucy return to Marrakesch to find Jean-Louis and Charlotte have departed, and Bea has run away. Julia tracks her to an orphanage run by a priggish nun and reclaims her daughter. Bilal returns, wearing a resplendent uniform for a tourist spectacular. Bea falls ill, and Julia realises she must return to London. Bilal sells his uniform to buy tickets for her and the girls, then flees to escape his employer's wrath. As Julia and the girls sit in the speeding train, they see Bilal racing alongside in a truck waving goodbye.
Review
Gillies MacKinnon is one of those stimulating film-makers who hates to repeat himself. Each film is different from his previous ones, and especially from the last. As if in reaction against the shell-shocked stasis of Regeneration, all chilly blues and greys in a desolate winter landscape, Hideous Kinky finds him plunging with infectious relish into the vibrant sun-baked colours, sounds and turmoil of Morocco. What's more, both films include nightmares, but in Regeneration the camera seemed to hover over the hellish trenches in mesmerised horror, trapped and helpless. The nightmare that opens Hideous Kinky, reprised later, is a tumult of noise, panic and headlong flight, as a small girl rushes terrified down narrow alleys, harried by clutching hands and grinning faces.
Despite appearances, though, this nightmare isn't being dreamt by either Bea or Lucy, the young English girls plunged into this fascinating, bewildering country, but - as if on their behalf - by their mother Julia. Though she insists, both to the girls themselves and to her compatriot Charlotte, that Morocco is a wonderful place for her daughters, far preferable to a dreary cold flat in South London, her dreams betray her. Subconsciously she's haunted by the potential dangers to them. It's not surprising either that Julia seems to live her nightmare through her daughters' eyes, since in some ways she's more of a child than they are: more naïve, less ready to confront reality. Much of the film's comedy derives from the contrast between her flower-child fantasies and the children's laconic, down-to-earth appraisals. To Julia, the longed-for visit to the Sufi will bestow "annihilation of the ego", magically solving everything. The girls, having pretty healthy egos of their own, are less than convinced. "What the hell is a Sufi anyway?" mutters Lucy in voice-over, eventually concluding that: "They live in a mosque, they pray all day and they never go out."
The set-up, if not the surroundings, recalls Bill Forsyth's underrated melancholic comedy Housekeeping. There too a would-be free-spirited mother-figure tries to bring up two young girls according to her own wayward lights, only to collide head on with the innate conservatism of childhood, and there too the elder girl insists on embracing what she sees as "normality". Bea, at that stage in a child's development when she wants to stand out as little as possible from the crowd, yearns for the conventional. And, as if in one of those fairy stories where you get exactly what you wished for, she finds it in the form of the pious orphanage matron Patricia.
Indeed, in many ways Hideous Kinky can be read as a fairy tale, not least for its loose, episodic structure and its mood of enchanted unreality. From this angle, Patricia serves as the wicked stepmother - or maybe as the Wicked Witch of the West, with Charlotte as the well-meaning but disorganised Witch of the South, and the charmingly unreliable Bilal, with his acrobatic tricks and dicey juggling (an engaging performance from Saïd Taghmaoui, who featured in La Haine) as a younger, handsomer Wizard of Oz. There's even a magic slipper to wish on, and the title comes from the secret, half-understood phrase that the two children repeat like a mantra in moments of stress. But the film's superb final image evokes a far older story-telling tradition: Bilal, standing in the speeding truck, waving madly as he recedes into the distance, his scarlet turban unravelling like a banner across the sky, is pure Arabian Nights.
Credits
Producer

Ann Scott

Screenplay

Billy MacKinnon
Based on the novel by
Esther Freud

Director of Photography

John de Borman

Editor

Pia Di Ciaula

Production Designers

Louise Marzaroli
Pierre Gompertz

Music

John Keane

©The Film Consortium/ L Films

Production Companies

The Film Consortium and BBC Films present in association with The Arts Council of England a Greenpoint film
Co-produced with L Films and AMLF
Developed with the assistance of BBC Films/Greenpoint Films
and with the support of The European Script Fund
Supported by the National Lottery through the Arts Council of England

Executive Producers

Mark Shivas
Simon Relph

Co-producers

Emmanuel Schlumberger
Annabel Karouby
Marina Gefter

Line Producers

Paul Sarony
France:
Pierre Sayag

Production Co-ordinators

Ann Lynch
Khadija Alami

Production Managers

Hilary Benson
Omar Jawal

Location Manager

Hassan Bajja

Post-production Supervisor

Alistair Hopkins

2nd Unit Director

Billy MacKinnon

Assistant Directors

Stephen Woolfenden
Mohamed Nesrate
Beni Turkson
Larbi Idrissi
Jim Threapleton
Abdelwahab Adil

Script Supervisors

Glen Howarth
Susanna Lenton

Casting

Susie Figgis
France:
Juliette Menager

Script Editor

Stephanie Guerrasio

Steadicam Operator

Alastair Rae

Conform Editors:

Gavin Buckley
Gabby Smith
Giles Gardner

Art Director

Jon Henson

Costume Designer

Kate Carin

Wardrobe Master

John Norster

Make-up/Hair Design

Mel Gibson

Titles Design

Plume Ltd

Titles/Opticals

General Screen Enterprises

Musicians

Singer/Guitar Player:
Rais El Housseine Bou-El-Masseil
Ney Player:

Kudsi Erguner
musicians of the London Pops Orchestra

Music Consultant

Liz Gallacher

Soundtrack

"On the Road Again" by Al Wilson, F. Jones, performed by Canned Heat; "Alone Again Or" by Brian MacLean, performed by Love; "Here Comes the Sun" by George Harrison, performed by Richie Havens; "Worlds They Rise and Fall" by Mike Heron, performed by The Incredible String Band; "Baba Baba Mektoubi" performed by Jil Jilala; "The Tortoise's Song" arranged by Ishteeb Laggatri, performed by Khalifa Ould Eide, Dimi Mint Abba; "Follow" by Jerry Merrick, performed by Richie Havens; "Somebody to Love", "White Rabbit" by Darby Slick, performed by Jefferson Airplane; "Road" by/performed by Nick Drake; "Rigoletto" by Giuseppe Verdi, performed by the Rome Opera Orchestra, conducted by Francesco Molinari-Pradelli; "A Horse with No Name" by Dewey Bunnell, performed by America; "In Search of the Well" performed by Rabih Abou-Kahlil; "You Don't Have to Cry" by Stephen Stills, performed by Crosby, Stills & Nash

Sound Recordist

Bruno Charier

Dubbing Mixer

Tim Alban

Supervising Sound Editor

Zane Hayward

Dialogue Editor

Stewart Henderson

ADR

Loop Group:
Brendan Donnison
Editor:
Dave McGrath

Foley

Artists:
Jack Stew
Felicity Cottrell
Editor:
Anthony Faust

Consultant on Sufism

Hoda Mohajerani

Stunt Co-ordinator

Stuart St. Paul

Cast

Kate Winslet

Julia

Saïd Taghmaoui

Bilal

Bella Riza

Bea

Carrie Mullan

Lucy

Pierre Clémenti

Jean-Louis Santoni

Abigail Cruttenden

Charlotte

Ahmed Boulane

Ben Saïd

Sira Stampe

Eva

Amidou

Sufi Sheikh

Michelle Fairley

Patricia

Kevin McKidd

Henning

Peter Youngblood Hills

hippy

Mohcine Barmouni

Aziz


Annouar Zrika

Hicham

Mohamed Cherkaoui

Hadaoui

Abderrahim Bergache

doctor

Khaldi Cherif

village elder

Ahmed Madha

poet

Frédérique Zepter

translator

Salah-Dine Fenjirou

bank clerk

Roukia Bent H'Mad

Bilal's wife

Hassan Bajja

policeman

Abdellatif Jamal Saadi

Sufi Gate man


Lisa Orgolini

David Baxt
tourists

Fadila Benmoussa

Khadija Adly
Malika Khaldi
Khadija Belkiyal
hotel ladies

Abdelkader Lotfi

ticket clerk

Certificate

15

Distributor

United International Pictures (UK) Ltd

8,900 feet

98 minutes 53 seconds

In Colour

Anamorphic