Day ten: Eccentricities of American college life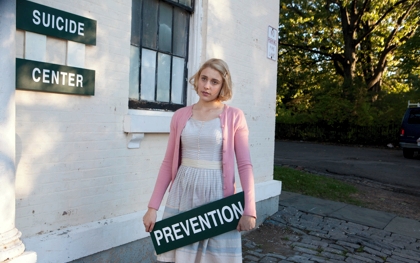 Gabe Klinger, 10 September
Film of the day
In the last days the festival has unveiled a slew of grim dramas: Sokurov's Faust, Abel Ferrara's 4:44: Last Days on Earth, William Friedkin's Killer Joe and Teresa Vilaverde's Swans (Cisne) among the bunch. Whether universal stories about (self-)betrayal set in a baroque key (Faust), elliptical family dramas melancholically bookended with Chico Buarque music (Swans), intimate chamber pieces that imagine an impending apocalypse (4:44) or hillbilly porn about people who are just plain psychopathic to one another (Killer Joe), each reveals their respective authors' profound disquiet with his or her surroundings. Fitting then that the festival should end on a note of buoyancy, frivolity and just a splash of disquiet with Whit Stillman's ivory tower farce Damsels in Distress.
As in the director's previous films, Damsels wears superficiality on its sleeve but ultimately manages to express something more deeply felt about its characters in the calibrated space that it leaves between scenes. It's refreshing to see a movie dealing with young people that rewards the audience by not bombarding them with every detail they need to know about the characters (per Mean Girls (2004) and its ilk) right at the outset. Stillman also seems to be playing consciously with the disconcertment of an audience who will have to scratch their heads wondering whether they're watching rote teen fair or a serious arthouse experiment (it stays tethered somewhere in between).
It centres on a triad of self-centred college seniors, Violet (Greta Gerwig), Rose (Megalyn Echikunwoke) and Heather (Carrie MacLemore), who recruit a fourth, the more independently minded transfer student, Lily (Analeigh Tipton). They pass the time engaged in empathetic student outreach activity which seems only to serve their own inflated sense of moral superiority. For example, the girls are seen alternating shifts at the campus Suicide Prevention Center where they expend more energies looking down their navels and policing the centre's free donuts than, you know, preventing suicide.
At first such details appear to be flirting with the tropes of the genre, but Stillman's dialogue – verbose in the utmost – has more in mind for us, revealing layers of neuroses deeply imbedded in each character. Violet, to take one of the girls, is first seen as an enigmatic ringleader much like Alicia Silverstone's Cher Horowitz in Clueless (1995), but the full-blown insanity of her personality begins to bubble comically to the surface as she leaves the university in depressive exile, discombobulated after her Neanderthal boyfriend (Ryan Metcalf) cheats on her. By the end, Violet comes somewhat to terms with her eccentricities, and she manages to successfully launch a new dance craze of her own design: the "Sambola" (those eager to learn shouldn't skip out on the credits).
Another character, Xavier (Hugo Becker), initially an ennobled outsider who helps Lily to navigate her new college life, is exposed as calculating, not to mention possessing certain freakish proclivities tied to his belief in Catharism (a sect that dwindled circa the 13th century and which Stillman has revived for the world of Damsels in a surrealistic flourish).
I've only begun to scratch the surface of the film here. It includes musical interludes, inept suicide attempts and a brainless jock named Thor who purports to learn how to identify colours (yes, colours) as part of his well-rounded college education. College as a frightening prelude to the wilderness of post-graduate life is a somewhat worn-out concept in American comedy, but it's one that Stillman seems to be working up from scratch instead of relying on existing models. Whether or not it works in the way that audiences will want it to work still remains to be seen.
Awards
"International cinema is alive and well," jury president Darren Aronofsky enthused at the awards ceremony tonight. For Aronofsky's group it seemed to be especially alive and well in China and the U.K., respectively taking home two prizes apiece.
Among the Chinese contenders, the surprise competition entry Ren Shan Ren Hai (People Mountain People Sea) earned the director prize for Cai Shangjun, and in the actress category, Deanie Yip was given honours for Ann Hui's Tao jie (A Simple Life).
From the British end, Michael Fassbender was bestowed best actor for his turn in Steve McQueen's Shame (he was also very good, albeit more restrained, in A Dangerous Method), and Robbie Ryan was given cinematography props for Wuthering Heights.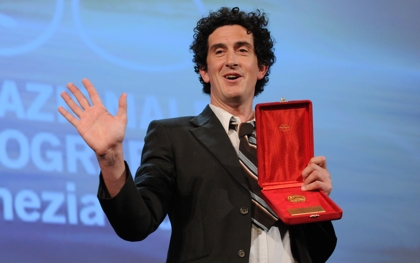 Arguably the most adventurous award went to Greek filmmaker Yorgos Lanthimos, whose cryptic and disturbing script (co-written by Efthymis Filippou) for Alpis (Alps) was distinguished with the screenplay award.
The sole prize to an Italian film (there were three in competition) was the jury award, presented to Emanuele Crialese for Terraferma (a colleague reported that the journalists in the press room booed loudly at the decision).
From Japan, the stars of Sono Sion's post-Fukushima drama Himizu were given an ensemble acting prize.
Finally, Alexandr Sokurov, who had won several international distinctions but never the top award, will return to Russia with richly deserved best film laurels for Faust.
« Day nine: The sacred and profane
---
Read our reflections on the Venice Film Festival and its discoveries in the November issue of Sight & Sound, on newsstands 4 October.
---
See also
Submarine reviewed by Isabel Stevens (April 2011)
Love Exposure reviewed by Trevor Johnston (November 2009)
Afterschool reviewed by Lisa Mullen (September 2009)
Brick reviewed by Hannah McGill (June 2006)
Family album: Jonathan Romney on The Royal Tenenbaums (March 2002)
Election reviewed by Geoffrey Macnab (October 1999)
Cruel Intentions reviewed by Edward Lawrenson (June 1999)