Venice Film Festival 2011:
The Sight & Sound blog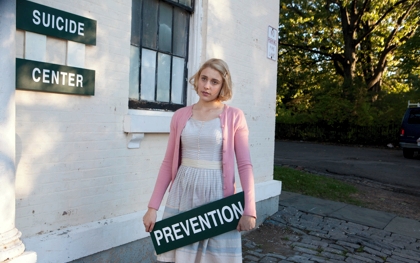 Gabe Klinger, 10 September
Film of the day
In the last days the festival has unveiled a slew of grim dramas: Sokurov's Faust, Abel Ferrara's 4:44: Last Days on Earth, William Friedkin's Killer Joe and Teresa Vilaverde's Swans (Cisne) among the bunch. Whether universal stories about (self-)betrayal set in a baroque key (Faust), elliptical family dramas melancholically bookended with Chico Buarque music (Swans), intimate chamber pieces that imagine an impending apocalypse (4:44) or hillbilly porn about people who are just plain psychopathic to one another (Killer Joe), each reveals their respective authors' profound disquiet with his or her surroundings. Fitting then that the festival should end on a note of buoyancy, frivolity and just a splash of disquiet with Whit Stillman's ivory tower farce Damsels in Distress.
As in the director's previous films, Damsels wears superficiality on its sleeve but ultimately manages to express something more deeply felt about its characters in the calibrated space that it leaves between scenes. It's refreshing to see a movie dealing with young people that rewards the audience by not bombarding them with every detail they need to know about the characters (per Mean Girls (2004) and its ilk) right at the outset. Stillman also seems to be playing consciously with the disconcertment of an audience who will have to scratch their heads wondering whether they're watching rote teen fair or a serious arthouse experiment (it stays tethered somewhere in between).
It centres on a triad of self-centred college seniors, Violet (Greta Gerwig), Rose (Megalyn Echikunwoke) and Heather (Carrie MacLemore), who recruit a fourth, the more independently minded transfer student, Lily (Analeigh Tipton). They pass the time engaged in empathetic student outreach activity which seems only to serve their own inflated sense of moral superiority. For example, the girls are seen alternating shifts at the campus Suicide Prevention Center where they expend more energies looking down their navels and policing the centre's free donuts than, you know, preventing suicide.
At first such details appear to be flirting with the tropes of the genre, but Stillman's dialogue – verbose in the utmost – has more in mind for us, revealing layers of neuroses deeply imbedded in each character. Violet, to take one of the girls, is first seen as an enigmatic ringleader much like Alicia Silverstone's Cher Horowitz in Clueless (1995), but the full-blown insanity of her personality begins to bubble comically to the surface as she leaves the university in depressive exile, discombobulated after her Neanderthal boyfriend (Ryan Metcalf) cheats on her. By the end, Violet comes somewhat to terms with her eccentricities, and she manages to successfully launch a new dance craze of her own design: the "Sambola" (those eager to learn shouldn't skip out on the credits).
Another character, Xavier (Hugo Becker), initially an ennobled outsider who helps Lily to navigate her new college life, is exposed as calculating, not to mention possessing certain freakish proclivities tied to his belief in Catharism (a sect that dwindled circa the 13th century and which Stillman has revived for the world of Damsels in a surrealistic flourish).
I've only begun to scratch the surface of the film here. It includes musical interludes, inept suicide attempts and a brainless jock named Thor who purports to learn how to identify colours (yes, colours) as part of his well-rounded college education. College as a frightening prelude to the wilderness of post-graduate life is a somewhat worn-out concept in American comedy, but it's one that Stillman seems to be working up from scratch instead of relying on existing models. Whether or not it works in the way that audiences will want it to work still remains to be seen.
Awards
"International cinema is alive and well," jury president Darren Aronofsky enthused at the awards ceremony tonight. For Aronofsky's group it seemed to be especially alive and well in China and the U.K., respectively taking home two prizes apiece.
Among the Chinese contenders, the surprise competition entry Ren Shan Ren Hai (People Mountain People Sea) earned the director prize for Cai Shangjun, and in the actress category, Deanie Yip was given honours for Ann Hui's Tao jie (A Simple Life).
From the British end, Michael Fassbender was bestowed best actor for his turn in Steve McQueen's Shame (he was also very good, albeit more restrained, in A Dangerous Method), and Robbie Ryan was given cinematography props for Wuthering Heights.
Arguably the most adventurous award went to Greek filmmaker Yorgos Lanthimos, whose cryptic and disturbing script (co-written by Efthymis Filippou) for Alpis (Alps) was distinguished with the screenplay award.
The sole prize to an Italian film (there were three in competition) was the jury award, presented to Emanuele Crialese for Terraferma (a colleague reported that the journalists in the press room booed loudly at the decision).
From Japan, the stars of Sono Sion's post-Fukushima drama Himizu were given an ensemble acting prize.
Finally, Alexandr Sokurov, who had won several international distinctions but never the top award, will return to Russia with richly deserved best film laurels for Faust.
---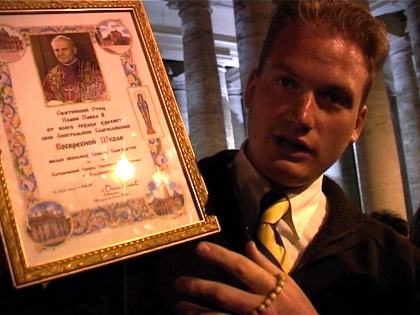 Barbara Wurm, 9 September
Film of the day
Romuald Karmakar's documentary The Flock of the Lord (Die Herde des Herrn), a diptych on the Roman Catholic Church and its believers, features among other protagonists a young man who in April 2005 came all the way from Chicago to the Vatican to bid farewell to the deceased Pope John Paul II. Waiting about for up until 12 hours a day, he was hoping was to visit the pope and pray.
"What's your prayer about?", Karmakar asks.
"I pray that I can be like Pope John Paul II. I want to be like him. The Catholic Church is number one."
"Is that important to you – that the Catholic Church is number one?"
"It's the truth."
"But why it is important?"
"It's the truth, and the truth is important. And the truth is that the Catholic Church is number one."
Obsessed with intellectual precision, Karmakar has, over the years, honed his observational skills into a method that allows an often baffling way of directly confronting the filmed person with questions. It's by recording and viewing his protagonists' pronouncements in their totality that Germany's most fearless filmmaker reveals the sometimes contradictory layers of truth, a truth contained not so much on a logical or verbal level but on a rhetorical one, within intonations and repetitions, contradictions and irrational, emotional and discursive rituals. Die Herde des Herrn seems to unite the two main characteristics of his recent works, the focus on trance, hypnosis, and the masses in his techno trilogy (196 bpm (2003), Between the Devil and the Wide Blue Sea (2005) and Villalobos (2009)) and the provocative 'talking cure' in Ramses, his contribution to Deutschland '09 (2009).
Much of the Venice audience was irritated by the many long, seemingly similar shots of groups of people mourning over the pope's death on Saint Peter's Square. But it's precisely the sometimes minimal deviations that matter, the difference in repetition adding up to a broad overview of subjects' mentalities. Some pray, others sing. Some weep, others wave flags (in most cases, Poland's national banner). Some recite the rosary, others make up lyrics. Some are spiritual servants, others masters of pragmatics. Even if they just wait in line endlessly or are about to break down (because they are old or pregnant and have been in the queue for hours) they reveal a determinedness, usually inaccessible to non-believers.
The frenetic yet passionate devotion of the Vatican masses is contrasted with the first part of the film, shot 11 days later on the day Josef Ratzinger was inaugurated Pope Benedictus XVI. In no time at all his birthplace Marktl am Inn turned from a provincial backwater into a centre of worship. The pilgrims are welcomed by proud, business-minded locals, experimenting with marketing concepts such as the 'pope cap' (some kind of pastry), the 'Benedikt XVI herbal tea' and the famous 'Marktl pope horse droppings'. Belief is an enterprise, and the church an economic machinery for the constant flow of values (money, emotions, beliefs). It was a good decision to return to this intriguing material, which had lain fallow for more than six years.
Paradise park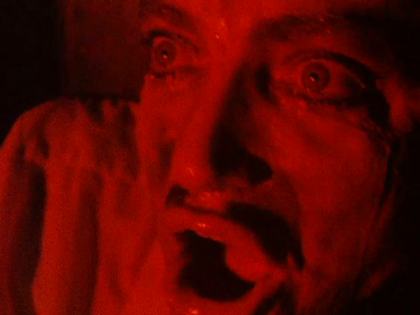 My day started with a visit to the Biennale Giardini, where Christoph Schlingensief's widow had resurrected the great artist by turning the 'Germania' pavilion into the temple of 'Egomania'. Icons and statues of the Lord were substituted for a lot of fascinating film clips and examples of set designs from his fantastic oeuvre. Spirituality was in the air, made up of sounds and visuals, visions of horror and trash, of truth and a revealing nakedness.
An equally sad statement on the topics of religion and dying could be found in the exhibition 'Dmitri Prigov: Dmitri Prigov' at the Palazzo Foscari, a side event of the Biennale. In his last years this Russian media genius turned to video. Entering the exhibition meant walking right through three screens on which Prigov's encounters with the big three religions – Islam, Judaism and Christianity – were projected. This oeuvre is full of references to artists, but also full of humour. So it doesn't come as a surprise that in one drawing installation the person being deconstructed is a famous art student from Braunau (am Inn – just like Marktl), Adolf Hitler.
The many faces of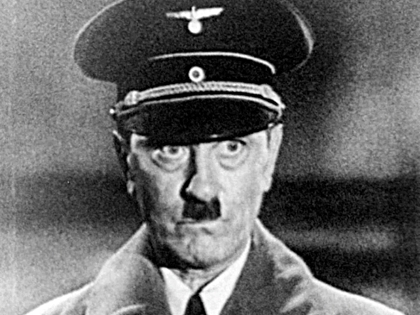 Hitler became the object of deconstruction in the last stroke of genius of the day: Norbert Pfaffenbichler's short experimental Conference, shown with Die Herde des Herrn. The film samples film excerpts of actors playing Adolf Hitler – the figure portrayed more than any other in the history of film – and combines them in a grotesque shot-countershot identity parade. To quote Pfaffenbichler, the most humble and sincere of Austria's found-footage masters: "Which Hitler is your favourite?"
---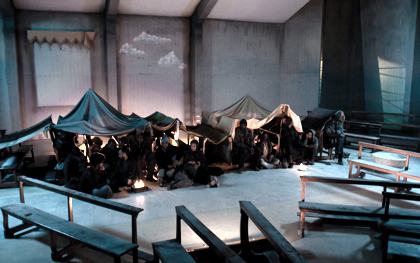 Kieron Corless, 8 September
Film of the day
As the festival enters its final few days the consensus seems to be there's been a fair number of good films, but few truly outstanding ones.
A personal favourite is The Cardboard Village (Il villaggio cartone) by veteran Italian director Ermanno Olmi. As Guido Bonsaver pointed out yesterday, immigration is on the minds of many an Italian director right now (and others in Venice's programme too, as I'll come to below), but what's fascinating about Olmi's film is the grave, decorous but highly incisive manner of its treatment.
The whole film never moves outside a beautiful condemned parish church, bulldozers poised to move in and the distraught elderly priest (played with great delicacy by Michael Lonsdale) resigned to its fate. Out of the blue a group of African immigrants seeks refuge, constructing the titular cardboard village which the priest protects from the exasperated authorities. The Africans' and the priest's plights inform and enrich other, giving new resonance to a profound meditation on faith and political and historical change. Olmi skilfully maps and opens up the church space, intensifying and focusing our gaze, but never raising the dramatic temperature much above a murmur, despite the charged situation and a faction of the immigrants which wants to resort to suicide bombing.
The film's gravitas and poignancy reminded me of Vittoria de Seta's Letter from the Sahara (2006), an aesthetically very different but similarly heartfelt and piercingly direct plea for compassion in Europe's treatment of African immigrants, made by an equally great Italian director in his twilight years.
In its own quiet but utterly rigorous and precise manner, The Cardboard Village has been one of the most confrontational films of the festival. It could be a tough sell in the UK (the last Olmi film to show in Britain was the wonderful One Hundred Nails (2007), and that no further than the London Film Festival), but let's hope some enterprising British distributor gives it a shot.
Movies to home
In the Orrizonte section I was also very taken by the documentary Hollywood Talkies (above), directed by Oscar Perez and Maria del Mar de Ribot and produced by Luis Minarro (responsible, through his production company Eddie Saeta, for such recent greats as last year's Aita, as well as this year's Brazilian Venice entry Swirl, fulsomely praised by Neil Young in his day six post).
This film too is about migrants, here Spaniards striking out for California at the birth of the talkies, when the Hollywood studios had begun bringing Spanish actors on set at the end of each to reshoot scenes for the Spanish-language market. It combines group portrait photographs with depopulated fragments of Californian beaches and buildings, while an engaging narration focused in on overlooked individuals and stories.
It's a small film, for sure, and probably won't win any prizes, but I found it compellingly evocative of this vanished era, a poised and moving act of historical recovery. One acquaintance detected a note of anti-Americanism, which I hadn't picked up on, perhaps because the narrator is American, but perhaps I fell for a deliberate attempt to forestall such criticism.
Black and white
A somewhat more brash and overtly confrontational take on the immigrant Other came courtesy of Nicolas Provost, also in Orrizonti. The Invader opens on a woman's naked crotch as she lies on a nudist beach. She slowly gets up and walks to the sea, from where an exhausted African man emerges and locks gazes with her.
That in-your-face yoking together of race and sex, black and white, pretty much encapsulates everything the film will be about thematically, as well as its self-consciousness and tendency to overstate. Amadou, played brilliantly by Issaka Sawadogo, will seek to turn the tables on brutally exploitative employers, at the same time as pursuing a sexual obsession with a high-flying married white woman. The film had its supporters, and as with that opening there are striking moments; but I never quite believed in the Amadou character, and the revenge story became grimly predictable.
Some must have prizes
As the final weekend looms, thoughts turn to potential prize-winners. There seems to be support for David Cronenberg's A Dangerous Method (also in the London Film Festival), and a strong headwind behind Ann Hui's A Simple Life.
I hope the best film I've seen, Yorgos Lanthimos' Alps, gets something, but I suspect it won't; the majority here seem to have rejected it, at least according to the critical round-up in Variety.
The three British films in competition have been reasonably well received on the whole, particularly Tinker Tailor Soldier Spy, and could certainly figure. But with Ben Rivers and Andrew Kötting still to show in the Orrizonte section, the best of British might be yet to come.
---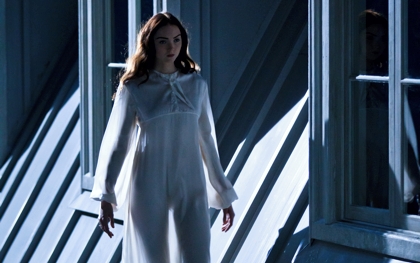 Guido Bonsaver, 7 September
There's an Italian proverb along the line of: "A good day reveals itself in the morning." Luckily, that didn't hold true of Venice's day six, when the morning screenings – of two eagerly adapted literary adaptations from female directors – didn't fully convince.
Mary Harron's The Moth Diaries tries to recreate the dark and ghostly atmosphere of Rachel Klein's popular teenage girls' novel, but never moves beyond the predictable. "Vampire novels do not work without sex, blood and death," lectures the cool, secretly-adored male English teacher at the posh American girls' boarding school where the film is set. True (though The Moth Diaries carries only ratings-friendly hints of sex), but the film proves that those ingredients aren't always sufficient. Camerawork, cinematography and acting are all excellent, but the story never becomes dark or erotic enough to tickle our subconscious. Watching the film felt like being told about a nightmare, rather than experiencing it for yourself.
Next was Andrea Arnold's Wuthering Heights. The idea was certainly noble: to strip the iconic romantic novel of its sentimental excesses and bring the brutal reality of cruelty and domestic violence to the fore. And Arnold has cast two black actors as the adolescent and adult Heathcliff (picking up on a hint in Brontë's original, as Kieron Corless noted in his festival preview).
Alas, the main characters' interaction is never developed beyond short dialogue, leaving us begging for psychological clues and reliant on memories of Emily Brontë's novel. Despite the long, beautiful shots of the rain- and wind-weltered landscape, the film never brings life to its characters and ends up looking like one of those classic Shakespeare adaptations which the audience follow in search of a new twist.
Breakthroughs of the day
The day unexpectedly lit up with Guido Lombardi's La-Bas. Educazione criminale (La-Bas. A Criminal Education), screening in the Critics' Week. Based around the legal and illegal dealings of the African migrant community in a small town near Naples, it provided a refreshing and credible insight (thanks in large part, as Lombardi clarified during the press conference, to his long-term friendship with some of the denizens of that world).
This year more than half-a-dozen of the Italian films at Venice focussed on the theme of immigration. This is hardly surprising, since big waves of immigration to Italy in the last 20 years have made the topic a dominant one, but Italian filmmakers have consistently failed to produce a good representation of the issues. (At Venice the latest such disappointment – one of some magnitude – was Terraferma from Respiro's Emanuele Crialese.)
Yet there was another film about immigration even more accomplished than Là-bas: Io sono Li (Li and the Poet), by the young, revered Italian documentary filmmaker Andrea Segre, here making his fiction debut.
And what a debut! Io sono Li tells the story of a Chinese migrant woman who runs a bar at the fishing port of a small city near Venice. To shoot the Venetian Laguna without producing glossy postcard pictures and yet showing it in all its melancholic beauty is no mean feat, but thanks to the splendid photography of Luca Bigazzi, the film is aesthetically a gem.
Add a first-class cast – in the shape of Tao Zhao, one of China's best actresses, Croatia's Rade Serbedzija and cult Italian actors such as Marco Paolini and Giuseppe Battiston – plus a brilliant script which manages to get under the skin of a local community, and you have a great film. Only heaven and Venice's artistic director Marco Müller know why it was not selected for the main competition.
Out with a bang
The day ended with the illustrious Abel Ferrara. Unfortunately a small fire in the projection room (!) added a considerable delay to the evening schedule, such that the viewing of the last film and the writing of this piece eventually took place in the early hours of day seven.
Was it worth the wait? Yes. 4:44 Last Day on Earth follows a New York couple during their last hours before the publicly announced and scientifically-certified end of the world. This will be neither a Golden Lion winner nor a box office hit. Nonetheless, after the first half-hour of predictable let's-make-love-for the last time scenes (three times, i.e. two too many), the film acquires a mesmerising quality as we are taken into the neurotic and messed-up world of the two protagonists (brilliantly played by Shanyn Leigh and Willem Dafoe).
There's a third main character: an oneiric, nocturnal Manhattan, shot in all its glorious neon-acid colours. If my contribution to this blog began with a comment on North American culture looking itself in the mirror, 4:44 Last Day on Earth feels like a heartfelt testament – complete with a sarcastic "I told you so" lesson from Al Gore. This is not science-fiction; it's Ferrara's own adieu to a world gone by.
---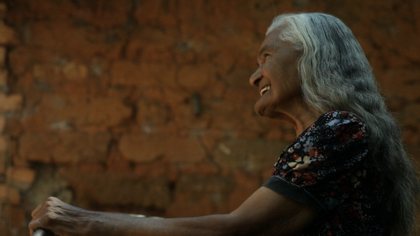 Neil Young, 6 September
Film of the day
At this midway point, the secret to finding worthwhile films at the 2011 Venice Film Festival apparently boils down to concentrating on fictional features made – and projected – on 35mm, showing outside the Golden Lion Competition, which feature as their main protagonist an ancient Brazilian widow living in a remote and picturesque backwater.
These stringent criteria apply to two of the festival's few genuine discoveries so far: Stories That Exist Only When Remembered (Historias que so existem quando lembradas), an Argentinian/Brazilian co-production by director/co-writer Julia Murat, and today's highlight Swirl (Girimunho), by Hélvecio Marins Jr. and Clarissa Campolina. The former is one of the dozen features selected for the parallel Giornati degli autori section known in English as 'Venice Days', the latter part of the competitive Orizzonti strand supposedly dedicated to edgier, more experimental works (but which this year incongruously found room for the questionable likes of Hollywood star James Franco's rough-edged squib, Sal).
Whereas Stories That Exist Only When Remembered is fable-like, with touches of magical realism and painterly chiaroscuro photography illuminating its nocturnal interiors, Swirl is simultaneously a more impressionistic but also specific and more grounded affair: a multi-layered and immersive portrait of an independent octogenarian whose sprightly attitude enables her to retain youthful energy well into what we may divine to be her ninth decade on the planet.
Bastu, near-universally referred to simply as 'Grandmother', is played by Maria Sebastiana Martins Alvaro – like the rest of the cast, a non-professional found by the filmmakers during their researches in the Minas Gerais region of South America's largest and most populous nation. Her 'acting' is direct and improvisational, engagingly 'imperfect' at times, in a film which has one foot in documentary – although the event which initiates the picture, the death of Bastu's sedentary husband Feliciano, is clearly a fictional touch.
Typically, on the night of Feliciano's demise his wife had been out participating in a raucous neighbourhood music party (an extended, rousingly cacophonous sequence) while he had been slumped in front of the television set. Swirl thus implicitly and vigorously endorses Bastu's philosophy that "time doesn't stop – it is us who stop." Motion and flux are paramount here in a film which may often pause for reflection – as Bastu says when showing her granddaughter secrets of the kitchen, "doing things slowly makes them better; patience is important" – but is otherwise restless in its freewheeling investigation of light, song and ritual in this out-of-the-way corner of Minas Gerais.
The results are unapologetically poetic and philosophical, but with a flowingly immersive rhythm of recurring images and sounds, propelling us from sequence to sequence with Bastu as the constant central figure around whom the impressionistic Swirl hypnotically revolves, right up to the pitch-perfect, poignant final shot.
Swirl gained much from being projected via warm, analogue 35mm prints – something that unfortunately can't be said for quite a few Venice 2011 selections, including some high-profile contenders for the Golden Lion.
Foggy digits
Case in point: Thomas Alfredson's Tinker Tailor Soldier Spy, a calculatedly middle-of-the-road adaptation of the John le Carré novel featuring an impeccably minimalist performance from Gary Oldman that instantly propels him into contention for the Volpi Cup for Best Actor here, alongside another British (Isles) challenger, Shame's Michael Fassbender.
Alfredson's film conjures the MI5 atmosphere of sour cynicism with pungent effect, the production-design going overboard to emphasise the dunnish drabness of early-70s London while Hoyte Van Hoytema's cinematography fills every room – whether smokers are present are not – with a mistiness that occasional thickens into a stygian, stultifying fog.
The resulting palette of oranges, browns and deep shadows was ill-served by being projected digitally here rather than via the richer, more complex hues and darknesses of 35mm – a baffling decision for what is officially termed a "display of international cinematographic art" ("Mostra internazionale d'arte cinematografica"). If Alfredson elected to make the picture using old-fashioned celluloid then surely his artistic choice should be properly conveyed to the audience.
Digital chill
There was no such problem with the day's other Competition presentation, Ann Hui's A Simple Life from Hong Kong, as this heartfelt if overlong and underdeveloped story of an elderly maid's decline into terminal illness was shot (by Jia Zhangke's DP of choice, Yu Lik-Wai) on digital cameras with slightly chilly results that help prevent proceedings descending into fuzzy sentimentality.
Then again, it will undoubtedly be very difficult to see Tinker Tailor Soldier Spy on its upcoming UK release in anything other than a Digital Cinema Package, so rapid has been the rush to digital in both arthouses and multiplexes – whether or not the films being shown were actually made on that format. Such are the realities of commercial distribution in the 21st century – but it's disappointing, to say the least, that film festivals as long-running and prestigious as Venice are so happy to follow suit.
That said, the three current front-runners for the Golden Lion here based on critical esteem and general 'buzz' – Steve McQueen's Shame, Yorgos Lanthimos's Alps and Sion Sono's Himizu (unveiled to the press this evening) – were all made and shown on 35mm, a detail that hopefully may delay the festival's rumoured aim of switching entirely to digital in the very near future.
In the case of films like Swirl and Stories That Exist Only When Remembered, the grain and imperfection of celluloid is a crucial element in transporting us through both space and time to bygone worlds beyond our geographical and chronological horizons. And so long as directors are able and willing to shoot on 35mm – or even 16mm, come to that – festivals that claim to celebrate the art of cinema really should go out of their way to ensure that their wishes and preferences are suitably respected. Of course, it is much cheaper and less bothersome for festivals and distributors alike to push the 'benefits' of digital projection. But places like Venice should surely aim to be genuine palaces of cinematic art – and not mere temples of convenience.
---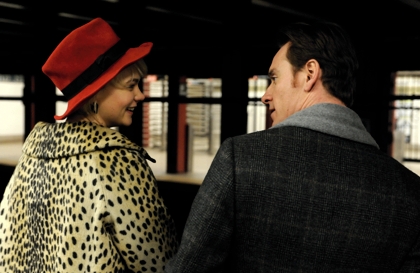 Jonathan Romney, 5 September
Film of the day
For critics, no film festival is truly worth its salt until it gives us its fair share of abjection and emotional extremity, and Sunday seemed to be the prime day for that in Venice. One of the most hotly-awaited of this year's films was Steve McQueen's competition entry Shame, starring Michael Fassbender as a man in the throes of sexual addiction. The drama is set in New York, and is bookended by Fassbender's character fixing a wolfish gaze on a young woman in the subway. In between, he masturbates at work, visits porn websites, has encounters with prostitutes, and makes a well-intentioned but ultimately painful attempt to make an emotional connection with a work colleague (Nicole Beharie, extremely good). But the core of the film lies in his difficult relationship with his equally damaged sister (Carey Mulligan).
First impressions of Shame are that it's an exceptionally powerful piece, and a major advance on Hunger in terms of McQueen finding his voice as a filmmaker. Shot by Sean Bobbitt, predominantly in hues of steely grey-blue, it's an oppressively urban film in the steel-and-glass vein, its admixture of emotional intimacy and critical detachment reminiscent of Lodge Kerrigan's Keane. McQueen proves a terrific director of actors, using long uninterrupted takes: one scene, holding close on Fassbender and Mulligan as they talk on a sofa, is a tour de force of intimate eavesdropping. It's Fassbender's film, in that everything depends on our fascination with the vulnerability behind the controlled exterior. But Mulligan proves a major revelation, dropping the fragile girlishness to play a character seriously on the skids – and she can hold a tune too, doing a rather poignant nightclub version of 'New York, New York' (nice, but maybe too obvious a jukebox choice).
However, you often change your mind about a film after a festival, or within a few hours of the screening. And while I may well find myself warming to Yorgos Lanthimos's Alps (for me Venice's disappointment), I'm already beginning to wonder if Shame is all it seems to be while you're watching it. I wonder how seriously the title should be taken, and whether McQueen (and co-writer Abby Morgan) are being judgmental about their protagonist, or prompting us to be. There's a terrible sequel to the character's dark night of the soul – which involves two hookers, a gay club (not quite plausibly) and a reckless cruising for a bruising – and a sense of moral comeuppance that isn't entirely palatable. Still, Shame is a formidable, and formidably sober, provocation. You can expect it to be very controversial – and fruitfully so – when it comes to Britain.
What it feels like for a girl
Female abjection has been a big theme in Venice too, not least with Keira Knightley's alarming fin de siècle freakout at the beginning of David Cronenberg's A Dangerous Method. Rather more measured – and much more alarming in its near-inscrutable restraint – was Olga Dihovichnaya's performance in the deeply unsettling Twilight Portrait.
Angelina Nikonova's film, co-written with its star, could roughly be described as a Russian counterpart to Andrea Arnold's Red Road. A slow set-up leads to its heroine, a middle-class social worker, being raped by a group of policemen. We seem to be in for a rape revenge drama, but things turn out very differently, as the woman, after denouncing her hypocritical husband and friends – at a superbly trenchant and comic birthday party scene – attaches herself to one of her assailants, whose crack-smoking, abuse-ridden family shows her the bottom of Russia's social heap.
We're used to Russian cinema telling us that the country is essentially shot to hell – My Joy, Alexei Balabanov's black thrillers – but Nikonova's deeply pessimistic but very human film is perhaps the first feminist exploration of the Russian cycle of violence.
Dihovichnaya's nuanced but extremely bold performance made interesting comparison with the lead of another woman-in-hell drama, the French Louise Wimmer. Cyril Mennegun's debut fiction is an intimate portrait of a woman in her early 50s who, having lost everything, is now living in her car and eking out a living as a hotel cleaner. Louise experiences routine daily humiliations and finds her only emotional outlet in anonymous hotel sex (and obsessive in-car listening to Nina Simone).
What makes the film especially extraordinary is the formidable, intensely self-exposing performance by hitherto-unknown Corinne Masiero, whose often unlikeable, unattractive character proves mightily imposing, for all her vulnerability. Masiero has stepped into the limelight for the first time, with a ferocity that should make her a name to conjure with – if anyone other than Mennegun is writing lead roles for 50-year-old women this tough.
Bumptious schlub
One hates to say it, but it was business as usual for Todd Solondz, albeit at a slightly below-par intensity, in Dark Horse. This tale of a suburban schlub (Jordan Gelber) falling for an unattainable depressive (Selma Blair) felt like Solondz reining in his thematic excesses for a more mainstream audience who've grown up on Curb Your Enthusiasm.
The trenchant intelligence is still palpable, but the pleasures of this rather broader, visually lurid film are piecemeal – Gelber's agonised bumptiousness, Christopher Walken's preposterous hairstyle, and a fabulous support performance by Donna Murphy as the hero's fantasy cougar. Dark Horse is way smarter than the mainstream, but nowhere near the painful pithiness of Solondz's best.
---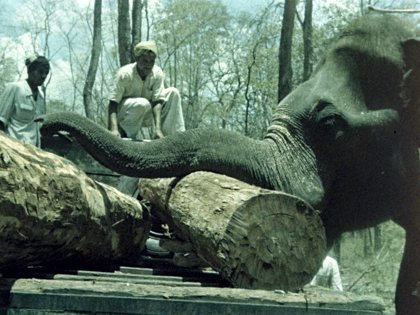 Roberto Rossellini's newly restored 1959 India: Matri Bhumi
Gabe Klinger, 5 September
One of the major virtues of the Venice Film Festival is its ability to accommodate and allow equal weight for a broad panorama of mainstream production, low-budget experiments and archival rarities. Sure, the star vehicle will get the splashier magazine spreads, but here on the Lido one can sense that fest director Marco Müller and his team are working hard to position each individual work as meaningfully within the larger context of the festival as they possibly can.
Müller himself is often present to personally introduce not only competition films but retrospective titles as well, and in his catalogue introduction he even wonders aloud if present-day filmmakers lack the humanity of old masters like Robert Rossellini and Nicholas Ray. How refreshing for a festival director to put forward a real meat and potatoes polemic instead the same sponsor-pleasing bullshit.
When viewed side-by-side (often consecutively in the same sala), the filmmakers included in Venice begin to take on the appearance of an extended family: imposing grandparents (Rossellini and Ray, both represented with new restorations of films from the 50s and 70s, respectively), rigorous fathers and mothers (Roman Polanski, Frederick Wiseman, Philippe Garrel) and disobedient sons and daughters (Yorgos Lanthimos, Michael Glawogger, Mati Diop, Gabriel Abrantes and Daniel Schmidt).
Where Rossellini (India: Matri Bhumi, 1959) and Ray (We Can't Go Home Again, 1971) broke with the conventions of film language and were capable of proposing something radically different with each new film, the next generation (Polanski, Wiseman and Garrel) stuck almost militantly to certain formal trends, each methodically carving out a particular aesthetic which they have only rarely strayed from. Thus it's up to the newcomers to break the mould again (at least if one follows the conventional wisdom that genetic traits skip generations).
Most impressive among the fresh-faced directors in Venice is Yorgos Lanthimos, whose Alpis (Alps) is distinguished not because it consciously sets out to be different, but because its director has a freedom of tools and the complete trust of his collaborators – the outstanding lead performers (Aggeliki Papoulia, Ariane Labed), his producing collaborator Athina Rachel Tsangari (Attenberg) etc. – to be able to generously carve out a vision of a world for audiences (the film is about an odd gang, or "company", according to the press book, who are hired by the families or friends of dead people to stand-in for or act as their deceased relatives).
The main problem for spectators, it seems, is that the world of Alpis is not a happy or resolute one. But that all movies should inspire mirth or lead one down a predetermined path are conventions older than even grumpy, one-eyed Nicholas Ray, who never ceased to take audiences to the very edge of despair. Like Alpis, Ray's We Can't Go Home Again is a similarly splintered, elliptical story of a fucked-up clan that has divided viewers for decades.
Fortunately the festival road is a long one for these two masterpieces. With Alpis, one hopes that, despite increasing economic woes in Greece, Lanthimos and others will continue to be able to work in their native country. And with the Ray, it would be truly ideal if an industrious DVD/Blu-ray label released the version of We Can't Go Home Again presented in Venice, but also endeavoured to reconstruct, using original source materials, the no-longer extant 1976 version of the film which some scholars maintain is superior.
---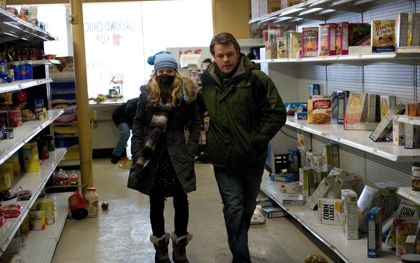 Kieron Corless, 4 September
Day four of the festival but the first complete one for me, with last night's showing of Yorgos Lanthimos's monumental (and extremely divisive) Alps still flowering insidiously and subversively in my head as I set off for the 9am press screening (see Barbara Wurm's day three report). By common accord the festival lumbered sluggishly through its first two days, but really caught fire yesterday. I'm hopeful today will match it.
First up is Steven Soderbergh's Contagion. Barely five minutes in, Gwyneth Paltrow becomes the first victim of what will become a global pandemic; the autopsy entails opening her head up and folding it over her face, in gruesome close-up, followed by two scientists peering inside in horror: "Call someone, no, call everyone!" (There are two or three blackly funny lines, it has to be said.)
It's a scene I could have done without so soon after breakfast. In fact I could have done without the whole film. The script plods through all the predictable developments of the global virus scenario, never engaging us with any of the characters or the situation (Matt Damon's bereaved husband and father gets closest). It's Soderbergh by numbers, aesthetically most reminiscent of Traffic – slick, steely visuals, with lots of those refrigerated blue filters he's devoted to – and a breakneck pace prodded along by would-be hip pulsing music, spread over a restless assemblage of global locations.
Several efforts to inject drama – a sidelined medic who might just discover the serum antidote, Jude Law's blogger (awful) fingering governmental deceit and conspiracy, and a kidnap with a sentimental and ludicrous raison d'être – fall flat. There's plenty of calculated, characterless corporate filmmaking out there, but it's more disappointing when it comes from someone who still carries the reputation of a wunderkind.
After that, the day was more than salvaged by two fine films and an honourable misfire. Cut, by Iranian expatriate Amir Naderi, is a brilliantly offbeat homage to Japanese cinema. It opens on a rootop in Tokyo, where keeper-of-the-flame filmmaker protagonist Shuji projects classic films to a group of friends. The rest of the time he spends haranguing the citizens of Tokyo through a megaphone about the destruction of 'pure cinema' by crass commercial fodder, and visiting the graves of Japanese masters Ozu, Mizoguchi and Kurosawa.
The film then takes, via the death of his brother at the hands of the yakuza, what seems at first a strange but wonderful detour. Shuji must now clear, in just two weeks, a massive debt that his brother accumulated to finance Shuji's films; the unexpected method he hits on to do so opens up frightening perspectives on the depths of his devotion to cinema, in the most masochist way imaginable.
Towards the end Shinju's militant self-mortification had become moving, even uplifting, although not everyone agreed – there were some offended walk-outs. Before the film Naderi introduced audience member Fred Wiseman, and bowed several times before him. And at the end he left the auditorium shouting "Action! Fight for pure cinema!"
The first of the six British films to step out in Venice is Simon Pummell's Shock Head Soul, part of a cross-media documentary project that includes an installation and website, about Daniel Paul Schreber, a German lawyer who in 1893 started to receive messages from God via what he termed a Writing Down Machine. His subsequent torments landed him in asylums for many years, laying waste to his family life and a successful career. His story is famous nowadays owing to the searing memoirs he wrote, which Freud in turn incorporated into his own thinking.
Pummell's film exerts every sinew to conjure the agonies the man suffered, and I followed suit trying connect with it, but the combination of dramatic vignettes and straight-to-camera witness statements in a courtroom setting by contemporary neurologists and psychoanalysts felt self-defeating and misconceived. The film seemed like a classy piece of TV of the kind you'd see on Channel 4 back in the glory days – now of course expunged in the current dispensation – and for all its play with CGI animation, a bit dry and worthy. For the most part it left me cold (I wish there'd been more of Schreber's actual writings, which are astonishing). Part of the problem was its music, which as in Contagion was too obvious, insistent and all-pervasive.
Music was definitely not a problem in Michael Glawogger's Whores' Glory. His observational documentary about prostitutes and clients in Thailand, Bangladesh and Mexico is accompanied by superb music selections, which not only capture the atmosphere of lubricious carnality, but always amplify and complicate what we're seeing, rather than narrowing the viewer's focus.
The film looks amazing too; Glawogger must be the world's foremost visual poet of cities at night, of sodium- and strip-lights. Like his previous films Megacities and Workingman's Death, it's a complex, multifaceted, non-judgemental study of working conditions and what it takes to survive in these environments. There are horrors, for sure, but also pleasures, and a great deal of exuberance and togetherness.
Even at this early stage of the festival, there are some intriguing commonalities among the better films I've seen, as much on the level of approach and stance as theme. Alps, Cut, Shock Head Soul and Whore's Glory are all tough and unflinching in their willingness to explore states and situations in extremis, where the spirit nevertheless survives and even flourishes amidst the wreckage, hanging on to some residual core that matters. Lanthimos, Glawogger, Naderi and Pummell took time and pains to understand characters who might well be, when all's said and done, completely unfathomable. But the point lies in the attempt.
Word suggests there were fewer good films available for this year's Orrizonte section compared to previous years, but the Glawogger and Naderi would seem to suggest otherwise. I'll certainly have a clearer view on that by the time I file my next blog entry on the festival's eighth day.
---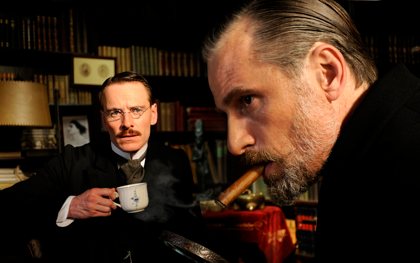 Barbara Wurm, 3 September
Film of the day
If a day starts with a film which (along with its main characters) shares the conviction that all human doing is in one way or the other related to, if not rooted in, sexuality, it promises to be an honest and good day.
Sigmund Freud (Viggo Mortensen), Carl Gustav Jung (Michael Fassbender) and the largely forgotten Jewish-Russian psychoanalyst Sabina Spielrein (Keira Knightley) form a ménage à trois of many dimensions in David Cronenberg's masterly period piece A Dangerous Method, which sets out to uncover the historical and philosophical backbone of modernity, not to mention the core of human nature.
Whoever does not look for the bastard within him or herself after watching this film (which could only seem "dry", "empty", "not all too original" or even "disappointingly un-Cronenbergian" on a superficial level) is living in denial. Our tendency to deceit and self-deception is stripped away the moment Spielrein confesses her masochistic desire; it is perturbed even more when another patient/analyst, Otto Gross (Vincent Cassel, magically frantic), states that a neurotic such as himself "can't imagine a more stressful concept" than monogamy. Thus inspired (or seduced), Jung lets it all out and turns out to be quite adept in the use of the leather belt.
For all the meticulous historical framing, Cronenberg's exploration of the irrational, and of psychoanalysis as the radical turning point in the history of the mind, offers all kinds of joyful and painful transfers into the world (and body) we live in. There's something awesome about the delicate yet utterly open way Jung, his wife (Sarah Gadon, blissful) and his patient/mistress/true love/analyst Spielrein handle the rise and dismantling of relationships.
The same holds true for the triangle between Jung, Spielrein and Freud, played out on the writing grounds of psychoanalytical theory. It's a relief to return to a time when dignity and graceful manners were not considered incompatible with (to use our vocabulary) 'hardcore' sex.
Even more comforting is the fact that the portrayal of Spielrein as the only character with credibility in bed and in psychoanalysis (as opposed to Jung's esoteric erring and Freud's asexual existence) makes A Dangerous Method that rarity, a film with a charming feminist touch.
Lost youth
One could call Yorgos Lanthimos' Alpis (Alps) a postmodernist complement to Cronenberg's elaboration on modern thought – if one could bear the term 'postmodernism'.
As in his last film Dogtooth, Lanthimos' nameless characters move through life and visually frosty locations (a huge gym, a sterile hospital, even more sterile homes) in an affectless, mechanical way; their sex and death drives don't seem attached to their psycho-physiological machines. For them neither eros nor thanatos has anything to do with the libido. When they want to have sex or die, they do so in order to escape their social networks – ersatz surrogate families which, though deliberately established, only reproduce the same authoritarian behaviour and patriarchal family model over and over again.
'Gender trouble' is a euphemism for what's going on in Lanthimos' surreal world. Even these physically perfect women (Aggeliki Papoulia as the nurse, Ariane Labed as the gymnast) with their stubborn wills and crazy determination – the nurse tries to get emotionally closer to her father by putting her hand between his legs – are ignored, told off, drilled, beaten or simply abused by their fathers and ersatz fathers, but also by the coach and the paramedic, the other two members of their secret society, "the Alps".
Everybody here, but especially the women and the young, is trapped in self-aggression and violence, which they try to hide behind a curtain of artificial tenderness, silence and fantasy. Their imaginative creativity is hilarious, but it doesn't seem to save them.
More female pleasures
The Orizzonti section screened a double-bill of films in which, as in Alpis, two young women took the lead. At first glance it seemed only a small step from Greek surrealism to a Portuguese one; but Palácios de pena (Gabriel Abrantes and Daniel Schmidt), while sometimes brilliantly visualised, proved a generally rather manneristic and all too conceptualist attempt to reflect the "culturally inherited fear in Portugal, linked to political and social oppression during the Inquisition and Fascism."
The French Snow Canon by Mati Diop, on the other hand, was a real revelation. About Vanina, a French teenager, falling in love with her American babysitter, it's a superbly interwoven series of sensual and sensational moments that add up to a wonderful, tender yet cool and naughty coming-of-age picture. In the way Diop treats intercultural and intergenerational issues, a pleasurable young serenity goes hand in hand with an outstanding maturity in acting and cinematography.
Working women
There was an outstanding documentary in the Orizzonti programme – and just as there are no coincidences for Jung, it can't be a coincidence that it came from the country of Freud, the (cinematically) sexually emancipated Austria. Michael Glawogger's Whores' Glory, a triptych on prostitution in Thailand, Bangladesh and Mexico, not only ends on a similar image to Snow Canon (two women kissing), but tied together the many threads of the day.
Without going into detail, let me just say how astonished I was upon overhearing a stranger talk about the film after the screening. "What shocks me most is not what these women say", I think I heard her say, while putting on some make-up, "but that they actually seem to like talking about this kind of life."
Maybe I heard her all wrong. If not, she would have hit exactly the target of the filmmaking of Cronenberg, Lanthimos and Glawogger. Let's get some more sexual healing, folks! Maybe it will save us from becoming so horrifyingly bourgeois.
To heed the maestro: "It took me a long time to explain to my actors and actresses the importance of psychoanalysis," Cronenberg said during his press conference. "But finally they all know that it actually helps: as you can see, they are better people now!"
---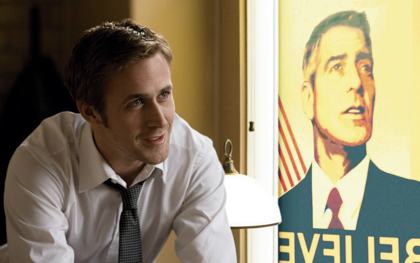 Guido Bonsaver, 2 September
Film of the day
Do we buy the talk that the Toronto Film Festival has become a better Oscar predictor than Venice? Judging from the size and quality of the US contingent in Venice, it appears many in Hollywood don't. Day One opened with George Clooney's The Ides of March, a welcome return to politically engaged filmmaking by the ever-popular American actor and four-time director. It couldn't have been a more glamourous start for Venice. Since Clooney's recent relationship with Italian model and tentative-actress Elisabetta Canalis, there has never been a more sought-after Hollywood star in Italy.
The Ides of March continues Clooney's exploration of US media-driven society, moving from the world of journalism in Good Night and Good Luck (2005) to that of politics. Ryan Gosling plays a disillusioned young campaign manager to Clooney's Democrat governor and presidential candidate. The film explores the Machiavellian plots and unethical compromises forced by realpolitik and, being entirely set within a Democrat camp, clearly bespeaks the disillusionment that has followed the great hopes aroused by Barak Obama's presidency.
Aesthetically, it's sophisticated and polished. It's also flawlessly acted by Gosling, Clooney, Philip Seymour Hoffman and Evan Rachel Wood. The latter may not be the future star that some claim, but she delivers convincingly as a young femme fatale. Whether or not The Ides of March proves a Golden Lion winner, or Oscar vehicle for one of its actors, it's well worth watching.
Repulsion
Along similar ideological lines, though a totally different cinematic animal, is Roman Polanski's Carnage. Set in contemporary New York, the film humorously strips two well-bred and -educated New York couples down to their most primal prejudices and impulses. Once more, there's a sense of North American progressive culture probing itself in the mirror.
The film is entirely carried by its four masterclass lead performances. Critics will be divided between Kate Winslet and Jodie Foster (I favour the latter) but John Reilly and Cristoph Waltz prove the best punchbags any actress could wish for. It's only a pity that the script and setting remain umbilically bound to the original stage play by Yasmina Reza, who co-wrote the screenplay.
I'd rather be your lover
As for the red carpet, if anybody can rival Clooney in popularity it's the star who beached at the Lido on Day Two. Enter Madonna Louise Ciccone.
W.E. is the second film she's directed, but as soon as she reached shore it was clear the Venetian crowd was first and foremost interested in her public persona. Her entrance for her film's screening at the Cinema Palace was greeted with ovations and chants worthy of a football team. And at the end of her press conference – allegedly attended only by journos – it was shocking to see the rapacious speed with which about a hundred onlookers rushed to the front in hope of an autograph.
As for the press conference itself, Madonna was at her razor-sharp best. Could she forgo being the Queen of Pop for a man or a woman she loved, in the vein of the heroine of her film? "Hell, no," she shot back. "I'm sure I could have both – no, better, all three in one go."
At the same time, the hawkish attention with which she followed the answers and comments of her actors, leaning towards the speakers, smiling or not in response to their words, gave the impression of a demanding director, or perhaps of one insecure in the face of an imperfect product.
For as lavish and ambitious the film is, the parallel between Wallis Simpson's royal love story and the broken marriage of a Simpson-obsessed woman living in today's New York fails to deliver narrative substance or aesthetic coherence. If W.E. was supposed to make us rethink the life of the American divorcee of the century, it didn't work.
We do learn about Simpson, but the constant emphasis on her luxurious life – with not-so-naive references to Cartier, Chanel and other luxury-goods makers – reflected by the life of her contemporary 'other', hardly engages us with their oh-so-difficult decisions faced between champagne meetings and poodle parties. And the odd surprising camera move or unusual mis en scène isn't consistent or original enough to make one hark at cinematic genius. In the end, I was left nostalgic for the less self-conscious or creative but more convincing tone of Clooney's film.
Light at the end of the tunnel
One small pearl in these first two days was a documentary. Victor Kossakovsky's Vivan las Antipodas (Long Live the Antipodes!) is a mesmerising homage to a thought we've all entertained: what if we could dig a hole through the planet and emerge on the other side? What would we see? Geographers tell us that it would usually be a wet experience since in most cases there's a bit of ocean on the other side. But the Russian director has travelled to four places which have dry land at their antipodes.
Subject matter and cinematic experimentation merge coherently, since the theme licenses Kossakovsky to invent original compositions and camera movements to convey the rotundity of the earth, and the similarity of far-flung places as diverse as downtown Shanghai and a Patagonian wasteland, or as spookily similar (even in terms of their animal and human presences) as a Hawaiian island and its antipode in Botswana.
The overall, even aside from the recurrent beauty of the photography, is humbling. We get a real sense of our life on earth – little more than fistfuls of ants rummaging around on the crust of a big and beautiful planet.
---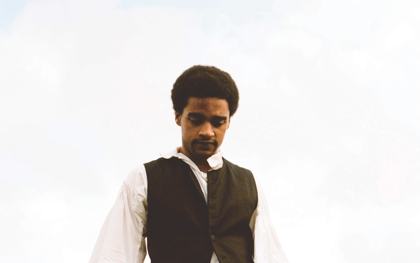 Kieron Corless, 31 August
"Right now, British cinema is the best in Europe," S&S editor Nick James recently proclaimed to a startled office. And the evidence to support that brash declaration – which raised one or two eyebrows, not least mine?
It's certainly true that last year's London Film Festival boasted one of the strongest British sections in living memory: Joanna Hogg's Archipelago, Richard Ayoade's Submarine, Patrick Keiller's Robinson in Ruins, John Akomfrah's Nine Muses, Clio Barnard's The Arbor, Gillian Wearing's Self Made, Peter Mullan's Neds and new films by Mike Leigh and Ken Loach, not forgetting – no matter how much I'd like to – Tom Hooper's The King's Speech and Danny Boyle's 127 Hours. Topping all that, Lynne Ramsay's We Need to Talk About Kevin was invited into competition at this year's Cannes.
But it was probably the anticipation of a golden autumn which occasioned such swagger. No fewer than six British films have been selected for this year's Venice, while Terence Davies' long-awaited new feature film The Deep Blue Sea plays in competition at San Sebastian in late September (and closes the London Film Festival in October).
Six British films at Venice is a big deal: the festival's artistic director Marco Müller is highly respected for his openminded, eclectic tastes, which encompass quality commercial cinema as well as the farthest experimental reaches. With Berlin in severe long-term doldrums, Toronto an indiscriminate grab-bag, Rotterdam on the fade and Cannes downright bizarre in its choices for the Competition, Venice under Müller's stewardship has asserted itself as the most discerningly curated A-list festival in the West.
Let's start with those six British films, three of which show in the main competition. Andrea Arnold's new film, her third after Red Road and Fish Tank, is an adaptation of Wuthering Heights, starring a black actor – complete unknown James Howson – as Heathcliff. With one smart move, Arnold has already put clear distance between her film and the plethora of previous attempts at rendering Emily Brontë's smouldering masterpiece on film (including versions by Jacques Rivette and Luis Buñuel). In the novel Brontë describes Heathcliff as a "dark-skinned gypsy in aspect and a little lascar", so the casting of a black actor makes perfect sense, a long-overdue gesture of fidelity to Brontë's conception of the character. Howson hails from Leeds, but since Heathcliff in the novel is found on the streets of Liverpool, one wonders if Howson's shifted his accent accordingly. Black is fine, but a Scouse Heathcliff could be too much of a stretch for polite tastes.
Steve McQueen's Shame is the follow-up to his acclaimed debut Hunger. It stars the ubiquitous Michael Fassbender, who also leads in David Cronenberg's new film A Dangerous Method – also in Venice's competition – and depicts a man in thrall in to his uncontrollable sexual compulsions, apparently with an unflinching gaze.
The final British entry in the main competition (and our October 2011 issue cover feature) is an adaptation of John le Carré's novel Tinker Tailor Soldier Spy, starring Gary Oldman as George Smiley, the role Alec Guiness made famous in the TV series. Can it be counted a British film, given that it's directed by Tomas Alfredson, the talented Swede who made the striking vampire film Let the Right One In? With a British cast, producers and source novel, I don't think you could call it a Swedish film, so let's clutch it gratefully to our collective Union-Jack-clad bosom. It's one of the films I'm most intrigued to see at Venice, since three decades on I still hold firmly to the belief that the original TV series is one of the greatest things ever made in Britain in any medium.
'Orrizonti' ('Horizons') is the section that many regard as the true heart of the Venice festival, a spiritual home to the most adventurous and wayward explorers of the medium's possibilities. Britain has three directors plying their wares there.
For my money Ben Rivers is the most brilliant young British director working today. Two Years at Sea is his first feature-length effort (following many garlanded shorts and medium-length films including his recent, hypnotic post-apocalyptic meditation Slow Action), and word is it's typically great.
Andrew Kötting's new film Louyre: This Our Still Life is a collage of charged impressions documenting the Kötting family's home life in the Pyrenees. It's already proved divisive amongst BFI colleagues, and will no doubt do the same amongst Venice audiences; since Kötting is Britain's foremost antic provocateur in the cinematic arena, that's exactly as it should be.
Simon Pummell's mesmerising first feature Bodysong was made in collaboration with Radiohead's Jonny Greenwood. His second, Shock Head Soul, five years in the making, uses documentary, animation and fictional inserts to tell the tale of a German lawyer who claimed to receive messages from God through a typewriter. Again, word is good.
If we're flag-waving, then the Americans too have plenty to shout about in Venice, with at least 10 films in and out of competition. The question is, can any of them match the recent impact at Cannes of Terrence Malick's The Tree of Life?
It's a hard act to follow, but lined up for the attempt are, in no order of merit, Abel Ferrara (whose recent films have been scandalously neglected by British distributors), George Clooney, again in the director's chair after Leatherheads, Steven Soderbergh, William The Exorcist Friedkin (I didn't care much for his last film Bug, but had to concede its adroit cultivation of blackly humorous tone and claustrophobic mood), Whit Stillman (where did he disappear to?), Fred Wiseman with his much-anticipated Crazy Horse, a study of goings-on at the famous Parisian cabaret of the same name, Madonna – by all accounts more than holding her own in this august company – Todd Solondz, Ross McElwee, Mary Harron (best-known for American Psycho) and an intriguing third directorial outing for Al Pacino with Wilde Salome. Rounding it all off is a by all accounts superb and welcome restoration of Nicolas Ray's We Can't Go Home Again (1971).
And the rest? That unfortunate phrase makes the directors below sound like also-rans, but nothing could be further from the truth; these are the films I'm most excited about seeing. How about this for an enticing mash-up, from across Venice's various sections – new films by Yorgos Lanthimos (of Dogtooth fame), the aforementioned David Cronenberg, Philippe Garrel, Roman Polanski, Alexander Sokurov (a version of Faust), Sion Sono, Johnnie To, Lav Diaz, Chantal Akerman, Fred Wiseman, Edgardo Cozarinsky, Aleksej German Jr, Michael Glawogger, Romuald Karmaker, Teresa Villaverde, Victor Kossakovsky, Nicolas Provost, Lou Ye, Fernando Solanas, Shinya Tsukamoto and Amir Naderi?
Out of that lot, special mention for three. Filipino maestro Lav Diaz has a militantly devoted following amongst hardcore cinephiles, but his films – some of which reach double figures in viewing hours – have been impossible to see in the UK thus far, which means I'm doubly grateful for this opportunity to catch his latest, Century of Birthing.
Michael Glawogger and Romuald Karmakar, Austrian and German filmmakers respectively, have also barely screened in the UK beyond the festival circuit. If any national cinemas in Europe could currently lay claim to outstripping Britain's vaunted superiority, I'd venture it's the ones in which these two brilliant mavericks have been nurtured.
Let's not forget as well that this is an Italian film festival – there are new films by maestro Ermanno Olmi, Cristina Comencini, Emanuele Crialese, Gian Alfonso Pacinotti, Pippo Delbono, Pietro Marcello, Yervant Gianikian and Angela Ricci-Lucchi – and that's before we even get to a whole strand devoted to new trends in Italian cinema. There'll be a Golden Lion for lifetime achievement presented by Bernardo Bertolucci to Marco Bellochio, and best-sounding of all, a section devoted to experimental Italian cinema of the 60s and 70s, when it was in its pomp.
By any reckoning, Müller and his team look to have harvested an outstanding crop. Sight & Sound will have a team of five writers on the Lido bringing you daily website reports (and occasional tweets) on the films, the industry news and gossip and the big discoveries and surprises; they include Italian cinema specialist Guido Bonsaver, Jonathan Romney, Barbara Wurm, Neil Young and myself.
One of our multiple tasks will be to carefully adjudicate whether Nick James's ringing statement at the top of this piece merits serious consideration or constitutes wishful thinking. The proof is in the pudding, as they say. Ciao, for now.
See also
A royal rumpus: Nick James on Steve McQueen and Duane Hopkins' exhilarating debuts at Cannes (July 2008)
The films of 2008 topped by Hunger (January 2009)
Send in the clowns: Rob White on the original TV series of Tinker, Tailor, Soldier, Spy (October 2000)
Ah Liberty!: Kieron Corless on Ben Rivers' short films (November 2008)
Ivul reviewed by Nick Bradshaw (August 2010)
Welcome to the circle. Bang bang.: Iain Sinclair on Abel Ferrara's King of New York (May 2002)
Maestros and mobsters: Nick Hasted on an Italian cinema emerging from the shadow of cinematic nostalgia and political corruption (May 2010)