Brick
USA 2005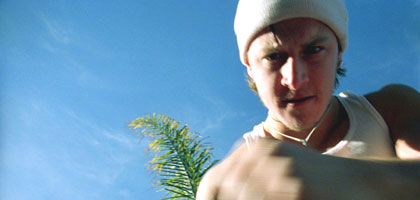 Reviewed by Hannah McGill
Synopsis
Our synopses give away the plot in full, including surprise twists.
California, the present. High-school student Brendan Frye receives a distraught phone call from ex-girlfriend Emily, who makes cryptic references to a "bad brick" and "The Pin". Trying to track Emily down, Brendan visits her friends and lovers, including rich girl Laura and stoner Dode. All are connected to drug dealer The Pin and his violent sidekick Tugger. Brendan runs into Emily, but she tells him to leave her alone. By talking and fighting his way into The Pin's inner circle, Brendan establishes that Emily has been implicated in the theft and contamination of one of two bricks of heroin. Brendan discovers Emily's body and conceals it, but is seen doing so by Dode, who reveals that Emily was pregnant and accuses Brendan of her murder. Dode attempts to extract money from The Pin in exchange for this information, but Tugger shoots and kills him. Tugger confesses to Brendan that he killed Emily in a jealous rage. Tension grows between The Pin and Tugger, leading to a showdown at The Pin's house between the pair's respective gangs of thugs. Brendan hides Emily's body in Tugger's car, and arranges for the police to be tipped off. By the time they arrive, the second brick of heroin has been found to be missing, and a violent struggle breaks out.
Next day, Brendan meets Laura. She tells him that the police found six bodies at The Pin's house, including those of Emily, Tugger and The Pin. Brendan accuses Laura of stealing both bricks of heroin and framing Emily. Laura retaliates with the revelation that Brendan, not Dode or Tugger, was the father of Emily's unborn child.
Review
From the hipster slang of 1950s and 1960s rock 'n' roll movies to the elaborate vernacular deployed by Alex and his droogs in A Clockwork Orange, cinema has made frequent use of colloquial language to illustrate the separation of adolescents from the grown-up world. Appropriately for a film that conveys the hermetic intensity of high-school society via a hard-boiled noir mystery, the teens in Rian Johnson's striking debut feature Brick express themselves in jargon that sounds as if lifted straight from the pages of Dashiell Hammett and Raymond Chandler.
Brendan (finely played by Joseph Gordon-Levitt) is the world-weary, wisecracking student shamus, whose search for his ex-girlfriend Emily (Emilie de Ravin) draws in upper-crust low-lifes closely fitted to the stock requirements of both film noir and teen TV drama: double-dealing femmes fatales, knuckleheaded musclemen, drug-addled drifters. A young stoner is dismissed as "a pot-skulled reef worm with more hop in his head than blood"; rich girl Laura (Nora Zehetner) endeavours to seduce Brendan by way of Mary Astor eyes, sharp banter and covert ulterior motives; and the hero's encounters with high-school vice-principal Trueman (played by a screen detective of yet another cinematic era, Shaft star Richard Roundtree) evoke a private dick's edgy give-and-take with the cops: "If you've got a discipline issue with me, write me up or suspend me," Brendan barks. "Otherwise, I'll see you at the parent conference."
Such dialogue may suggest a film geared towards parody: a present-day Bugsy Malone, with cute actors parroting genre clichés from before their time for the amusement of an informed adult audience. But Brick's more sensitive than that. What it borrows from noir is not simply a set of style cues, but a sense of obsessiveness, solemnity and encroaching social breakdown, which serves as a satisfying metaphor for the self-enclosed, self-regulating society occupied by teenagers. Brick uses its melodramatic plot to replicate the sense of life-or-death significance that characterises subjective adolescent experience. The gumshoe's disgust in the face of spiralling moral turpitude is blended, in Brendan, with the adolescent's fear of growing up and joining the corrupt world of adults.
Not that these teens interact with the adult world any more than they have to; their parents hardly feature, except in the overtly comic scene when the mother of drug dealer The Pin fusses around junior murderers and drug dealers with corn flakes and juice. Pop culture is not prominent, either: like the snobbish teens in Donna Tartt's novel The Secret History, or the croquet-playing adolescents in Heathers, these characters have distinctly retro entertainments. Laura is introduced performing a prim, piano-accompanied version of 'The Sun whose Rays are All Ablaze' from Gilbert and Sullivan's The Mikado. The musical is being staged by the high-school dramatic society, and we later see Meagan Good's drama vamp Kara backstage in full kimono and kabuki make-up. The end-of-term show must go on, heroin deals, teen pregnancy and multiple murder notwithstanding. Like The Mikado, Brick features "three little maids from school"; it's just that one of them is filled to the brim with sewer water, rather than girlish glee.
Credits
Director

Rian Johnson

With

Joseph Gordon-Levitt
Nora Zehetner
Noah Fleiss

Certificate 15 109m 46s