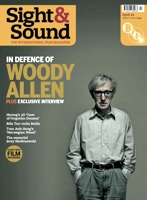 "I've always made the film I wanted to make that year, and the films I made later were better than the ones I made earlier. Manhattan and Annie Hall were quite popular, but they were not as good as, say, Match Point… Midnight in Paris I think will be seen as a better film. Vicky Cristina Barcelona is a better film than those I made years ago."
So Woody Allen tells James Bell in our April issue, and he's not the only voice there defying the conventional wisdom that he's long been off the boil – perhaps since the days of Husbands and Wives (1992), or certainly since he first forsook New York for European settings with 2005's Match Point.
In our cover feature Brad Stevens not only argues the "confidence and vitality" of Allen's recent work, but delves into a 45-year movie career that's both remarkable for its coherence – no matter the location, genre or protagonist count – and yet mysteriously puzzle-like when viewed as a whole. (Both Stevens and Allen himself raise comparisons with that other unflagging late-vintage actor-director, Clint Eastwood.)
As for Allen's latest release, You Will Meet a Tall Dark Stranger, our reviewer Nicholas Rapold finds much to feel ambivalent about, but admires its "intriguingly downbeat irony that might be seen more clearly by forgetting the name above the title."
Elsewhere there's an open-country feel to our features this month. Nick James reports back on the standout from this year's Berlin Film Festival, Béla Tarr's monumental essay in monochrome melancholia The Turin Horse. ("There's not much dialogue, and plenty of relentless concentration on the gradual subtraction of hope from the everyday, until darkness reigns.")
Itinerant Polish director Jerzy Skolimowski tells David Thompson about the making of his new Essential Killing – in which Vincent Gallo's extraordinarily rendered Islamic terrorist escapes into the vast snowscapes of backwoods Poland ("To me the story is not who he is, or whether he is guilty or innocent, but… the process of him turning into an animal") – and about his 17-year hiatus from cinema to become "a real painter".
Vietnamese expat Tran Anh-Hung tells James Bell how he translated to the screen Haruki Murakami's popular cult novel Norwegian Wood, long deemed unfilmable: the analogues he found for Murakami's interior voice lie in a mix of curved, sensual landscapes and Mark Lee Ping Bin's low-lit, caressing HD camerawork. "I wanted the audience to have the desire to touch the actors' skin, to bite their lips," Tran explains.
The "sublime desolation" of Suffolk's coastline once provided the backdrop for German emigre writer W.G. Sebald's free-associative travelogue-essay-novel The Rings of Saturn, the cult reputation of which Mark Fisher has long been sceptical; whereas those landscapes present themselves to him as "a ready-made science-fiction scene", he found Sebald's excursion guilty of "a stock disdain in which the human settlements are routinely dismissed as shabby and the inhuman spaces are oppressive." Yet Fisher finds Grant Gee's new essay film Patience (After Sebald) both a "misremembering" of the book and yet a "quietly powerful" inducement to visit it anew.
Finally, we have famous cinematic rambler Werner Herzog discussing how he gained access to the recently discovered (and restricted) 32,000-year-old cave paintings at Chauvet-Pont-d'Arc – and why he filmed them in 3D for Cave of Forgotten Dreams. "You can shoot a porno film in 3D," he tells Samuel Wigley, "but you cannot film a romantic comedy in 3D." Tony Rayns' review has that 'wow' factor in mind when he argues that "Like most Herzog documentaries, the result is rather wonderful as a spectacle and rather frustrating as an enquiry."
Also in this issue, Daniel Trilling pays a visit chez Agnès Varda, Nick Bradshaw talks to Alex Gibney ("the movies' go-to chronicler of the crimes and follies of America's ruling class"), filmmaker Charles Burnett remembers the 1946 Edward G. Robinson rarity The Red House, Brian Robinson reflects on a vital quarter-century of the London Lesbian and Gay Film Festival, William Fowler reports on Tacita Dean's campaign against the closure of the UK's last commerical 16mm printing lab, Charles Gant reports on the awards season's surfeit of potential box-office riches, and Nick Roddick reflects on the death of German producer Bernd Eichinger (Downfall, The Name of the Rose) and the uncertain role of the contemporary producer outside Hollywood.
We've reviews of 40 new film releases – including Richard Ayoade's Submarine, our film of the month – and 21 new DVDs, including Milos Forman's A Blonde in Love, Stuart Rosenberg's cautionary Paul Newman vehicle WUSA and five Jack Rosenthal BBC dramas. And our Books section spans Charlie Chaplin, Busby Berkeley, Arthur Penn and Steven Shapiro's new theory endeavour Post Cinematic Affect.
---
Subscribe today, save £9 on the cover price, get a free DVD and receive new issues hot off the press and direct to your door!
See also
Match Point reviewed by Edward Lawrenson (January 2006)
Celebrity reviewed by Leslie Felperin (July 1999)
The Man from London reviewed by Michael Brooke (January 2009)
Werckmeister Harmonies reviewed by Jonathan Romney (April 2004)
The wild bunch: Sight & Sound's 50 'mad, bad and dangerous' directors, including Jerzy Skolimowski (September 2009)
At the Height of Summer reviewed by Tony Rayns (September 2001)
English pastoral: Mark Fisher on Patrick Keiller's Robinson in Ruins (November 2010)
sleep furiously reviewed by John Banville (June 2009)
Invincible reviewed by Richard Falcon (April 2002)