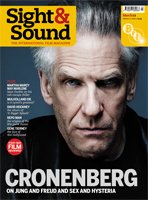 North American independent cinema is at the centre of our field of vision this month, from the now-venerable grandmasters who emerged from it in the 1970s – our cover star David Cronenberg, who Nick James talks to about his latest film A Dangerous Method, and David Lynch, whose 2001 masterwork Mulholland Dr. is revisited by B. Kite – via the (literally) comic-strip 80s vibe of Alex Cox's Repo Man to new contender Sean Durkin, who discusses his unsettling directing debut Martha Marcy May Marlene with Jonathan Romney.
Two documentaries, meanwhile, push the boundaries of the form, while exploring very different Californian communities: David Hockney and his 1970s entourage in A Bigger Splash are celebrated by Ian Massey and Turner Prize-winner Mark Leckey, while Nick Bradshaw discusses the dancing teenagers of backwater Bombay Beach with its director Alma Har'el.
Gone but not forgotten are the film greats who left us during 2011, saluted in our annual obituaries survey, and, last but not least, Dan Callahan looks at the troubled life of the bewitching Gene Tierney, back from the dead again this month in Laura.
In Rushes, Michael Brooke talks to director Pawel Pawlikowski about his new feature The Woman in the Fifth, Michael Atkinson pays tribute to the late Theo Angelopoulos, Sophie Mayer revisits the boundary-breaking films of Barbara Hammer, Naman Ramachandran remembers the life and work of Indian cinema's Charlie Chaplin Raj Kapoor, Mar Diestro-Dópido remembers Spain's Manuel Mur Oti, written out of history since the fall of the Franco regime, Charles Gant records Shame's prowess at the box office and Nick Roddick probes government attitudes to film culture.
We've reviews of 31 new film releases – including Young Adult, our Film of the Month – and 25 DVD releases, including four silent student comedies by Ozu Yasujiro, three 'Popular Films' by Jean-Pierre Gorin and Robert Bloch's 1960s serial-killer thriller The Couch. And our Books section runs the gamut from Harpo Marx to Geoff Dyer on Stalker, via The Essay Film: From Montaigne, After Marker and British Film Culture in the 1970s.
---
Subscribe today, save £9 on the cover price, get a free DVD and receive new issues hot off the press and direct to your door!
See also
Sexual healing: Barbara Wurm reviews A Dangerous Method from the Venice Film Festival (September 2011)
Odd man out: David Cronenberg talks to Kevin Jackson about Spider (January 2003)
Stars in his eyes: David Lynch talks to James Bell about his music project Dark Night of the Soul (July 2009)
The last samurai: Alex Cox on Shimura Takashi (June 2006)
Impulse: David Thomson on Otto Preminger (May 2005)
The cruel seaside: Iain Sinclair on Pawel Pawlikowski's Last Resort (month, year)