eXistenZ
Canada/UK 1999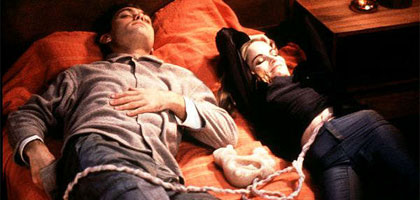 Reviewed by Kevin Jackson
Synopsis
Our synopses give away the plot in full, including surprise twists.
North America, the near future. A group of players gather to try out eXistenZ, the latest brainchild of the games world's most notorious genius, Allegra Geller. eXistenz is an elaborate game in which the players wire themselves up via a bioport - a plug inserted in the spinal column - to a semi-organic game pod, to induce plotted hallucinations. However, as Allegra begins to download eXistenZ, an anti-games assassin opens fire on her.
Allegra is rescued by Ted Pikul, a junior company member. They set off on the run, pursued by bounty hunters, though Allegra is more concerned about her damaged game. She insists she and Ted must play eXistenZ to assess the damage. Initially fearful, Ted agrees finally to have a bootleg bioport shot into his spine by Gas, a roughneck garage man who turns out to be one of the enemy.
They flee to a ski resort where Allegra's colleague Kiri Vinokur replaces Ted's sabotaged bioport so the couple can finally plug in and play. Together, they enter a violent and frequently bloody set of narratives about spies, counterspies and assassins - a story which becomes increasingly confused with events in the outside world. Finally, it emerges that the entire action so far has itself been a game called transCendenZ; "Allegra", "Ted" and all the other men and women are merely players. "Allegra" and "Ted" are themselves the true anti-games terrorists. As the lethal couple corner transCendenZ's inventor Yevgeny Nourish, he asks them fearfully if this is only an episode in a still more inclusive game. They do not reply.
Review
Fairly or otherwise, two of the critical terms least frequently applied to the Cronenberg oeuvre thus far have been 'fun' and 'cute': a regrettable state of affairs that eXistenZ should do much to remedy. First, the fun part: notwithstanding its showstopping metaphysical somersaults between Chinese-boxed levels of reality, eXistenZ is in many respects an unexpectedly conventional entertainment. Some of the conventionality is due, we must assume, to the imaginative tastes of Allegra Geller (or, more pedantically, of the tranCenden-tal inventor of "Allegra Geller"), who may be a whiz at bio-tech confections but seems to enjoy an essentially rather banal, if lurid, fantasy life. On the evidence of her taste in adventures, Allegra must have spent her childhood gorging on B movies, Bond films, The Avengers and such like, and she's plainly not averse to rescripting herself from a barely articulate wallflower in real life into a devastatingly sexy action babe in eXistenZ life. Somehow, Jennifer Jason Leigh manages to make Allegra into a sympathetic and very nearly plausible character, the single fleshed-out (if that is the apposite term) human being in a gallery of ciphers and caricatures. It's quite a feat.
Next, the cute part. At one point, Allegra notices and smiles at a frisky little two-headed amphibian that wouldn't look out of place in a Disney confection. A few years ago, the Independent asked its readers to nominate the least likely combination of director and subject. The winning entry was: "David Cronenberg's National Velvet". Maybe that competition came to the director's notice, and gave him some ideas. Rest assured, the wee beastie meets a literally sticky end, for in most other respects eXistenZ is something of a resumé or, less kindly, a puree of just about every previous Cronenberg film, from the mournfully dignified score by Howard Shore to the sombre lighting and preposterous names. Among its equally familiar attractions are furtive visits to the House of Fiction (cf. Naked Lunch), a dangerously seductive new form of entertainment (Videodrome, the most obvious precursor of eXistenZ), crossings of the borderline between biology and technology (Crash and so on), lashings of erotic body modifications (Rabid and so on) and, of course, a generous portion of the old Cronenbergian red glop.
The red-glop factor is at its highest within the eXistenZ world, particularly when the twists and turns of the game's plot land Allegra and Ted as labourers in a low-rent abattoir-cum-laboratory, where grubby workers hack up frogs and lizards for biotechnological ends, and take their lunch-breaks in a nightmarish Chinese restaurant. Here, Ted orders the daily special, chomps his way through the unidentifiable slippery, slimy horrors he's served, uses the leftover bone and gristle to construct a gun which fires teeth (the very weapon used on Allegra at the beginning) and murders the waiter with a well-aimed molar. At a guess, this is the point of Cronenberg's film at which a lot of younger viewers will find themselves thinking it might be worth saving up for a bioport implant.
But the same qualities which make eXistenZ potent for games-world addicts make eXistenZ inadequately satisfying for those of us who go in for less all-absorbing forms of diversion, like the cinema. As a thrill-ride in its own right, eXistenZ is fine - it's slick, swift and droll. But as an anxious entertainment, which is meant to nag and gnaw at our hunger for surrendering ourselves to surrogate thrills, especially of the disreputable kind that last about two hours (for what, the film keeps nudging us, is eXistenZ if not a hyper-real story, and what is Allegra but a Künstler with the Gesamtkunstwerk to trump them all?), it's more than a touch half-baked.
eXistenZ tries to make our flesh creep with the insinuation that many of us, if we weren't deterred by the prospect of spinal surgery, would cheerfully invest in bioports and drift away into other people's fantasies. It does its dutiful best to make that Huxleyan thought appear guilty and disquieting. But cheerfulness, or its nastier Cronenbergian equivalent, keeps breaking through the gloom, and the very qualities which make eXistenZ watchable also make eXistenZ seem like unthreatening fun. Cronenberg has said the film's point of departure was an interview he once did with Salman Rushdie, but as Kim Newman has pointed out elsewhere in these pages, its more compelling literary source is the haunted fiction of Philip K. Dick. Compared to Dick's writing at its ontologically insecure best, though, eXistenZ looks as trifling as it is diverting: a little too perky, a little too pat.
Credits
Producers

Robert Lantos
András Hámori
David Cronenberg

Screenplay

David Cronenberg

Director of Photography

Peter Suschitzky

Editor

Ronald Sanders

Production Designer

Carol Spier

Music/Music Conductor/Orchestrations

Howard Shore

©Screenventures XXIV Productions Ltd.

an Alliance Atlantis company
and Existence Productions Limited

Production Companies

Alliance Atlantis and Serendipity Point Films present in association with Natural Nylon a Robert Lantos production
Produced with the participation of Telefilm Canada/Canadian Television Fund
Created by the Government of Canada and the Canadian Cable Industry CTF: License Fee program/The Canadian Film or Video Production Tax Credit/The Movie Network and The Harold Greenberg Fund/Le Fonds Harold Greenberg

Co-producers

Michael MacDonald
Damon Bryant
Bradley Adams

Associate Producer

Sandra Tucker

Heads of Production

Alliance Atlantis:
Lacia Kornylo
Natural Nylon:
Tracey Seward

Production Co-ordinators

Elizabeth Senyi-Potechin
Natural Nylon:
Kitty Stanbrook

Production Manager

Michael MacDonald

Location Manager

Debra Beers

Post-production Supervisor

Lori Waters

Assistant Directors

Walter Gasparovic
Penny Charter
Kirsteen McLean
Cassandra Cronenberg

Script Supervisor

Dug Rotstein

Casting

Deirdre Bowen

Camera Operator

Peter Suschitzky

Digital Visual Effects

Toybox, Toronto
Visual Effects Supervisor:
Dennis Berardi
Visual Effects Co-ordinator:
Josa Leah Porter
Executive Producer:
Andy Sykes
Lead 3D Animator - Creature:
Jim Rutherford
3D Animators:
Raymond Gieringer
Derek Grime
Mike Manza
Jesh Murthy
Ralph Sevazlian
Digital Effects Compositors:
Alex Boothby
Jeff Campbell
Mark Goldberg
Rob Gyorgy
Paul Rigg
Additional Scanning:
Ken Elliott
Digital Film Supervisor:
Mike Ellis

Motion Control

Toybox, Toronto
Motion Control Specialist:
Jerry Andrews
Motion Control Producer:
Mike Ellis
Camera Operator:
Shawn Maher
Motion Control Supervisor:
Tony Willis
Production Co-ordinator:
Emily Wong

Visual/Special Effects Supervisor

Jim Isaac

Art Director

Tamara Deverell

Set Decorator

Elinor Rose Galbraith

Key Scenic Artist

John Bannister

Scenic Artists

Janet Cormack
Doug Rennie
Scott Donais
Bradley McInnis
Mila Rolicz
Carole Lord

Costume Designer

Denise Cronenberg

Costume Supervisor

Brenda Gilles

Make-up

Artist:
Shonagh Jabour

Special Make-up/Creature Designer

Stephan Dupuis

Creature Effects Supervisor

Kelly Lepkowsky

Special Effects/Creature Effects Technicians

Dennis Pawlik
Ryan Nicholson
Frances James
Tim Lidstone
Alisa Brooks
Alex Laverick
Serge Lavigueur
Evan Penny
Brandon Cronenberg
Sean Sansom
Damon Bishop
John Jackson
Jim Reischl
Patrice Jacques
David Loveday
Jay McClennen
Patrick Tenascon

Floor Effects

Michael Kavanaugh
Warren Appleby
Daniel White

Hair Stylists

Mary Lou Green
Réjean Goderre

Opening Title Design

Cuppa Coffee Animation Inc, Toronto
Executive Producer:
Adam Shaheen
Designer:
Rob Pilichowski
Assistant Designer:
Margaret Lee
Producer:
Marlene Schmidt
Compositor:
John Coldrick
AXYZ

End Credits

Film Effects Inc.

Theremin

Lydia Kavina

Music Editors

Suzana Peric
Dan Evans Farkas
Associate:
Nancy Allen

Recording Engineer

Dick Lewzey

Synclavier Programmer

Robert Cotnoir

Auricle Operator

Chris Cozens

Mixer

Howard Shore

Technical Consultant

Bruce Buchanan

Sound Mixer

Glen Gauthier

Re-recording Mixers

Ray Merrin
Graham Daniel

Supervising Dialogue Editor

Wayne Griffin

Dialogue Editors

John Laing
Mark Gingras

Supervising Effects Editor

David Evans

Effects Editors

Tom Bjelic
Paul Shikata

ADR

Recordist:
Eric Apps
Mixer:
Ed Colyer
Editor:
Mark Gingras

Foley

Artists:
Andy Malcolm
Goro Koyama
Mixers:
Tony Van Den Akker
Ron Mellegers

Stunt Co-ordinator

Alison Reid

Gun Wrangler

John 'Frenchie' Berger

Animal Wrangler

Jane Conway

Cast

Jennifer Jason Leigh

Allegra Geller

Jude Law

Ted Pikul

Ian Holm

Kiri Vinokur

Don McKellar

Yevgeny Nourish

Callum Keith Rennie

Hugo Carlaw

Sarah Polley

Merle

Robert A. Silverman

D'Arcy Nader

Christopher Eccleston

Levi, seminar leader

Willem Dafoe

Gas

Oscar Hsu

Chinese waiter

Kris Lemche

Noel Dichter

Vik Sahay

male assistant

Kirsten Johnson

female assistant

James Kirchner

Landry

Balazs Koos

male volunteer

Stephanie Belding

female volunteer

Gerry Quigley

trout farm worker

Certificate

15

Distributor

Alliance Releasing (UK)

8,717 feet

96 minutes 51 seconds

Dolby digital

Colour by
DeLuxe Toronto