An Ideal Husband
UK/USA 1999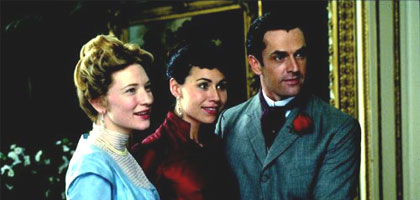 Reviewed by Peter Matthews
Synopsis
Our synopses give away the plot in full, including surprise twists.
London, 1895. Sir Robert Chiltern MP is happily married to the high-minded Gertrude. One evening, the Chilterns hold a reception. Among the guests are Sir Robert's sister Mabel, his best friend Arthur Goring - and Mrs Laura Cheveley. Laura asks Robert for his public support of an Argentinian canal scheme in which she has invested heavily. Robert turns her down, but Laura reveals she has an incriminating letter he once wrote. She threatens to expose the fraud on which Robert built his wealth if he will not do her bidding. Robert agrees to back her scheme in the Commons.
Gertrude persuades Robert to write to Laura and withdraw his promise, whatever it is. Robert confides his woes to Arthur. Receiving Robert's note, Laura visits Gertrude and reveals to her Robert's secret. Disillusioned with her "ideal husband", Gertrude sends an urgent note to Arthur, requesting a private interview. Expecting Gertrude, Arthur instructs his butler Phipps to admit an unidentified lady and no one else. When Mrs Cheveley unexpectedly arrives, Phipps escorts her to Arthur's study, where she steals Gertrude's note. Now Robert appears, desperate for advice. Hearing a noise in the study, he finds Laura and storms out. Laura suggests a wager to Arthur: she will return Chiltern's letter if he condemns the canal scheme in parliament; if he endorses it, Arthur must marry her.
Robert condemns the scheme, and Laura hands the letter over to Arthur - but posts Gertrude's compromising note to Robert. Mabel claims the note was from her to protect Gertrude. Arthur proposes to Mabel and she accepts but Robert objects to the engagement, believing Arthur is conducting an affair with Mrs Cheveley. Gertrude comes clean and Robert is delighted to discover his perfect wife suffers from human frailty.
Review
A few years ago, Oliver Parker directed a smooth, uninspired film version of Othello, notable for some radical pruning of the text and an attempt to 'open out' the play that consisted largely of velvety shots of torch-lit gondolas. Sadly, conspicuous consumption plus the odd camera flourish do not a memorable Shakespeare adaptation make. For all its prettiness, Parker's Othello ended up in a dull halfway house between theatre and cinema. His new translation of Oscar Wilde's An Ideal Husband shows a similar infirmity of purpose, but with the opposite result. Far from being insufficiently cinematic, it isn't stagy enough. While Shakespeare's muscularity arguably lends itself to full-blooded spectacle, the whole point of Wilde lies in his coruscating effeteness. The overbred dandies of his plays turn tinkling triviality into a badge of honour - they are always acting, even in their own drawing rooms. A smart Wilde production should pursue the air of stilted theatricality to the very limit.
Wilde's epigrammatic prolixity poses obvious hazards for film-makers. Just about the only adaptation to strike the requisite note of overripe preciousness was Anthony Asquith's splendidly stagnant The Importance of Being Earnest (1952). Parker seems to have assumed that Wilde at full throttle would antagonise rather than captivate the hoi polloi. So he has shorn An Ideal Husband of some of its more egregiously fey dialogue (one certainly misses the jabbering Lady Markby), though what remains still makes for fairly recherché entertainment. Probably as a favour to rising star Minnie Driver, the ingenue Mabel's part has been beefed up; and now Sir Robert delivering his firebrand oration at the House of Commons is actually seen. It's understandable that Parker should want to ventilate Wilde's hothouse flowers a bit, yet the cinematic filigree he adds merely counterfeits movement. There are a few too many shots of messengers scampering across London charged with fatal letters; and one or two montage sequences (of feet dancing or people dressing for dinner) reach new heights of visual redundancy. Trying for pace and variety, the movie whips between picturesque locations, often in mid-speech: characters are apt to begin a pensée in a parlour and complete it in a steam room. Parker's shuttlecock technique only succeeds in throwing Wilde's cascading rhythms seriously out of whack and makes it hard to attend to the language as fully as one would like. Fortunately, the play has the kind of sturdy Victorian backbone that stands firm whatever latterday tinkerers choose to do with it.
Now and then, Parker scores a scrupulously balanced composition (as in the ceremonial two-shots announcing the reunion of the estranged Chilterns), and it becomes clear that he's fishing about for an equivalent to Wilde's formalism. But on the whole, his cinematic elaborations work to sentimentalise the tone. Where Wilde's imponderable ironies keep you guessing as to whether his characters are quite the twittering creatures they appear, the realism inseparable from 'opening out' implicitly obliges you to take them as human beings.
Still, the actors are superbly accoutred down to the last footman, projecting high elegance even when the direction doesn't. Wearing his new camp image like a queenly mantle, Rupert Everett performs an immaculate turn as the closet moralist Arthur Goring. Cate Blanchett makes an exquisitely distressed Lady Chiltern, while Minnie Driver gurgles and pouts as if possessed by the phantom of Joan Greenwood. However, the show belongs to the phenomenally gifted Julianne Moore, who goes from playing a suburban housewife (Safe) to a porn star (Boogie Nights) to the conniving grande dame here, and manages to be fresh and different every time. Perhaps in the interest of softening the role, Mrs Cheveley has been robbed of the great coup de théâtre when she is exposed. But even so, Moore gives the best display of female Machiavellianism since Bette Davis held court over The Little Foxes (1941).
Credits
Producers

Barnaby Thompson
Uri Fruchtmann
Bruce Davey

Screenplay

Oliver Parker
Based on the play by
Oscar Wilde

Director of Photography

David Johnson

Editor

Guy Bensley

Production Designer

Michael Howells

Music

Charlie Mole

©The Ideal Film Company Ltd

Production Companies

Icon Entertainment International and Pathe Pictures in association with the Arts Council of England present a Fragile Film in association with Icon Productions and Miramax Films
Supported by the National Lottery through the Arts Council of England

Executive Producers

Susan Landau
Ralph Kamp
Andrea Calderwood

Co-producers

Nicky Kentish Barnes
Paul Tucker

Production Supervisor

Waldo Roeg

Unit Production Manager

Jo Farr

Location Supervisor

Sarah Lee

Location Manager

Simon Crawford Collins

Post-production Supervisor

Tania Windsor Blunden

Assistant Directors

Richard Hewitt
Toby Sherborne
Matthew Penry-Davey
Crowd:
Marshall Leviten

Script Supervisor

Jean Bourne

Casting Director

Celestia Fox

Text Adviser

Russell Jackson

Camera Operator

Martin Kenzie

Digital Visual Effects

The Magic Camera Company

Special Effects

Paul Dimmer

Art Director

Rod McLean

Set Decorator

Katie Lee

Gallery Paintings

James Gemmill

Draughtsman

Paul Westacott

Storyboard Artist

Jim Staines

Costume Designer

Caroline Harris

Costume Supervisor

Ali Goss

Wardrobe Masters

Joe Hobbs
Marcus Love-McGuirk

Make-up/Hair Design

Peter King

Chief Make-up Artist

Elizabeth Tagg

Make-up/Hair Artists

Tamsin Dorling
Veronica Brebner
Kirstie Stanway

Chief Hairdresser

Paul Gooch

Hair Artist

Jamie Pritchard

Titles/Film Opticals

The Magic Camera Company

Title Design

Tom Hingston Studio
Frameline

Music Conductors/
Orchestrations

Nick Ingman
Geoff Alexander

Additional Orchestrations

John Bell
Mike Townend

Orchestra Leader

Gavyn Wright

Music Supervisor

Eliza Thompson

Music Editor

Mike Higham

Music Recorder/Mixer

Steve Price

Choreography

Sue Nye

Sound Recording

Peter Lindsay

Re-recording Mixer

Adrian Rhodes

Supervising Sound Editor

Max Hoskins

Sound Effects Editor

Chris Ackland

ADR

Crowd Group:
Marcella Riordan

Foley

Artists:
Peter Burgiss
Andi Derrick
Editor:
Miriam Ludbrook

Fencing Arranger

Bill Hobbs

Cast

Cate Blanchett

Lady Gertrude Chiltern

Minnie Driver

Mabel Chiltern

Rupert Everett

Arthur Goring

Julianne Moore

Mrs Laura Cheveley

Jeremy Northam

Sir Robert Chiltern

John Wood

Lord Caversham

Lindsay Duncan

Lady Markby

Peter Vaughan

Phipps

Jeroen Krabbé

Baron Arnheim

Ben Pullen

Tommy Trafford

Marsha Fitzalan

Countess

Neville Phillips

Mason

Nickolas Grace

Vicounte de Nanjac

Simon Russell Beale

Sir Edward

Anna Patrick

Miss Danvers

Delia Lindsay

Lady Basildon

Denise Stephenson

Gwendolen

Charles Edwards

Jack

Nancy Carroll

Cecily

Andy Harrison

Algernon

Jill Balcon

Lady Bracknell

Janet Henfrey

Miss Prism

Toby Robertson

Canon Chasuble

Michael Culkin

Oscar Wilde

Oliver Parker

Bunbury

Douglas Bradley

Brackpool

Stephen May

Burlington

Susannah Wise

young mother

Peter Parker

MP 1

Oliver Ford Davies

Sir Hugo Danforth

Neil Mendoza

MP 2

John Thompson

the speaker

Certificate

tbc

Distributor

Pathé Distribution

tbc feet

tbc minutes

Dolby

In Colour