Party Monster
USA/Netherlands 2003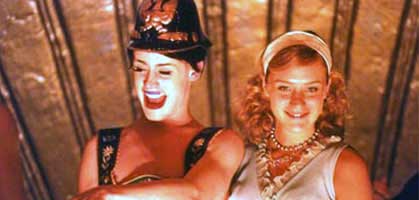 Reviewed by Ben Walters
Synopsis
Our synopses give away the plot in full, including surprise twists.
The present. In flashback, James St. James (Seth Green) recalls his time with fellow New York 'club kid' Michael Alig (Macaulay Culkin). After they meet in the early 1980s, James is co-opted into Michael's burgeoning career as a club promoter. Michael meets Keoki (Wilmer Valderrama), whom he makes his boyfriend and DJ, and secures a spot at the Limelight nightclub, owned by Peter Gatien (Dylan McDermott). The success of his club nights and parties in impromptu venues such as subway stations brings media coverage which attracts fascinated drug dealer Angel Melendez (Wilson Cruz).
After breaking up with Keoki, Michael starts using hard drugs. James moves in with him and Angel becomes the scene's main dealer. On a visit to Dallas, Michael meets Gitsie (Chloe Sevigny), who becomes his girlfriend. Gatien, concerned that drug use in the club is attracting attention, invites Michael and Gitsie on a weekend binge in a hotel suite. Michael overdoses; he recovers but is sacked, evicted and grows more dependent on drugs. He steals Angel's supply; they argue. The Limelight is closed down. After another fight with Angel, Michael and a friend attack him with a hammer and dispose of the body. Arrested on drugs charges, Michael later confesses to the killing. In the present, Michael phones James from jail; James tells him Gitsie has died of an overdose.
Review
Future generations curious about 1980s and 1990s dance culture could do worse than take in a double bill of 24 Hour Party People (2001) and Party Monster. Fenton Bailey and Randy Barbato's account of the rake's progress of leading New York 'club kid' Michael Alig shares more than its period with Michael Winterbottom's riotously self-aware portrait of the Madchester scene. Centred on promoters rather than artists, both films formally reflect their leads' flair for attention-grabbing and myth-making; in tune with the new era of celebrity culture whose beginnings they chronicle, both demand recognition that a story especially one claiming to be true - is only as credible as its teller.
Self-conscious narrative-shaping is key to both, but where Winterbottom's movie subtly undermined its own frontman, Party Monster sets itself up as a battle for authorial control between its two leads James St. James (Seth Green), the "original club kid", and his protg , friend and up-stager Alig, whose hedonistic reign as prince of clubland culminated in his murder of drug dealer Angel Melendez. Opening with a spot-on recreation of a poolside interview with St. James (taken from Bailey and Barbato's documentary on Alig, also called Party Monster), we are invited into a flashback during which St. James passes out, leaving Macaulay Culkin's Alig to take over. "Can't even stay awake for your own movie," he tuts. "But it's really mine, all mine." The upper hand in this narrative equivalent of Deliverance's duelling banjos soon goes to St. James, but the grapple continues until the final shot.
Both take seriously St. James' "first rule of fabulousness": perception is reality. Little wonder the club kids are so taken with Warhol; after news of his death Alig even takes up the baton, telling Christina (a giggling, shrieking, gawp-mouthed drool monster played by Marilyn Manson) that "I've decided to make you my first superstar." Ideas of image management are also prominent in the directors' previous factual work including The Eyes of Tammy Faye and the distinctly Warholian public-access digest Manhattan Cable and even in the movie's casting: Culkin's backstory needs no rehearsal but most of the other actors' careers also started in childhood or adolescence. Notably, both supporting characters who die in Party Monster are drawn to Alig's world by TV coverage.
And it is a seductive world, especially in its insularity: there's a correlation between the story's narrative frames and the layers of rumour and renown Michael cultivates around himself. On the rare occasions the action strays into daylight it is as harsh and searching as an unimpressed parent. Indeed, there's a childlike feel to the kids' make-believe world even the drug binges involve playing fort or serving smack with tea and scones. The garish make-up and costumes (from clown couture to Blood Feast chic) are equally playful, as well as sometimes unexpectedly humane: the film's most affecting image comes when St. James, done up as a "drug troll" in green slap and warts, takes Alig's mother's hand in his emerald claw. On the other hand, the vibrancy and energy of such scenes leave the attention focused squarely on Alig, and while far from celebratory, the film shares his lack of interest in the people whose lives he affected or destroyed.
Culkin succeeds in conveying Alig's brattish charisma but his performance is as superficial as the club scene: his attempts to express the desperation behind the facade are wooden and unaffecting unless, perhaps, it's a fine performance of a bad faker of emotional sincerity. It's Green who, despite his straight-man role and in the latter half St. James becomes increasingly like a hand-wringing Jiminy Cricket steals the show, with a performance of controlled engagement with both the delights and damage of the kids' lifestyle. In the final shot he hangs up on an apparently contrite Alig, calling from jail, with the words: "You want to get the last word and you want it to end with everyone liking you. Well, it's my movie." Having secured the reins and concluded the story, he holds the camera's gaze, stamping his presence most strongly where there is no narrative left to shape.
Credits
Directors

Fenton Bailey
Randy Barbato

Producers

Fenton Bailey
Randy Barbato
Jon Marcus
Bradford Simpson
Christine Vachon

Screenplay

Fenton Bailey
Randy Barbato

Based on the book Disco Bloodbath by

James St. James

Director of Photography

Teodoro Maniaci

Editor

Jeremy Simmons

Production Designer

Andrea Stanley

Music

Jimmy Harry