Run Lola Run
Germany 1998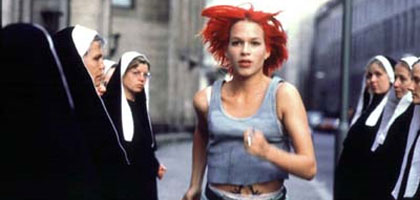 Reviewed by Richard Falcon
Synopsis
Our synopses give away the plot in full, including surprise twists.
Berlin, 11.40 am. Young tearaway Lola receives a phone call from her petty-criminal boyfriend Manni. He has botched a diamond-smuggling job for homicidal gangster Ronnie, and left DM100,000 on a subway train where it was picked up by a tramp. If Lola doesn't get to him by 12 pm with a replacement sum, Ronnie will kill him. Lola runs to Manni and three contrasting narrative timelines follow.
In the first Lola sprints to the bank where her father is a director, only to interrupt her father's colleague and mistress Jutta Hansen's revelation that she is pregnant. The father turns on Lola, declares that she is not his daughter and throws her out. Lola runs to the phone box just in time to see Manni conducting an armed robbery at a nearby store. When she helps him, she is shot dead by the police.
In the second timeline Lola is tripped by a thug in the hallway. She arrives at the bank after Jutta has told her father that the baby isn't his. Lola robs the bank at gunpoint and escapes. As she arrives in time to prevent Manni from robbing the store, he is run over by a truck.
In the last timeline Lola runs to the bank but this time fails to cause a road accident which in the previous scenarios had prevented her father's colleague Meier from reaching the bank. She misses her father and he and Meier are involved in a road accident caused by Manni chasing the tramp. Lola gambles at a casino and wins the DM100,000. Meanwhile, Manni has recovered the money and given it to Ronnie. Lola and Manni are reunited.
Review
Tom Tykwer's supercharged, exhilaratingly hyperactive movie had audiences in Germany and the US cheering at the screen. Emphasising emotional insecurity and cinematic style as did his earlier work, Run Lola Run sets new standards for the cinema of hysteria. It opens with a stylish sequence picking faces out of a crowd which later coalesce to form the title, and which - ironically - looks like a television commercial for insurance or financial services (heroine Lola runs each time to a bank). The voiceover suggests a copywriter's search for the meaning of life ("Who are we? Why do we believe?") but also offers us the answer courtesy of a comically gnomic quotation by Sepp Herberger, the legendary football coach who took Germany to victory in the 1954 World Cup: "The ball is round, the game lasts 90 minutes... everything else is theory."
Chaos theory in particular seems to be Tykwer's concern here, for the course of each of Lola's attempts to save her boyfriend Manni is determined by incidental micro-events - whether she is tripped on the stairs, if she causes a man to crash his car, and so on. But there is little of the romantic-comedy irony of Groundhog Day's repetitions or Sliding Doors' mirrored stories in the crisis that turns into three dramas for Lola. Nor is there an unwavering commitment to the existential crime-plot take on fate and chance that runs from Kubrick's The Killing (1956) to Tarantino. So many things have gone wrong by the time Lola receives her phone call - the theft of her moped, a taxi driver taking her to the wrong address in the east - that chaos seems the norm rather than a flaw in a masterplan. The only response is screaming, which Lola duly does, shattering glass like the dwarf Oskar Matzerath in The Tin Drum (1979), the benchmark German 'breakthrough film'.
With each repetition of Lola's itinerary we become more familiar with the elements of her environment, as with the levels of a computer game (the film uses a variety of mixed media - animation, video, 35mm stock as well as time-lapse effects and all manner of editing trickery). When Lola dies, she begins her quest afresh. And when she succeeds at the end, we feel, irrationally, that she has earned this for her exertions over the three mutually exclusive stories, none of which is more real than any other. This meticulous representation of chaos is clearest in the asides in which the lifelines of incidental characters flash by in seconds. The extreme alternatives here include car crashes, child kidnapping, unforeseen meetings leading to marriage or sadomasochistic relationships, lottery wins and more. On one level this is slapstick (Tykwer cannot resist showing us the ambulance crashing through the plate glass it narrowly avoided the first time around). But it is also the logic of interactive DVD and of gamesplaying where each decision has potentially disastrous but never mundane results.
With a Hollywood remake likely, Lola may, of course, be transformed into a Lara Croft-style digital heroine. What will be lost then, though, is extremely old-fashioned and precisely what makes Run Lola Run great: for all its Teutonic version of cinéma du look stylisation, pop-video aesthetics and pumping techno which keeps us breathless, we empathise with Lola, whose lover's pillow talk with Manni about love and death links the three narrative strands. That Tykwer maintains our flow of empathy while demonstrating and exploiting the potential of interactive cinema manqué is, in itself, an awesome achievement.
Credits
Producer

Stefan Arndt

Screenplay

Tom Tykwer

Director of Photography

Frank Griebe

Editor

Mathilde Bonnefoy

Art Director

Alexander Manasse

Music

Tom Tykwer
Johnny Klimek
Reinhold Heil

©X Filme Creative Pool GmbH

Production Companies

A X Filme Creative Pool GmbH with Westdeutschen Rundfunk WDR and Arte co-production in association with Filmstiftung Nordhein-Westfalen/Filmboard Berlin-Brandenburg/ Filmförderungsanstalt/ BMI

Executive Producer

Maria Köpf

Commissioning Editors

WDR:
Gebhard Henke
ARTE:
Andreas Schreitmüller

Production Manager

Ralph Brosche

Pre-production Managers

Ralph Remstedt
Kathrin Rohm

Set Production Managers

Natalie Clausen
Additional:
Mario Striehn

Unit Production Managers

René Löw
Flash Forward:
Jörg Trentmann

Assistant Director

Sebastian Fahr

Continuity

Sabine Zimmer

Casting Adviser

An Dorthe Braker

Helicopter Photography

Jan Hoffmann

2nd Camera

Jan Hartmann

2nd Unit Camera

Marc Kubik
Susanna Salonen

Steadicam

Tilman Büttner
Sebastian Meuschel
Klaus Liebertz
Christof Wahl

Visual Effects

Studio Film Bilder
Executive Producer:
Thomas Meyer-Hermann
Design/Animation:
Gil Alkabetz
Animation:
Ralf Bohde
Post-production:
Nurit Israeli
Hari Ehinger

Digital Effects

Das Werk
Senior Effects Supervisor:
Thomas Tannenberger
Production Manager:
Manfred Büttner
Digital Artist/Digital Effects Supervisor:
George Maihöfer
Digital Domino Effects:
Dominik Trimborn
Nastuh Abootalebi
Domino Scanning/ Recording/Editing:
Andreas Schellenberg
Graphics Artist:
Claudius Schulz

Special Effects

Berliner Spezialeffekte
Gerd Voll
Roland Tropp

Set Decorators

Attila Saygel
Flash Forward:
Irene Otterpohl

Costume Designer

Monika Jacobs

Wardrobe

Ingrid Buhrmann

Make-up

Margrit Neufink
Additional:
Jekaterina Oertel
Flash Forward:
Babette Bröseke

Lola Hair Design

Christa Krista

End Titles

Thomas Wilk

Opticals

Klaus-Peter Schulze
Norbert Keil

Music Supervisors

Daydream Productions
Klaus Frers
Stefan Broedner

Soundtrack

"Wish" by Tom Tykwer, Johnny Klimek, Reinhold Heil, Thomas D, vocals by Franka Potente; "Running One" by Tom Tykwer, Johnny Klimek, Reinhold Heil, vocals by Franka Potente; "Supermarket" by Tom Tykwer, Johnny Klimek, Reinhold Heil, vocals by Johnny Klimek; "Running Two" by Tom Tykwer, Johnny Klimek, Reinhold Heil, vocals by Franka Potente, Tom Tykwer; "Running Three" by Tom Tykwer, Johnny Klimek, Reinhold Heil, vocals by Franka Potente, Susie Van Der Meer; "What a Difference a Day Makes" by Maria Grever, Stanley Adams, vocals by Dinah Washington; "The Unanswered Question" by Charles Ives, performed by The Orchestra of St. Luke's, conducted by John Adams; "Somebody Has to Pay" by/arranged/ performed by Susie Van Der Meer, Ben Lauber; contains a cello sample of "Black Hole Sun" performed by Bobo and The London Session Orchestra

Sound Design

Dirk Jacob

Sound Recording

Frank Behnke

Dialogue Recording

Günter Friedhoff

Re-recording Mixer

Matthias Lempert

Post-production Sound Co-ordinator

Marita Strotkötter

Sound Editor

Markus Münz

Post-production

Nurit Israeli
Kai Storck

Sound Effects

Joern Poetzl

Sound Effects Recordist

Normann Büttner

Stunt Co-ordinator

Buff Connection

Cast

Franka Potente

Lola

Moritz Bleibtreu

Manni

Herbert Knaup

father

Nina Petri

Jutta Hansen

Armin Rohde

Herr Schuster

Joachim Król

Norbert von Au

Ludger Pistor

Herr Meier

Suzanne von Borsody

Frau Jäger

Sebastian Schipper

Mike

Julia Lindig

Doris

Lars Rudolph

Herr Kruse

Andreas Petri

cleaner

Klaus Müller

croupier

Utz Krause

casino manager

Beate Finckh

casino cashier

Volkhart Buff

ambulance driver

Heino Ferch

Ronnie

Ute Lubosch

mother

Dora Raddy

old woman

Monica Bleibtreu

blind woman

Peter Pauli

supermarket security guard

Marc Bischoff

policeman

Hans Paetsch

narrator

Certificate

15

Distributor

Columbia Tristar Films (UK)

7, 202 feet

80 minutes 2 seconds

Dolby digital

In Colour
Subtitles