The Sixth Sense
USA 1999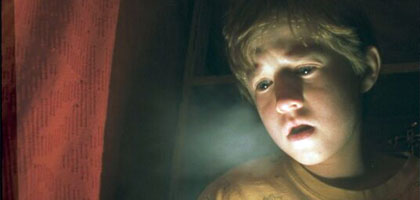 Reviewed by Philip Strick
Synopsis
Our synopses give away the plot in full, including surprise twists.
Philadelphia. Psychologist Malcolm Crowe is celebrating his latest award with his wife Anna when former patient Vincent Gray breaks in. Blaming Malcolm's therapy for his dementia, Vincent shoots him, then kills himself.
Months later Malcolm takes on the case of nine-year-old Cole Sear, a disturbed schoolboy living with his mother Lynn. While gaining the boy's confidence, Malcolm begins to have misgivings about his marriage, suspecting Anna of having an affair.
Malcolm enlists Cole's co-operation by telling him about Vincent, and at last Cole reveals his secret: he is visited by dead people only he can see, who plead for his help. Baffled by this delusion, Malcolm despairs of helping the boy, but Cole begs him not to abandon his case. Listening to the tape of his sessions with Vincent, Malcolm suspects a supernatural element and begins to reconsider Cole's claims.
One of Cole's 'visitors' Kyra leads Cole to a videotape that proves to the guests at her funeral that she was murdered. Cole is cheered by his schoolmates, previously his tormentors, for his performance in the school play. Able now to discuss his 'gift' with his mother, who accepts he has special powers, he and Malcolm agree there is no further need for therapy. Returning home, Malcolm recognises that his loving relationship with Anna will always survive Vincent's fatal bullet.
Review
Constantly on the brink of explanation, The Sixth Sense in fact derives most of its fascination from explaining next to nothing. A mass of disquieting details, it takes a number of detours towards a final reversal that throws everything open to question. What was masquerading as one case history gradually becomes several, most prominently that of the psychologist but also those of the mother, the wife, the suicidal psychotic and an ever-widening circle of the troubled and dispossessed.
Inadvertent guide to these lost souls, whether they're alive or in some other limbo, is the bewildered schoolboy Cole. He eventually comes to terms with his power, graduating from crime buster to marriage counsellor while retaining the skills of a seaside-booth medium ("Grandma says 'Hi!'"). But what kind of future awaits him in the employment of his now-validated gift is left to the imagination.
Director/writer M. Night Shyamalan has been film-making since the age of ten, although primed for a top-grade medical career. Future retrospectives will doubtless reveal to British audiences his 45 short films, his acclaimed 1992 debut feature Praying With Anger, and his second film Wide Awake (1997). But for now, The Sixth Sense (and its huge US box-office success) looks to have materialised almost out of nowhere.
At least we can guess from the available clues that Shyamalan's main concerns are isolation (he took the role of his own 'ghost' in Praying With Anger) and the strains and tensions of family ties: Wide Awake is about the relationship between a Catholic schoolboy and his grandfather. And generous doses of autobiography can be detected in The Sixth Sense, both in the character of the cool-headed specialist who finds his career on the wrong path and in that of the child haunted by innumerable dramas in need of an audience.
These traits aside, the film's main appeal is the assurance with which it is made. Studiously versed in art-house classics as much as in Spielberg or Craven, Shyamalan's film is an attention-grabbing fusion of minimalism and overstatement. His horror story is shot as Tarkovsky might have shot it, with briefly glimpsed figures on the fringes and with constant ambiguities of action and attitude. Setting the mood, the opening scene in the wine cellar, the camera hiding furtively behind the racks, would persuade us that an unseen intruder is about to pounce, but he doesn't, and what we've gained instead is a sketch of a highly strung wife along with a timely reminder of the ritualistic status of wine. And then he pounces, in the bathroom where, moments earlier, the psychologist who is about to learn of failure has suggested they consign his latest award.
It fits together so smoothly that one feels that Shyamalan could leave almost anything on the screen for us to assimilate. Since, for instance, he knows Philadelphia, his home town, well, his glimpses of a landmark sculpture plainly add up to something more than the passage of time. But such references are part of the film's attraction as well as its weakness. Keeping us guessing before the full misery of Cole's predicament becomes apparent, there are curiously misleading hints of his paranormal powers, at their strongest in his mother's presence.
Leaving Cole in the kitchen for a moment, his mother returns to find every drawer and door open. Examining family photographs, she finds the same flash of light in each one. Such images have a vivid but unresolved potency, distracting us from more awkward matters. Where does the psychologist go between the Vincent episode and the Cole assignment? If Cole's visitors don't know they're dead, why do they want his help? The enigmas remain, but since another of Shyamalan's accomplishments has been to coax exquisite performances from his cast (including Haley Joel Osment and an intensely introverted Bruce Willis) we are happy to share their bewilderment rather than dismissing it.
Credits
Producers

Frank Marshall
Kathleen Kennedy
Barry Mendel

Screenplay

M. Night Shyamalan

Director of Photography

Tak Fujimoto

Editor

Andrew Mondshein

Production Designer

Larry Fulton

Music

James Newton Howard

©Spyglass Entertainment Group, L P

Production Companies

Hollywood Pictures/Spyglass Entertainment present a Kennedy/Marshall/Barry Mendel production
The Kennedy/Marshall Company

Executive Producer

Sam Mercer

Production Supervisor

Lynn Andrews

Production Co-ordinator

Thomas Doc Boguski

Unit Production Manager

Sam Mercer

Location Manager

Andrew Ullman

Post-production Supervisor

Paul A. Levin

2nd Unit Director

Andrew Mondshein

Assistant Directors

John Rusk
Scott Robertson
Sonia Bhalla

Script Supervisor

Claire Cowperthwaite

Casting

Avy Kaufman
Associates:
Julie Lichter
Beth Bowling
Voice:
Sondra James

Additional Photography

David Golia

Camera Operator

Kyle Rudolph

Visual Effects

Dream Quest Images
Digital Effects Supervisor:
Tim Landry
Visual Effects Supervisor:
David McCullough

Special Effects

Supervisor:
Garry Elmendorf
Foreman:
Bill Lee

Special Effects

Jeffrey Cox
Jim Orr

Art Director

Philip Messina

Set Decorator

Douglas Mowat

Scenic Artists

Greta Alexander
Margaret Boritz
Thom Bumblauskas
Jennifer Desnovée
Erika Katz
Nancy Stroud
John Thomas
Penny Thomas
Matthew Turner
Karen Wainwright

Storyboard Artist

Brick Mason

Sculptors

Dave Barnes
Kate Bartoldus

Costume Designer

Joanna Johnston

Key Costume Supervisor

Pam Wise

Make-up

Key Artist:
Michael Bigger
Prosthetic Artist:
Richie Alonzo

Make-up Effects Design/Creation

Stan Winston Studio
Effects Supervisor:
John Rosengrant
Key Artists:
Richie Alonzo
Lindsay MacGowan
Scott Stoddard
Trevor Hensley
Joey Orosco
Mechanical Design:
Al Sousa
Key Hair:
Michael Ornelaz
Mold Department Supervisor:
Anthony McCray
Mold Department:
Darin Bouyssou
Grady Holder
Carey Jones
Alon Dori
Key Fabrication:
Connie Cadwell
Production Co-ordinator:
Stiles White

Key Hairstylist

Francesca Paris

Titles Design/Production

The Picture Mill

Opticals

Cineric Inc

Orchestra Conductor

Pete Anthony

Orchestrations

Jeff Atmajian
Brad Dechter
Robert Elhai
James Newton Howard

Executive in Charge of Music, Walt Disney Motion Pictures Group

Kathy Nelson

Electronic Score Production

J.T. Hill

Music Editor

Thomas S. Drescher

Score Recordist/Mixer

Shawn Murphy

Auricle Operator

Richard Grant

Soundtrack

"I Fall in Love Too Easily" by Sammy Cahn, Jule Styne, performed by Chet Baker; "Crazy Girl" by/performed by Jamie Dunlap, Scott Nickoley; "Come See About Me" by Brian Holland, Edward Holland Jr, Lamont Dozier, performed by The Supremes; "Head" by Timothy Bircheno, David Tomlinson, Tim Gordine, performed by Tin Star; "Space Cocktail" by Laurent Lombard, Syd Dale, performed by Laurent Lombard; "Unknown Rider" by Travis Bracht, Dudley Taft, performed by Second Coming; "Piano Quintet in A Major D667, 'Trout' Andante (Tema con variazoni)" by Franz Schubert, performed by The Colorado String Quartet

Sound Design

Michael Kirchberger
Additional:
Paul Soucek

Sound Mixer

Allan Byer

Re-recording Mixers

Reilly Steele
Michael Kirchberger

Re-recordist

Harry Higgins

Supervising Sound Editor

Michael Kirchberger

Dialogue Editor

David A. Cohen

Sound Effects Editors

Jennifer Ware
Larry Oatfield

Sound Effects Recording

Dan Gleich

ADR

Mixers:
David Boulton
Ian McLoughlin
Editor:
Kenton Jakub

Foley

Artists:
Margie O'Malley
Marnie Moore
Recordist:
Grant Foerster
Mixer:
Ben Conrad
Editors:
Roy Waldspurger
David Bergad

Stunt Co-ordinator

Jeff Habberstad

Animal Handler

Barbara Muehleib

Cast

Bruce Willis

Malcolm Crowe

Toni Collette

Lynn Sear

Olivia Williams

Anna Crowe

Haley Joel Osment

Cole Sear

Donnie Wahlberg

Vincent Gray

Glenn Fitzgerald

Sean

Mischa Barton

Kyra Collins

Trevor Morgan

Tommy Tammisimo

Bruce Norris

Stanley Cunningham

Peter Tambakis

Darren

Jeffrey Zubernis

Bobby

Greg Wood

Mr Collins

Angelica Torn

Mrs Collins

Lisa Summerour

bridemaid

Firdous Bamji

young man buying ring

Samia Shoaib

young woman buying ring

Hayden Saunier

Darren's mom

Janis Dardaris

kitchen woman

Neill Hartley

Sarah Ripard
Heidi Fischer
Kadee Strickland
Michael J. Lyons
visitors

Samantha Fitzpatrick

Kyra's sister

Holly Rudkin

Kate Kearney-Patch
society ladies

Marilyn Shanok

woman at accident

M. Night Shyamalan

Doctor Hill

Wes Heywood

commercial narrator

Nico Woulard

hanged child

Carol Nielson

hanged female

Keith Woulard

hanged male

Jodi Dawson

burnt teacher

Tony Donnelly

gunshot boy

Ronnie Lea

secretary

Carlos X. López

Spanish ghost on tape

Gino Inverso

young Vincent Gray

Ellen Sheppard

Mrs Sloan

Tom McLaughlin

Anna's father

Candy Aston Dennis

Anna's mother

Patrick F. McDade

shaken driver

José L. Rodriguez

husband

Certificate

15

Distributor

Buena Vista International (UK)

9,666 feet

107 minutes 24 seconds

SDDS/Dolby digital/Digital DTS sound

In Colour
Prints by
Technicolor