Two Girls and a Guy
USA 1997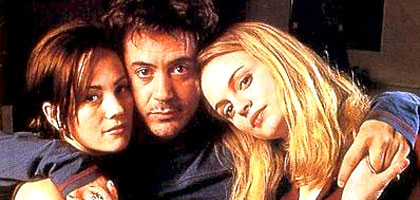 Reviewed by Liese Spencer
Synopsis
Our synopses give away the plot in full, including surprise twists.
Two women, Lou and Carla, stand outside a Manhattan apartment each hoping to surprise her actor boyfriend on his return from a trip to Los Angeles. Lou starts chatting to Carla. As they talk it becomes clear that both women are seeing the same man. Lou breaks into the apartment and lets Carla in. Together they wait for Blake to return and compare notes. Through the window, the women see him arrive by taxi and hide. Blake comes into the apartment and leaves loving phone messages for both women. He plays the piano, phones his mother and his agent. Carla reveals herself and cryptically confronts him over his fidelity. Lou emerges and the women ask him how long he has been two-timing them. He has been seeing both women for three days a week each, claiming to visit his ill mother on the other days. Blake goes into the bathroom and pretends to commit suicide using a fake gun.
As the day progresses Blake makes repeated calls to his mother, and phones the doctor to express his anxiety over her health. Lou and Carla drink Tequila together. Carla and Blake have sex. Carla and Lou reveal they have both been unfaithful to Blake. Lou suggests a ménage à trois, is rejected and leaves, giving Carla her phone number. Some time later. Blake and Carla phone an undertakers to make arrangements for his mother's funeral.
Review
In 1987, Robert Downey Jr played a compulsive womaniser in James Toback's sunny romantic comedy The Pick-Up Artist. Over a decade later, actor and writer/director return to the same territory in Two Girls and a Guy, which sees Downey essaying the role of Blake Allen, a duplicitous cad cornered by the women he's two-timing and made to squirm under the spotlight of their dual interrogation. On the face of it, the film profiles a daring love triangle (a moderately raunchy sex scene between Downey and co-star Heather Graham nearly cost the film a N-17 rating in the US). In fact, it's an old-fashioned romance between a director and his star. After The Pick-Up Artist, Toback has said that he was left feeling they could do something "far bolder". According to the director, after seeing Downey in handcuffs on his way to prison, he knew he was "ready", and wrote him this vehicle.
A more sombre and dramatic treatment of infidelity than their former collaboration, Two Girls and a Guy plays on the off-screen notoriety of both director and star. Toback is a legendary womaniser, Downey a talent tarnished by drug addiction. As it details Blake's feints and evasions, his vanity, aggression and sophistry, Toback's merciless portrait of male selfishness seems an act of contrition from two ex-hellraisers.
In fact, the film is not so much a critique of male narcissism as a product of it. When he wrote him the role, Toback may have believed he was modelling the feckless Blake on Downey (it's certainly impossible not to view Blake's smug amorality and little-boy charm in a harshly ironic light given Downey's history), but the character is closer to his own. What's more, despite its acute observation, Toback's film is less an apology than a celebration of the romantic, male egotist. Sure Blake is weak and ridiculous while the women are strong and dignified, but the bottom line is that they (and we) are supposed to forgive Blake because he's charming. Whether you do or not depends largely on whether you're prepared to indulge Downey as much as Toback. As Blake, Downey proves he has chutzpah to spare, but some may still find it hard to understand why two beautiful and intelligent women would be competing for his wheedling mummy's boy.
In a way, Downey's camp performance fits perfectly with the exaggerated, theatrical tone of this obsessive little melodrama. A three-hander set largely in real time, Toback's densely written chamber piece is described by producer Ed Pressman as a "post-romantic" comedy. For Toback it was clearly conceived as a Serious Entertainment, his staccato script rapping out a self-consciously clever anatomy of modern relationships which veers between cerebral farce, emotional bombast (in one scene Blake recites Hamlet to underline his Oedipal relationship with his mother) and giddy implausibility.
Powered by Toback's fizzing dialogue and strong performances from all three stars (Heather Graham's cool Carla and Natasha Wagner's streetwise Lou prove more than a match for Downey's showboating charisma), the film sustains its comedy of ideas surprisingly well, working best in a light, comic register. "I'm talking about Mormonism," Wagner's Lou says earnestly, when hinting at a ménage à trois. "I think you mean bigamy," Blake replies.
But somewhere along the line the dramatic tension evaporates. Listening to Toback's solipsistic characters relentlessly chewing over their desires becomes an enervating, confessional experience. In the end, Two Girls and a Guy is a bit like watching a cross between a Harvard student review and a highbrow edition of Oprah with studio sofas replaced by the Japanese-style screens of a fashionable SoHo loft.
Credits
Producers

Edward R. Pressman
Chris Hanley

Screenplay

James Toback

Director of Photography

Barry Markowitz

Editor

Alan Oxman

Production Designer

Kevin Thompson

©Two Girls Inc

Production Companies

Fox Searchlight Pictures presents an Edward R. Pressman production
Produced in association with Muse Productions

Executive Producers

Michael Mailer
Daniel Bigel
Bigel/Mailer Films

Line Producer

Gretchen McGowan

Pressman Executives in Charge of Production

NY:
Erin O'Rourke
LA:
Wendi Friedman

Muse Executives in Charge of Production

Jordan Gertner
Timothy W. Peternel

Production Co-ordinator

Eileen Cabiling

Unit Production Manager

Pamela Thur

Post-production

Services:
Warmflash Productions
Supervisor:
Robert Warmflash

Assistant Directors

John Gallagher
Jamie Miller
Christopher S. Campbell

Script Supervisor

Catherine Gore

Casting

Sheila Jaffe
Georgianne Walken
Associate:
Carmel Kubasik

Associate Editor

Char Hamer

Set Decorator

Alisa Grifo

Paintings

Charles Lassiter

Wardrobe

Renata Chaplynsky

Key Make-up/Hair

Meredith Soupios


Titles/Opticals

Cynosure Visuals

Music Supervisor

Barry Cole

Soundtrack

"You Don't Know Me" by Cindy Walker, Eddy Arnold, performed by (1) Jackie Wilson, (2) Dubcheck & Sarah Shannon of Velocity Girl; "Gloria" from "Cum sancto spiritu" by Antonio Vivaldi, performed by the Christ Church Cathedral Choir, conducted by Simon Preston; "Adagio mesto" & "Finale: allegro con brio" from "Horn Trio in E Flat Major Op. 40" by Johannes Brahms, performed by Vladimir Ashkenazy, Radovan Vlatkovic; "Slapper Song" &s "Boom" by/performed by Dubcheck; "Snake" by/performed by Robert Downey Jr

Choreography

Patrica Moreno

Mixer

Bill Markle

Production Mixers

Brian Miksis
Itamar Ben Jacob

Supervising Sound Editor

Bill Markle

ADR

Los Angeles Engineer:
Paul Drenning
London Engineer:
Ted Swanscott

Stunt Co-ordinator

Danny Aiello Jr

Cast

Robert Downey Jr

Blake Allen

Heather Graham

Carla

Natasha Gregson Wagner

Lou

Angel David

Tommy

Frederique Van Der Wal

Carol

Certificate

18

Distributor

20th Century Fox (UK)

7,592 feet

84 minutes 21 seconds

Colour by

Technicolor