Don't Come Knocking
Germany/France/United Kingdom/ USA 2005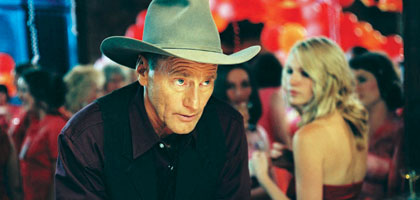 Reviewed by Richard Falcon
Synopsis
Our synopses give away the plot in full, including surprise twists.
The US, the present. Film star Howard Spence, nearing 60 and still playing the lead in Westerns, escapes, on horseback, from the set of his latest film in Moab, Utah. Howard gives away his horse, and takes the train to Elko, Nevada, to see his mother for the first time in decades. She puts him up in a room full of his childhood keepsakes, and he gets drunk at a local casino. Howard is shocked to learn from his mother that more than 20 years previously a woman came looking for him; she was pregnant with his child, conceived in the town of Butte, Montana, when Howard was filming the movie that made him a star.
Howard sets off for Butte in search of the woman, a waitress called Doreen. In a Butte bar, he makes contact with Doreen, who leaves him alone to introduce himself to his grown son, Earl, a rockabilly singer who is performing on stage. Earl rejects Howard violently, and back at his apartment he throws his belongings out onto the street. Howard is shadowed by a gentle young woman called Sky, another illegitimate child of his, who carries her mother's ashes around in an urn. He is also pursued by Sutter, employed by the movie studio's insurers to find Howard. Sky gives Howard Earl's address and he spends a night waiting in the street for him. In the morning, he walks the streets of Butte with Doreen, who tells him his dreams of having a family will not be fulfilled and greets his belated marriage proposal with incredulity. Howard has one last meeting with Earl, which offers him some hope and succour, before Sutter returns to Moab.
Review
Wim Wenders' Don't Come Knocking can be seen as the third part of a loose American trilogy that also includes The End of Violence (1997) and The Million Dollar Hotel (1999). Neither of the first two films was a critical hit. If the early American reviews for Don't Come Knocking are anything to go by, the new film looks set to meet a similar fate. But Don't Come Knocking is never less than fascinating. It reunites Wenders with Sam Shepard more than 20 years after Paris, Texas (1984), and echoes this self-conscious return to the territory of former glories by having its protagonist, burnt-out movie star Howard Spence, return to the location of his breakthrough film in a quest for meaning, identity and kinship.
In Paris, Texas Shepard's hand in the screenplay, as chronicler of a specifically US loneliness, promised a stamp of authenticity to the work of a melancholic European film-maker awestruck by the landscape of John Ford's and John Sturges' movies. Don't Come Knocking turns on this same issue of authenticity. At its beginning, Howard, on horseback, absconds from an impossibly anachronistic Western called Phantom of the West. He visits his eightysomething mother (Eva Marie Saint) in Nevada. She asks him whether he is hiding out "just like Jesse James", which we later learn is the title of the movie he made 30 years earlier in Butte, the Montana town to which he goes in pursuit of the family he unknowingly started three decades before.
Shepard plays Howard as someone who is dangerously starting to believe his own Western outlaw legend (his life of tabloid-nourishing excess is documented in his mother's scrapbook). Having fled Phantom of the West, he smashes his mobile phone and ditches his credit cards. But, nearly 40 years on from Peter Fonda dumping his watch at the start of Easy Rider, he isn't really fooling anyone, least of all himself.
Howard's journey to Montana to see the son he didn't know he had, gives the character a vague purpose which confounds everyone he meets, including waitress Doreen, played with understated intimacy by Shepard's real-life partner Jessica Lange, and their son, Earl, a Chris Isaak-style rockabilly bar singer. The latter responds badly to the revelation and appearance of his father, throwing his own furniture and music onto the street from a first-floor window. Howard uses the discarded sofa to wait through the night in an attempt to make good with his son.
Later, another of Howard's newly discovered illegitimate offspring, Sky, another of Wenders' earthbound angels, suggests the actor stay in Butte. When he asks what he would do there, she responds: "Make it your home." But there are some things a man can't ride around, such as signed contracts and movie-completion bonds, and Howard has to return to Phantom of the West, handcuffed to Tim Roth's uptight British insurance tracer.
Writing about Raoul Walsh's The Tall Men in 1969, Wenders contrasted hectic, mendacious Westerns and quiet ones in which "plot, lines, character and landscape all fit together". His new film doesn't quite achieve this, but it does have a terrific sense of place, something missing from much contemporary US cinema. This is present both in the garish Nevada casinos Howard visits after abandoning his movie, and in the historic, beautifully faded centre of the former cowboy metropolis Butte. The latter is impressively filmed by Wenders' new DoP Franz Lustig, who unashamedly wallows in the eloquent surfaces of Americana. Wenders is still dreaming his American dream.
Credits
Director

Wim Wenders

With

Sam Shepard
Jessica Lange
Tim Roth

Certificate 15 110m 45s