The Science of Sleep
France/Italy 2006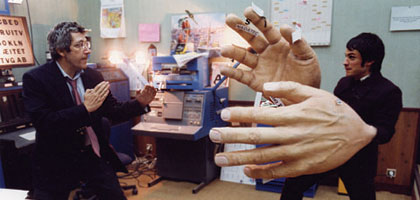 Reviewed by Edward Lawrenson
Synopsis
Our synopses give away the plot in full, including surprise twists.
Paris, the present. Aspiring artist Stéphane arrives from Mexico, where his father recently died. Staying at the empty apartment of his French mother, Christine, he begins work at a calendar publisher, but is disappointed
that the job involves no creative input. While asleep, Stéphane experiences a vivid series of dreams in which he imagines he is the host of a television show called "Stéphane TV".
Stéphane meets his neighbour, Stéphanie, and her friend, Zoë. Initially attracted to Zoë, he befriends Stéphanie and charms her with devices he invents in his spare time, including a mind-reading appliance. Sleepwalking during another of his dreams, Stéphane slips a note under Stéphanie's door; the note expresses his feelings for Zoë, but he subsequently retrieves it when awake. Stéphane is bored at work despite the fun company of older colleague Guy. His frustrations work their way into his dreams. Realising he's attracted to Stéphanie, Stéphane obsesses over her in both his dreams and his waking life, which become increasingly confused. Stéphanie, however, is exasperated by his unpredictable behaviour and rebuffs his romantic overtures. When Christine moves back into the flat following a break-up with a magician lover, Stéphane flies back to Mexico, stopping in on Stéphanie to say a painful goodbye.
Review
Filmgoers know from long experience that any movie purportedly based on the director's dreams should be approached with caution. Attempts to represent dreams on screen can often breed leaden self-indulgence: witness the likes of Akira Kurosawa's Dreams and Northfolk. Revolving for much of its running time around the reveries of would-be artist Stéphane, The Science of Sleep doesn't entirely escape these charges. Flitting between and often blurring reality and Stéphane's hyperactive imagination, the film never satisfactorily coheres. Its headlong dive into the strange depths of its hero's subconscious recalls director Michel Gondry's previous film, Eternal Sunshine of the Spotless Mind (2004); but whereas that film's dream sequences were allied to a poignant and thoughtful exploration of memory and heartbreak, in this they feel like opportunities to showcase the former music video director's repertoire of film-making tricks.
But what a dazzling display. Using stop-motion animation, over- and under-cranked live-action sequences, model and puppetry work, and backwards-run footage, the film is a glorious catalogue of techniques that date right back to early cinema pioneer Georges Méliès. Like the Lego-animation promo Gondry made for the White Stripes' song 'Fell in Love with a Girl', these deceptively crude effects have a thrown-together charm. Scenes in which Stéphane flies through a cityscape of wobbling cardboard buildings display a handcrafted physicality (actor Gael García Bernal was actually submerged in a water tank in front of a back-projection screen) that makes a bracing change from CGI's slick and feathery photorealism.
The quaint, childlike effect of this jerry-built imagery keys into Stéphane's sense of wide-eyed innocence. The central location of the hero's dreams, for instance, is a TV studio cobbled together from cardboard boxes: the sort of thing kids would assemble on a rainy Sunday afternoon, this construction is part Salvador Dalí, part Blue Peter. The occasional abrupt shift to a more sinister tone - at one point, an electric razor (owned, significantly, by Stéphane's dead father) writhes on the floor like a dying rodent - suggests how unprepared Stéphane is for tough adult realities.
The film is similarly ill-equipped to depict the dull business of Stéphane's waking life. There are some well-observed moments: the droll humour of the scenes at Stéphane's workplace is often as good as anything in The Office, and Alain Chabat brings a coarse, bawdy energy to his role as the hero's colleague. But Stéphane's fanciful notions - sprouting huge
hands that make his fiddly job impossible, water taps that leak cellophane - frequently intrude into the sequences of his Paris life. This makes for a film of shifting, unpredictable pleasures, but the busy visual texture undercuts sustained emotional involvement. This is especially true of Stéphane's relationship to Stéphanie, the neighbour with whom he falls in love. Her attitude towards Stéphane remains opaque, and Charlotte Gainsbourg's fey performance comes close to reprising that old arthouse chestnut about the unknowability of the desired woman. But a great speech towards the end criticising Stéphane's obsessive behaviour, delivered with gusto by Gainsbourg, does at least suggest this mystique is as much about Stéphane's projection as any inherent feminine guile.
Like Stéphane, Gondry may be more comfortable with his stop-motion creations and cardboard cities than the full-blooded concerns of human drama. In Stéphane's bedroom, where he makes fantastic objects such as one-second time machines and galloping toy horses, the light is soft and warm and the space comfortably intimate; the view outside, by contrast, is of a chilly, unwelcoming expanse of wintry sky. Gondry must venture beyond his self-absorbed creative realm if he's to advance as a film-maker. The Science of Sleep is possibly a very shallow work, but it's also exhaustively imaginative and bustles with wit and invention.
For now, it's hard to begrudge the time Gondry has spent daydreaming.
Credits
Director

Michel Gondry

Produced by

Georges Bermann
Michel Gondry
Frédéric Junqua

Written by

Michel Gondry

Director of Photography

Jean-Louis Bompoint

Editor

Juliette Welfling

Art Direction

Pierre Pell
Stéphane Rozenbaum

Original Music Composer/Orchestrator/Conductor

Jean-Michel Bernard

With

Gael García Bernal
Charlotte Gainsbourg
Alain Chabat

Certificate 15 105m 51s